Why Donald Trump and Bernie Sanders Are Rock Stars Among the Working Class
Oct. 22, 2015 01:15PM EST
Politics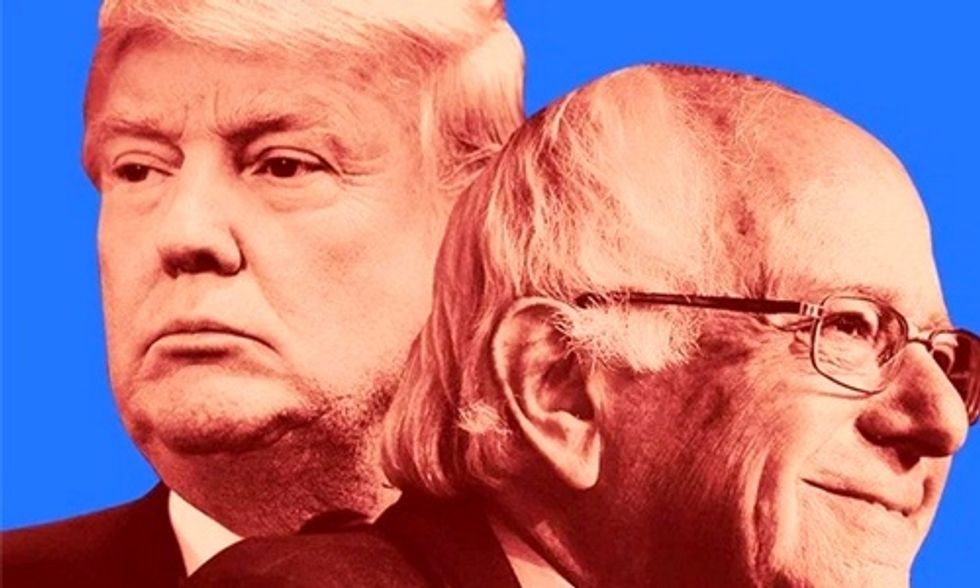 Lost in the tumult of covering the 2016 presidential campaign trail is a striking reality that's largely gone unacknowledged: the grassroots level brewing revolt of working- and middle-class Americans who feel left behind by the system.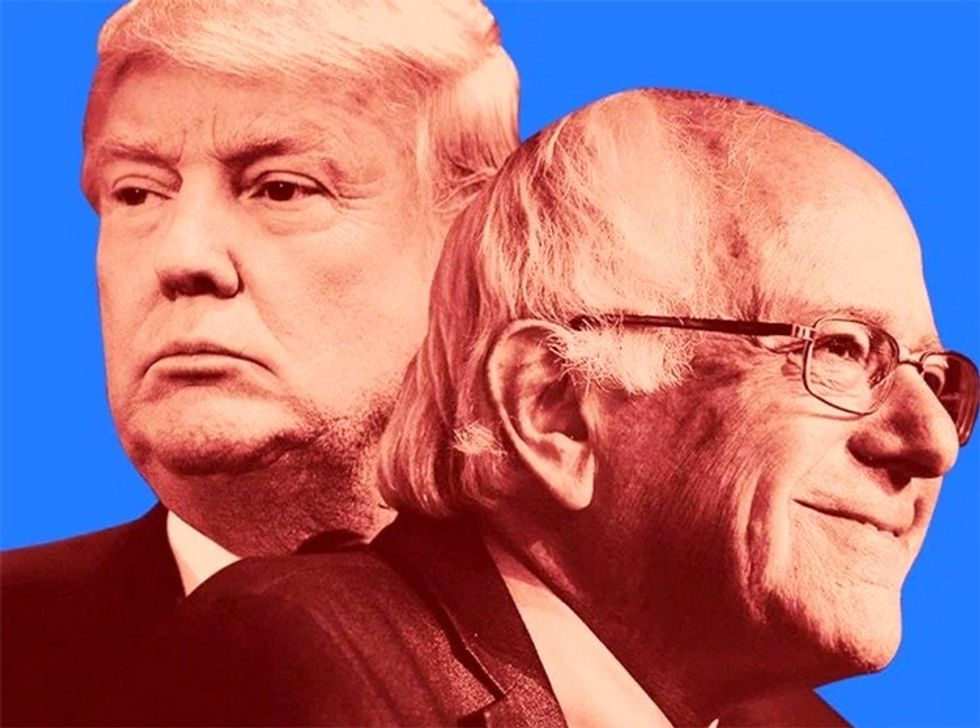 Sanders and Trump are highlighting the failure of status-quo politics to address concerns that hit home with non-wealthy Americans. Photo credit: Fivethirtyeight.com
This discontent and its insecurities are fueling the surges of Bernie Sanders and Donald Trump, who each offer different responses to it, and whose candidacies haven't faded despite predictions from party insiders and many pundits. It's also underscored by the fact that the GOP's two leading candidates—Trump and Ben Carson—have never held elective office, unlike the senators and governors trailing them.
Sanders and Trump, in very different ways, are highlighting the failure of status-quo politics to address concerns that hit home with non-wealthy Americans. But while Sanders is running a campaign based on a positive vision of government doing more for these Americans, Trump is striking a chord with people who feel other slices of society need to be put down so they can rise up.
Despite the stark differences in these visions, both suggest that political business as usual cannot hold. That sentiment also accounts for the lackluster appeal of candidates who are pandering to wealthy elites, such as Jeb Bush.
But if we want to understand what's driving much of the energy on the ground in the 2016 race so far—as opposed to the wealth-driven super PACs—it is the realization by many working- and middle-class people that the U.S. government does not have their back.
Sanders' Optimistic Appeal
Sanders, as many people who have watched his rise know, speaks to a range of Americans who feel left behind or abandoned in an age of deepening economic inequality and predatory corporate greed. His agenda is built on reviving government's ability to help people with basics and live with more dignity, whether it's ending college debt, accessing health care, fortifying retirements or other necessities. The wealthy can afford to pay higher taxes for a fairer, more balanced, more secure society, Sanders says, while acknowledging that this won't come to pass unless an unprecedented number of Americans vote and oust the right wingers in Congress who just want to serve the rich and ignore everyone else.
Sanders' message is not just echoing in the country's lefty epicenters and midwestern university towns. As the Washington Spectator's Rick Perlstein has written, recently covering Sanders in Texas and Indiana, his message is also appealing to red staters who are used to voting for conservatives—if they vote at all. He begins his latest report by talking about a construction sales executive he sat next to on the plane to Texas to cover a Sanders rally who praised Sanders' "middle of the road" messages, adding, "I like what I've heard."
In some respects, that is the same response depicted by the Dallas Morning News when it interviewed attendees of Sanders' first big Texas rally this summer, such as a 36-year-old man who has never before voted for president. "The biggest reason why I support Bernie is that he knows the economy is rigged in favor of the 1 percent," he said. "No one else is really saying that, and it's a huge problem."
Moving on with the Sanders campaign to Indiana's rust belt, Perlstein noticed that many supporters—white and black—also were motivated for the first time in many years to get involved. At a house party on a night when the campaign was hoping for 30,000 participants nationwide and 100,000 came out, Perlstein reported how many people introduced themselves by saying they played by the rules but couldn't get a decent job and were drowning in education-related debt. That prompted standing ovations and the recognition that they weren't alone. The next day in another northwestern Indiana town, he met an African-American retiree who just opened a storefront campaign office for Sanders and praised him for following up with Black Lives Matter activists—after floundering at the NetRoots Nation conference. "I'm okay with that," she said. "He's learning."
It's rare that presidential campaigns spark such grassroots excitement, and when they do, they're often dismissed by the cynics in the media. "Something is happening here," Perlstein wrote, "something that reminds us that our existing models for predicting winners and losers in politics need always be subject to revision."
That something is people whose voices and concerns have been downplayed by the governing class finding candidates who are speaking for them—but not all of these candidates' rhetorics and remedies are as positive as Sanders'.
Trump's Dark Triumph
On the GOP side of the aisle, the biggest mystery is not why the establishment's presumed frontrunner, Jeb Bush, is failing to excite. Nor it is why other high-ranking elected officials, like governors and senators, have failed to rise to the top, despite presenting themselves as reincarnations of Ronald Reagan, defenders of the right to get rich and keep it all or ideological purists. The biggest mystery is why Trump has maintained his lead for months with positions no establishment candidate would take in public.
Why Is the World Obsessed With Donald Trump? http://t.co/PTHDduaCfn @Greenpeace @HuffPostGreen

— EcoWatch (@EcoWatch)1440727295.0
The best explanation is there's a major slice of America's working- and middle-class who look at the political system and don't just feel left out, but are angry that others—people both poorer and richer than they are—seem to be beneficiaries of a government that's forgotten them. Hence, Trump's anti-immigrant bigotry, his smears of the politically correct, his male-defending misogyny and vision of being a strongman president—ie, taking down competitors at home and abroad—appeals to those who feel overlooked and aggrieved.
That's the conclusion of an insightful article by John B. Judis, a senior writer for the National Journal, who makes a convincing case that Trump supporters are not very different than the alienated middle Americans who backed George Wallace for president in 1968, and backed Ross Perot and Pat Buchanan in 1992 (and 1996 and 2000). In 1992, Perot got 19 percent of the November vote, effectively electing Bill Clinton.
Judis' analysis is thorough, compelling and altogether troubling. It shows that there is a very dark streak running through the electorate, as indeed has been the case through much of American history. He starts by citing an overlooked 1976 book by Donald Warren, a sociologist from Michigan's Oakland University, The Radical Center: Middle Americans and the Politics of Alienation, which identifies this slice of the electorate that, according to Warren, contains one-quarter of the nation's voters.
These working- and middle-class people, Warren said, see "government favoring the rich and the poor simultaneously," are suspicious of big business, are not college educated but favor government programs that give them stability—such as Medicare, Social Security and possibly national health insurance—and hold "very conservative positions on poverty and race."
"If these voters are beginning to sound familiar, they should: Warren's MARs [Middle American Radicals] of the 1970s are the Donald Trump supporters of today," Judis writes. "Since at least the late 1960s, these voters have periodically coalesced to become a force in presidential politics, just as they did this past summer... Over the years, some of their issues have changed—illegal immigration has replaced explicitly racist appeals—and many of them now have junior college degrees and are as likely to hold white-collar jobs. But the basic MARS worldview that Warren has outlined has remained surprisingly intact."
What makes Judis' explanation noteworthy is that it goes beyond the mainstream media line, summarized in this piece on the New York Times' "Upshot" page, that Trump's appeal is only based on his strong personality or because he's a political outsider.
"What has truly sustained Trump thus far is he does, in fact, articulate a coherent set of ideological positions, even if those positions are not exactly conservative or liberal," Judis writes. "The key to figuring out the Trump phenomenon—why it arose now and where it might be headed next—lies in understanding this worldview."
Americans are correct to compare Trump's demagoguery on behalf of "a silent majority" to the worst of the George Wallace-Pat Buchanan tradition of grievance politics, from attacking immigrants for taking away jobs, to smearing Obamacare because the insurance industry keeps getting rich, to encouraging government to excise the purported cancer in our midst.
"The essential worldview of these Middle American Radicals was captured in a 1993 post-election survey by [Democratic pollster] Stanley Greenberg, which found that Perot supporters were more likely than Clinton's or Bush's to believe that 'it's the middle class, not the poor who really get a raw deal today' and that 'people who work for a living and don't make a lot of noise never seem to get a break,'" Judis wrote, saying there "has been no similar polling of Trump's supporters."
Where the 2016 Race Goes From Here
Judis' last observation is that beating the nationalist drum,which Trump is also doing, is the final hallmark of this dark campaign legacy. His most recent attack on Jeb Bush—blasting his brother George W. Bush for the 9/11 attacks in New York City—are a perfect example of that thread. Just how Trump's bullying nationalism will play out in a race where Sanders has said Americans ought to look to Scandinavia for the level of governmental supports that could be possible in America is anyone's guess. But that particular thread of nationalism can get very ugly, and surely there's more of it to come.
If Judis is correct that Trump has revived some of the nastiest reflexes in the American electorate, from the same slice of overlooked America that Sanders is engaging with his more hopeful appeals, then it is time to take a hard look at what status quo-defending candidates, their political parties and mainstream media pundits are saying.
It sure looks like the Americans who are paying attention to the political system and are getting involved with 2016's candidates are deeply concerned, frustrated and, on the political right, angry and vengeful. That's a dicey mix. At least Sanders is offering specifics about what he would do and how he'd get results, not just taunts, boasts and attitude. But Trump's backers may not care much for specifics, as long as someone else is fingered, blamed and attacked on their behalf.
YOU MIGHT ALSO LIKE
Joe Biden Will Not Run for President in 2016
4 Justin Trudeau Campaign Promises That Could Make Canada a Green Powerhouse
6 of Donald Trump's Most Outrageous Tweets on Climate Change
Larry David as Bernie Sanders on Saturday Night Live: 'We Need a Revolution'
Airborne microplastics are turning up in remote regions of the world, including the remote Altai mountains in Siberia. Kirill Kukhmar / TASS / Getty Images
However, a new study from researchers at Cornell and Utah State University highlights the increasing threat of airborne microplastics "spiraling around the globe," The Guardian reported.
Plastic waste breaks down into smaller pieces until it becomes microscopic and gets swept up into the atmosphere, where it rides the jet stream and travels across continents, the Cornell Chronicle reported. Researchers discovered this has led to a global plastic cycle as microplastics permeate the environment, according to The Guardian.
"We found a lot of legacy plastic pollution everywhere we looked; it travels in the atmosphere and it deposits all over the world," Janice Brahney, lead author of the study and Utah State University assistant professor of natural resources, told the Cornell Chronicle. "This plastic is not new from this year. It's from what we've already dumped into the environment over several decades."
In the study, published in the journal Proceedings of the National Academy of Sciences, researchers tested the most likely sources of more than 300 samples of airborne microplastics from 11 sites across the western U.S. To their surprise, the researchers found that almost none of the atmospheric microplastics came from plastic waste in cities and towns. "It just didn't work out that way," Professor Natalie Mahowald from Cornell University, who was part of the research team, told The Guardian.
It turns out that 84 percent of atmospheric microplastics came from roads, 11 percent from oceans and five percent from agricultural soil dust, the scientists wrote.
"We did the modeling to find out the sources, not knowing what the sources might be," Mahowald told the Cornell Chronicle. "It's amazing that this much plastic is in the atmosphere at that level, and unfortunately accumulating in the oceans and on land and just recirculating and moving everywhere, including remote places."
The scientists say the level of plastic pollution is expected to increase, raising "questions on the impact of accumulating plastics in the atmosphere on human health. The inhalation of particles can be irritating to lung tissue and lead to serious diseases," The Guardian reported.
The study coincides with other recent reports by researchers, who confirmed the existence of microplastics in New Zealand and Moscow, where airborne plastics are turning up in remote parts of snowy Siberia.
In the most recent study, scientists also learned that plastic particles were more likely to be blown from fields than roads in Africa and Asia, The Guardian reported.
As plastic production increases every year, the scientists stressed that there remains "large uncertainties in the transport, deposition, and source attribution of microplastics," and wrote that further research should be prioritized.
"What we're seeing right now is the accumulation of mismanaged plastics just going up. Some people think it's going to increase by tenfold [per decade]," Mahowald told The Guardian. "But maybe we could solve this before it becomes a huge problem, if we manage our plastics better, before they accumulate in the environment and swirl around everywhere."
EcoWatch Daily Newsletter
A laborer works at the site of a rare earth metals mine at Nancheng county, Jiangxi province, China on Oct. 7, 2010. Jie Zhao / Corbis via Getty Images
By Michel Penke
More than every second person in the world now has a cellphone, and manufacturers are rolling out bigger, better, slicker models all the time. Many, however, have a bloody history.
Though made in large part of plastic, glass, ceramics, gold and copper, they also contain critical resources. The gallium used for LEDs and the camera flash, the tantalum in capacitors and indium that powers the display were all pulled from the ground — at a price for nature and people.
"Mining raw materials is always problematic, both with regard to human rights and ecology," said Melanie Müller, raw materials expert of the German think tank SWP. "Their production process is pretty toxic."
The gallium and indium in many phones comes from China or South Korea, the tantalum from the Democratic Republic of Congo or Rwanda. All in, such materials comprise less than ten grams of a phone's weight. But these grams finance an international mining industry that causes radioactive earth dumps, poisoned groundwater and Indigenous population displacement.
Environmental Damage: 'Nature Has Been Overexploited'
The problem is that modern technologies don't work without what are known as critical raw materials. Collectively, solar panels, drones, 3D printers and smartphone contain as many as 30 of these different elements sourced from around the globe. A prime example is lithium from Chile, which is essential in the manufacture of batteries for electric vehicles.
"No one, not even within the industry, would deny that mining lithium causes enormous environmental damage," Müller explained, in reference to the artificial lakes companies create when flushing the metal out of underground brine reservoirs. "The process uses vast amounts of water, so you end up with these huge flooded areas where the lithium settles."
This means of extraction results in the destruction and contamination of the natural water system. Unique plants and animals lose access to groundwater and watering holes. There have also been reports of freshwater becoming salinated due to extensive acidic waste water during lithium mining.
But lithium is not the only raw material that causes damage. Securing just one ton of rare earth elements produces 2,000 tons of toxic waste, and has devastated large regions of China, said Günther Hilpert, head of the Asia Research Division of the German think tank SWP.
He says companies there have adopted a process of spraying acid over the mining areas in order to separate the rare earths from other ores, and that mined areas are often abandoned after excavation.
"They are no longer viable for agricultural use," Hilpert said. "Nature has been overexploited."
China is not the only country with low environmental mining standards and poor resource governance. In Madagascar, for example, a thriving illegal gem and metal mining sector has been linked to rainforest depletion and destruction of natural lemur habitats.
States like Madagascar, Rwanda and the DRC score poorly on the Environmental Performance Index that ranks 180 countries for their effort on factors including conservation, air quality, waste management and emissions. Environmentalists are therefore particularly concerned that these countries are mining highly toxic materials like beryllium, tantalum and cobalt.
But it is not only nature that suffers from the extraction of high-demand critical raw materials.
"It is a dirty, toxic, partly radioactive industry," Hilpert said. "China, for example, has never really cared about human rights when it comes to achieving production targets."
Dirty, Toxic, Radioactive: Working in the Mining Sector
One of the most extreme examples is Baotou, a Chinese city in Inner Mongolia, where rare earth mining poisoned surrounding farms and nearby villages, causing thousands of people to leave the area.
In 2012, The Guardian described a toxic lake created in conjunction with rare earth mining as "a murky expanse of water, in which no fish or algae can survive. The shore is coated with a black crust, so thick you can walk on it. Into this huge, 10 sq km tailings pond nearby factories discharge water loaded with chemicals used to process the 17 most sought after minerals in the world."
Local residents reported health issues including aching legs, diabetes, osteoporosis and chest problems, The Guardian wrote.
South Africa has also been held up for turning a blind eye to the health impacts of mining.
"The platinum sector in South Africa has been criticized for performing very poorly on human rights — even within the raw materials sector," Müller said.
In 2012, security forces killed 34 miners who had been protesting poor working conditions and low wages at a mine owned by the British company Lonmin. What became known as the "Marikana massacre" triggered several spontaneous strikes across the country's mining sector.
Müller says miners can still face exposure to acid drainage — a frequent byproduct of platinum mining — that can cause chemical burns and severe lung damage. Though this can be prevented by a careful waste system.
Some progress was made in 2016 when the South African government announced plans to make mining companies pay $800 million (€679 million) for recycling acid mine water. But they didn't all comply. In 2020, activists sued Australian-owned mining company Mintails and the government to cover the cost of environmental cleanup.
Another massive issue around mining is water consumption. Since the extraction of critical raw materials is very water intensive, drought prone countries such as South Africa, have witnessed an increase in conflicts over supply.

For years, industry, government and the South African public debated – without a clear agreement – whether companies should get privileged access to water and how much the population may suffer from shortages.
Mining in Brazil: Replacing Nature, People, Land Rights
Beyond the direct health and environmental impact of mining toxic substances, quarrying critical raw materials destroys livelihoods, as developments in Brazil demonstrate.
"Brazil is the major worldwide niobium producer and reserves in [the state of] Minas Gerais would last more than 200 years [at the current rate of demand]," said Juliana Siqueira-Gay, environmental engineer and Ph.D. student at the University of São Paulo.
While the overall number of niobium mining requests is stagnating, the share of claims for Indigenous land has skyrocketed from 3 to 36 percent within one year. If granted, 23 percent of the Amazon forest and the homeland of 222 Indigenous groups could fall victim to deforestation in the name of mining, a study by Siqueira-Gay finds.
In early 2020, Brazilian President Jair Bolsonaro signed a bill which would allow corporations to develop areas populated by Indigenous communities in the future. The law has not yet entered into force, but "this policy could have long-lasting negative effects on Brazil's socio-biodiversity," said Siqueira-Gay.
One example are the niobium reserves in Seis Lagos, in Brazil's northeast, which could be quarried to build electrolytic capacitors for smartphones.
"They overlap the Balaio Indigenous land and it would cause major impacts in Indigenous communities by clearing forests responsible for providing food, raw materials and regulating the local climate," Siqueira-Gay explained.
She says scientific good practice guidelines offer a blueprint for sustainable mining that adheres to human rights and protects forests. Quarries in South America — and especially Brazil — funded by multilaterial banks like the International Finance Corporation of the World Bank Group have to follow these guidelines, Siqueira-Gay said.
They force companies to develop sustainable water supply, minimize acid exposure and re-vegetate mined surfaces. "First, negative impacts must be avoided, then minimized and at last compensated — not the other way around."
Reposted with permission from DW.
From Your Site Articles
Related Articles Around the Web
Scientists are studying barley, the key ingredient in beer. Ridofranz / Getty Images
Researchers at UC-Riverside are investigating how barley, a key ingredient in beer, survives in such a wide variety of climates with hopes of learning what exactly makes it so resilient across climates.
Barley was first grown domestically in Southwest Asia about 10,000 year ago and is grown around the world, from Egypt to Minnesota.
Barley's prime growing regions have shifted northward in recent decades as global temperatures have risen due to climate change caused by human extraction and combustion of fossil fuels.
Chuck Skypeck, technical brewing projects manager for the Brewers Association located in Boulder, Colorado, told E&E climate change's effects are impacting the brewing industry.
"Certainly dynamic growing conditions, water scarcity, extreme weather events, growers' planting decisions can all affect both pricing and availability of brewers' supply of malted barley," he told E&E News.
For a deeper dive:
For more climate change and clean energy news, you can follow Climate Nexus on Twitter and Facebook, sign up for daily Hot News, and visit their news site, Nexus Media News.
Air France airplanes parked at the Charles de Gaulle/Roissy airport on March 24, 2020. SAMSON / AFP via Getty Images
France moved one step closer this weekend to banning short-haul flights in an attempt to fight the climate crisis.
A bill prohibiting regional flights that could be replaced with an existing train journey of less than two and a half hours passed the country's National Assembly late on Saturday, as Reuters reported.
"We know that aviation is a contributor of carbon dioxide and that because of climate change we must reduce emissions," Industry Minister Agnes Pannier-Runacher told Europe 1 radio, according to Reuters.
The measure now has to pass the French Senate, then return to the lower house for a final vote. It would end regional flights between Paris's Orly airport and cities like Nantes and Bordeaux, The Guardian explained. It would not, however, impact connecting flights through Paris's Charles de Gaulle/Roissy airport.
The bill is part of a legislative package which aims to reduce France's emissions by 40 percent of 1990 levels by 2030, Reuters reported. It is a watered-down version of a proposal suggested by France's Citizens' Convention on Climate, BBC News explained. This group, which was formed by President Emmanuel Macron in 2019 and included 150 ordinary citizens, had put forward a ban on flights that could be replaced with an existing train journey of under four hours.
However, the journey length was lowered after protests from KLM-Air France, which had suffered heavy losses due to the coronavirus pandemic, and regions who were concerned about being left out of national transit networks, as The Guardian explained.
"We have chosen two and a half hours because four hours risks isolating landlocked territories including the greater Massif Central, which would be iniquitous," transport minister Jean-Baptiste Djebbari said, as The Guardian reported.
However, some environmental and consumer groups objected to the changes. The organization UFC-Que Choisir compared plane routes with equivalent train journeys of under four hours and found that the plane trips emitted an average of 77 times more carbon dioxide per passenger than the train journeys. At the same time, the train alternatives were cheaper and only as much as 40 minutes longer.
"[T]he government's choice actually aims to empty the measure of its substance," the group said, according to The Guardian.
The new measure also opens the French government to charges of hypocrisy. It bailed out Air France-KLM to the tune of a seven-billion euro loan last year, though it did require the airline to drop some domestic routes as a condition. Then, days before the measure passed, it more than doubled its stake in the airline, BBC News reported. However, Pannier-Runacher insisted to Europe 1 radio that it was possible to balance fighting climate change and supporting struggling businesses.
"Equally, we must support our companies and not let them fall by the wayside," she said, as Reuters reported.
This is not the first time that climate measures and aviation bailouts have coincided in the wake of the coronavirus pandemic. Austrian Airlines replaced its Vienna-Salzburg flight with additional train service after it received government money dependent on cutting greenhouse gas emissions, BBC News reported.
The number of flights worldwide declined almost 42 percent in 2020 when compared with 2019. It is expected that global aviation may not fully recover until 2024, according to Reuters.
A woman looks at a dead gray whale on the beach in the SF Bay area on May 23, 2019; a new spate of gray whales have been turning up dead near San Francisco. Justin Sullivan / Getty Images
Four gray whales have washed up dead near San Francisco within nine days, and at least one cause of death has been attributed to a ship strike.