This website uses cookies to ensure you get the best experience while browsing it. By clicking 'Got It' you're accepting these terms.
Why Did 60,000 Endangered Antelopes Mysteriously Die in Four Days?
Sep. 04, 2015 10:42AM EST
Science
This past May, a large herd of saigas—a critically endangered antelope in Kazakhstan—died en masse, to the horror of conservationists worldwide. More than 120,000 of these creatures had mysteriously died across the Central Asian country in two weeks, including a whopping 60,000 saigas in central Kazakhstan in just four short days.
60,000 Antelopes Died in 4 Days — And No One Knows Why http://t.co/XxM0l4gUia pic.twitter.com/lYZAIafJ46

— Live Science (@LiveScience) September 2, 2015
In a few short weeks, one-third of the worldwide population of saigas—known for its distinctive bulbous nose and for its key role in steppe grassland ecosystems—were found dead. Scientists had no idea why.
"I'm flustered looking for words here," Joel Berger, a senior scientist at the Wildlife Conservation Society, told The New York Times in June. "To lose 120,000 animals in two or three weeks is a phenomenal thing."
The horrendous population dive stopped suddenly that June, causing even more confusion.
But now, as Live Science reported, scientists believe they have pinpointed the culprit—a common and normally harmless bacteria that lives in the animals' bodies.
According to Live Science, an extensive analysis revealed that that toxins produced by Pasteurella and possibly Clostridia bacteria caused extensive bleeding in the animals' organs. Pasteurella, a gut bacteria found in all ruminants such as saigas, is harmless unless the animal already has a weakened immune systems.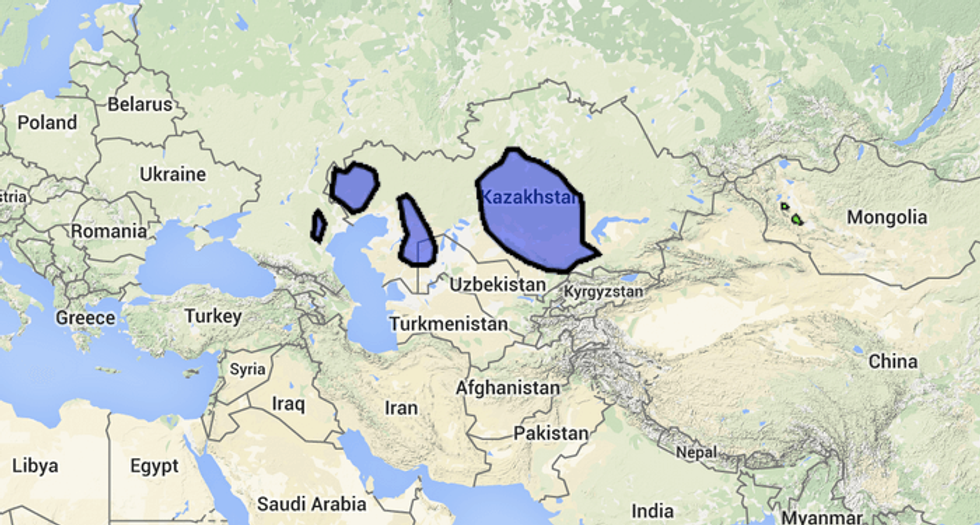 Photo credit: Google maps
Scientists have yet to figure out why this typically harmless bacteria has led to mass death.
One possible theory, according to wildlife vet and lead investigator Steffen Zuther, is an exceptionally cold winter followed by a very wet spring that could have caused the bacteria to become widespread in the environment, Live Science reported.
Zuther said that female saigas, which cluster up to calve their young, were hit the hardest. The mothers died first followed by their calves, as they are too young to eat any vegetation. This suggests mothers' milk transmitted whatever was killing the animals.
Mass die-offs of the antelope—as well many other animal populations—are not unusual in nature. As Inquistr noted, about 270,000 saigas died in 1988, and 12,000 in 2010, but scientists are concerned that another hit could devastate the entire saiga population.
Saigas are listed as critically endangered by the International Union for the Conservation of Nature. A few herds live in Kazakhstan as well as one small herd in Russia and Mongolia. It's currently estimated there are around 50,000 left.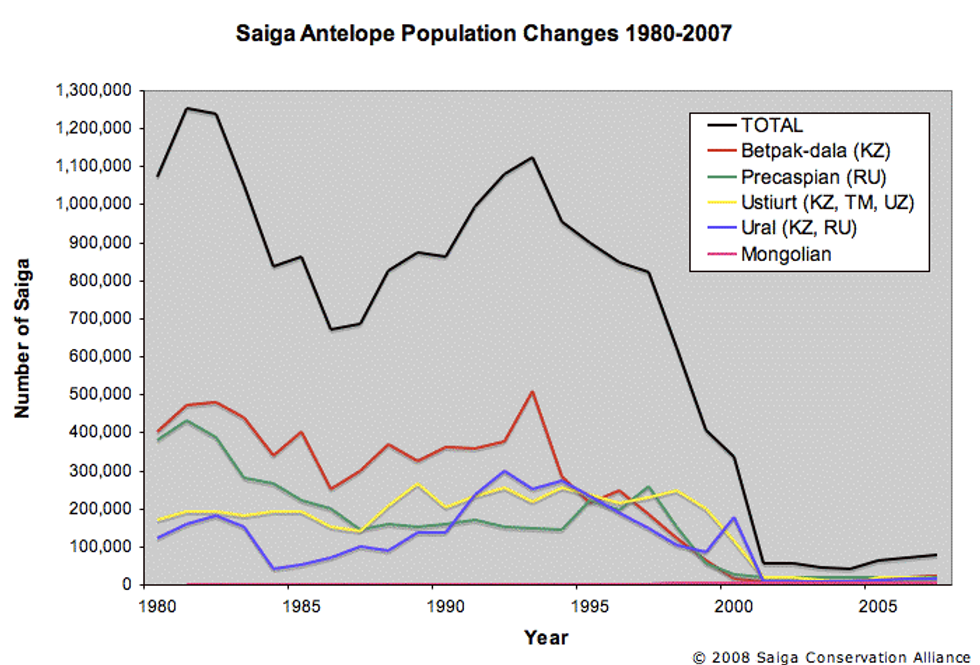 E. J. Milner-Gulland, a conservation biologist at Imperial College London, spoke to The Guardian about the saiga die-offs in June, and the importance of future research into this area.
"If we understand the factors that contribute to these events, we may be able to mitigate or prevent them in the future," she said. "This is important because three of the four remaining populations of saiga are at such low levels that an event like this could wipe them out completely."
She also spoke about another very common but serious threat: humans.
"Hunting is a serious problem," Milner-Gulland said. "We need to get all these populations to a level that is actually resilient enough to cope with the natural mass mortalities that happen in the saiga antelope. Anti-poaching needs to be a top priority for the Russian and Kazakh governments."
According to the Saiga Conservation Alliance, poaching is a main factor driving the animal's population decline. "The saiga's meat and hide are traditionally valued, but nowadays saiga are primarily hunted for their translucent amber horn, which is used Southeast Asian countries for Chinese Traditional Medicine," the alliance said.
YOU MIGHT ALSO LIKE
Earth Has Lost Half of Its Trees Since Dawn of Civilization
2 Elephants Killed in National Park Sparks Fear of More Poaching
Ocean Plastic Will Be Found in 99 Percent of Seabirds by 2050
EcoWatch Daily Newsletter
A volcano erupts on New Zealand's Whakaari/White Island on Dec. 9, 2019.
Michael Schade / Twitter
A powerful volcano on Monday rocked an uninhabited island frequented by tourists about 30 miles off New Zealand's coast. Authorities have confirmed that five people died. They expect that number to rise as some are missing and police officials issued a statement that flights around the islands revealed "no signs of life had been seen at any point,", as The Guardian reported.
Guardians of the Forest monitor passersby entering Juracal Village in Araribóia Indigenous Reserve, Maranhão, Brazil on Aug. 8, 2015. Bonnie Jo Mount / The Washington Post via Getty Images
Two indigenous leaders were killed in a drive-by shooting in Northeast Brazil Saturday, and two others were injured.
Human activity is smothering the ocean, the largest study of its kind has found, and it poses a major threat to marine life.
Pexels
Up to 20% of people may have a food addiction or exhibit addictive-like eating behavior.
Spiced hot chocolate. Lilechka75 / iStock / Getty Images
Food is the cornerstone of the holiday season. It brings friends and family together to share memories, cultural traditions, and great flavors.