This website uses cookies to ensure you get the best experience while browsing it. By clicking 'Got It' you're accepting these terms.
Why Are Starfish Melting?
Feb. 27, 2014 01:08PM EST
By Jason Bittel
Starfish are losing arms, developing white lesions and disintegrating into piles of goo. Last summer, divers and scientists began reporting the fatal "melting" events up and down North America's coasts—from British Columbia to southern California in the Pacific, and from New Jersey to Maine in the Atlantic. Though nobody knows what's causing these die-offs, the plague does have a name: Seastar Wasting Syndrome.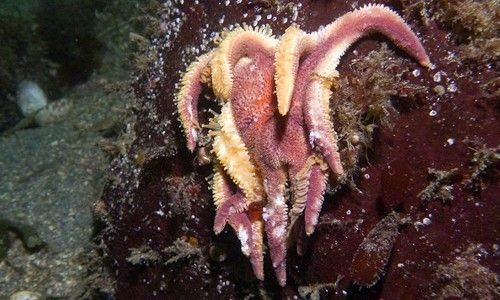 Outside of beach art, most people don't think about starfish too often. These echinoderms don't make for good eating, cuddly pets or cute YouTube videos. But I'm here to tell you that when it comes to tidal ecosystems, losing sea stars is a big deal.
You've heard of keystone species, right? The term refers to particular organisms that keep the relationships between the ecosystem's other plants and animals functioning properly. Without them, ecosystems collapse—like an arch would without its center block. Well, as it so happens, when ecologist Robert T. Paine first coined the term back in 1969, he got the idea by messing around with a bunch of starfish.
Paine crawled along the tidal plains of Washington's Tatoosh Island, pulling up all the ochre stars (Pisaster ochraceus) he could find and tossing them out into the ocean beyond his study area. He played this game of starfish Frisbee for three years, and discovered that without the seastars, his study area became so thick with mussels that little else could survive.
Ochres, mow down mussel beds like it's closing time at Old Country Buffet. What was once a rich community of 28 species of animals and algae along Tatoosh Island, Paine turned into a mussel monoculture. And today, more of this mussel dominance could be on its way, since ochres are one of the 15 starfish species currently turning into mush.
Most of the approximately 1,900 starfish species that exist today are fearsome hunters. Sure, describing a slow-moving echinoderm with words typically reserved for sharks, tigers and komodo dragons seems a little odd. Then again, none of those killers can pry open prey and absorb its guts like an alien vacuum.
"Very few things eat sea stars," says Pete Raimondi from U.C. Santa Cruz's Long Marine Lab, who helped set up a website for tracking incidences of wasting syndrome. "Many of the species we're talking about are really top predators on the food chain."
Another one of these predators coming down with the syndrome is the sunflower seastar (Pycnopodia)—a massive roving armada of arms. This enormous echinoderm can grow up to three feet in diameter and wield as many as 25 limbs. FYI: if you're a snail or abalone who values its life, you better become familiar with a sunflower seastar's signature scent.
"Pycnopodia emits such a distinctive odor in the water that animals literally move themselves out of the way to avoid it," explains evolutionary biologist and taxonomist Christopher Mah. Clams, urchins, brittle stars and sand dollars all "move heaven and Earth" to avoid being destroyed by the sunflower's Shiva-like arms. Some things you just have to see to believe: 
Mah was among the first experts to start piecing together reports of starfish devastation. (His website, The Echinoblog, is easily the most entertaining assortment of echinoderm facts I've ever come across.) Mah worries that if the sunflower starfish succumbs to the wasting syndrome in large numbers, its absence will affect the entire food web.
"The thing that I kind of dread is that we're seeing something that could be important but we're not paying attention to it," he says. As with Paine's experiment, years could pass before scientists notice the consequences, but instead of mussel monocultures, Mah suspects a sunflower die-off would result in vast swaths of seafloor devoid of life. The wastelands he is referring to are known as "urchin barrens."
Sunflower sea stars keeps sea urchin numbers in check, and without these starfish, urchins gnaw kelp plants from top to bottom. If too many of the spiny urchins gather at the base of a kelp stalk, they can chew right through the holdfast (or root), setting the whole plant adrift. The result is similar to clear-cutting a forest. The life forms that live among the canopy—fish, crabs, otters—disappear as well.
Raimondi and his colleagues are hoping to avoid such devastation through a wasting syndrome website and an interactive map where divers and scientists can submit data for review. He's also working with a biological oceanographer from Cornell University named Ian Hewson to see if the die-offs in disparate places are related, and what might be triggering them. But it won't be easy.
"When you look at viruses that infect bats, cows, or dogs, there's been a history of people looking at them through the ages," Hewson explains. "But with echinoderms, we know virtually nothing about what's naturally living in them, let alone anything that could be causing the disease."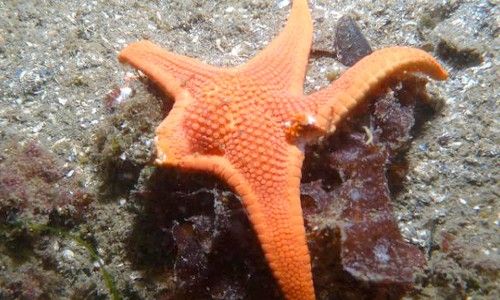 To find more answers, Hewson and his team must first identify all the microbes living inside sea stars and then work backwards to figure out which of them might be causing the echinoderms to melt. The team already has some preliminary data and a flurry of new experiments taking place in the coming weeks. Hewson doesn't want to name a villain until his tests are complete, but he said it may be that multiple viruses are to blame. "It's just nobody's actually looked," he says.
If nothing else, the crisis is a reminder to all of us that even lowly, slow-mo sea creatures can have a big influence on the world around them. It's time we give these keystone species a little more respect for being the lions and tigers of their domain—or perhaps a better comparison would be the wolf. The "sea star wolf" (a.k.a. the morning sun star) earned its nickname for how it hunts down other seastars. Even the massive sunflower would rather detach one of its own arms than tango with this star slayer.
And you thought starfish were boring.
This article was originally posted in Natural Resources Defense Council's OnEarth.
Visit EcoWatch's BIODIVERSITY page for more related news on this topic.

EcoWatch Daily Newsletter
A dead sea lion on the beach at Border Field State Park, near the international border wall between San Diego, California and Tijuana, Mexico. Sherry Smith / iStock / Getty Images
People crossing the Brooklyn Bridge on July 20, 2017 in New York City sought to shield themselves from the sun as the temperature reached 93 degrees. Drew Angerer / Getty Images
by Jordan Davidson

Taking action to stop the mercury from rising is a matter of life and death in the U.S., according to a new study published in the journal Science Advances.
Salmon fry before being released just outside San Francisco Bay. Jim Wilson / The New York Times / Redux
By Alisa Opar
For Chinook salmon, the urge to return home and spawn isn't just strong — it's imperative. And for the first time in more than 65 years, at least 23 fish that migrated as juveniles from California's San Joaquin River and into the Pacific Ocean have heeded that call and returned as adults during the annual spring run.
Protesters hold a banner and a placard while blocking off the road during a protest against Air pollution in London. Ryan Ashcroft / SOPA Images / LightRocket / Getty Images
By Jessica Corbett
Dozens of students, parents, teachers and professionals joined a Friday protest organized by Extinction Rebellion that temporarily stalled morning rush-hour traffic in London's southeasten borough of Lewisham to push politicians to more boldly address dangerous air pollution across the city.

Jose A. Bernat Bacete / Moment / Getty Images
By Bridget Shirvell
On a farm in upstate New York, a cheese brand is turning millions of pounds of food scraps into electricity needed to power its on-site businesses. Founded by eight families, each with their own dairy farms, Craigs Creamery doesn't just produce various types of cheddar, mozzarella, Swiss and Muenster cheeses, sold in chunks, slices, shreds and snack bars; they're also committed to becoming a zero-waste operation.

By Jessica A. Knoblauch
Summers in the Midwest are great for outdoor activities like growing your garden or cooling off in one of the area's many lakes and streams. But some waters aren't as clean as they should be.
That's in part because coal companies have long buried toxic waste known as coal ash near many of the Midwest's iconic waterways, including Lake Michigan. Though coal ash dumps can leak harmful chemicals like arsenic and cadmium into nearby waters, regulators have done little to address these toxic sites. As a result, the Midwest is now littered with coal ash dumps, with Illinois containing the most leaking sites in the country.

picture-alliance / AP Photo / NOAA Pacific Islands Fisheries Science Center
The Group of 20 major economies agreed a deal to reduce marine pollution at a meeting of their environment ministers on Sunday in Karuizawa, Japan.