This website uses cookies to ensure you get the best experience while browsing it. By clicking 'Got It' you're accepting these terms.
Why Are Hospitals Involved in Marketing Infant Formula?
Apr. 10, 2012 07:44AM EST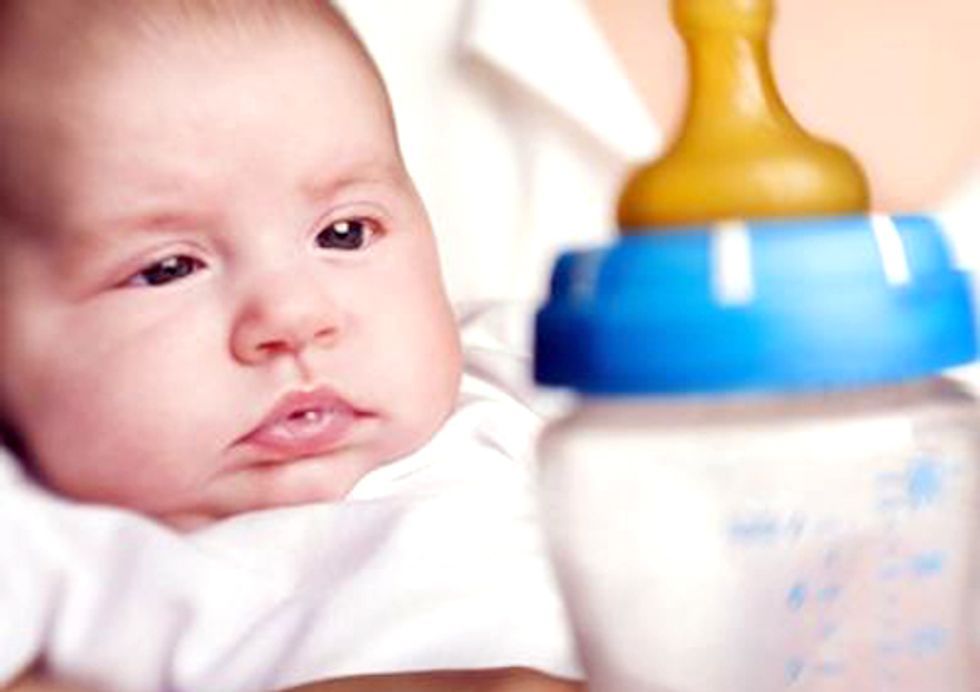 By Darcey Rakestraw
Breastfeeding has been proven to be the healthiest, most cost-effective way to feed babies. So why are hospitals helping drug and food companies market their products to exhausted new moms?
If you've given birth in a hospital, you may have been sent home with a complementary diaper bag or other package filled with infant formula samples, like I was. In fact, a Center for Disease Control (CDC) study shows that 66 percent of U.S. hospitals distribute them. And multiple studies have shown that women who receive them stop breastfeeding sooner than those who do not.
Food & Water Watch has joined a new effort led by Public Citizen to pressure hospitals and formula companies to stop this practice. In a letter to hospitals, a coalition of consumer and health organizations charges that they should be promoting the health of infants and mothers, not formula makers, and says that hospitals engaged in distributing free formula samples are in violation of the World Health Organization's (WHO) International Code of Marketing of Breast-milk Substitutes, which states that healthcare facilities are not to be used for the marketing of infant formula. WHO recommends exclusively breastfeeding children up to six months of age with supplemental breastfeeding until age two.
The issue of marketing infant formula in healthcare settings is not just an issue in the U.S. One company that benefits from this hospital-assisted marketing effort is multinational Nestlé, which was a target of a highly publicized boycott in the 1970s for violating WHO guidelines on advertising, especially in developing nations. And Nestlé's infant formula has something in common with another Nestlé product—Pure Life bottled water (which is actually just purified tap water.) What do they have in common? The company has declared them both "Popularly Positioned Products (PPPs)". According to company documents:
PPPs target less affluent consumers in emerging markets (UN/World Bank definition—those with an annual purchasing power parity between US$3,000 and 22,000 per-capita) as well as low food spenders in developed economies. Together, they represent some 50 percent of the world's population. Hence, PPPs target the biggest and fastest growing consumer base in emerging markets as well as important sub-groups in developed markets.
Now, Nestlé is experiencing a new wave of criticism for marketing infant formula in developing countries, where it is often prepared in unhygienic conditions with unsafe water and misunderstood directions. Laurence Gray, World Vision's Asia-Pacific advocacy director, says of Nestlé's tactics, "Some of the marketing strategy presents formula as better than breastfeeding. It doesn't take into account the circumstances needed to prepare the formula."
In an open letter to Nestlé, several Laos-based international NGOs, including Save the Children, Oxfam, CARE International, Plan International and World Vision, announced they would boycott Nestlé's 2012 competition for a prize of almost half a million dollars for various development projects, charging that the company visits hospitals and gives doctors and nurses who promote the formula gifts and trips.
There's another dimension to formula distribution that should give new parents pause—food safety. Recalls in recent years of formula from everything over concerns of contamination with insect parts to so-called "strange" smells reminds us that even the littlest consumers are at risk in a highly consolidated food system. The top four firms control two-thirds of the infant formula market, and contamination in one plant can be sent around the world before it's ever detected. Most hospitals have no stock control and do not record the lot number on the bags of formula they distribute to new moms. So if a recall occurs, hospitals can't inform parents who've received the samples.
Want to get involved? Sign this petition to tell formula makers to stop using hospitals as marketing tools.
For more information, click here.
EcoWatch Daily Newsletter
A Starbucks barista prepares a drink at a Starbucks Coffee Shop location in New York. Ramin Talaie / Corbis via Getty Images
By Cathy Cassata
Are you getting your fill of Starbucks' new Almondmilk Honey Flat White, Oatmilk Honey Latte, and Coconutmilk Latte, but wondering just how healthy they are?
By Sharon Kelly
Back in April last year, the Trump administration's Environmental Protection Agency decided it was "not necessary" to update the rules for toxic waste from oil and gas wells. Torrents of wastewater flow daily from the nation's 1.5 million active oil and gas wells and the agency's own research has warned it may pose risks to the country's drinking water supplies.
Swedish climate activist Greta Thunberg takes part in a "Friday for Future" youth demonstration in a street of Davos on Jan. 24, 2020 on the sideline of the World Economic Forum annual meeting. FABRICE COFFRINI / AFP via Getty Images
Treasury Secretary Steven Mnuchin pretended not to know who Greta Thunberg is, and then he told her to get a degree in economics before giving world leaders advice, as The Guardian reported.
The Visible Infrared Imaging Radiometer Suite on the Suomi NPP satellite acquired this image of forest fire smoke hovering over North America on Aug. 15, 2018. NASA Earth Observatory
New York City isn't known for having the cleanest air, but researchers traced recent air pollution spikes there to two surprising sources — fires hundreds of miles away in Canada and the southeastern U.S.
If temperatures continue to rise, the world is at risk from global
sea-level rise
, which will flood many coastal cities as seen above in Bangladesh. NurPhoto / Contributor / Getty Images
The mounting climate emergency may spur the next global financial crisis and the world's central banks are woefully ill equipped to handle the consequences, according to a new book-length report by the Bank for International Settlements (BIS), as S&P Global reported. Located in Basel, Switzerland, the BIS is an umbrella organization for the world's central banks.