This website uses cookies to ensure you get the best experience while browsing it. By clicking 'Got It' you're accepting these terms.
Why Antioxidants in Superfoods Are Essential to Your Diet
Oct. 31, 2014 09:03AM EST
Food
You hear about antioxidants all the time when you're reading about great, healthy superfoods. They all have them. But what is an antioxidant and what does it do?
Here's a good basic explanation, a sort of "Science of Antioxidants 101." To boil it down to even simpler terms, atoms, which hook up to form molecules, contain neutrons, protons and electrons. If an electron is lost, it forms a free radical, which can damage a molecule and that damaged molecule can, in turn, damage others, triggering a disease reaction. Electrons are being lost all the time during metabolism, which could cause a lot of harm to our bodies—except that antioxidants step in and replace some of those electrons. So we really need to be getting some antioxidants in our diet.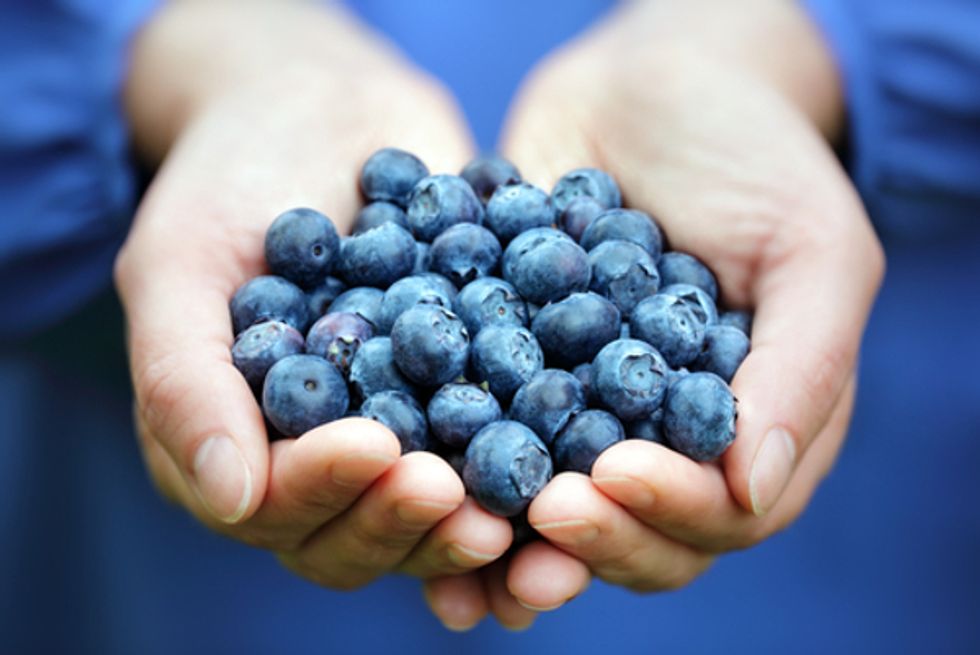 Photo credit: Shutterstock
We also need some free radicals in our body but an excess of them throws things out of balance. The list of things that can cause this imbalance probably won't surprise you. At the top of the list are environmental pollutants such as cigarette smoke, air pollution and pesticides. Alcohol is another trigger, along with infections, high blood sugar levels, too much sun exposure and even too much exercise. We can also throw the balance off by over-consuming certain vitamins and polyunsaturated fatty acids. The result can be heart disease, cancer and other chronic diseases, and a deterioration in overall health.
Naturally then, you're going to want to consume things that are rich in antioxidants like flavanoids, vitamin C and vitamin E. That's going to be primarily plant-based foods, along with green tea, coffee and—you'll be happy to hear—dark chocolate.
What are some of the plant foods you should include in your diet? Berries are a big winner. All kinds of berries are a great source of antioxidants including blueberries, blackberries, raspberries, strawberries and cranberries. Beans, especially pinto beans and red beans, are also rich in antioxidants. Apples, plums, grapes, cherries, potatoes, green vegetables, whole grains and pecans also rank high on the list.
But don't rely on a single favorite food. Different antioxidants work in different ways and we need a variety of them. That's why nature-created complex compounds found in good-for-you foods are always going to be a better choice than supplements.
YOU MIGHT ALSO LIKE
8 Superfoods You Should Eat This Fall
7 Surprisingly Affordable Superfoods
EcoWatch Daily Newsletter
U.S. President Donald Trump listens as Anthony Fauci, Director of the National Institute of Allergy and Infectious Diseases speaks in the Rose Garden for the daily coronavirus briefing at the White House on March 29 in Washington, DC. Tasos Katopodis / Getty Images
By Jake Johnson
Just over a month after proclaiming that the number of coronavirus cases in the U.S. would soon "be down to close to zero," President Donald Trump said during a press briefing on the White House lawn Sunday that limiting U.S. deaths from the pandemic to between 100,000 and 200,000 people would mean his administration and the country as a whole did "a very good job."
Dicamba is having a devastating impact in Arkansas and neighboring states. A farmer in Mississippi County, Arkansas looks at rows of soybean plants affected by dicamba. The Washington Post / Getty Images
Documents unearthed in a lawsuit brought by a Missouri farmer who claimed that Monsanto and German chemical maker BASF's dicamba herbicide ruined his peach orchard revealed that the two companies knew their new agricultural seed and chemical system would likely damage many U.S. farms, according to documents seen by The Guardian.
Washington State Governor Jay Inslee and other leaders speak to the press on March 28, 2020 in Seattle. Karen Ducey / Getty Images
A bushfire burns outside the Perth Cricket Stadium in Perth, Australia on Dec. 13, 2019. PETER PARKS / AFP via Getty Images

By Albert Van Dijk, Luigi Renzullo, Marta Yebra and Shoshana Rapley
2019 was the year Australians confronted the fact that a healthy environment is more than just a pretty waterfall in a national park; a nice extra we can do without. We do not survive without air to breathe, water to drink, soil to grow food and weather we can cope with.
By Fino Menezes
Everyone adores dolphins. Intelligent, inquisitive and playful, these special creatures have captivated humans since the dawn of time. But dolphins didn't get to where they are by accident — they needed to develop some pretty amazing superpowers to cope with their environment.