This website uses cookies to ensure you get the best experience while browsing it. By clicking 'Got It' you're accepting these terms.


The best of EcoWatch, right in your inbox. Sign up for our email newsletter!
Why 2015 Was the Hottest Year on Record
Jan. 21, 2016 09:16AM EST
Climate
Last year topped the chart as the warmest year in the modern record, according to data released Wednesday by the world's top meteorological agencies.
Global temperature in 2015 was 0.75C above the 1961-1990 long-term average and a full 1C above preindustrial times, according to official figures from the UK's Met Office.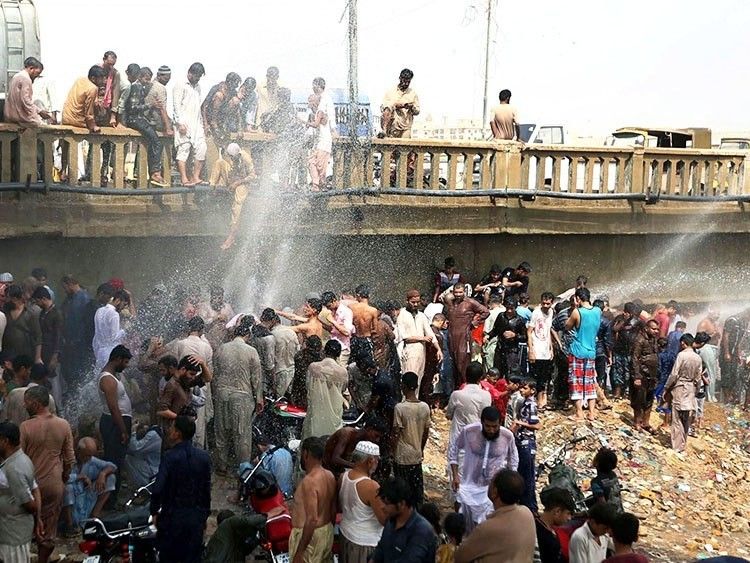 Rising greenhouse gases and a "small contribution" from the El Niño in the Pacific combined to cause the record temperatures in 2015, the Met Office's Prof. Adam Scaife tells Carbon Brief.
There is unlikely to be any respite—scientists expect 2016 to be even warmer than 2015, says Scaife.
"Overall, we expect El Niño to contribute around 25 percent to what will most likely be a new record global temperature in 2016."
The two major U.S. meteorological agencies—National Aeronautics and Space Administration (NASA) and the National Oceanic and Atmospheric Administration (NOAA)—also confirmed 2015 as the warmest year on record today. Dr Gavin Schmidt, director of the NASA Goddard Institute of Space Studies, said:
"2015 was remarkable even in the context of the larger, long-term warming trend."
In a joint summary with former head of NASA GISS, Dr. James Hansen, Schmidt says 2015 global temperature "smashed the prior record" and "should practically terminate" discussion of any slowdown in the pace of global warming.
Forewarning
Each year, the world's major meteorological organizations calculate the global average surface temperature. It's one measure of how the world is responding to greenhouse gas emissions.
Well before the end of 2015, it was looking likely that it would end up as the hottest year on record by quite some margin.
In an announcement timed to coincide with the UN climate talks in Paris in early December, the World Meteorological Organization (WMO) said it expected 2015 to be the first year to see global temperatures rise 1C above preindustrial levels.
The Met Office predicted at the end of 2014 that 2015 would be among the hottest years on record, with global temperature likely to fall within the range 0.52-0.76C above the 1961-1990 average. The actual observed temperature anomaly of 0.75C is at the upper end of that range.
From this point of view, yesterday's news that 2015 was the hottest year on record comes as no great surprise. Perhaps what's most remarkable is how much hotter it has been.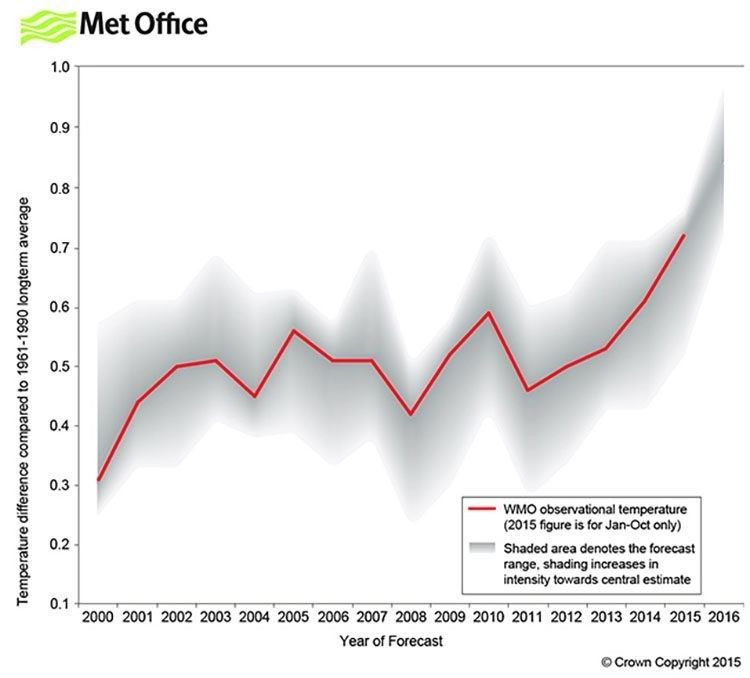 Levels of Confidence
Measuring global temperature is complicated. Scientists' estimates come with a range of possible temperatures either side of a central figure, to reflect that uncertainty.
While yesterday's announcement puts 2015's global temperature at 0.75C above the 1961-1990 long-term average, the scientists say it could realistically be as low as 0.65C or as high as 0.84C.
(Note: The Met Office traditionally uses a 1961-1990 baseline, rather than the less well-defined "preindustrial" level. Where it uses term 'preindustrial', this refers to the 1850-1900 average.)
When it comes to temperature rankings, what matters is whether the difference between individual years is more or less than the range of uncertainty. If it's more, scientists can be confident one year was warmer than the other. If it's less, they can't say for certain either way.
But the situation is very clear this year, says Prof. Tim Osborn from the University of East Anglia. He tells Carbon Brief:
"The HadCRUT4 global temperature record includes the most complete representation available of the various sources of error. Taking these into account, we can confidently say that 2015 was the warmest."
HadCRUT4 is the longest of the three major global time series, extending back to 1850. It is jointly put together by the Met Office and the Climatic Research Unit at the University of East Anglia.
The graph below shows global temperatures and associated uncertainty ranges in HadCRUT4 since 2000. You can see the difference between the middle estimates for 2015 and the next warmest year in 2014 is a full 0.18C—over and above the typical uncertainty of 0.1C.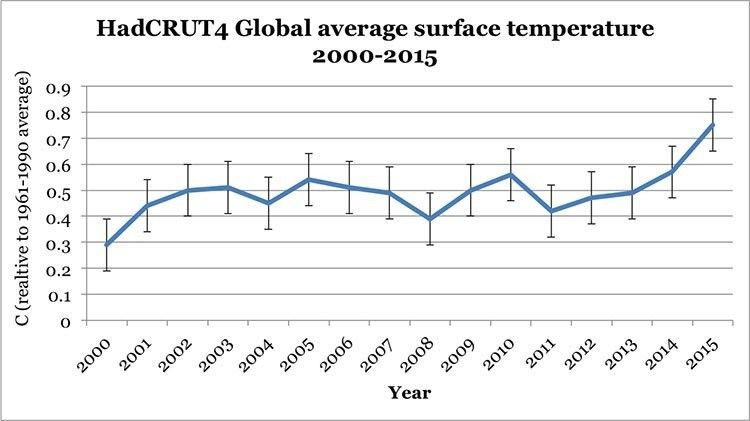 The only way that 2015 might not be the warmest year on record is if turned out the actual temperature was at the very bottom of the uncertainty range while the temperature for 2014 was at the very top. But the chances of that are extremely small, Osborn tells Carbon Brief:
"The slight overlap between the 2015 and 2014 ranges does not undermine our confidence that 2015 is the warmest year on record. For 2014 to be warmest, that would require the combination of two very unlikely events: 2014 to be at the very top of its confidence interval at the same time as 2015 being at the very bottom of its confidence interval."
Dr. Thomas Karl, director of NOAA's National Climatic Data Center, echoed this point, telling a press conference earlier today that it is "virtually certain" that 2015 is the hottest year on record. But while interest in which years break records is inevitable, understanding climate change means taking a much wider view. Osborn explains:
"It is the long-term trend that tells us about climate change, rather than the relative warmth of individual years."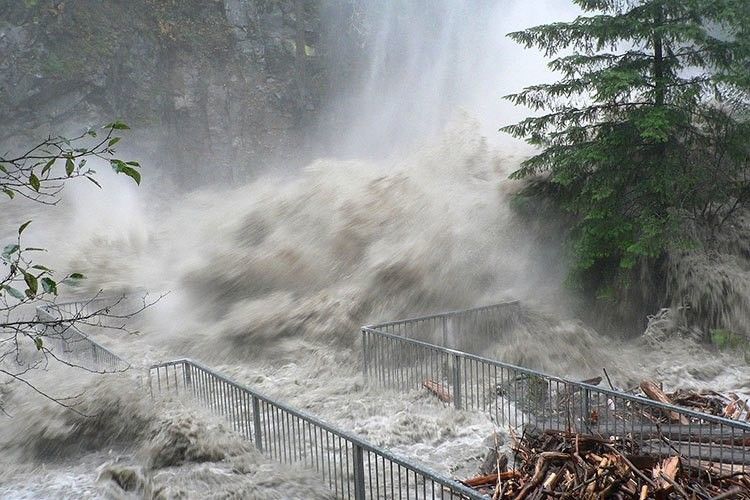 Q&A: A Boost From El Niño
As well as being a symptom of the long term warming trend, scientists are interested in 2015 global temperature because of what it tells us about how natural fluctuations in the climate can act to amplify or dampen the warming signal, Osborn explains.
A huge El Niño in the Pacific—among the biggest on record—contributed to the record warmth in 2015, say scientists. In total, 10 out of the 12 months in 2015 either tied with or broke previous records, according to NASA and NOAA's joint analysis. Since the El Niño only recently reached peak strength, scientists expect its impact to be even larger in 2016.
Carbon Brief asked Prof. Adam Scaife, head of long-range forecasting at the Met Office, a few questions about the role of El Niño in the current spell of record-topping warmth.
How Do Scientists Work Out the Impact of El Niño on Global Temperature?
Using the historical observational record, which now extends back more than a century and theoretical computer models, which have been used to simulate even longer periods, we are able to calculate what happens to global temperature in the run up to an El Niño (or La Niña) and in its aftermath. The effects are very clear: there is a little warming in the period preceding the winter El Niño peak, but the big effect on global temperature comes in the following calendar year as it takes a few months for heat to increase in other ocean basins around the world. The bottom line is that for each 1 degree of El Niño the global temperature in the following year rises by about 0.1 degrees.
How Much of the Record Temperature in 2015 Was Down to El Niño?
El Niño was growing in 2015 and only reached its peak this winter. So, we think El Niño made only a small contribution (a few hundredths of a degree) to the record global temperatures in 2015.
Does that mean human activity was the biggest driver of 2015's record temperature?
Yes. The nominal record global average temperature of 2015 was well predicted in advance and well explained as being primarily due to global warming, itself mainly due to greenhouse gas emissions of human origin. El Niño made only a small contribution.
What Can We Expect in 2016?
Given the strength of the current El Niño, we expect 2016 to be even warmer globally than 2015. The lagged effects of El Niño are already starting to appear in the monthly temperature observations which are registering more than 0.8 degrees above norm in recent months. This is consistent with our forecast for unprecedented warmth in the coming year. Overall, we expect El Niño to contribute around 25 percent to what will most likely be a new record global temperature in 2016. Much of the rest is down to climate change.
YOU MIGHT ALSO LIKE 
There Will Be More Plastic Than Fish in the Ocean by 2050
Leonardo DiCaprio: 'Enough Is Enough' Corporate Greed Must Stop
Heat Absorbed by Oceans Has Doubled Since 1997
Bill McKibben: How to Stop the Fossil Fuel Industry From Wrecking Our World
EcoWatch Daily Newsletter
Tim P. Whitby / 21st Century Fox / Getty Images
The beauty products we put on our skin can have important consequences for our health. Just this March, the U.S. Food and Drug Administration (FDA) warned that some Claire's cosmetics had tested positive for asbestos. But the FDA could only issue a warning, not a recall, because current law does not empower the agency to do so.
Michelle Pfeiffer wants to change that.
The actress and Environmental Working Group (EWG) board member was spotted on Capitol Hill Thursday lobbying lawmakers on behalf of a bill that would increase oversight of the cosmetics industry, The Washington Post reported.
By Collin Rees
We know that people power can stop dangerous fossil fuel projects like the proposed Line 3 tar sands oil pipeline in Minnesota, because we've proved it over and over again — and recently we've had two more big wins.

Scientists released a study showing that a million species are at risk for extinction, but it was largely ignored by the corporate news media. Danny Perez Photography / Flickr / CC
By Julia Conley
Scientists at the United Nations' intergovernmental body focusing on biodiversity sounded alarms earlier this month with its report on the looming potential extinction of one million species — but few heard their calls, according to a German newspaper report.
DoneGood
By Cullen Schwarz
Ethical shopping is a somewhat new phenomenon. We're far more familiar with the "tried and tested" methods of doing good, like donating our money or time.
Pixabay
Summer is fast approaching, which means it's time to stock up on sunscreen to ward off the harmful effects of sun exposure. Not all sunscreens are created equally, however.
Mark Wallheiser / Getty Images
The climate crisis is a major concern for American voters with nearly 40 percent reporting the issue will help determine how they cast their ballots in the upcoming 2020 presidential election, according to a report compiled by the Yale Program on Climate Change Communication.
Of more than 1,000 registered voters surveyed on global warming, climate and energy policies, as well as personal and collective action, 38 percent said that a candidate's position on climate change is "very important" when it comes to determining who will win their vote. Overall, democratic candidates are under more pressure to provide green solutions as part of their campaign promises with 64 percent of Democrat voters saying they prioritize the issue compared with just 34 percent of Independents and 12 percent of Republicans.
Flooding in Winfield, Missouri this month. Jonathan Rehg / Getty Images
President Donald Trump has agreed to sign a $19.1 billion disaster relief bill that will help Americans still recovering from the flooding, hurricanes and wildfires that have devastated parts of the country in the past two years. Senate Republicans said they struck a deal with the president to approve the measure, despite the fact that it did not include the funding he wanted for the U.S.-Mexican border, CNN reported.
"The U.S. Senate has just approved a 19 Billion Dollar Disaster Relief Bill, with my total approval. Great!" the president tweeted Thursday.
Reed Hoffmann / Getty Images
Violent tornadoes tore through Missouri Wednesday night, killing three and causing "extensive damage" to the state's capital of Jefferson City, The New York Times reported.
"There was a lot of devastation throughout the state," Governor Mike Parson said at a Thursday morning press conference, as NPR reported. "We were very fortunate last night that we didn't have more injuries than what we had, and we didn't have more fatalities across the state. But three is too many."