This website uses cookies to ensure you get the best experience while browsing it. By clicking 'Got It' you're accepting these terms.
Who's Your Farmer?
Jul. 10, 2010 03:46PM EST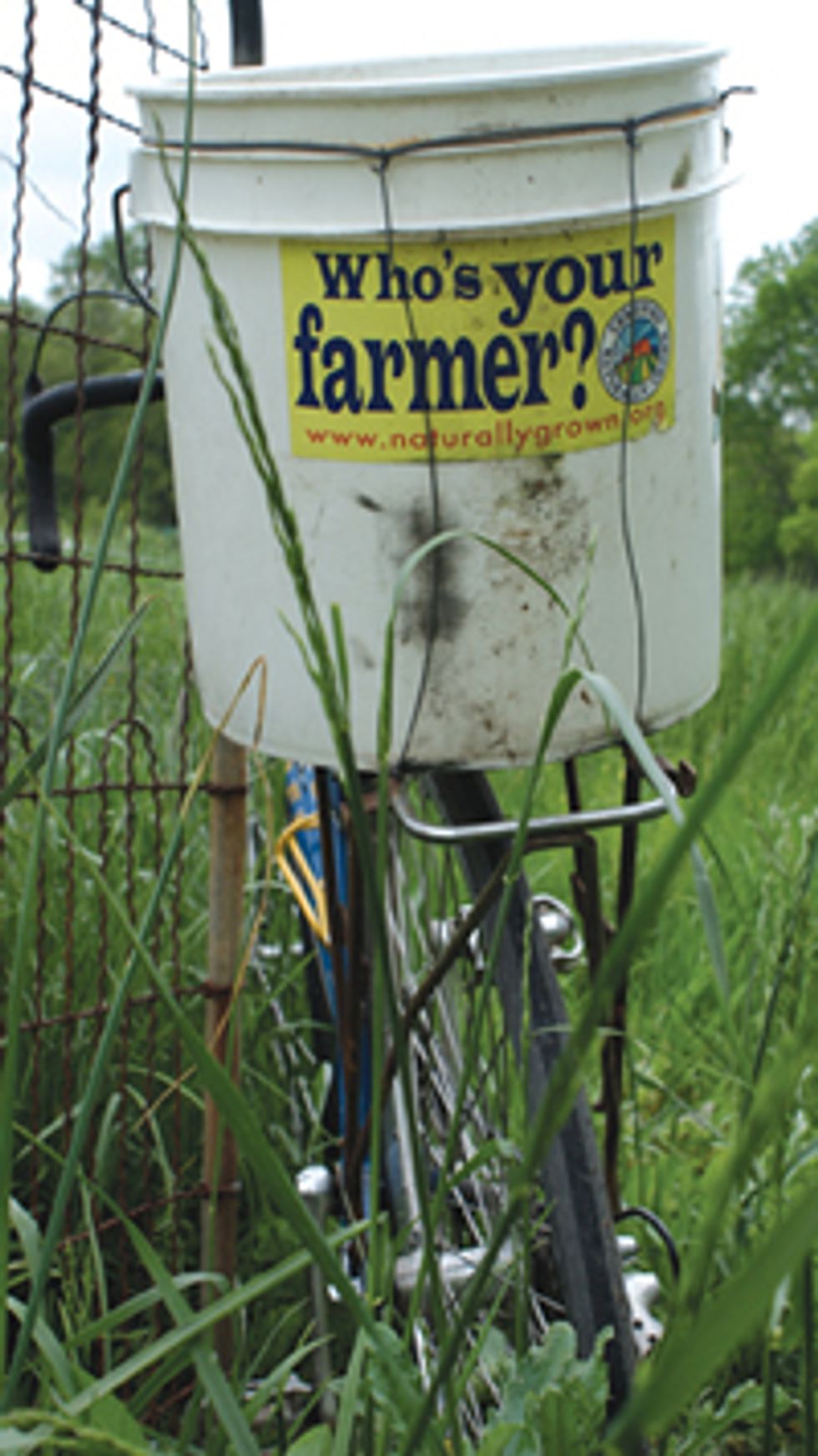 A bright blue bicycle zips down Ohio 343 just outside Yellow Springs. A compost bucket strapped on back is filled with scraps from a local restaurant. This is my farmer, off to work in the early hours of a spring morning on a three-acre parcel on which he spends nearly 4,000 hours each year.
Last year with his work, the help of friends and Mother Nature, my farmer, Andrew Manieri, owner of Heartbeat Community Farm, fed me and my husband as well as 45 other local families.
Each week from late May through mid-October, we pick up a heavy paper bag lovingly filled with all our favorite vegetables—crisp kale, sweet beets, hearty potatoes—and some exciting new ones—edamame, kohlrabi and daikon radishes. In all, there are 300 varieties of 40 kinds of vegetables.
"I want to grow food for people, not make a profit," said the 33-year-old Manieri, a former philosophy student at Oxford in England.
This new way of procuring food, by direct connection with a local farmer, is called "Community Supported Agriculture," CSA for short, a movement which sprouted in Europe and Japan in the 1960s, and took root in the U.S. in the early 90s. It's also an old way of procuring food, that is, from neighbors who you know and trust.
It works like this: Pay your farmer a set price at the beginning of the season (usually between $300 and $600) and for the next 20 weeks you will be provided with a variety of fresh vegetables, either right at your doorstep or for you to pick up at the farm.
By paying ahead of time you're sharing the risk, and the bounty, with the farmer. "It keeps farmers farming," said Manieri, who counts on this direct support from his community rather than sell his products at market. "It's potentially a reversal of what happened during the industrialization of agriculture where farmers were going out-of-business," he said.
With 90 percent of food purchased in supermarkets, knowing your farmer is rare these days. But it is more important than ever.
In a CSA, farmers can focus on providing the best quality food using the most sustainable practices, rather than producing the largest quantities of food as cheaply as possible.
It's not surprising then, that most CSAs grow food organically, with minimal chemical pesticides and fertilizers, and, because they are smaller farms, are less mechanized requiring fewer fossil fuels. Adding in the reduced transportation energy, CSAs are a powerful solution to climate change and oil depletion.
Plus CSA members develop a healthier and more nutritious diet. "One of the beautiful things about CSAs is also one of its greatest inconveniences—it changes how you eat," said Manieri, who encourages his CSA members to eat more and a greater variety of vegetables.
While there were 3,320 CSAs listed on Local Harvest, an online farm database, as of last January, it's unclear exactly how many are operating in the U.S. Estimates range from 4,000 to 12,000, the number reported by the U.S. Agricultural Census in 2007. There are 144 registered CSAs in Ohio, according to Local Harvest.
But there is a trend toward larger CSAs, which tend to be more mechanized and fossil-fuel dependent with farmers and members less acquainted. Nevertheless, Local Harvest reports that the median number of shares for a CSA is 47, testifying to the overall smallness of these farms. Almost 80 percent of CSAs have fewer than 100 members, while just 2 percent have more than 500. Working just three acres, my farmer can focus on creating the healthiest and most sustainable farm ecosystem, with an emphasis on living soil. "We're dedicated to being as fossil fuel free as possible," Manieri said. "We're not mechanized so we must replace that energy with our intelligence and labor."
In addition, he doesn't till the land, a radical but imperative way to protect soil fertility. "Tilling is devastating to the soil ecology and causes soil erosion and degradation," he explained.
My farmer's views are shared by University of Washington Professor David Montgomery, author of Dirt: The Erosion of Civilization, who argues that the plow is the most destructive device ever invented and that we are depleting soil 10 to 20 times faster than it is being produced by nature.
If we continue our modern agricultural practices, Montgomery said, we are in danger of repeating the experience of past societies, such as the Mesopotamians, who created a desert in the fertile crescent. The difference is that this time, we have nowhere else to go.
"We need to take care of the land so it takes care of us," Montgomery said.
And that's how Manieri sees it too. "I'm a servant to my community and providing a valuable service," he said. "Farmers are the ones living between people and the natural world."
Click here for other EarthWISE Columns by Megan Quinn Bachman
EcoWatch Daily Newsletter
A new report spotlights a U.N. estimate that at least 275 million people rely on healthy coral reefs. A sea turtle near the Heron Island in the Great Barrier Reef is seen above. THE OCEAN AGENCY / XL CATLIN SEAVIEW SURVEY
In a new report about how the world's coral reefs face "the combined threats of climate change, pollution, and overfishing" — endangering the future of marine biodiversity — a London-based nonprofit calls for greater global efforts to end the climate crisis and ensure the survival of these vital underwater ecosystems.
Half of the extracted resources used were sand, clay, gravel and cement, seen above, for building, along with the other minerals that produce fertilizer. Cavan Images / Cavan / Getty Images
The world is using up more and more resources and global recycling is falling. That's the grim takeaway from a new report by the Circle Economy think tank, which found that the world used up more than 110 billion tons, or 100.6 billion metric tons, of natural resources, as Agence France-Presse (AFP) reported.
By Gero Rueter
Heating with coal, oil and natural gas accounts for around a quarter of global greenhouse gas emissions. But that's something we can change, says Wolfgang Feist, founder of the Passive House Institute in the western German city of Darmstadt.

By George Citroner
Recent research finds that official government figures may be underestimating drug deaths by half.
Researchers estimate that 142,000 people died due to drug use in 2016.
Drug use decreases life expectancy after age 15 by 1.4 years for men and by just under 1 year for women, on average.
Government records may be severely underreporting how many Americans die from drug use, according to a new study by researchers from the University of Pennsylvania and Georgetown University.
Water coolers in front of shut-off water fountains at Center School in Stow, MA on Sept. 4, 2019 after elevated levels of PFAS were found in the water. David L. Ryan / The Boston Globe via Getty Images
In a new nationwide assessment of drinking water systems, the Environmental Working Group found that toxic fluorinated chemicals known as PFAS are far more prevalent than previously thought.