Who's Really Paying for Our Cheap Clothes?
Apr. 20, 2015 09:59AM EST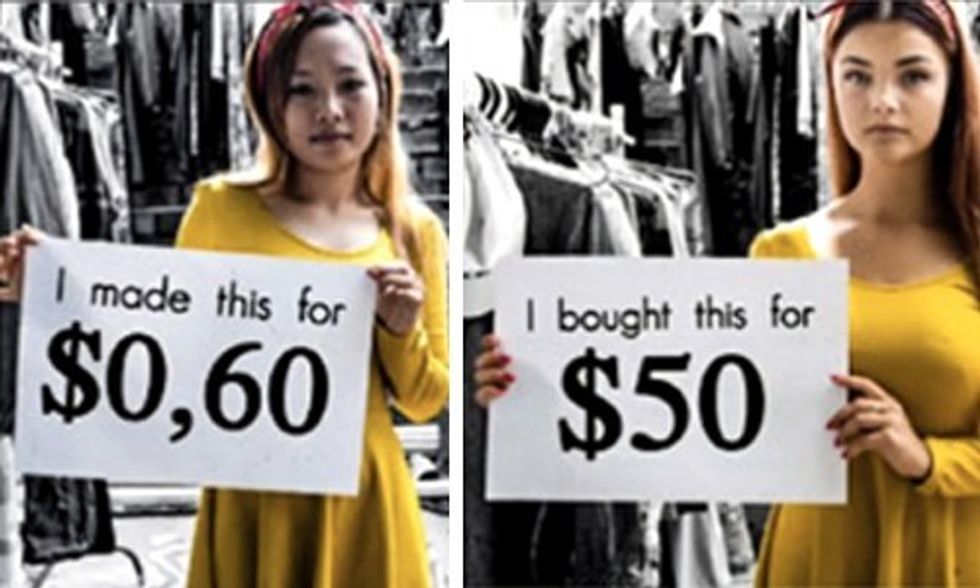 Can the fast fashion industry ever truly be sustainable?
Earlier this month, H&M released its 110-page Conscious Action Sustainability Report, its 13th annual review of its green practices and efforts towards fair wages within its factories. Although many of its figures and initiatives are commendable (e.g. its in-store recycling program brought in around 13,000 tons of clothing; it aims to use 80 percent renewable electricity by year's end; it's inspecting more textile suppliers in order to improve working conditions), environmental and social advocates have pointed out some of the report's inconsistencies.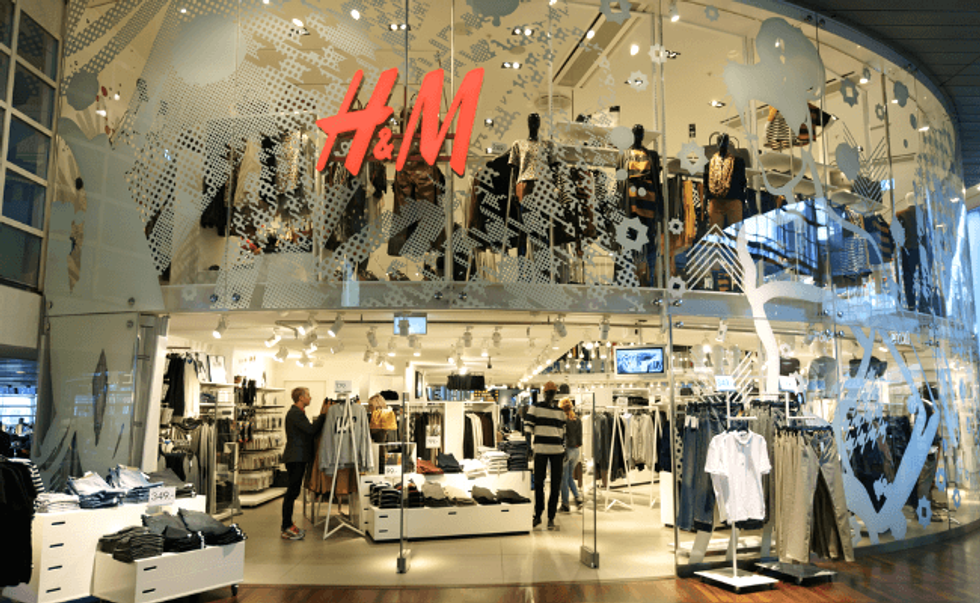 Photo credit: Shutterstock
First, Quartz shed light on the Swedish fashion giant's use of cotton. While the company is the world's number-one user of organic cotton, only 13.7 percent of the cotton H&M uses is organic. As we mentioned before, cotton is one of the most toxic crops in the world. The Organic Consumers Association says that cotton uses more than 25 percent of all the insecticides in the world and 12 percent of all the pesticides. Cotton is also incredibly water-intensive. The World Wildlife Fund says it takes 20,000 liters of water to produce one kilogram of cotton—the equivalent of a single T-shirt and a pair of jeans.
And although Greenpeace East Asia called H&M one of its leaders in their Detox Catwalk report last month for eliminating toxic perfluorinated chemicals in its products and banning the use of endocrine disrupting APs/APEOs and phthalates during manufacturing, the whole buy-and-discard mentality of fast fashion has been called into question.
As Quartz pointed out, H&M manufactures at least 600 million items annually for its 3,200 stores around the world, and that's not even including its thousands of subsidiary brand stores, such as COS. The fashion chain also plans to open a net total of 400 new H&M stores and nine new online markets this year alone.
Fast fashion and e-commerce have presented people with more shopping choices than ever before, in turn causing more waste as more and more clothes are being discarded for new items. In fact, the average U.S. citizen tosses around 70 pounds of clothing and other textiles a year.
"Fundamentally, there is a disconnect between the idea that you are selling a tremendous amount of clothing in fast fashion and that you are trying to be a sustainable company," said Linda Greer, who, as Natural Resources Defense Council′s (NRDC) senior scientist and director of Clean By Design, has helped H&M clean up its chemical-intensive textile dyeing and finishing process.
NRDC has partnered up with H&M and other prominent brands such as Target, Gap Inc. and Levi Strauss and Co. through the Clean By Design program to improve their environmental practices in textile mills in China. NRDC produced a new report last week which found that these sustainable fashion leaders save $14.7 million annually through major cuts in water, energy and chemical use.
"Great fashion can also be green fashion. Although apparel manufacturing is among the largest polluting industries in the world, it doesn't have to be," said Greer. "There are enormous opportunities for the fashion industry to clean up its act while saving money, and Clean By Design offers low-cost, high-impact solutions to do just that."
In addition to fast fashion's environmental input, another major concern is the poor conditions of the textile workers, especially in light of the 2013 Rana Plaza garment factory collapse in Bangladesh where more than 1,100 workers were killed (H&M did not have a contract with that factory.)
In 2013, the brand committed to paying 850,000 textile workers a "fair living wage" by 2018. The sustainability report said H&M is testing out a "pay-structure improvement method" in two factories in Bangladesh and one in Cambodia, where H&M is the sole client. The report said that its first evaluation has been carried out in its Cambodian factory and that "overtime has decreased, wages have risen, productivity has increased and dialogue between employer and employees has improved."
However, the Clean Clothes Campaign, an alliance of garment industry labor unions and NGOs, has criticized the brand's latest report for having "no real figures to show progress towards this goal" of a fair living wage.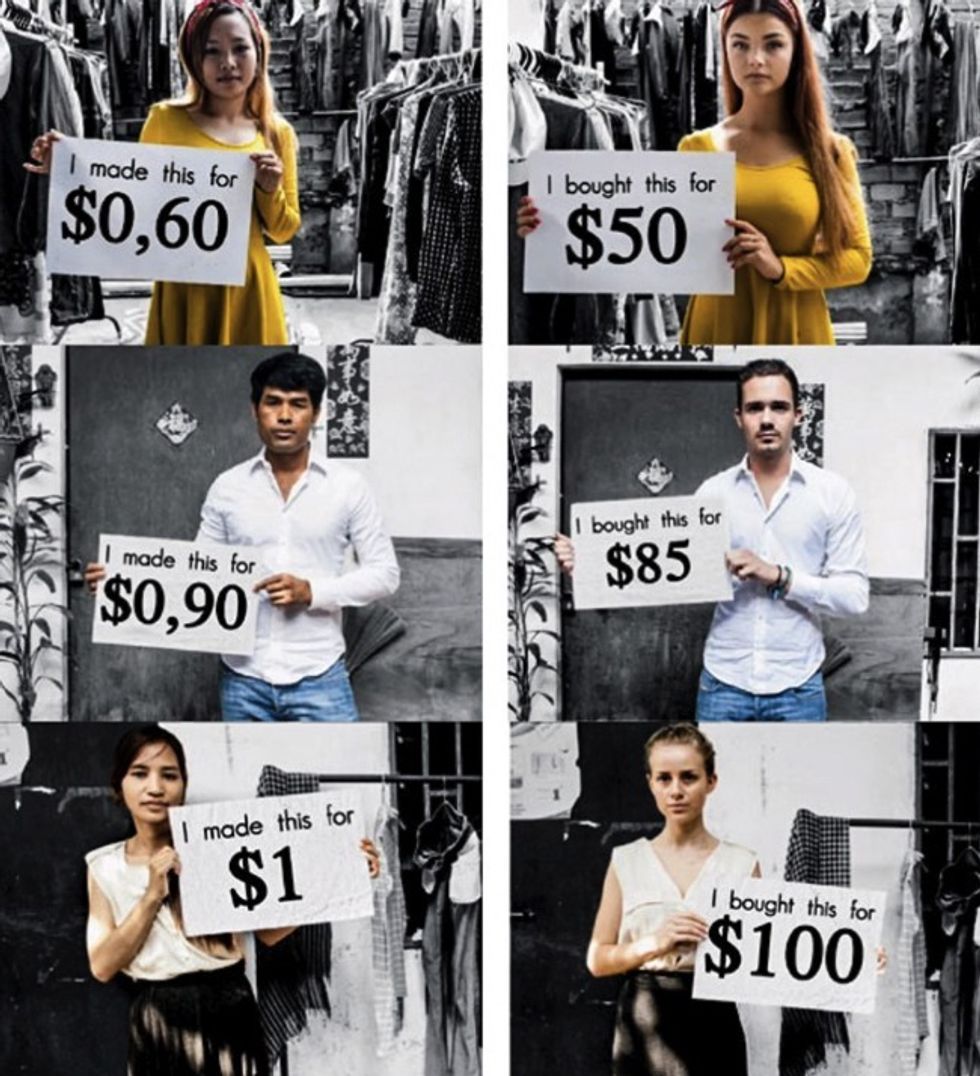 "H&M's report does not accurately reflect the reality on the ground in Cambodia or Bangladesh and their PR rings hollow to workers who are struggling everyday to feed their families," said Athit Kong, Vice President of the Cambodian garment workers' union C.CAWDU. "A 'sustainability' model that is put forth and wholly controlled by H&M but is not founded in genuine respect for organized workers and trade unions on the ground is never going to result in real change for H&M production workers and only serves as a public relations façade to cover up systemic abuse."
Also what exactly is a "fair living wage," as defined by H&M? Bangladesh has the world's lowest minimum wage at $38 a month. Last November, Cambodia increased the monthly minimum wage for garment workers by 28 percent to $128, falling short of union workers' demands and creating the potential for further strikes in the country, the Wall Street Journal reported.
"Any kind of credible wage pilot project needs to have defined benchmarks and include clear and time-bound plans for making progress happen in all factories, not just the few," Clean Clothes Campaign's Carin Leffler said.
As the second biggest garment retailer in the world and the biggest buyer of clothes from Bangladesh, H&M could be a major player in changing the dirty textile industry for the better. H&M said their CEO Karl-Johan Persson has met twice with the Bangladeshi government and visited the Cambodian prime minister to discuss labor topics such as increasing the minimum wage and reducing overtime.
Earlier this year, the web documentary series Sweatshop: Dead Cheap Fashion took three young Norwegians—fashion blogger Anniken Jørgensen and fast fashion consumers Frida Ottesen and Ludvig Hambro—on a surprise trip to a Cambodian garment factory to work for a month. They were horrified to learn about the workers' impoverished conditions, where some workers and their families have died of starvation because they can't make ends meet due to low wages.
Although H&M has denied buying items from any of the shops featured in the show, as Ottesen said in episode five, "I can't understand why the big chains, like H&M, don't act? H&M is a big company with massive amounts of power. Do something!"
The truth is, cheap clothing has a real cost. "It is not fair that anybody sit 12 hours sewing and sewing until they collapse of dehydration and hunger," Hambro said. "And the truth is that we are rich because they are poor. We are rich because it costs us 10 Euro to buy a T-shirt at H&M, but somebody has to starve for you to be able to buy it."
YOU MIGHT ALSO LIKE
3 Companies Specializing in Organic Clothing for Kids
Companies Respond to Women's Call for Toxic-Free Products
Scientists are studying barley, the key ingredient in beer. Ridofranz / Getty Images
Researchers at UC-Riverside are investigating how barley, a key ingredient in beer, survives in such a wide variety of climates with hopes of learning what exactly makes it so resilient across climates.
Barley was first grown domestically in Southwest Asia about 10,000 year ago and is grown around the world, from Egypt to Minnesota.
Barley's prime growing regions have shifted northward in recent decades as global temperatures have risen due to climate change caused by human extraction and combustion of fossil fuels.
Chuck Skypeck, technical brewing projects manager for the Brewers Association located in Boulder, Colorado, told E&E climate change's effects are impacting the brewing industry.
"Certainly dynamic growing conditions, water scarcity, extreme weather events, growers' planting decisions can all affect both pricing and availability of brewers' supply of malted barley," he told E&E News.
For a deeper dive:
For more climate change and clean energy news, you can follow Climate Nexus on Twitter and Facebook, sign up for daily Hot News, and visit their news site, Nexus Media News.
EcoWatch Daily Newsletter
Air France airplanes parked at the Charles de Gaulle/Roissy airport on March 24, 2020. SAMSON / AFP via Getty Images
France moved one step closer this weekend to banning short-haul flights in an attempt to fight the climate crisis.
A bill prohibiting regional flights that could be replaced with an existing train journey of less than two and a half hours passed the country's National Assembly late on Saturday, as Reuters reported.
"We know that aviation is a contributor of carbon dioxide and that because of climate change we must reduce emissions," Industry Minister Agnes Pannier-Runacher told Europe 1 radio, according to Reuters.
The measure now has to pass the French Senate, then return to the lower house for a final vote. It would end regional flights between Paris's Orly airport and cities like Nantes and Bordeaux, The Guardian explained. It would not, however, impact connecting flights through Paris's Charles de Gaulle/Roissy airport.
The bill is part of a legislative package which aims to reduce France's emissions by 40 percent of 1990 levels by 2030, Reuters reported. It is a watered-down version of a proposal suggested by France's Citizens' Convention on Climate, BBC News explained. This group, which was formed by President Emmanuel Macron in 2019 and included 150 ordinary citizens, had put forward a ban on flights that could be replaced with an existing train journey of under four hours.
However, the journey length was lowered after protests from KLM-Air France, which had suffered heavy losses due to the coronavirus pandemic, and regions who were concerned about being left out of national transit networks, as The Guardian explained.
"We have chosen two and a half hours because four hours risks isolating landlocked territories including the greater Massif Central, which would be iniquitous," transport minister Jean-Baptiste Djebbari said, as The Guardian reported.
However, some environmental and consumer groups objected to the changes. The organization UFC-Que Choisir compared plane routes with equivalent train journeys of under four hours and found that the plane trips emitted an average of 77 times more carbon dioxide per passenger than the train journeys. At the same time, the train alternatives were cheaper and only as much as 40 minutes longer.
"[T]he government's choice actually aims to empty the measure of its substance," the group said, according to The Guardian.
The new measure also opens the French government to charges of hypocrisy. It bailed out Air France-KLM to the tune of a seven-billion euro loan last year, though it did require the airline to drop some domestic routes as a condition. Then, days before the measure passed, it more than doubled its stake in the airline, BBC News reported. However, Pannier-Runacher insisted to Europe 1 radio that it was possible to balance fighting climate change and supporting struggling businesses.
"Equally, we must support our companies and not let them fall by the wayside," she said, as Reuters reported.
This is not the first time that climate measures and aviation bailouts have coincided in the wake of the coronavirus pandemic. Austrian Airlines replaced its Vienna-Salzburg flight with additional train service after it received government money dependent on cutting greenhouse gas emissions, BBC News reported.
The number of flights worldwide declined almost 42 percent in 2020 when compared with 2019. It is expected that global aviation may not fully recover until 2024, according to Reuters.
A woman looks at a dead gray whale on the beach in the SF Bay area on May 23, 2019; a new spate of gray whales have been turning up dead near San Francisco. Justin Sullivan / Getty Images
Four gray whales have washed up dead near San Francisco within nine days, and at least one cause of death has been attributed to a ship strike.
A small tourist town has borne the brunt of a cyclone which swept across the West Australian coast.
ABC News (Australia) / YouTube
A general view shows the remains of a dam along a river in Tapovan, India, on February 10, 2021, following a flash flood caused by a glacier break on February 7. Sajjad Hussain / AFP / Getty Images
By Rishika Pardikar
Search operations are still underway to find those declared missing following the Uttarakhand disaster on 7 February 2021.
This story originally appeared in Eos and is republished here as part of Covering Climate Now, a global journalism collaboration strengthening coverage of the climate story.