This website uses cookies to ensure you get the best experience while browsing it. By clicking 'Got It' you're accepting these terms.
Who's Monitoring Fracking Wells and Pipelines? Nobody
Apr. 09, 2012 12:40PM EST
Energy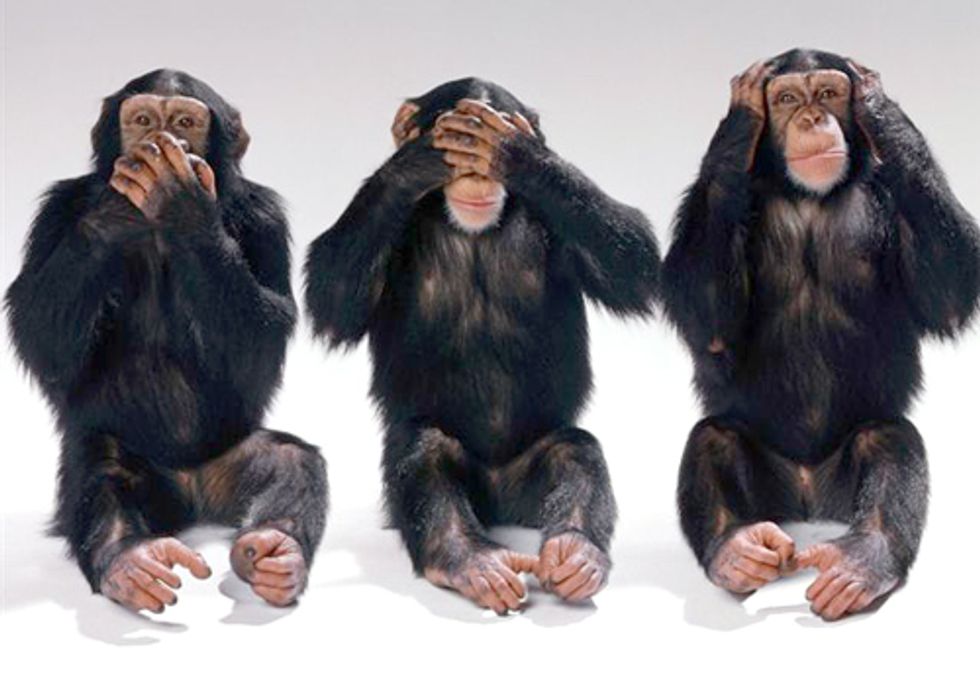 By Farron Cousins
As we here at DeSmogBlog have been covering in exhaustive detail for quite some time now, there is virtually no safe way to perform hydraulic fracturing (fracking) for unconventional oil and gas.
Fracking has been linked to numerous problems, including the release of radioactive molecules that cause an array of health problems, earthquakes and groundwater contamination. Cancer, pollution, environmental destruction—all of these things have been linked to the practice of fracking in recent years.
So with all of the dangerous side effects, you'd expect the practice to at least be heavily monitored by some sort of official watchdog group.
You'd think so, but you'd be wrong. According to new studies, there is a dangerous lapse in oversight for fracking wells and the pipelines being used to transport gas from these wells. From News Inferno:
According to an AP report, there are thousands of miles of unregulated pipeline going from active fracking wells across the U.S. to larger pipelines transporting the gas to processing facilities. Though many of these pipelines are relatively new construction, there are no guarantees they've been built safely or aren't at risk of cracking, corroding, or exploding.
The report cites a study this week from the Government Accountability Office which counts at least 240,000 miles of natural gas and oil pipeline leading from fracking wells to larger pipelines and eventually to processing facilities around the country. These pipelines are not regulated by the U.S. Pipeline and Hazardous Materials Safety Administration and likely could pose major risks to public health and safety. The report indicates some government officials have no idea where many of these miles of pipeline are and some even wind through residential areas.
The report also says that the majority of the pipelines that are not within about 220 yards of a minimum of ten homes have not been inspected by anyone from local, state or federal agencies. This leaves more rural areas much more at risk of a serious gas leak.
But the lack of inspection is only half of the story. The real danger to the public is the fact that even if a gas leak occurs, the companies that own the pipes aren't required to let anyone know:
Further, if there have been any problems caused by these virtually unknown pipelines, it's unlikely the public will ever hear about them … the government, too. Because this pipeline is not regulated, natural gas and oil companies using these pipelines in the fracking process are not required to report any accidents, injuries, fatalities or dangerous releases from them. The federal agency in charge (PHMSA) only concerns itself with the fractional 10 percent of pipeline nearest populated areas. Only preliminary plans to expand oversight of these relatively unknown miles of pipeline exist and it could be years before they're ever inspected by anyone other than companies which own them.
The fact that there is no federal oversight of the industry has allowed the companies involved to keep their toxic fracking solution recipes hidden from the American public:
As fracking has become a household term, those directly impacted have realized that loose regulations on the drilling process has allowed drillers to open natural gas wells almost unchecked. Lax safety regulations on the process has led to poor well construction which has, in turn, led to leaking of toxic chemicals used in fracking.
It's those same regulations, or lack thereof, that has allowed companies using the fracking process to deny the public access to information on some of the most toxic chemicals used in it. Dozens of families across the U.S., especially in the Mid-Atlantic region which has seen the biggest boom in fracking drilling, believe fracking has caused their ongoing nightmare, forced to find alternate sources of fresh water because their wells have become too contaminated with fracking chemicals, including benzene and methane gas.
But, in bad news for the fracking industry, the public overwhelmingly supports increasing regulations and oversight of unconventional oil and gas drilling activities.
Sixty-five percent of Americans want the federal government to impose tougher regulations on the industry, while just 18 percent said they didn't think more regulations were necessary.
It will be interesting to see how the public reacts to the fact that the industry is operating without even basic pipeline safety standards, well construction oversight or other needed health and safety protections.
For more information, click here.
EcoWatch Daily Newsletter
By Sabrina Kessler
Far-reaching allegations about how a climate-sinning American multinational could shamelessly lie to the public about its wrongdoing mobilized a small group of New York students on a cold November morning. They stood in front of New York's Supreme Court last week to follow the unprecedented lawsuit against ExxonMobil.
By Alex Robinson
Leah Garcés used to hate poultry farmers.
The animal rights activist, who opposes factory farming, had an adversarial relationship with chicken farmers until around five years ago, when she sat down to listen to one. She met a poultry farmer called Craig Watts in rural North Carolina and learned that the problems stemming from factory farming extended beyond animal cruelty.
People navigate snow-covered sidewalks in the Humboldt Park neighborhood on Nov. 11 in Chicago. Scott Olson / Getty Images
Temperatures plunged rapidly across the U.S. this week and around 70 percent of the population is expected to experience temperatures around freezing Wednesday.
A general view of the flooded St. Mark's Square after an exceptional overnight "Alta Acqua" high tide water level, on Nov. 13 in Venice. MARCO BERTORELLO / AFP / Getty Images
President Donald Trump doesn't like wind turbines.
In April, he claimed they caused cancer, and he sued to stop an offshore wind farm that was scheduled to go up near land he had purchased for a golf course in Aberdeenshire in Scotland. He lost that fight, and now the Trump Organization has agreed to pay the Scottish government $290,000 to cover its legal fees, The Washington Post reported Tuesday.
A verdant and productive urban garden in Havana. Susanne Bollinger / Wikimedia Commons
By Paul Brown
When countries run short of food, they need to find solutions fast, and one answer can be urban farming.
Trevor Noah appears on set during a taping of "The Daily Show with Trevor Noah" in New York on Nov. 26, 2018.
The Daily Show With Trevor Noah / YouTube screenshot