This website uses cookies to ensure you get the best experience while browsing it. By clicking 'Got It' you're accepting these terms.
Who Pays the Cost of Fracking?
Jul. 16, 2013 11:40AM EST
Energy
Raising new concerns about a little-examined dimension of the fracking debate, Environment America Research & Policy Center today released a report analyzing state and federal financial assurance requirements for oil and gas drilling operations. As fracking expands at a frenzied pace in several states and federal officials consider allowing fracking near national parks and forests and key drinking water sources, Who Pays the Costs of Fracking? reveals current bonding requirements are inadequate to cover the costs of damage from gas drilling.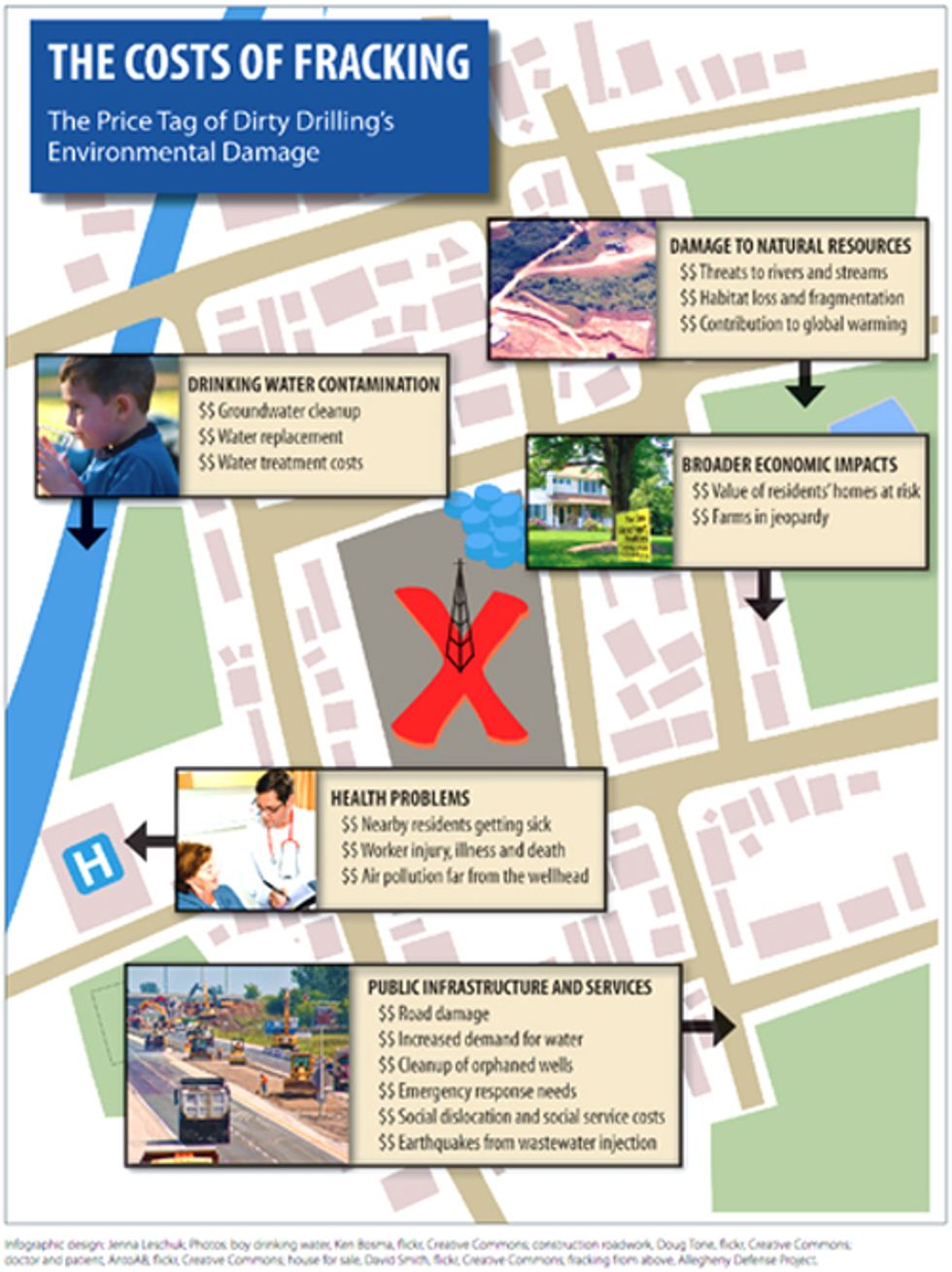 Just reclaiming a fracking site can cost hundreds of thousands of dollars, and the damage done by fracking—from contaminated groundwater to ruined roads—can cost millions of dollars. But today's report shows that:
The Bureau of Land Management (BLM) generally requires drillers to post bonds of only $10,000 per lease or a blanket bond of only $25,000 for all wells in any one state;
All but eight states require bonds of less than $50,000; and
In most cases, these bonds only cover the cost of site reclamation and well plugging, providing little or no up-front financial assurance for the broader damage done by fracking.
"This appalling lack of financial assurance dramatically increases the risks that our communities, our drinking water and our natural heritage face from fracking," observed John Rumpler, senior attorney with Environment America Research & Policy Center and a co-author of the report.
Today's report comes as the oil and gas industry is seeking to frack in several national forests and other sources of drinking water for millions of Americans—including George Washington National Forest in Virginia, White River National Forest in Colorado, Otero Mesa in New Mexico, Wayne National Forest in Ohio and the Delaware River Basin.
"It's bad enough to think that fracking could pollute major sources of drinking water," said Rumpler. "The fact that we could wind up paying the clean-up bill as well just adds insult to injury."
Environment America is urging the BLM to implement a key recommendation of the administration's advisory panel on fracking, which is the "preservation of unique and/or sensitive areas as off limits to drilling ..."
The report shows that financial assurance requirements at the state-level are also quite weak in areas at the center of the current fracking boom—including in Colorado, New Mexico, Ohio and Pennsylvania.
Of particular concern for financial accountability are the long-term costs of fracking. According to the report, across the nation by 2006 there were already 59,000 abandoned oil and gas wells and at least another 90,000 whose status is unknown. The potential cost for just plugging these wells exceeds $780 billion.
"From coal to oil to mining, we've seen every boom of extraction leave a legacy of pollution that future generations are left to grapple with," observed Rumpler. "Weak financial assurance requirements virtually guarantee the same fate wherever fracking is allowed."
Visit EcoWatch's FRACKING page for more related news on this topic.
——–
SHARE YOUR THOUGHTS BELOW: How do we get these companies to clean up the cost of their contamination?
——–

EcoWatch Daily Newsletter
The Visible Infrared Imaging Radiometer Suite on the Suomi NPP satellite acquired this image of forest fire smoke hovering over North America on Aug. 15, 2018. NASA Earth Observatory
New York City isn't known for having the cleanest air, but researchers traced recent air pollution spikes there to two surprising sources — fires hundreds of miles away in Canada and the southeastern U.S.
If temperatures continue to rise, the world is at risk from global
sea-level rise
, which will flood many coastal cities as seen above in Bangladesh. NurPhoto / Contributor / Getty Images
The mounting climate emergency may spur the next global financial crisis and the world's central banks are woefully ill equipped to handle the consequences, according to a new book-length report by the Bank for International Settlements (BIS), as S&P Global reported. Located in Basel, Switzerland, the BIS is an umbrella organization for the world's central banks.
Two ice fishers with a truck cut a hole in the ice near an ice fishing hut on frozen Lake Winnebago.
Richard Hamilton Smith / Corbis NX / Getty Images
By Susan Cosier
Come February in Wisconsin, almost everything will be covered in ice and snow. In little shanties on frozen Lake Winnebago, a 30-by-13-mile lake in the eastern part of the state, fishers will keep watch over rectangular holes cut into the ice with a chainsaw. When they spot a fin passing below, they'll jab their spears down deep. The lucky ones will earn themselves a lake sturgeon, a species that has prowled the earth's waters for more than 150 million years.
Fresno, California, seen above, is receiving $66 million for walking trails, sidewalks, bike lanes, and more. DenisTangneyJr / iStock / Getty Images
Grecia Elenes grew up in Fresno, California. She says some parts of the city have been neglected for decades. When she moved back after college she realized nothing has changed.
People are seen embracing at Numeralla Rural Fire Brigade near the scene of a water tanker plane crash on Jan. 23 in Cooma, Australia. Three American firefighters have have died after their C-130 water tanker plane crashed while battling a bushfire near Cooma in southern NSW this afternoon. Jenny Evans / Getty Images
Three U.S. firefighters gave their lives battling Australia's historic wildfires Thursday when their airborne water tanker crashed.