White House Says Obama Will Veto Keystone XL Pipeline Bill
While Congress returned to session this week, Republican leadership made it clear the number one thing on their minds was passing approval of Keystone XL pipeline as quickly as possible. That they will do so with their newly enhanced majority is a slamdunk, meaning that the only thing that stood in the way of greenlighting the pipeline was President Obama's potential veto. And until today it wasn't entirely clear what he would do, although multiple statements made it seem like he was leaning toward blocking it.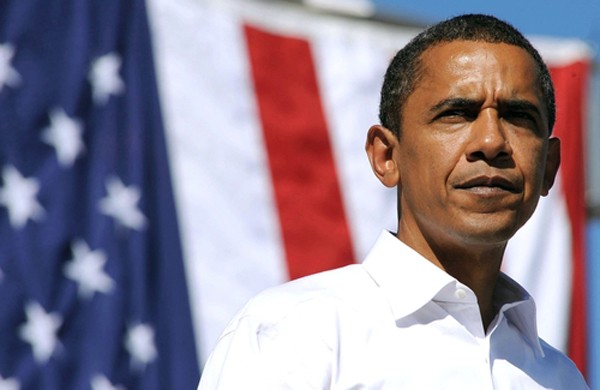 Everett Collection
/
Shutterstock.com
It's clear now. Today his press secretary Josh Earnest said unequivocally that he will veto the measure. When he was asked about it at today's press briefing—unsurprisingly given the swirl of comments by both congressional Republicans and Democrats in the last few days—Earnest said, "I can confirm that the president would not sign this bill."
"We indicated that the president would veto similar legislation considered by the previous congress and our position on this hasn't changed," said Earnest. "I would not anticipate that the president would sign this piece of legislation."
Obama had previously said that the State Department review process should be completed and a court case in Nebraska over the pipeline's route should be decided before moving ahead on it. He also expressed reservations about the potential impact that the tar sands oil the pipeline would carry from Canada to the gulf would have on climate change.
"It's becoming more clear by the day that President Obama rightly recognizes this dirty and dangerous tar sands pipeline is a bad deal for our country," said
Michael Brune
, executive director of the
Sierra Club
. "Meanwhile, the Congressional Republicans who are preparing to use their very first vote to push the agenda of the oil and gas executives who helped elect them are wasting everyone's time yet again."
President Obama has also questioned two big ideas being pushed by supporters to make the pipeline sound appealing to Americans: that it would impact U.S. oil prices and that it would create jobs, neither accurate.
Earnest also addressed the eagerness of Republicans in Congress to put this issue at the front of the line.
"It raises questions about the willingness of Republicans to work with this administration when you consider that the very first bill they introduce introduce is one that the President opposes," he said.
Senate Minority leader Dick Durbin of Illinois said that he doesn't believe the pipeline supporters have the 67 votes needed to override the President's veto.
That would be good news for the activists, environmentalists and community groups who have been protesting and speaking out against the Keystone XL pipeline for the past six years.
"This is a testament to the dedication and resolve of millions of grassroots activists who have for years fought to stop this pipeline, against all odds," said Amanda Starbuck, climate program director for the Rainforest Action Network.
Jane Kleeb, founder of Bold Nebraska, a citizen group that has been fighting the pipeline's incursion into that state is very pleased with today's announcement. "Farmers and ranchers along the route thank President Obama for standing up to the climate deniers in Congress by stating he will veto the risky Keystone XL bill. Republicans' first order of business is to write a law for one foreign corporation. That is unacceptable and shows Republicans are not up to the job of governing. The presidential veto is both warranted and very welcomed news as it's one more day the Sandhills, the Ogallala Aquifer and property rights are protected," said Kleeb.
And Peter Galvin, director of programs at the Center for Biological Diversity, said, "It's encouraging to see President Obama stand up to the bullies in Congress who want to ram this project through. Keystone would be a disaster for our climate and wildlife, so here's hoping this is his first step toward killing this project once and for all."
YOU MIGHT ALSO LIKE
Keystone XL Vote Planned for Friday in the House
Obama Tells Colbert: Keystone XL Could Be 'Disastrous'
Glyphosate, the main ingredient in Monsanto's widely used herbicide Roundup, will be added July 7 to California's list of chemicals known to the state to cause cancer, according to a Reuters report Tuesday. This news comes after the company's unsuccessful attempt to block the listing in trial court and requests for stay were denied by a state appellate court and California's Supreme Court.
California's Office of Environmental Health Hazard Assessment (OEHHA) announced the designation on Monday under the Safe Drinking Water and Toxic Enforcement Act of 1986, or Proposition 65.
Keep reading...
Show less
www.facebook.com
Keep reading...
Show less
Researchers from the Marine Animal Response Society examine one of the dead right whales. Marine Animal Response Society
Canadian government officials and marine biologists are investigating the mysterious deaths of six North American right whales. The endangered animals all turned up dead between June 6 and June 23 in the Gulf of St. Lawrence, off Canada's southeastern coast.
North Atlantic right whales are the rarest of all large whale species and among the rarest of all marine mammal species, with only about 450 right whales in the North Atlantic.
Keep reading...
Show less
Scott Pruitt testifies during his Senate confirmation hearing for EPA administrator, January 2017.
The U.S. Environmental Protection Agency's (EPA) chief of staff pressured the leader of its Board of Scientific Counselors to change her congressional testimony to downplay the impact of the agency's mass dismissal of scientists from the board, the New York Times reports.
Keep reading...
Show less
By Jason Mark
Sequoiadendron giganteum. That's the scientific name for the giant sequoia: the mammoth trees found in California's Sierra Nevada that are the largest organisms on Earth, and among the longest-lived. Biologists estimate that about half of all sequoias live in Giant Sequoia National Monument, a 328,000-acre preserve in the Southern Sierra Nevada established by President Clinton in 2000.
Now that national monument is in jeopardy.
Keep reading...
Show less
By Andy Rowell
Donald Trump this week is launching an "energy week," pushing the argument that the U.S. will become a net exporter of oil and gas.
The president and his cronies are talking about a new era of "U.S. energy dominance," which could stretch for decades to come. However, no one believes the president anymore.
Keep reading...
Show less
UN
By Colleen Curry
The United Nations has designated 23 new sites around the world to its World Network of Biosphere reserves—stunning natural landscapes that balance environmental and human concerns and strive for sustainability.
The forests, beaches and waterways were added to the list this year at the International Coordinating Council of the Man and the Biosphere Programme meeting in Paris earlier this month.
Keep reading...
Show less
Jun. 26, 2017 01:48PM EST
www.elysee.fr
By Andy Rowell
There is a growing feeling within European capitals that a quiet, but deeply positive, revolution is happening under Emmanuel Macron in France.
Macron's opinion poll rating is high, especially boosted in how the young French president has reacted to Donald Trump on the international stage.
Keep reading...
Show less
Jun. 26, 2017 12:32PM EST
www.facebook.com
Keep reading...
Show less