This website uses cookies to ensure you get the best experience while browsing it. By clicking 'Got It' you're accepting these terms.
White House Releases Historic Fuel Efficiency and Carbon Pollution Standards
Aug. 28, 2012 11:41AM EST
Climate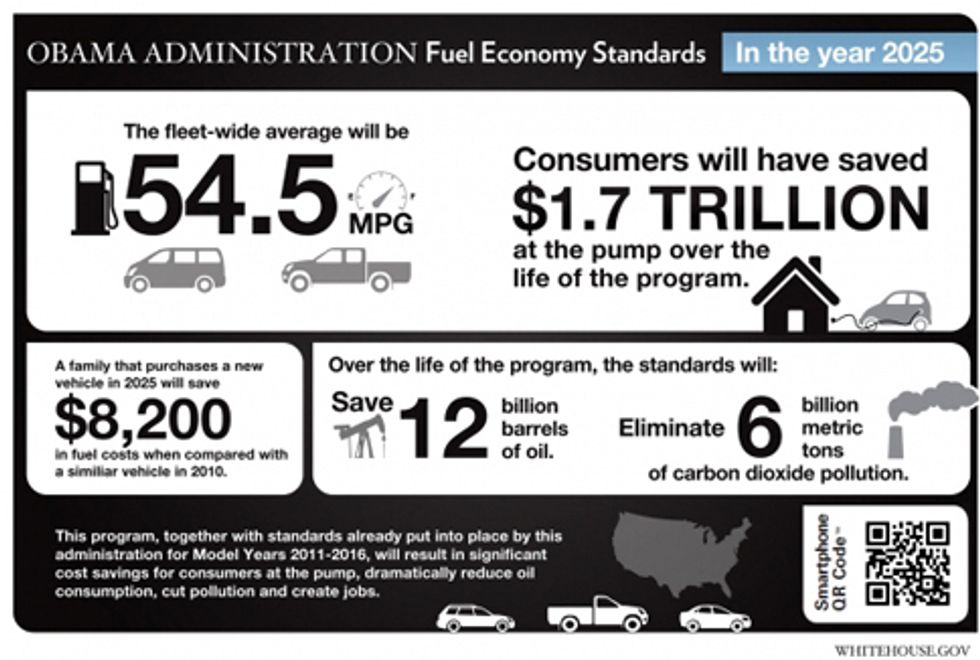 Today, the Obama administration finalized standards for model year 2017-2025 vehicles cutting carbon pollution to 163 grams per mile and achieving a fuel efficiency equivalent of 54.5 MPG by 2025. Combined with standards in place for 2012-2016 vehicles, the standards announced today will double the average efficiency of new vehicles and cut vehicle carbon emissions in half. In 2030 they will cut U.S. carbon emissions by the equivalent of 10 percent of current levels.
"Today, President Obama has taken the most significant action by any President in history to move our country off oil and slash dangerous, climate disrupting pollution that threatens our children's future," said Sierra Club's Executive Director Michael Brune.
"With June and July registering as the hottest months on record, and droughts ravaging America's heartland, these standards are a major victory for our planet and our families. They will also save families thousands of dollars at the pump and create more than half a million new jobs."
"American automakers are roaring back as leaders of the global market because they are delivering what consumers want—vehicles that use less gas, emit less pollution, and save families more money at the pump. Today Sierra Club, automakers, and autoworkers stand together to celebrate success for American industry, jobs and the environment," said Brune.
Benefits of Vehicle Efficiency and Greenhouse Gas Standards
Both rounds of vehicle standards (2017-2025 standards combined with 2012-2016 standards)
• By 2030, both rounds of vehicle standards will cut oil use by 3.1 million barrels per day. That's the amount of oil we currently import from the Persian Gulf and Venezuela combined.
• In 2030, new standards will reduce climate disrupting pollution by 570 million metric tons—nearly 10 percent of current U.S. carbon pollution.
• Consumers will save $8,000 over the lifetime of a vehicle sold in 2025 compared to the average vehicle on the road today.
2017-2025 fuel efficiency and greenhouse gas standards for passenger vehicles
• According to a recent study by the Blue Green Alliance, standards for cars and light trucks sold from 2017 through 2025 will create 570,000 new jobs across America by 2030.
• By 2030, the new standards for vehicles sold from 2017-2025 alone will save 1.5 million barrels of oil per day. That's how much we currently import from Saudi Arabia.
• Americans will save up to $4,400 over the lifetime of a vehicle sold in 2025, even after paying for fuel saving technology.
• These new standards alone will reduce climate disrupting pollution by 270 million metric tons in 2030. That's equivalent to shutting down 65 coal fired power plants for one year.
Visit EcoWatch's CLIMATE CHANGE page for more related news on this topic.
EcoWatch Daily Newsletter
European Commission President Ursula von der Leyen delivers a press statement on the European Green Deal at the EU headquarters in Brussels, Belgium on Dec. 11, 2019. Xinhua / Zheng Huansong via Getty Images
The European Commission introduced a plan to overhaul the bloc's economy to more sustainable, climate-conscious policies and infrastructure, with the goal of being carbon-neutral by 2050, according to CNBC.
Young activists shout slogans on stage after Greta Thunberg (not in the picture) took part in the plenary session during the COP25 Climate Conference on Dec. 11 in Madrid, Spain. Pablo Blazquez Dominguez / Getty Images
By Andrea Germanos
Young activists took over and occupied the main stage at the COP25 climate conference in Madrid, Spain Wednesday and demanded world leaders commit to far more ambitious action to address the ecological emergency.
A NASA image showing the ozone hole at its maximum extent for 2015. NASA Goddard Space Flight Center
The Montreal Protocol, a 1987 international treaty prohibiting the production of chlorofluorocarbons (CFCs) to save the ozone layer, was the first successful multilateral agreement to successfully slow the rate of global warming, according to new research. Now, experts argue that similar measures may lend hope to the climate crisis.
Police in Wales are in the midst of an unusual investigation: the sudden death of more than 200 starlings.
Donald Trump Jr. killed an argali sheep like this one on a hunting trip in Mongolia. powerofforever/ iStock / Getty Images Plus
During a hunting trip in Mongolia this August, Donald Trump Jr. shot and killed an endangered argali sheep, and received a permit only after the fact.