White House Dedicates Millions to Help Cities and States Battle Climate Change
Jul. 17, 2014 08:58AM EST
Climate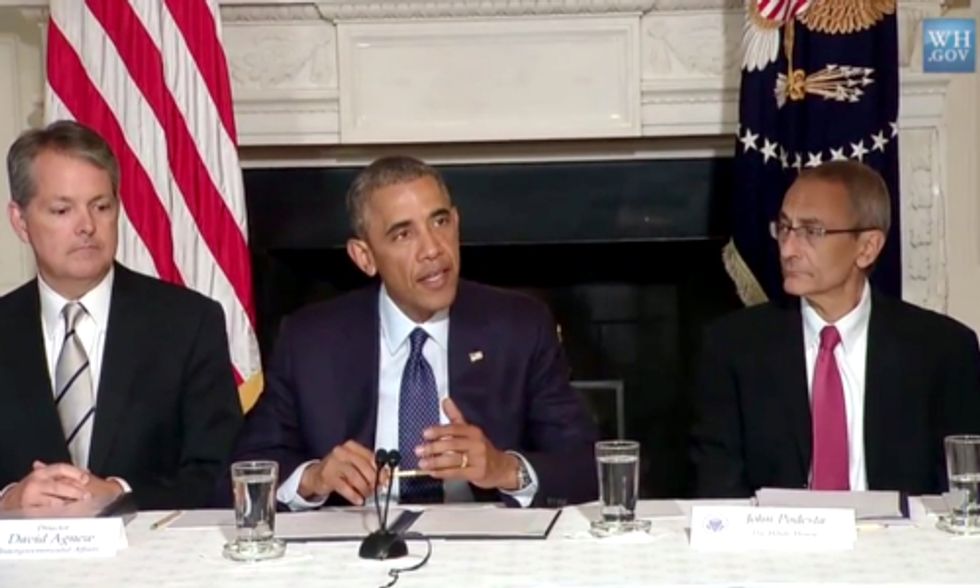 The White House's State, Local, and Tribal Leaders Task Force on Climate Preparedness and Resilience met for the fourth and final time Wednesday, emerging with climate-related recommendations to secure the country's power supply and some its rural areas.
As a result of the task force's recommendations, the U.S. Department of Agriculture on Wednesday awarded a combined $263.3 million in loans to eight states to improve the electricity infrastructure in rural areas, particularly for instances of extreme weather. That amount includes about $20 million for grid modernization and building or improving more than 3,700 miles of power lines in rural areas.
A few federal agencies, including the U.S. Geological Survey, committed $13.1 million to create help cities and states respond to extreme weather and disasters through the use of three-dimensional mapping data. The Bureau of Indian Affairs also got involved, announcing $10 million toward training tribes to adapt to climate change.
The task force was formed in November and is comprised of 26 governors, mayors, and county and tribal officials from across the country. The members advise President Barack Obama on how the federal government can help their areas battle climate change.
"They're seeing rising sea levels, more powerful hurricanes, more intense heatwaves, severe droughts and wildfires out west," Obama said about the task force members. "So this is already happening, and these leaders understand that climate change is a threat to public safety, it's a threat to public health, and to something that we want to emphasize today—the infrastructure upon which our economy depends."
Obama said the nation should already be modernizing roads, bridges, transit systems anyway—the climate crisis simply makes that need all the more important.  
"The bottom line is investing in our infrastructure, protecting our communities, ensuring the health and safety of our citizens."
EcoWatch Daily Newsletter
Recent Stories from EcoWatch