This website uses cookies to ensure you get the best experience while browsing it. By clicking 'Got It' you're accepting these terms.


The best of EcoWatch, right in your inbox. Sign up for our email newsletter!
Whistleblower Says EPA Officials Covered Up Toxic Fracking Methane Emissions for Years
Jun. 10, 2016 09:31AM EST
Energy
By Nika Knight
Why has the U.S. Environmental Protection Agency (EPA) failed to take adequate action against disastrous, climate-warming methane emissions from the fracking industry?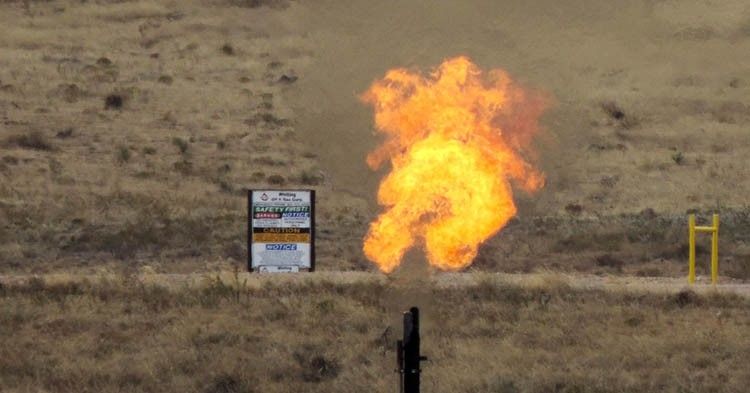 An environmental watchdog alleges that the answer may be a years-long, systematic cover-up of the true data surrounding these toxic emissions. That cover-up, the group says, was at the hands of at least one EPA researcher who accepted payments from the oil and gas industry.
In an incendiary federal complaint filed on Wednesday with the EPA's Inspector General, the 28-year-old North Carolina-based group NC WARN wrote that "there has been a persistent and deliberate cover-up that has prevented the agency from requiring the natural gas industry to make widespread, urgently needed and achievable reductions in methane venting and leakage across the nation's expanding natural gas infrastructure."
"Studies relied upon by EPA to develop policy and regulations were scientifically invalid," the organization charged.
Specifically, wrote NC WARN in a press statement, "Dr. David Allen, then-head of EPA's Science Advisory Board, has led an ongoing, three-year effort to cover up underreporting of the primary device, the Bacharach Hi-Flow Sampler and a second device used to measure gas releases from equipment across the natural gas industry. Allen is also on the faculty of the University of Texas at Austin, where he has been funded by the oil and gas industries for years."
"The EPA's failure to order feasible reductions of methane leaks and venting has robbed humanity of crucial years to slow the climate crisis," said Jim Warren, director of NC WARN. "The cover-up by Allen's team has allowed the industry to dig in for years of delay in cutting emissions—at the worst possible time."
The cover-up was discovered by NC WARN, the group wrote in its complaint, when it became aware that the very inventor of the Bacharach Hi-Flow Sampler, an engineer named Touché Howard, had been attempting to blow the whistle for years on the crucial instrument's malfunctioning. The critical failure causes the instrument to under-report methane emissions "up to 100-fold," the organization wrote.
Studies have shown the EPA underestimating methane leaks from fracked gas production for years and Howard's own research found that the agency has been "hugely underestimating" methane emissions specifically as a result of the faulty instrument, asCommon Dreams reported.
"In the extreme, that kind of failure could lead to catastrophic explosions," Howard told the Los Angeles Times.
The complaint describes Howard's repeated attempts to warn the EPA and Allen about the instrument and the silence he received in response.
"It appears that the goal of the [University of Texas] team was not to critically examine the problems but to convince [Environmental Defense Fund, who co-authored the study] and its production committee members that no problems existed," NC WARN added.
"We believe Mr. Howard was specifically prevented from providing input because the [University of Texas] team knew that he would be able to show that their counterarguments were faulty and the resulting studies scientifically invalid," the group concluded.
Howard's concerns and the specific mechanical problems of the measurement instrument he has repeatedly pointed out have to this date never been addressed, "resulting in the failure of the EPA to accurately report methane emissions for more than two years, much less require reductions," the complaint noted. "Meanwhile, the faulty data and measuring equipment are still being used extensively throughout the natural gas industry worldwide."
Indeed, a graphic included in the complaint demonstrates that the malfunctioning Bacharach Hi-Flow Sampler is relied upon to measure methane emissions at nearly every point in the fracked gas production process: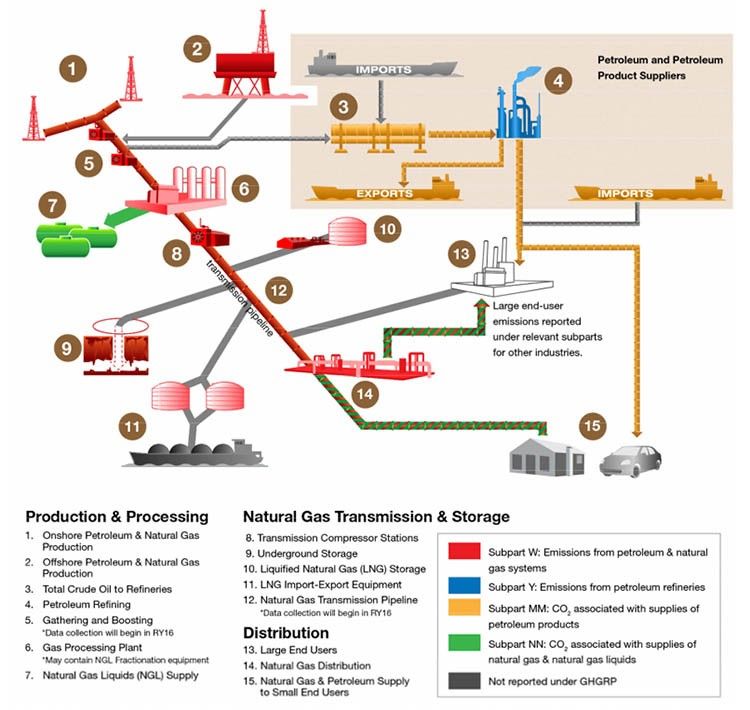 It's no mystery why Allen may have been so determined to fudge the data on toxic fracked gas emissions, NC WARN argued: "His disclosure statements [...] show his research and consulting have long been funded by the oil and gas industry."
NC WARN requested that the EPA Inspector General, the agency's internal watchdog, investigate its allegations of fraud and abuse by Allen and other EPA officials; retract Allen's studies and examine all EPA standards and policies that relied on those studies; conduct a new, scientifically valid study to "accurately quantify methane" emissions from the fracked gas extraction and production process; as well as investigate the EPA's reliance on researchers with industry bias and conflicts of interest.
Moreover, the group recommended that the EPA "redress the damage that has been done" by doing the following:
1. EPA should institute a zero emission goal for methane;
2. EPA should initiate a full regimen for oversight, testing and remediation of methane emissions in the natural gas industry; and
3. EPA should take into account the global warming potential of methane emissions over a 20-year (not 100-year) timeframe.
Warren added that the only permanent solution to the problem of methane leaks is a total ban on fracking: "Fracking for gas and oil must also be stopped for a host of reasons. We're reaching out to communities, workers, advocates and elected officials to join the call for an investigation into EPA's scientific fraud."
"The people of this nation," Warren went on, "must demand that regulators and politicians reject the pervasive pressure of corporate money, stop coddling the polluters—and do their jobs on behalf of the public."
YOU MIGHT ALSO LIKE
Solar Added More New Capacity Than Coal, Natural Gas and Nuclear Combined
'Free Trade' Will Kill Progress on Climate Change, 450 Groups Warn Congress
The Book the Fracking Industry Doesn't Want You to Read
Star Trek Actors Arrested, Call on Gov. Cuomo to Boldly Go Beyond Fossil Fuels
EcoWatch Daily Newsletter
Mark Wilson / Getty Images News
Ethics investigations have been opened into the conduct of senior Trump appointees at the nation's top environmental agencies.
The two investigations focus on Environmental Protection Agency (EPA) Administrator Andrew Wheeler and six high-ranking officials in the Department of Interior (DOI), The Hill reported Tuesday. Both of them involve the officials' former clients or employers.
"This is demonstrative of the failures at the very top of this administration to set an ethical tone," Campaign Legal Center Ethics Counsel Delaney Marsco told The Washington Post of the DOI investigation. "When people come to work for government, they're supposed to work on behalf of the public. It's a betrayal of the public trust when senior political appointees seem to give privileged access to their former employers or former clients."
Cigarette butt litter. Tavallai / CC BY-ND 2.0
By Dipika Kadaba
We've known for more than 50 years that smoking cigarettes comes with health hazards, but it turns out those discarded butts are harmful for the environment, too. Filtered cigarette butts, although small, contain dozens of chemicals, including arsenic and benzene. These toxins can leach into the ground or water, creating a potentially deadly situation for nearby birds, fish and other wildlife.
Thanasis Zovoilis / DigitalVision / Getty Images
Infants less than a year old should not be exposed to electronic screens, the World Health Organization (WHO) said on Wednesday.
Bill Pugliano / Getty Images
By Wenonah Hauter
Five years ago this week, an emergency manager appointed by then-Michigan Gov. Rick Snyder made the devastating decision to save money by switching Flint's water supply over from Detroit's water system to the Flint River. Seen as a temporary fix, the new water supply was not properly treated. High levels of lead leached from the old pipes, poisoning a generation of Flint's children, and bacteria responsible for an outbreak of Legionnaires' Disease killed more than a dozen residents.
Los Angeles-Long Beach, California is listed as the nation's smoggiest city. Pixabay
Kissing bug. Pavel Kirillov / Flickr / CC BY-SA 2.0
The Centers for Disease Control and Prevention (CDC) confirmed that the kissing bug, which can transmit a potentially deadly parasite, has spread to Delaware, ABC News reported Wednesday.
Did you know that more than a third of food is wasted or thrown away every year? And that only 25 percent of it would be enough to feed the 795 million undernourished people in the world? That's why today is Stop Food Waste Day, a chance to reflect on what you can do to waste less of the food you buy.
Stop Food Waste Day is an initiative of food service company Compass Group. It was launched first in the U.S, in 2017 and went global the year after, making today it's second worldwide celebration.