Whistleblower Says EPA Officials Covered Up Toxic Fracking Methane Emissions for Years
By Nika Knight
Why has the U.S. Environmental Protection Agency (EPA) failed to take adequate action against disastrous, climate-warming methane emissions from the fracking industry?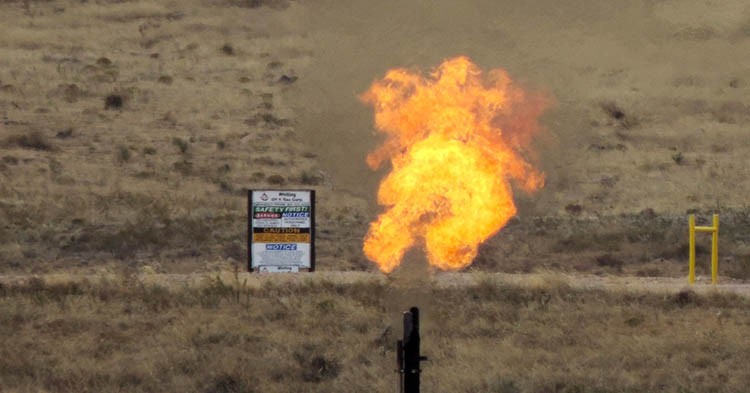 An environmental watchdog alleges that the answer may be a years-long, systematic cover-up of the true data surrounding these toxic emissions. That cover-up, the group says, was at the hands of at least one EPA researcher who accepted payments from the oil and gas industry.
In an incendiary federal complaint filed on Wednesday with the EPA's Inspector General, the 28-year-old North Carolina-based group NC WARN wrote that "there has been a persistent and deliberate cover-up that has prevented the agency from requiring the natural gas industry to make widespread, urgently needed and achievable reductions in methane venting and leakage across the nation's expanding natural gas infrastructure."
"Studies relied upon by EPA to develop policy and regulations were scientifically invalid," the organization charged.
Specifically, wrote NC WARN in a press statement, "Dr. David Allen, then-head of EPA's Science Advisory Board, has led an ongoing, three-year effort to cover up underreporting of the primary device, the Bacharach Hi-Flow Sampler and a second device used to measure gas releases from equipment across the natural gas industry. Allen is also on the faculty of the University of Texas at Austin, where he has been funded by the oil and gas industries for years."
"The EPA's failure to order feasible reductions of methane leaks and venting has robbed humanity of crucial years to slow the climate crisis," said Jim Warren, director of NC WARN. "The cover-up by Allen's team has allowed the industry to dig in for years of delay in cutting emissions—at the worst possible time."
The cover-up was discovered by NC WARN, the group wrote in its complaint, when it became aware that the very inventor of the Bacharach Hi-Flow Sampler, an engineer named Touché Howard, had been attempting to blow the whistle for years on the crucial instrument's malfunctioning. The critical failure causes the instrument to under-report methane emissions "up to 100-fold," the organization wrote.
Studies have shown the EPA underestimating methane leaks from fracked gas production for years and Howard's own research found that the agency has been "hugely underestimating" methane emissions specifically as a result of the faulty instrument, asCommon Dreams reported.
"In the extreme, that kind of failure could lead to catastrophic explosions," Howard told the Los Angeles Times.
The complaint describes Howard's repeated attempts to warn the EPA and Allen about the instrument and the silence he received in response.
"It appears that the goal of the [University of Texas] team was not to critically examine the problems but to convince [Environmental Defense Fund, who co-authored the study] and its production committee members that no problems existed," NC WARN added.
"We believe Mr. Howard was specifically prevented from providing input because the [University of Texas] team knew that he would be able to show that their counterarguments were faulty and the resulting studies scientifically invalid," the group concluded.
Howard's concerns and the specific mechanical problems of the measurement instrument he has repeatedly pointed out have to this date never been addressed, "resulting in the failure of the EPA to accurately report methane emissions for more than two years, much less require reductions," the complaint noted. "Meanwhile, the faulty data and measuring equipment are still being used extensively throughout the natural gas industry worldwide."
Indeed, a graphic included in the complaint demonstrates that the malfunctioning Bacharach Hi-Flow Sampler is relied upon to measure methane emissions at nearly every point in the fracked gas production process: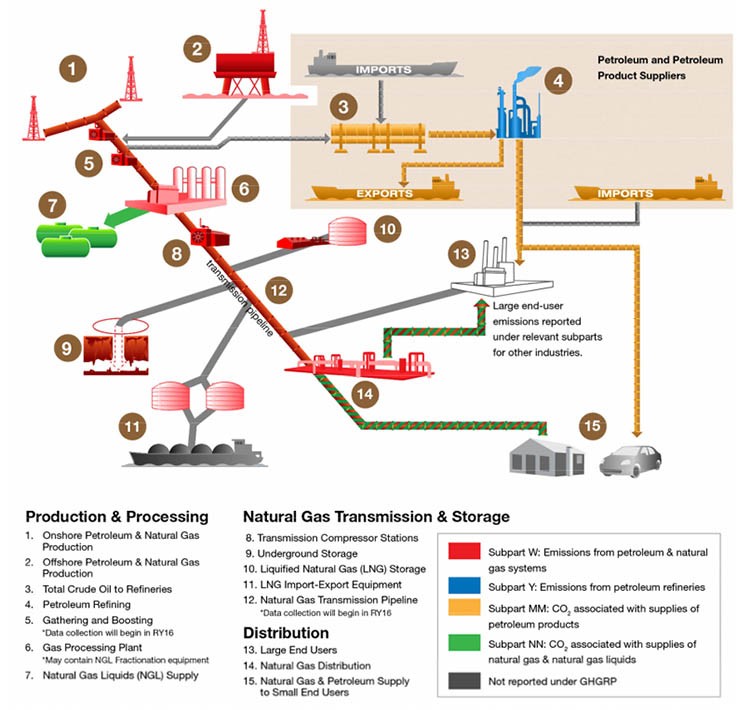 It's no mystery why Allen may have been so determined to fudge the data on toxic fracked gas emissions, NC WARN argued: "His disclosure statements [...] show his research and consulting have long been funded by the oil and gas industry."
NC WARN requested that the EPA Inspector General, the agency's internal watchdog, investigate its allegations of fraud and abuse by Allen and other EPA officials; retract Allen's studies and examine all EPA standards and policies that relied on those studies; conduct a new, scientifically valid study to "accurately quantify methane" emissions from the fracked gas extraction and production process; as well as investigate the EPA's reliance on researchers with industry bias and conflicts of interest.
Moreover, the group recommended that the EPA "redress the damage that has been done" by doing the following:
1. EPA should institute a zero emission goal for methane;
2. EPA should initiate a full regimen for oversight, testing and remediation of methane emissions in the natural gas industry; and
3. EPA should take into account the global warming potential of methane emissions over a 20-year (not 100-year) timeframe.
Warren added that the only permanent solution to the problem of methane leaks is a total ban on fracking: "Fracking for gas and oil must also be stopped for a host of reasons. We're reaching out to communities, workers, advocates and elected officials to join the call for an investigation into EPA's scientific fraud."
"The people of this nation," Warren went on, "must demand that regulators and politicians reject the pervasive pressure of corporate money, stop coddling the polluters—and do their jobs on behalf of the public."
YOU MIGHT ALSO LIKE
Solar Added More New Capacity Than Coal, Natural Gas and Nuclear Combined
'Free Trade' Will Kill Progress on Climate Change, 450 Groups Warn Congress
The Book the Fracking Industry Doesn't Want You to Read
Star Trek Actors Arrested, Call on Gov. Cuomo to Boldly Go Beyond Fossil Fuels
www.youtube.com
Volkswagen is bringing back its hippie-approved minivan but with a 21st century upgrade—the new I.D. Buzz is all-electric.
The concept car was first revealed at the Detroit Auto Show in January and now the German automaker is officially putting its reinvigorated Microbus into production.
Keep reading...
Show less
I have asked repeatedly to have my short interview clip removed from this film. The director refuses. He believes his film is fair and balanced. I do not.

I am often interviewed (see media) and hardly ever quoted incorrectly or out of context. This film is one of those rare exceptions.
Keep reading...
Show less
Top of JPMorgan Chase Tower, Dallas, Texas. Joe Mabel / Wikimedia
Keep reading...
Show less
Cupping symptoms associated with dicamba damage on a cucumber plant. University of Arkansas.
Arkansas farmers filed a class-action lawsuit last week against Monsanto and German chemical company BASF, alleging that the companies' dicamba-based herbicides caused damage to their properties.
The plaintiffs claim that Monsanto and BASF implemented and controlled the dicamba crop system, releasing seed technology without a corresponding, safe and approved herbicide.
Keep reading...
Show less
Cup and bubblegum corals found in Northeast U.S. Canyons, the Atlantic's first marine monument. NOAA
Interior Sec. Ryan Zinke, who recently recommended a reduction in the size of the 1.35 million acre Bears Ears National Monument to President Trump, is advocating for more drilling and mining on public lands and waters.
The former Montana Rep. told Reuters that the development of America's protected federal lands could help the country become a "dominant" global energy force.
Keep reading...
Show less
Gage Skidmore / Flickr (CC BY-SA 2.0)
Dozens of scientists on the U.S. Environmental Protection Agency's (EPA) Board of Scientific Counselors and board subcommittees have been informed that they will not be renewed for their roles advising the agency, the Washington Post reported.
Keep reading...
Show less
www.youtube.com
Worried about the future of the Great Barrier Reef? If so, you're not alone.
Many publications have already written obituaries for the reef, despite the fact that it is not completely dead. Thanks to this video via Vox for sounding the alarm on this critical issue, before it's too late.
Keep reading...
Show less
Mike Mozart
By Olga V. Naidenko, Ph.D.
In a landmark rule with global repercussions, California state scientists are preparing to issue the world's first health guideline for Monsanto's glyphosate herbicide based on its cancer risk. The state's proposed safe level is more than 100 times lower than the U.S. Environmental Protection Agency's (EPA) legal allowance for the average-sized American.
Keep reading...
Show less
www.youtube.com
By Bob Henson
A high risk of life-threatening flooding continues on Wednesday over parts of the central Gulf Coast as Tropical Storm Cindy lumbers toward shore. The greatest flood threat will be across low-lying areas of far southern Mississippi and Alabama, according to the NWS/NOAA Weather Prediction Center. A second area with a moderate flood risk lies across far southeast Texas and southwest Louisiana.
Keep reading...
Show less