Which States Have the Most Solar Energy Projects in Their Pipelines?
The top solar states in the U.S. have about 2,000 non-residential projects in their pipelines that could go online in 2014 or beyond.
That's about 40 gigawatts (GW) of photovoltaic (PV) capacity capacity, according to PVTech. 
"Project pipelines provide significant insight into individual projects, but also help understand market structures, business models and future demand levels," said Michael Barker, an analyst with NPD.
California has a dominating 60 percent of that capacity, according to data from NPD Solarbuzz, which released a study this week on the record year that 2013 was for the U.S. solar industry. California would have been ranked the fourth PV market in the world if it had been individually assessed.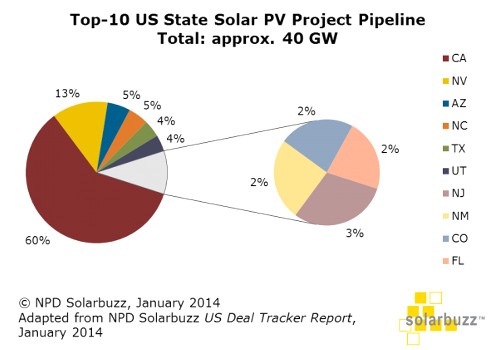 Barker believes states with the largest pipelines are set to have strong solar markets for years, while those that aren't ranked may falter off as their current pipelines become depleted.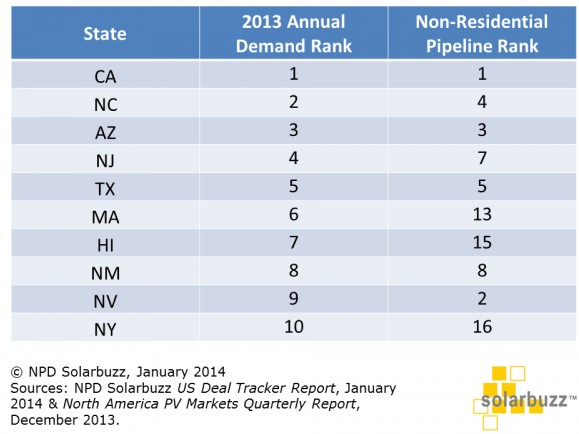 "Regardless of where individual states rank, in terms of market or pipeline size, the US market offers tremendous long-term growth opportunities," Barker wrote. "Any PV company (manufacturer, installer or developer) that wants to participate on a global level clearly needs to have a strategy for the U.S. market.
"It is essential to understand the size of state markets today and also the strength of the project pipelines driving PV demand going forward."
Visit EcoWatch's RENEWABLES page for more related news on this topic.