Which Plug-In Is Right for You? Take This Short Quiz to Find Out
Jul. 16, 2015 09:08AM EST
Business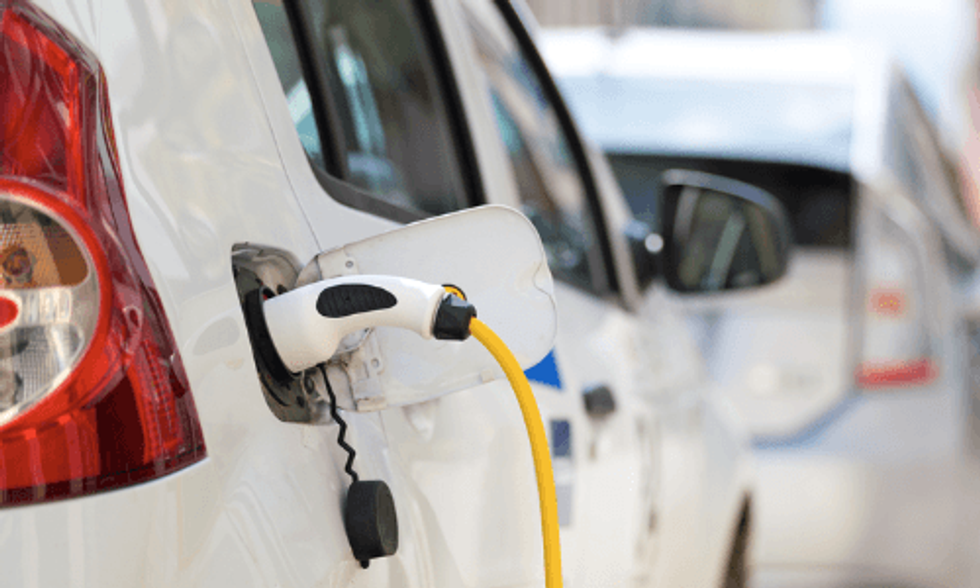 Electric vehicles (EVs) may be the future of transportation, but is an EV right for you? If you're considering a switch, it can be difficult to choose between the many different models, prices, mile ranges and fuel economies that are available in this nascent sector.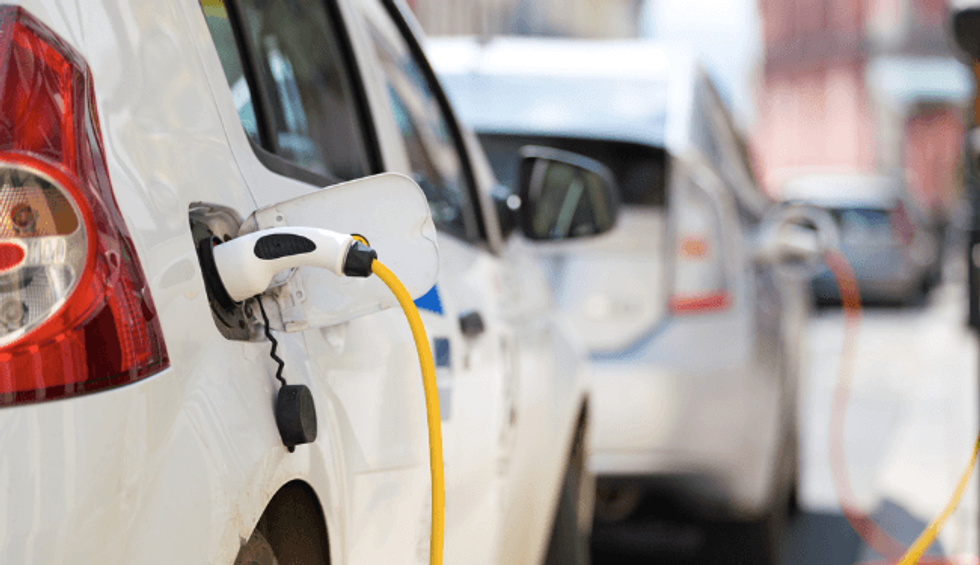 Photo credit: Shutterstock
With all these variables—not to mention all the government and utility incentives to navigate—the Sierra Club has released an update to their Electric Vehicle Guide, a database and online tool that makes the decision-making process a lot easier.
The EV Guide allows users to compare specs of more than 20 models that are available today. To narrow the field even further, you can take this simple, six-question Pick-a-Plug-In quiz that asks questions based on your budget, fuel requirements and other specifications.
Here's a screenshot of what the quiz looks like with my answers: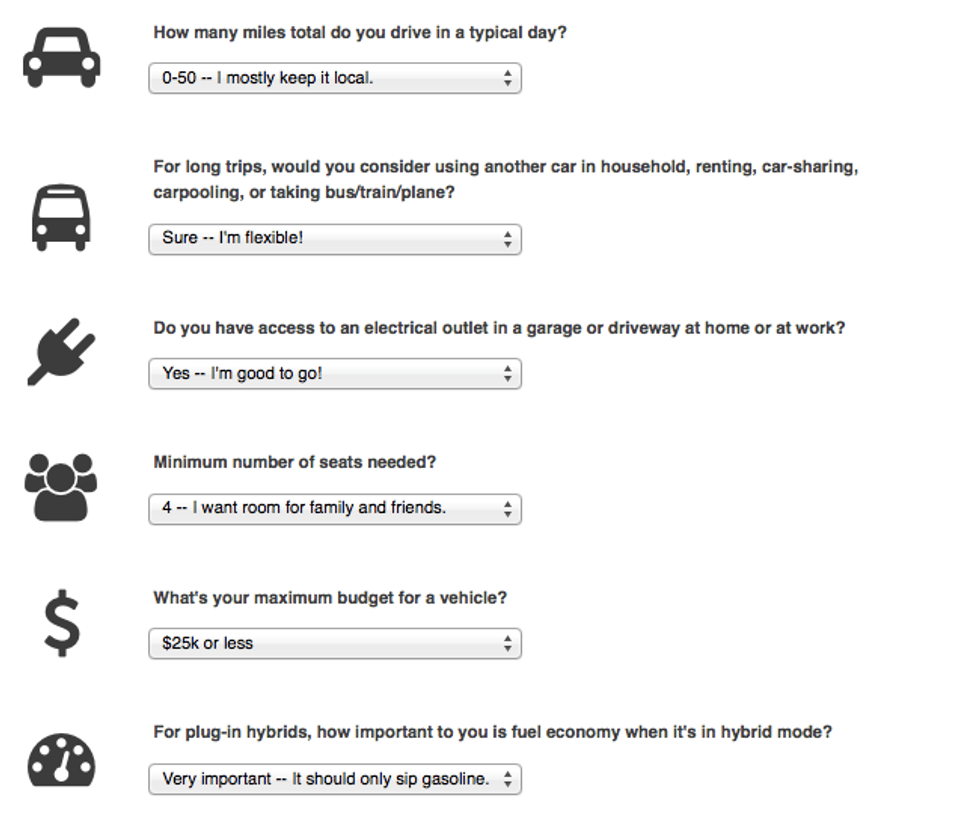 And here are my results: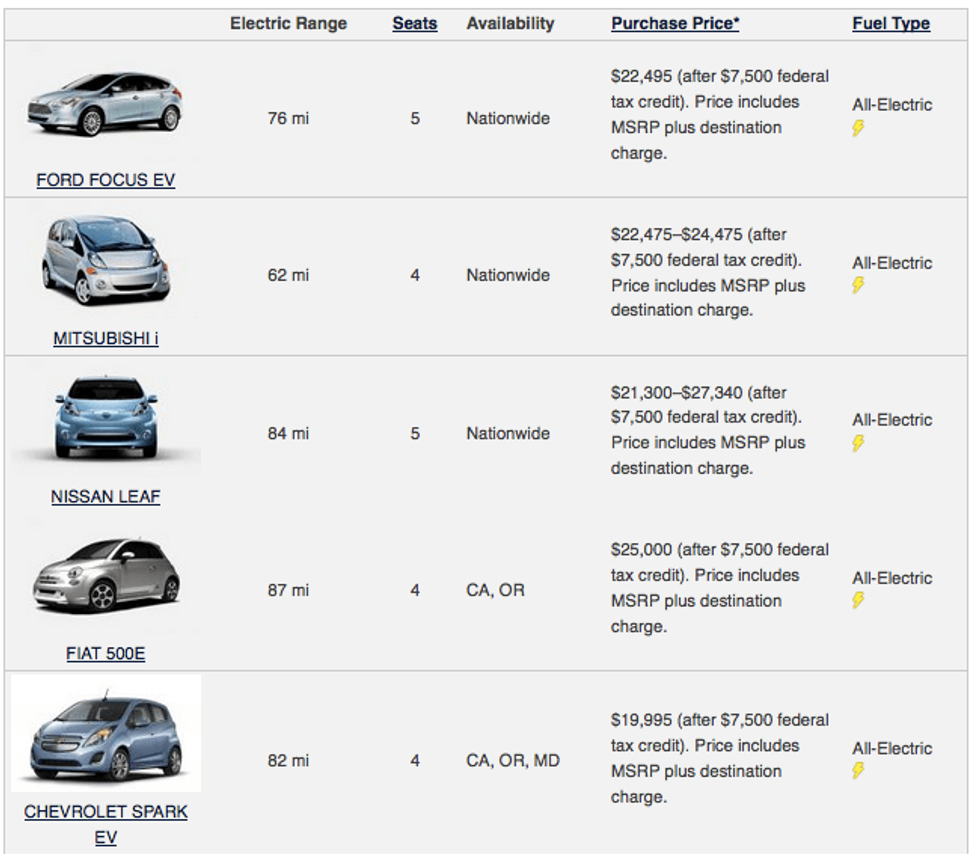 One great feature of the new guide is its state index. After clicking on an EV, say a Ford Focus, you can enter your zip code to calculate how much you'll save in CO2 emissions and fueling costs with the Focus, and also learn about available incentives in your area, from rebates and tax credits to EV charging incentives and other discounts.
As the Sierra Club pointed out in a release, the guide provides a wealth of information for the potential EV-buyer. For instance, the guide shows how small business owners and landlords in California can receive rebates of up to 15 percent for installing electric vehicle charging stations. In Connecticut, residents who purchase or lease an electric car receive an immediate rebate at the dealership of up to $3,500. And Minnesota utility company Great River Electric now has a program that guarantees customers 100 percent wind power to charge their EVs for no additional cost.
Even though the EV market is relatively new, there are more options than ever. "In less than five years' time, the earlier dilemma of having to choose among a Chevy Volt, Nissan Leaf or Tesla Roadster has been replaced with the much harder (but much better!) problem of having to decide from a list of over 20 models, including attractive options from Ford, BMW, Kia, Mercedes-Benz, Porsche, Volkswagen and more," wrote Gina Coplon-Newfield, the director of Sierra Club's Electric Vehicles Initiative.
Which Electric Vehicle is right for you? Which incentives do you qualify for? Check out our EV guide: http://t.co/BaB42QuLxn

— Sierra Club (@sierraclub) July 15, 2015
Making the switch to electric is also easier than one might think. Quartz reported that 42 percent of Americans could switch to electric cars without changing their driving habits, based on this report from the Union of Concerned Scientists.
"If everyone who could use an EV had one today, we would save 350 million barrels of oil a year," the report said (via Quartz). The study also found that the switch would cut down U.S. petroleum consumption by half.
While it might take some time for the country to go gas-free, adoption of EVs is slowly increasing. According to USA TODAY, the market has seen a 0.8 percent increase compared to this same time last year. The "U.S. led sales of all global electric vehicles and plug-in hybrid vehicles, selling more than 14,500 of them in the first quarter of 2015," the report said, citing research from IHS Automotive.
The benefits of EVs are clear. "With significantly lower emissions than traditional vehicles, a switch to electric vehicles helps reduce our dependence on dirty fuels and reduce our carbon footprint," Coplon-Newfield said. "Our newly updated electric vehicle guide not only lets the users pick out the right car for their families, but the right car for the planet, too."
YOU MIGHT ALSO LIKE
Does Elon Musk's Tesla Model S 'Signal the Beginning of the End for Oil?'
5 Eco-Cars Taking the Industry by Storm
EcoWatch Daily Newsletter
Related Articles from EcoWatch
Recent Stories from EcoWatch