Popular
Apr. 21, 2016 08:21AM EST
Which Countries Won't Be Signing the Paris Climate Deal on Earth Day?
An unprecedented number of countries will be gathering in New York City tomorrow to sign the Paris climate deal.
After significant progress was made this past December in agreeing the landmark deal, more than 167 countries—including past climate villains Iran, Canada and Australia and polluting giants China, the U.S. and the EU—are set to sign the Paris agreement on its opening day.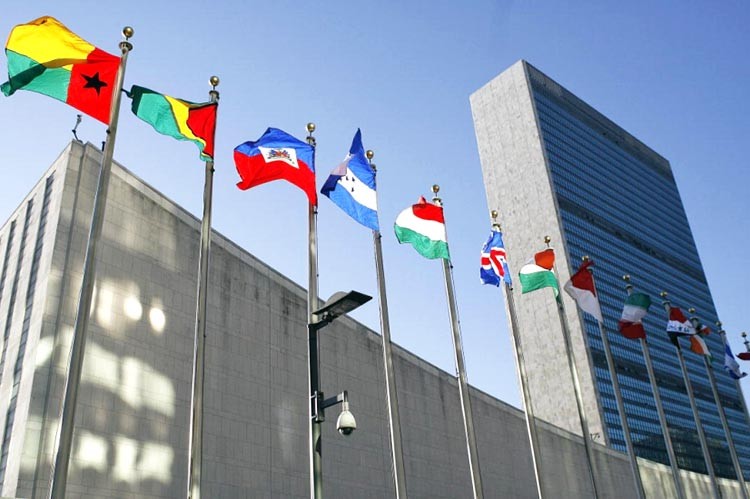 But despite this, there are still some countries that remain absent from the UN's official list of attendees—and this includes some pretty big emitters and fossil fuel producers.
So while much focus has been on who will be signing the Paris agreement on April 22, here we take a look at those that might not be.
Russia and the Commonwealth of Independent States (CIS)
There have been a lot of questions about whether or not Russia would attend.
Up until April 20, it was the largest emitter and producer absent from the UN's list is Russia, dwarfing other non-signatories, representing more than five percent of annual global emissions.
But according to a new list updated by the UN, Russia has now indicated that it will be attending the New York ceremony tomorrow.
The country's president Vladimir Putin has previously described climate change as a conspiracy to diminish the country's power, but changed his tone (though not necessarily increasing Russia's ambition) at the opening ceremony of COP21 in Paris.
Russian newspaper Kommersant hinted at progress there reporting that some ministries have begun submitting draft implementation measures for the Paris agreement.
As Vladimir Chuprov, Head of the Energy Unit at Greenpeace Russia told DeSmog UK, a Russian Federation governmental order stated that the country would sign the agreement.
World Wildlife Fund's Alexey Kokorin echoed Chuprov's comments, saying Deputy Prime Minister Alexander Khloponin will sign on behalf of Russia in spite of hard lobbying of coal and steel companies.
There are however still some Commonwealth of Independent States which have also not indicated whether they will attend, including Ukraine and Uzbekistan.
Saudi Arabia, OPEC and the Middle East
Saudi Arabia, with almost 1.2 percent of global emissions leads the list of the five OPEC nations and two other Middle Eastern states currently not confirmed to attend the event.
The country's minister for Petroleum and Mineral Resources Ali Al-Naimi indicated in 2015 that Saudi Arabia would have to stop using fossil fuels at some point.
Despite this the country faced accusations of trying to wreck the climate deal at the Paris COP21 climate conference. The Guardian reported that Wael Hmaidan, director of Climate Action Network, said they were "undermining the position of other Arab countries."
Meanwhile, Africa's largest economy, Nigeria, is a major oil exporter and the second largest OPEC member who may not put pen to paper tomorrow. The country significantly out-emits the other African non-signatories, with 0.66 percent of global annual emissions.
Ecuador, one of the smallest OPEC members is the only South American country that hasn't indicated it will sign.
Others include Iraq with more than 0.5 percent of global emissions, Qatar and non-OPEC countries Syria and Yemen, with emissions between 0.2 percent and 0.05 percent of the global total.
The Other No-Shows
According to the latest UN update there are still some sub-Saharan African countries that may not be at the New York ceremony. This includes Botswana and Zambia.
Last month, the think tank Third World Network called on developing nation to boycott the signing.
Speaking to ClimateHome on the call to boycott, an advisor to African nations said their slowing of the ratification process could lead to countries that stand to lose the most from climate change being excluded from talks on the deal's implementation.
Others nations still missing from the list include Trinidad and Tobago and Nicaragua.
Michael Jacobs, visiting professor at the Grantham Research Institute on Climate Change told DeSmog UK that Russia, Saudi Arabia and other OPEC states will not like the rhetoric on decarbonization and the necessity of strong climate action which will surround the event. But it makes no difference.
Whether or not any of these countries show up on Friday, some 83 percent of states and 88 percent of emissions will still be represented at the ceremony.
And as Carbon Brief points out, the agreement is open for signatures at the UN headquarters for a year and that it's even possible to accede to the agreement after this.
The next, more important step, is for those countries to get approval at home.
Once 55 percent of signatories covering 55 percent emissions do so, the agreement will come into effect after 30 days.
So far eight countries, Barbados, Belize, Fiji, The Maldives, Nauru, St Lucia, Samoa and Tuvalu have indicated they will deposit their instrument of ratification after the signing ceremony.
YOU MIGHT ALSO LIKE
NOAA: Last Month Was by Far the Planet's Warmest March Since Record Keeping Began
On Earth Day 150 World Leaders to Sign Paris Climate Agreement
Bill Nye vs. Sarah Palin on Climate Change: Who Do You Believe?
Dalai Lama, Archbishop Tutu Among 250 Faith Leaders Urging Immediate Action on Climate Change
Jul. 21, 2017 01:50PM EST
Will Rose / Greenpeace
Eleven peaceful activists from the Greenpeace ship Arctic Sunrise have taken to the water in inflatable boats with handheld banners to oppose the Statoil Songa Enabler oil rig, 275 km North off the Norwegian coast, in the Arctic Barents sea.
The banners say: "People Vs. Arctic Oil" and are directed at Statoil and the Norwegian government, which has opened a new, aggressive search for oil in the waters of the Barents Sea.
Keep reading...
Show less
Jul. 21, 2017 10:34AM EST
Dominion Pipeline Monitoring Coalition
The Federal Energy Regulatory Commission (FERC) paved the way Friday for the 600-mile, 42-inch fracked gas Atlantic Coast Pipeline to proceed when it issued the final environmental impact statement (FEIS). A joint project of utility giants Duke Energy and Dominion Energy, the Atlantic Coast Pipeline would move fracked gas from West Virginia into Virginia and North Carolina.
In April, the Sierra Club submitted more than 500 pages of legal and technical comments on FERC's draft EIS, which were joined by more than 18,000 individual comments detailing opposition to the project. The pipeline has been met with widespread opposition, with more than 1,000 people participating in public hearings across the three affected states. The Sierra Club recently requested that FERC issue a new environmental review document analyzing information that came in after or late in, the public comment process.
Keep reading...
Show less
Jul. 21, 2017 08:25AM EST
Greenpeace / PolluterWatch
By Jessica Corbett
"It's time Rex Tillerson step down or be removed," said Gigi Kellett of Corporate Accountability International, following an announcement on Thursday that ExxonMobil will pay $2 million for violating U.S. sanctions against Russian officials while the now-secretary of state was the company's CEO.
"ExxonMobil demonstrated reckless disregard for U.S. sanction requirements," according to enforcement filing released by the Treasury Department's Office of Foreign Assets Control (OFAC), which issued the penalty. Though the fine is reportedly the maximum penalty allowed, it's pittance to one of the world's most profitable and powerful corporations, which last year reported a profit of $7.8 billion.
Keep reading...
Show less
Jul. 21, 2017 11:15AM EST
New analysis from Amory B. Lovins debunks the notion that highly unprofitable, economically distressed nuclear plants should be further subsi­dized to meet financial, security, reliability and climate goals. The analysis, which will appear shortly in The Electricity Journal, shows that closing costly-to-run nuclear plants and reinvesting their saved operating costs in energy efficiency provides cheaper elec­tricity, increases grid reliability and security, reduces more carbon, and preserves (not distorts) market integrity—all without subsidies.

Keep reading...
Show less
Jul. 21, 2017 08:44AM EST
Oil Change International / Twitter
By Christian Detisch and Seth Gladstone
In the wake of Senate Republicans' ever-deepening debacle over their flailing attempts to strip health insurance from 22 million people, Majority Leader Mitch McConnell is desperate to do something—anything—to show that he can get legislation passed. To this end, he's bypassing the standard committee review process to push a complex 850+ page energy bill straight to the full Senate floor. Perhaps not surprisingly, this legislation, the Energy and Natural Resources Act of 2017, would be a disaster for public health and our climate.
Keep reading...
Show less
Jul. 21, 2017 08:11AM EST
Rooftop solar panels on a beach house in southern Florida. TAI VIINIKKA / CC BY-NC-ND 2.0
A new law passed this week in South Miami will require all new homes built in the city to install solar panels. The measure, which was inspired by a proposal from a teenage climate activist, will go into effect in September.
The text of the ordinance details the climate impacts facing South Miami.
Keep reading...
Show less
Jul. 21, 2017 10:27AM EST
www.youtube.com
Keep reading...
Show less
Jul. 21, 2017 08:49AM EST
iStock
By Katherine Paul and Ronnie Cummins
A recent series of articles by a Washington Post reporter could have some consumers questioning the value of the U.S. Department of Agriculture's (USDA) organic seal. But are a few bad eggs representative of an entire industry?
Consumers are all for cracking down on the fraudulent few who, with the help of Big Food, big retail chains and questionable certifiers give organics a bad name. But they also want stronger standards, and better enforcement—not a plan to weaken standards to accommodate "Factory Farm Organic."
Keep reading...
Show less