This website uses cookies to ensure you get the best experience while browsing it. By clicking 'Got It' you're accepting these terms.
When Solartopia Transcends King CONG
Oct. 20, 2014 08:24AM EST
Energy

A green-powered future is our only hope.
A planet run by King CONG—Coal, Oil, Nukes & Gas—cannot be sustained.
But to get beyond it, our Solartopian vision must embrace more than just a technological transformation.  It also demands social, political and spiritual transcendence.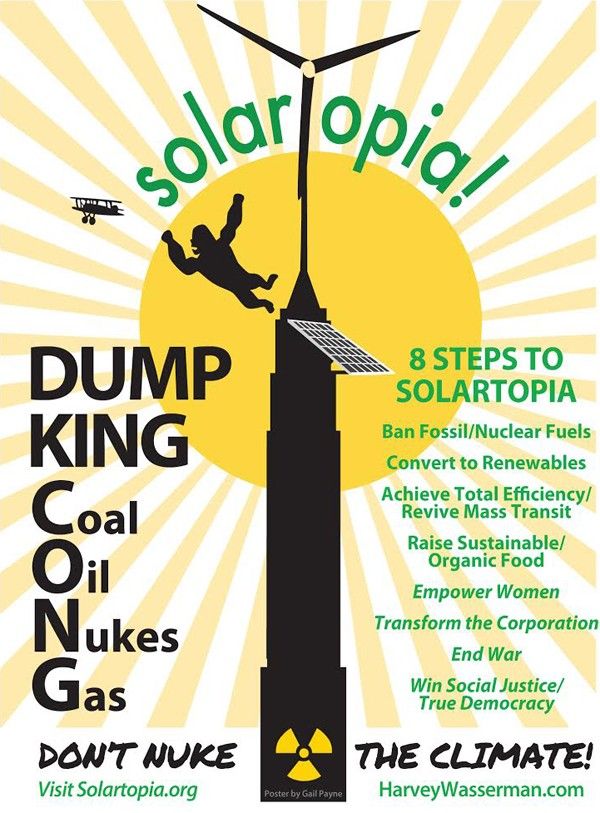 From Fukushima to global warming, from fracking to the Gulf disaster(s), it's clear the fossil/nuclear industry is hard-wired to kill us all. Its only motivating force is profit; our biological survival has no part in the equation.
Thankfully, renewable energy has achieved technological critical mass. Green power is cheaper, cleaner, safer, more reliable, more job-producing and more secure. Despite a furious fossil/nuke push-back, the multi-trillion-dollar transition to a green-powered economy is well underway. Photovoltaic cells alone will be the biggest industry in human history.
Likewise, our food supply cannot be sustained with chemical pesticides, herbicides, fertilizers, monoculture, industrial meat and genetic modification. The switch to organic, sustainable agriculture is essential to our survival
But this vital transformation in food and energy will not happen in a vacuum. We can prove the economic, ecological and public health rationale for a Solartopian transition.
But we can't win without a cultural and political transformation.
That starts with the empowerment of women. Nature-based societies are matriarchal. And only when women are guaranteed equal education, pay and control of their reproductive rights will the human population come into balance with the planet's ability to support us.
We must also cure the corporate virus that's killing us all. Our economic and political system is being devoured by a Frankenstein monster whose only imperative is to make money. It claims human rights but has no human or ecological responsibilities. Until the engines of our economy are made accountable to us and the planet, we have no chance of survival.
The corporate monster's primary assault mechanism is war, the continual slaughter of humans and the Earth. War's only predictable long-term outcome is massive corporate profit and a destroyed planet. It is the ultimate divide-and-conquer strategy of a terminal cancer.
Sustaining our life also means all humans must be fed (which can be done globally at a fraction the cost of war), housed, clothed, educated and healthy. Without social justice, Solartopia is a meaningless dream.
And there's only one way to get there—with true democracy, which cannot be had while corporations own and operate our government. Big money must be banned from our elections, which can only happen with universal voter registration and hand-counted paper ballots.
We also need a neutral internet, free of corporate control, a global nervous system by which our evolving consciousness can freely communicate.
As a species we can count great strides in cultural awareness and social ecology. But in the material world we run a dead heat with mutant fossil/nuke technologies and the vampire corporations now draining the life out of us and our planet.
In the long run, our human survival instinct must transcend the corporate profit motive.
There are those who say it's hopeless, and that the battle is already lost.
But for the rest of us, for our kids and grandkids, not to mention our own good times, let's just say we'll see you in Solartopia ...
YOU MIGHT ALSO LIKE
Future Investments in Fossil Fuels Look Dim
Join Beyond Extreme Energy Actions in DC
MUST-SEE: Stephen Colbert and Neil Young Sing 'Who's Gonna Stand Up?'
EcoWatch Daily Newsletter
David Gilmour performs at Anfiteatro Scavi di Pomei on July 7, 2016 in Pompei, Italy. Francesco Prandoni / Redferns / Getty Images
David Gilmour, guitarist, singer and songwriter in the rock band Pink Floyd, set a record last week when he auctioned off 126 guitars and raised $21.5 million for ClientEarth, a non-profit environmental law group dedicated to fighting the global climate crisis, according to CNN.
U.S. Secretary of Agriculture Sonny Perdue speaks during a forum April 18, 2018 in Washington, DC. Alex Wong / Getty Images
The Trump administration ratcheted up its open hostility to climate science in a move that may hide essential information from the nation's farmers.
Simple swaps that cut down on kitchen trash.
Sponsored
By Kayla Robbins
Along with the bathroom, the kitchen is one of the most daunting areas to try and make zero waste.
Protestors and police stand on ether side of railway tracks. dpa / picture-alliance
Police have cleared 250 climate activists who stayed overnight at the Garzweiler brown coal mine in western Germany, officials said Sunday.
Cecilie_Arcurs / E+ / Getty Images
By Megan Jones and Jennifer Solomon
The #MeToo movement has caused profound shake-ups at organizations across the U.S. in the last two years. So far, however, it has left many unresolved questions about how workplaces can be more inclusive and equitable for women and other diverse groups.

Cigarette butts are the most-littered item found at beach clean ups. John R. Platt
By Tara Lohan
By now it's no secret that plastic waste in our oceans is a global epidemic. When some of it washes ashore — plastic bottles, plastic bags, food wrappers — we get a stark reminder. And lately one part of this problem has been most glaring to volunteers who comb beaches picking up trash: cigarette butts.

Andrea Rodgers, second from the right, takes notes during a hearing in the Juliana v. U.S. case before the 9th Circuit Court of Appeals in Portland, Oregon on June 4. Colleague Elizabeth Brown sits to her left, while colleague Julia Olson sits on her right, with co-council Philip Gregory on Julia's right. Robin Loznak / Our Children's Trust
By Fran Korten
On June 4, Andrea Rodgers was in the front row of attorneys sitting before a three-judge panel of the 9th Circuit Court. The court session, held in Portland, Oregon, was to determine whether the climate change lawsuit (Juliana v. United States) brought by 21 young plaintiffs should be dismissed, as requested by the U.S. government, or go on to trial.
Seventy Extinction Rebellion protesters were arrested outside The New York Times building Saturday.
SCOOTERCASTER / YouTube screenshot