This website uses cookies to ensure you get the best experience while browsing it. By clicking 'Got It' you're accepting these terms.
What's the Relationship between Childhood Obesity and Chemicals?
May. 21, 2012 10:00AM EST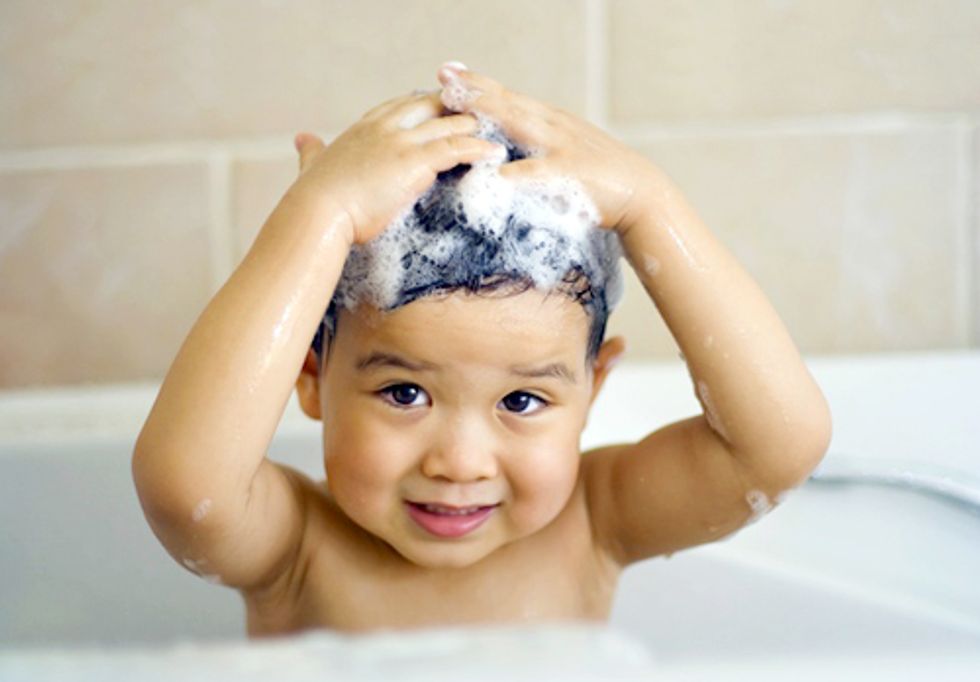 By Margie Kelly
It's well established that childhood obesity is linked to poor nutrition and a lack of exercise. First Lady Michelle Obama has launched the "Let's Move" initiative to combat childhood obesity by providing access to healthier foods at homes and schools, and helping kids get more physical activity each day. Improving kids' access to healthy food and exercise is something we all can support.
But new evidence shows a toxic chemical used to infuse shampoos and lotions with fragrance may also play a role in the soaring rates of childhood obesity.
A type of phthalate present in personal care products was found at high levels in overweight children, according to a recent study published by the Children's Environmental Health Center at Mount Sinai School of Medicine.
Researchers tested the urine of nearly 400 Black and Hispanic New York City children between the ages of 6 and 8. Monoethylene phthalate or MEP was associated with greater body mass index (BMI) and waist circumference in children. BMI in overweight girls with the highest exposure to MEP was 10 percent higher than those with the lowest MEP exposure, according to a press release from Mount Sinai.
MEP is a breakdown product of diethyl phthalate or DEP, which is widely used as an ingredient for fragrance in shampoos, soaps, deodorants, lotion and other personal care products, according to the Environmental Working Group (EWG).
Phthalates are endocrine-disrupting chemicals, which interfere with regular hormone functioning. Health and safety concerns about certain phthalates have led the U.S. Congress to ban their use in specific products intended for babies and children, including soft toys. The Mount Sinai study directs a new, harsh light on phthalates, as it's the first evidence of their link to childhood obesity.
Since the chemical industry is clearly signaling it won't give up phthalates without a fight, it's up to consumers to find a way to avoid the ubiquitous chemicals. Check out these tips from Lori at Groovy Green Livin'.
How to avoid phthalates:
1. Avoid fragrance. Fragrance mixtures are considered a trade secret or proprietary information and this enables companies to get away with not disclosing their "secret" ingredients. If a product lists "fragrance," steer clear.
2. Use EWG's Skin Deep Cosmetic Database to check the safety level of your personal care products. Find safe alternatives for nail polish and other cosmetics with toxic chemicals. Avoid buying plastic as much as possible. Get to know your plastics and stick with numbers 2 or 5. Avoid plastic shower curtains and #3 plastic.
3. Make your own cosmetics. This is the only way you will know with certainty what was used in your product.
4. Check the HealthyStuff.org database for toys bought before 2009—they may contain phthalates.
5. Look for products labeled "Phthalate Free."
6. Read the ingredients. Avoid anything with:
DBP (di-n-butyl phthalate) and DEP (diethyl phthalate) are often found in personal care products, including nail polishes, deodorants, perfumes and cologne, aftershave lotions, shampoos, hair gels and hand lotions (BzBP, see below, is also in some personal care products.)
DEHP (di-(2-ethylhexyl) phthalate or Bis (2-ethylhexyl) phthalate is used in PVC plastics, including some medical devices.
BzBP (benzylbutyl phthalate) is used in some flooring, car products and personal care products.
DMP (dimethyl phthalate) is used in insect repellent and some plastics (as well as rocket propellant)
For more information, click here.
EcoWatch Daily Newsletter
polaristest / Flickr / CC BY-NC-ND 2.0
By Melissa Kravitz Hoeffner
Over six gallons of water are required to produce one gallon of wine. "Irrigation, sprays, and frost protection all [used in winemaking] require a lot of water," explained winemaker and sommelier Keith Wallace, who's also a professor and the founder of the Wine School of Philadelphia, the largest independent wine school in the U.S. And water waste is just the start of the climate-ruining inefficiencies commonplace in the wine industry. Sustainably speaking, climate change could be problematic for your favorite glass of wine.
Pixabay
Spinach is a true nutritional powerhouse, as it's rich in vitamins, minerals, and antioxidants.
Pexels
By Jeff Turrentine
From day to day, our public health infrastructure — the people and systems we've put in place to keep populations, as opposed to individuals, healthy — largely goes unnoticed. That's because when it's working well, its success takes the form of utter normalcy.
By Eoin Higgins
A viral video showing cell phone data collected by location accuracy company X-Mode from spring break partiers potentially spreading the coronavirus around the U.S. has brought up questions of digital privacy even as it shows convincingly the importance of staying home to defeat the disease.
Aerial shot top view Garbage trucks unload garbage to a recycle in the vicinity of the city of Bangkok, Thailand. bugto / Moment / Getty Images
German researchers have identified a strain of bacterium that not only breaks down toxic plastic, but also uses it as food to fuel the process, according to The Guardian.