What's the Healthiest All-Natural Diet for Your Dog?
Jan. 26, 2015 12:07PM EST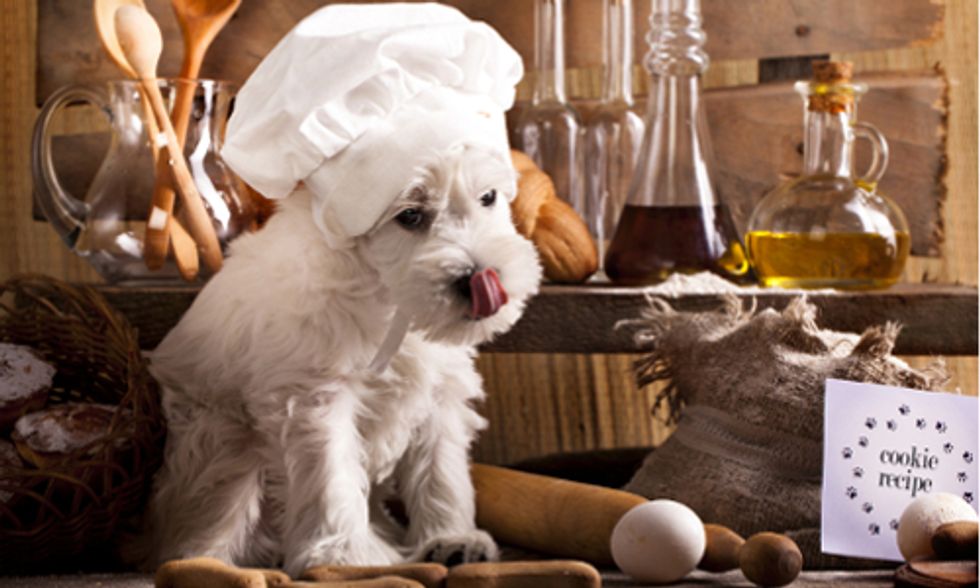 The humor columnist Dave Barry once described the dog's dietary philosophy: "If it falls on the ground, eat it. You can always throw it up later."
That dogs are omnivores is no secret. It does seem sometimes as if dogs have no limits on what they'll put in their mouths; most dog owners have had the experience of trying to keep their pet from consuming something absolutely gross. But your pet does need to eat well, and there's no shortage of products on the shelves promising to keep him in glowing good health, make his coat shine and extend his lifespan.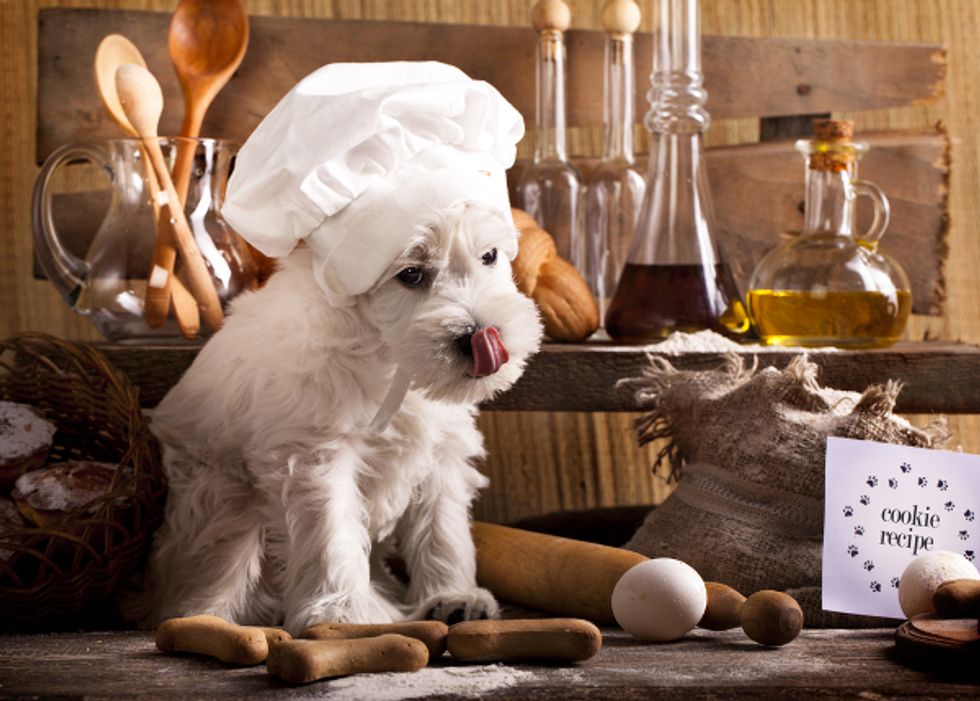 Photo credit: Shutterstock
There's also no shortage of advice on how to feed your dog for good health, and some of it is daunting. Should you cook your pet's food instead of buying a commercial food? Should you feed your pet raw foods? What about organic? Dogs Naturally magazine even provides a list of superfoods it says no dog should be without—raw eggs, organ meats, coconut oil, green tripe, milk thistle. The magazine advocates these foods as things that can give a dog a little extra nutrition boost.
Holistic health counselor Barbara Laino is one of those who promotes making your own dog food, preferably organic. She told The Bark in a feature How and Why to Cook Your Dog's Food, "Organic is a great thing, along with grass-fed meat, which is even better than organic. Most premium dog food is not certified organic and, considering how expensive [those foods] are, it's actually cheaper to buy organic ingredients and make your own dog food. With chicken, it's even more important to buy organic to avoid the genetically modified soy that makes up the bulk of non-organic chicken feed. However, if you can only afford to buy non-organic ingredients, it's still much better to make your own food."
If that's too much for you,there are plenty of products out there that promise they're healthy and "all-natural." As with people foods, "all-natural" has no particular meaning; it just sounds good. You'll want to give the ingredients a close reading. Artificial coloring might make a food look more appealing  to an owner but dogs don't care. Meat, meat meal and meat byproducts should be top ingredients. Keep in mind that while "byproducts" might sound alarming, it means the animal parts you wouldn't necessarily eat but that aren't bad for your dog.
Although the Food and Drug Administration (FDA) claims they're safe, many pet owners prefer to buy a food that doesn't contain synthetic preservatives like BHA, BHT or ethoxyquin that extend a food's shelf life for long periods of time. The latter, made by Monsanto, has a possible link to liver disease, allergies and other canine health issues, and it is banned in Australia and the EU but not in the U.S.
"There is a debate about whether there is a need to avoid artificial ingredients like these, as conventional safety testing says they're fine," says veterinary nutritionist Susan Wynn. "I wouldn't want them in my diet every day though, and I try to avoid them in my dog's daily diet."
Some foods have natural preservatives such as vitamins C and E or herbal extracts, or you can simply buy food in quantities you know your dog will quickly consume.
What about that trendy raw diet? Some pet specialists insist this is the best diet because it's closest to what dogs consumed in the wild, a sort of Paleo diet for canines. Others say it's expensive, unnecessary and even risky for today's housepet. It involves feeding only raw meats, bones, fruits and vegetables. Working dogs such as sled dogs have long been fed such a diet but exactly how beneficial this is to the average pet is an open question. There are risks that the mix of food it's getting isn't nutritionally appropriate, but there are commercial raw food blends available that help eliminate this problem.
A doggy diet that's even more controversial is the vegetarian diet. While some insist that such a diet is desirable and there are vegetarian dog foods on the market, it's perhaps the most difficult to maintain and requires close supervision to make sure the dog is getting the nutrients it needs.
YOU MIGHT ALSO LIKE
More Dogs Sick From Imported Pet Treats From China
8 Ways To Keep Your Pet Safe and Healthy This Winter
EcoWatch Daily Newsletter