This website uses cookies to ensure you get the best experience while browsing it. By clicking 'Got It' you're accepting these terms.
What's in a Toxic Tampon?
Jul. 16, 2014 11:58AM EST
A groundbreaking report produced last year by Women's Voices for the Earth (WVE) detailed how the feminine care industry sells products containing unregulated and potentially harmful chemicals, such as pesticides, preservatives, fragrances and dyes. The report also kicked off a campaign targeting Proctor & Gamble, makers of Tampax and Always, to disclose the ingredients in their tampons and pads.
Now, eight months later, WVE takes a look at those ingredients after acquiring public patent documents held by Proctor & Gamble (U.S. Patent #6,840,927).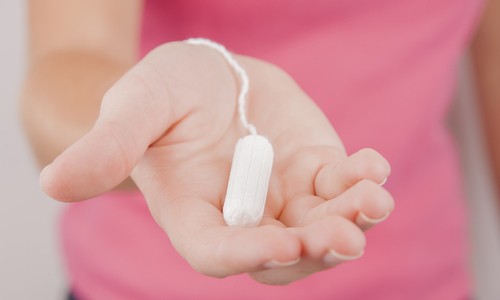 What's in your tampon? Photo courtesy of Shutterstock
While tampon manufacturers might list the main components in their products—such as "rayon and/or cotton fiber, polyethylene overwrap, cotton cord, cardboard applicator"—the patent documents reveal a number of additional chemicals that could be added to tampons.
Why are these chemicals of such concern? Tampons, which are used by up to 85 percent of menstruating women, "are not just your average cosmetics because they are used on an exceptionally sensitive and absorbent part of a woman's body," said Alexandra Scranton, WVE's director of science and research. "Despite the widespread use of tampons by numerous women, relatively little research has been conducted to assess the health impacts of chemical exposure from these products."
Used internally, tampons come in contact with highly absorbent tissue, which serves as a direct route for chemicals to enter the bloodstream. Analysis by WVE found these contaminants could include dioxins, furans and pesticide residue, as well as the following chemicals:
Creped cellulose wadding
Meltblown polymers
Chemically-stiffened fibers, polyester fibers, peat moss, foam
Tissue wraps and laminates
Super absorbent gels and open-celled foams
Additives that might be used in tampons include:
Myreth-3-myristate (as lubricant) (US Patent # 5,591,123)
Natural and synthetic zeolites (as odor-absorbing particles) (US Patent # 5,161,686)
Alcohol ethoxylates
Glycerol esters, polysorbate-20 (as surfactants to disperse fragrance)
Unnamed anti-bacterial agents (US Patent # 8,585,668)
Scented tampons might contain any of nearly 3,000 different chemicals. Examples of potentially harmful chemicals found in fragrance include:
Cancer-causing chemicals such as: styrene, pyridine, methyleugenol and butylated hydroxyanisole
Phthalates of concern (DEP and DINP)
Synthetic musks (potential hormone disruptors)
Numerous allergens
To find products made without the use of toxic chemicals, visit WVE's "No Secrets" feminine care coalition of companies. These companies have "detoxed the box," thereby committing to make products without toxic chemicals and to list all ingredients used.
Plus, learn if there's one that's best for your health.
Catherine Falls Commercial / Moment / Getty Images
An invasive Amynthas worm, also known as a crazy snake worm, Asian jumping worm and Alabama jumper Tom Potterfield / Flickr
By Jason Bittel
My wife and I built a house two years ago on a few acres of woodland outside of Pittsburgh. The backyard is full of maples, poplars, briars and common spicebush. Two-lined salamanders and grumpy-looking crayfish wade among the rocks in the small stream that runs down the edge of the property. Deer, raccoon and opossum tracks appear regularly in the snow and mud. Sometimes, my trail-cam even catches a pair of gray foxes as they slink through the night.
AleksandarNakic / Getty Images
By Kate Murphy
No matter the time of year, there's always a point in each season when my skin decides to cause me issues. While these skin issues can vary, I find the most common issues to be dryness, acne and redness.

David Woodfall / The Image Bank / Getty Images
By Sam Nickerson
The U.S. Environmental Protection Agency (EPA) in April 2018 proposed relaxing standards related to how it assesses the effects of exposure to low levels of toxic chemicals on public health.
Now, correspondence obtained by the LA Times revealed just how deeply involved industry lobbyists and a controversial, industry-funded toxicologist were in drafting the federal agency's proposal to scrap its current, protective approach to regulating toxin exposure.
Steve Irwin poses with a three foot long alligator at the San Francisco Zoo on June 26, 2002. Justin Sullivan / Getty Images
February 22 is the birthday of conservationist and beloved TV personality "Crocodile Hunter" Steve Irwin, who would have been 57 years old today.
Irwin's life was tragically cut short when the barb from a stingray went through his chest while he was filming in 2006, but his legacy of loving and protecting wildlife lives on, most recently in a Google Doodle today honoring his birthday.