This website uses cookies to ensure you get the best experience while browsing it. By clicking 'Got It' you're accepting these terms.
A groundbreaking report produced last year by Women's Voices for the Earth (WVE) detailed how the feminine care industry sells products containing unregulated and potentially harmful chemicals, such as pesticides, preservatives, fragrances and dyes. The report also kicked off a campaign targeting Proctor & Gamble, makers of Tampax and Always, to disclose the ingredients in their tampons and pads.
Now, eight months later, WVE takes a look at those ingredients after acquiring public patent documents held by Proctor & Gamble (U.S. Patent #6,840,927).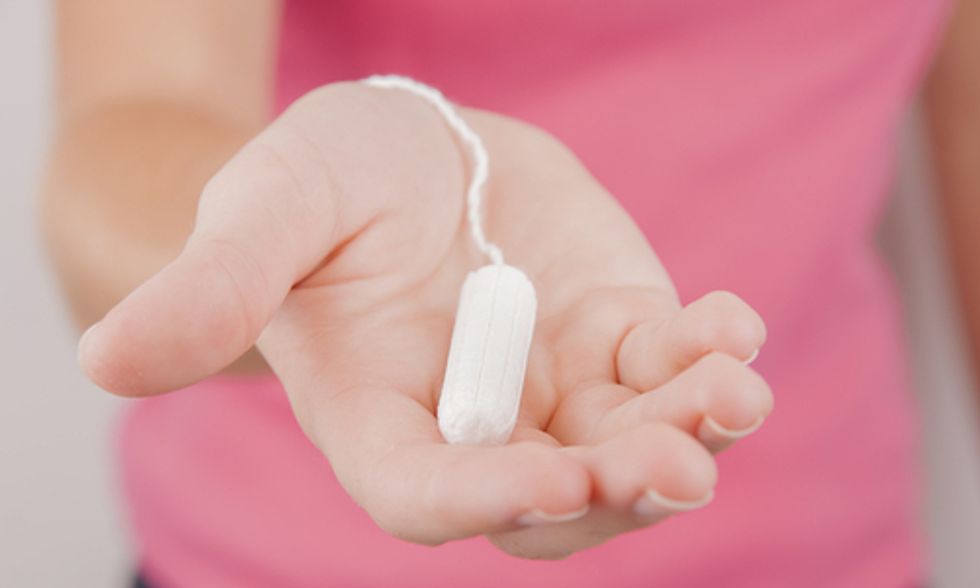 What's in your tampon? Photo courtesy of Shutterstock
While tampon manufacturers might list the main components in their products—such as "rayon and/or cotton fiber, polyethylene overwrap, cotton cord, cardboard applicator"—the patent documents reveal a number of additional chemicals that could be added to tampons.
Why are these chemicals of such concern? Tampons, which are used by up to 85 percent of menstruating women, "are not just your average cosmetics because they are used on an exceptionally sensitive and absorbent part of a woman's body," said Alexandra Scranton, WVE's director of science and research. "Despite the widespread use of tampons by numerous women, relatively little research has been conducted to assess the health impacts of chemical exposure from these products."
Used internally, tampons come in contact with highly absorbent tissue, which serves as a direct route for chemicals to enter the bloodstream. Analysis by WVE found these contaminants could include dioxins, furans and pesticide residue, as well as the following chemicals:
Creped cellulose wadding
Meltblown polymers
Chemically-stiffened fibers, polyester fibers, peat moss, foam
Tissue wraps and laminates
Super absorbent gels and open-celled foams
Additives that might be used in tampons include:
Myreth-3-myristate (as lubricant) (US Patent # 5,591,123)
Natural and synthetic zeolites (as odor-absorbing particles) (US Patent # 5,161,686)
Alcohol ethoxylates
Glycerol esters, polysorbate-20 (as surfactants to disperse fragrance)
Unnamed anti-bacterial agents (US Patent # 8,585,668)
Scented tampons might contain any of nearly 3,000 different chemicals. Examples of potentially harmful chemicals found in fragrance include:
Cancer-causing chemicals such as: styrene, pyridine, methyleugenol and butylated hydroxyanisole
Phthalates of concern (DEP and DINP)
Synthetic musks (potential hormone disruptors)
Numerous allergens
To find products made without the use of toxic chemicals, visit WVE's "No Secrets" feminine care coalition of companies. These companies have "detoxed the box," thereby committing to make products without toxic chemicals and to list all ingredients used.
EcoWatch Daily Newsletter
A new study shows that half of all Arctic warming and corresponding sea-loss during the late 20th century was caused by ozone-depleting substances. Here, icebergs discharged from Greenland's Jakobshavn Glacier. Kevin Krajick / Earth Institute /
EurekAlert!
The world awakened to the hole in the ozone layer in 1985, which scientists attributed it to ozone depleting substances. Two years later, in Montreal, the world agreed to ban the halogen compounds causing the massive hole over Antarctica. Research now shows that those chemicals didn't just cut a hole in the ozone layer, they also warmed up the Arctic.
Diane Wilson holds up a bag full of nurdles she collected from one of Formosa's outfall areas on Jan. 15. Julie Dermansky / DeSmogBlog
On the afternoon of Jan. 15, activist Diane Wilson kicked off a San Antonio Estuary Waterkeeper meeting on the side of the road across from a Formosa plastics manufacturing plant in Point Comfort, Texas.
After Wilson and the waterkeeper successfully sued Formosa, the company agreed to no longer release even one of the tiny plastic pellets known as nurdles into the region's waterways. The group of volunteers had assembled that day to check whether the plant was still discharging these raw materials of plastics manufacturing.
Malaysian Environment Minister Yeo Bee Yin (front 2nd L) and officials inspect a container containing plastic waste shipment on Jan. 20, 2020 before sending back to the countries of origin. AFP via Getty Images
The Southeast Asian country Malaysia has sent 150 shipping containers packed with plastic waste back to 13 wealthy countries, putting the world on notice that it will not be the world's garbage dump, as CNN reported. The countries receiving their trash back include the United States, the United Kingdom, France and Canada.
Trump leaves after delivering a speech at the Congress Centre during the World Economic Forum annual meeting in Davos on Jan. 21, 2020. JIM WATSON / AFP via Getty Images