What's in a Toxic Tampon?
A groundbreaking report produced last year by Women's Voices for the Earth (WVE) detailed how the feminine care industry sells products containing unregulated and potentially harmful chemicals, such as pesticides, preservatives, fragrances and dyes. The report also kicked off a campaign targeting Proctor & Gamble, makers of Tampax and Always, to disclose the ingredients in their tampons and pads.
Now, eight months later, WVE takes a look at those ingredients after acquiring public patent documents held by Proctor & Gamble (U.S. Patent #6,840,927).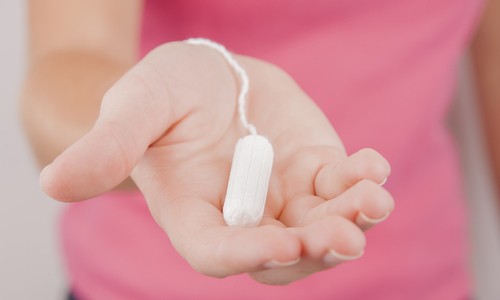 What's in your tampon? Photo courtesy of Shutterstock
While tampon manufacturers might list the main components in their products—such as "rayon and/or cotton fiber, polyethylene overwrap, cotton cord, cardboard applicator"—the patent documents reveal a number of additional chemicals that could be added to tampons.
Why are these chemicals of such concern? Tampons, which are used by up to 85 percent of menstruating women, "are not just your average cosmetics because they are used on an exceptionally sensitive and absorbent part of a woman's body," said Alexandra Scranton, WVE's director of science and research. "Despite the widespread use of tampons by numerous women, relatively little research has been conducted to assess the health impacts of chemical exposure from these products."
Used internally, tampons come in contact with highly absorbent tissue, which serves as a direct route for chemicals to enter the bloodstream. Analysis by WVE found these contaminants could include dioxins, furans and pesticide residue, as well as the following chemicals:
Creped cellulose wadding

Meltblown polymers

Chemically-stiffened fibers, polyester fibers, peat moss, foam

Tissue wraps and laminates

Super absorbent gels and open-celled foams
Additives that might be used in tampons include:
Myreth-3-myristate (as lubricant) (US Patent # 5,591,123)

Natural and synthetic zeolites (as odor-absorbing particles) (US Patent # 5,161,686)

Alcohol ethoxylates

Glycerol esters, polysorbate-20 (as surfactants to disperse fragrance)

Unnamed anti-bacterial agents (US Patent # 8,585,668)
Scented tampons might contain any of nearly 3,000 different chemicals. Examples of potentially harmful chemicals found in fragrance include:
Cancer-causing chemicals such as: styrene, pyridine, methyleugenol and butylated hydroxyanisole

Phthalates of concern (DEP and DINP)

Synthetic musks (potential hormone disruptors)

Numerous allergens
To find products made without the use of toxic chemicals, visit WVE's "No Secrets" feminine care coalition of companies. These companies have "detoxed the box," thereby committing to make products without toxic chemicals and to list all ingredients used.
A coalition of conservation groups and others announced Thursday that a historic number of comments and petitions of support have been submitted to the U.S. Department of the Interior in support of Bears Ears National Monument. Despite the entirely inadequate 15-day comment period ending on May 26, more than 685,000 comments in support of Bears Ears National Monument have been collected.
Keep reading...
Show less
Rink Glacier in western Greenland, with a meltwater lake visible center. NASA/OIB
Scientists have had their eyes on Greenland as its iconic glaciers have begun disappearing due to a warming climate. But, what they didn't expect to see was a whole new type of melting.
Keep reading...
Show less
Mountain View Fire
By Lena Moffitt
An oil tanker in Mead, Colorado exploded, killing one and injuring three on Thursday. Authorities are continuing to investigate the cause of the explosion.
Keep reading...
Show less
Banner created by Alliance for Climate Education
Keep reading...
Show less
Twenty-two GOP senators sent a letter Thursday urging Donald Trump to pull out of the Paris agreement. They argued remaining in the deal could "upend" the administration's ability "to fulfill its goal of rescinding the Clean Power Plan."
Keep reading...
Show less
By Cheryl Johncox
The Federal Energy Regulatory Commission (FERC) rejected on Thursday Energy Transfer Partners' request to resume horizontal directional drilling at two sites for its Rover fracked gas pipeline. This rejection comes after numerous leaks into Ohio's wetlands, and Clean Air and Clean Water act violations. FERC has halted the process at only eight locations of the 32 where drilling is taking place under Ohio's wetlands and streams.
Keep reading...
Show less
By Nadia Prupis
A majority of people in eight countries say they are ready to change their lifestyles if it would prevent climate catastrophe, a survey on global threats released Wednesday found.
Keep reading...
Show less
May. 25, 2017 01:55PM EST
Bill Maher is sick of billionaires' obsession with Mars, more like "Mars-a-Lago," he said.
In a new animation produced by ATTN:, the popular talk show host of Real Time, discusses the perils of our planet, including how "climate change is killing us."
Keep reading...
Show less