What You Should Eat to Balance Your pH and Alkalize Your Body
The main concept behind an alkalizing diet is that certain foods can create acidic byproducts in your body after digestion. You can reduce the negative health effects of these acids by limiting acid-forming foods in your diet and eating foods that alkalize your body instead.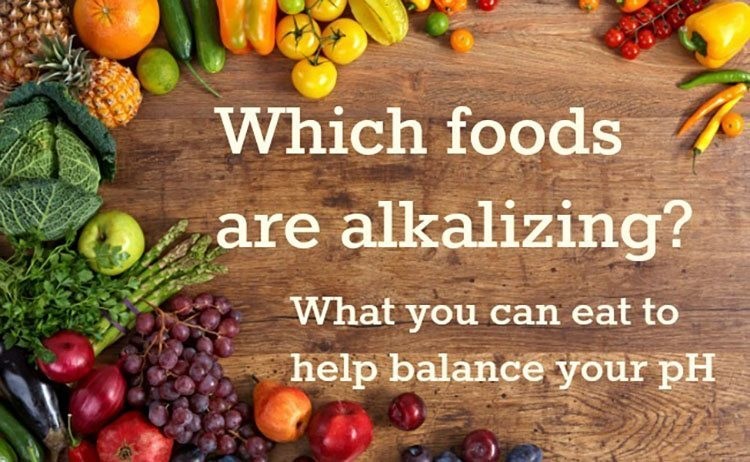 The benefits of an alkalizing diet are starting to add up. Research has shown that eating more alkalizing foods can:
mitigate chronic diseases like hypertension and stroke
improve cardiovascular health
enhance memory and cognition
And perhaps best of all, alkalizing foods are often cheap and easy to find.
Why Eat an Alkalizing Diet?
It's vital to human survival that our bodies maintain a blood pH of about 7.4. On the pH scale, this is slightly alkaline. One of the main ways our bodies maintain our internal pH is through the kidneys. They filter out any excessive acids in our system and excrete them in urine.
A problem starts when we consume too many acid-forming foods. The kidneys can't always keep up with the acid wastes from these foods, causing the acids to accumulate in our tissues.
Studies have found that if this acidic overload becomes chronic, it can lead to various health conditions. Some of these include kidney stones, reduced bone density, muscle degradation and a possible link to the development of arthritis, diabetes and cancer.
Dr. Thomas Remer developed a way to calculate the potential acidifying or alkalizing effect a food may have on your body. This is called the potential renal acid load (PRAL) of a food. It measures how much acid your kidneys need to process after a food has been eaten.
It's been shown that when you eat foods with a high PRAL, the pH of your urine and saliva often become lower or more acidic. Whereas foods with a low PRAL raise your urine and saliva pH, making it more alkaline. This isn't a perfect measurement, but it can give a useful general guideline as to how a food is affecting your body.
Alkalizing Food Groups
It's recommended that 80 percent of your diet is made up of alkalizing foods from the groups listed below. The other 20 percent can be neutral to acid-forming foods, but these should be kept to a minimum.
Always choose fresh, organic foods whenever possible. An important part of an alkalizing diet is getting enough minerals to help your body neutralize acid wastes. Organic foods have often been shown to contain a higher nutritional content than non-organic foods. This will make sure you get as many minerals as possible.
Vegetables
All vegetables are alkalizing. If you simply eat more vegetables, you're well on your way to a more alkaline diet.
It's best to eat them in the least processed form you can. Raw or steamed is excellent. Deep fried or made into a carrot cake is not.
All types of seaweed are particularly alkalizing. Greens, such as spinach, parsley, kale and watercress are also highly rated.
This includes herbal teas and fresh vegetable juices.
Fruits
The majority of fruits are also alkalizing. The few exceptions are blueberries, cranberries and plums. These are shown to be acidifying.
It's recommended to eat fruits raw rather than cooked, pasteurized or processed. This is because cooking can break down some of the vitamins, such as vitamin C.
Some of the best fruits are melons, lemons, limes, dates, figs and raisins. Fresh fruit juice and smoothies are also good.
Even apple cider vinegar rates as alkalizing, which can be confusing because vinegar is clearly very acidic. Whether a food is alkalizing or acidifying is based on the amount of acid wastes that are produced when it's digested. Your body is affected by these waste chemicals, not the actual acidity of a food.
Nuts and Seeds
Almonds, chestnuts, chia and sesame seeds are all alkalizing. Whereas, most other nuts and seeds are slightly acid-forming.
Although, any nuts or seeds will become more alkalizing if you soak and sprout them before you eat them.
Processed nut and seed oils are considered neutral, so eat these sparingly. This includes oils such as almond, sunflower, canola or sesame. Any oil can go rancid fairly quickly, so it's recommended to always buy fresh, cold-pressed and untreated oils when possible.
Grains and Beans
Amaranth, millet and quinoa are the only grains that are naturally alkalizing. Fresh beans are also alkalizing, such as green peas, lima beans or fresh soy products like tofu or tempeh.
In general, the rest of the grains and beans are acidifying. This is particularly true for any breads, cereals, pastas or other processed forms of grains or beans.
But similar to nuts and seeds, whole grains and beans become alkalizing if you soak and sprout them before preparation.
What foods should you avoid?
The food groups that have been shown to have the most acidifying effect on your body are primarily animal-based. The most acid-forming food group is meat. Fish are slightly better than other animal meats, but they are still significantly acidifying.
Dairy products and eggs are also acid-forming. Goat milk is the least acidifying, whereas hard cheeses are the highest.
The last and perhaps most acidifying food group is artificial sweeteners. White processed sugar is by far the worst, but honey, molasses and maple syrup are also somewhat acid-forming.
An alkalizing diet is about finding a healthy balance in what you eat. It's not about becoming extreme and cutting out all acid-forming foods. It simply provides a guideline to help make better daily food choices.
Source
Alkalize or Die, by Dr. Theodore Baroody
YOU MIGHT ALSO LIKE 
15 Best Foods for Detoxing Your Body
A Beginner's Guide to Mindful Eating
How Protein at Breakfast Can Help You Lose Weight
Monsanto, the maker of the glyphosate-based herbicide Roundup, filed a motion June 16 in U.S. District Court, Northern District of California to reconsider the chemical's addition to California's Proposition 65 list of agents known to cause cancer.
The agrochemical giant made this move based on a June 14 Reuters investigation of Dr. Aaron Blair, a lead researcher on the World Health Organization's International Agency for Research on Cancer (IARC) committee, that classified glyphosate as a "2A probable human carcinogen" in March 2015.
Keep reading...
Show less
By Avery Friedman
Algae is often considered a nuisance, but for Sweden, the rapidly growing sea plant is now an asset.
As the Scandinavian country works to cut all of its greenhouse gas emissions by 2045, it's using algae to sop up the carbon emissions from cement.
Keep reading...
Show less
Jun. 24, 2017 01:35PM EST
By Itai Vardi
A recent intensification in protests against Williams Partners' planned Atlantic Sunrise pipeline in Pennsylvania prompted a state senator to propose legislation aimed at limiting demonstrations.
Last month, Pennsylvania Sen. Scott Martin (R-Norman) announced his intention to introduce legislation that would pass the costs of law enforcement responding to protests onto the demonstrators. Martin also helped introduce a different bill that would criminalize protests at natural gas facilities.
Keep reading...
Show less
Jun. 24, 2017 01:29PM EST
Black Shogun / iStock
The Federal Energy Regulatory Commission (FERC) released its Final Environmental Impact Statement Friday for the Mountain Valley Pipeline, a controversial 303-mile pipeline that would carry two billion cubic feet of fracked gas per day from West Virginia through Virginia.
Keep reading...
Show less
Jun. 24, 2017 01:46PM EST
Falcon PEV
The so-called "first and last mile" problem is one of the biggest hurdles with public transportation. How do you encourage more people to take Earth-friendlier commutes when their homes are miles away from the train or bus station?
One solution, as this Estonian electric scooter company proposes, is to simply take your commute with you—literally. Tallinn-based Stigo has developed a compact e-scooter that folds to the size of a rolling suitcase in about two seconds.
Keep reading...
Show less
Jun. 24, 2017 05:12PM EST
Connect4Climate
[Editor's note: I'm still in shock after hearing the news that Lucia Grenna passed away in her sleep last week. When we first met in April of 2014 at a Copenhagen hotel, I was immediately taken by here powerful presence. We spent the next couple days participating in a Sustainia climate change event where Lucia presented her audacious plans to connect people to the climate issue. I had the chance to partner with Lucia on several other projects throughout the years and work with her incredible Connect4Climate team. I was always in awe of her ability to "make the impossible possible." Her spirit will live on forever. — Stefanie Spear]
It is with a heavy heart that Connect4Climate announces the passing of its founder and leading light, Lucia Grenna. Lucia passed peacefully in her sleep on June 15, well before her time. We remember her for her leadership and extraordinary ability to motivate people to take on some of the greatest challenges of our time, not least climate change.
Keep reading...
Show less
Jun. 23, 2017 07:29PM EST
Wikimedia Commons
By Stacy Malkan
Neil deGrasse Tyson has inspired millions of people to care about science and imagine themselves as participants in the scientific process. What a hopeful sign it is to see young girls wearing t-shirts emblazoned with the words, "Forget princess, I want to be an astrophysicist."
Keep reading...
Show less
Jun. 23, 2017 01:57PM EST
www.youtube.com
By Andy Rowell
Any day now we will truly witness climate change in action. Within days at worst, maybe weeks at best, scientists predict that a huge section of the Larsen C ice shelf in Antarctica will break off into the ocean, in what is called a major "carving" event.
Keep reading...
Show less
Jun. 23, 2017 02:27PM EST
www.youtube.com
President Trump visited Cedar Rapids, Iowa on June 21 to speak to a large crowd in the U.S. Cellular Center at a political rally organized by his campaign.
As Trevor Noah noted during The Daily Show episode last night (starts at 2:25), the real reason Trump has these rallies is to "get back in front of his loyal crowds and feed of their energy." Noah believes that "Trump supporters are so on board with their dude he can say anything and they'll come along for the ride."
Keep reading...
Show less