This website uses cookies to ensure you get the best experience while browsing it. By clicking 'Got It' you're accepting these terms.
What You Should Eat to Balance Your pH and Alkalize Your Body
Jan. 25, 2016 11:29AM EST
The main concept behind an alkalizing diet is that certain foods can create acidic byproducts in your body after digestion. You can reduce the negative health effects of these acids by limiting acid-forming foods in your diet and eating foods that alkalize your body instead.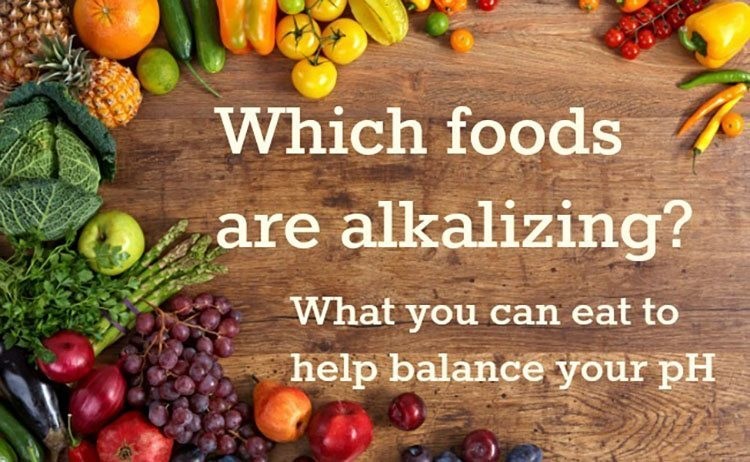 The benefits of an alkalizing diet are starting to add up. Research has shown that eating more alkalizing foods can:
mitigate chronic diseases like hypertension and stroke
improve cardiovascular health
enhance memory and cognition
And perhaps best of all, alkalizing foods are often cheap and easy to find.
Why Eat an Alkalizing Diet?
It's vital to human survival that our bodies maintain a blood pH of about 7.4. On the pH scale, this is slightly alkaline. One of the main ways our bodies maintain our internal pH is through the kidneys. They filter out any excessive acids in our system and excrete them in urine.
A problem starts when we consume too many acid-forming foods. The kidneys can't always keep up with the acid wastes from these foods, causing the acids to accumulate in our tissues.
Studies have found that if this acidic overload becomes chronic, it can lead to various health conditions. Some of these include kidney stones, reduced bone density, muscle degradation and a possible link to the development of arthritis, diabetes and cancer.
Dr. Thomas Remer developed a way to calculate the potential acidifying or alkalizing effect a food may have on your body. This is called the potential renal acid load (PRAL) of a food. It measures how much acid your kidneys need to process after a food has been eaten.
It's been shown that when you eat foods with a high PRAL, the pH of your urine and saliva often become lower or more acidic. Whereas foods with a low PRAL raise your urine and saliva pH, making it more alkaline. This isn't a perfect measurement, but it can give a useful general guideline as to how a food is affecting your body.
Alkalizing Food Groups
It's recommended that 80 percent of your diet is made up of alkalizing foods from the groups listed below. The other 20 percent can be neutral to acid-forming foods, but these should be kept to a minimum.
Always choose fresh, organic foods whenever possible. An important part of an alkalizing diet is getting enough minerals to help your body neutralize acid wastes. Organic foods have often been shown to contain a higher nutritional content than non-organic foods. This will make sure you get as many minerals as possible.
Vegetables
All vegetables are alkalizing. If you simply eat more vegetables, you're well on your way to a more alkaline diet.
It's best to eat them in the least processed form you can. Raw or steamed is excellent. Deep fried or made into a carrot cake is not.
All types of seaweed are particularly alkalizing. Greens, such as spinach, parsley, kale and watercress are also highly rated.
This includes herbal teas and fresh vegetable juices.
Fruits
The majority of fruits are also alkalizing. The few exceptions are blueberries, cranberries and plums. These are shown to be acidifying.
It's recommended to eat fruits raw rather than cooked, pasteurized or processed. This is because cooking can break down some of the vitamins, such as vitamin C.
Some of the best fruits are melons, lemons, limes, dates, figs and raisins. Fresh fruit juice and smoothies are also good.
Even apple cider vinegar rates as alkalizing, which can be confusing because vinegar is clearly very acidic. Whether a food is alkalizing or acidifying is based on the amount of acid wastes that are produced when it's digested. Your body is affected by these waste chemicals, not the actual acidity of a food.
Nuts and Seeds
Almonds, chestnuts, chia and sesame seeds are all alkalizing. Whereas, most other nuts and seeds are slightly acid-forming.
Although, any nuts or seeds will become more alkalizing if you soak and sprout them before you eat them.
Processed nut and seed oils are considered neutral, so eat these sparingly. This includes oils such as almond, sunflower, canola or sesame. Any oil can go rancid fairly quickly, so it's recommended to always buy fresh, cold-pressed and untreated oils when possible.
Grains and Beans
Amaranth, millet and quinoa are the only grains that are naturally alkalizing. Fresh beans are also alkalizing, such as green peas, lima beans or fresh soy products like tofu or tempeh.
In general, the rest of the grains and beans are acidifying. This is particularly true for any breads, cereals, pastas or other processed forms of grains or beans.
But similar to nuts and seeds, whole grains and beans become alkalizing if you soak and sprout them before preparation.
What foods should you avoid?
The food groups that have been shown to have the most acidifying effect on your body are primarily animal-based. The most acid-forming food group is meat. Fish are slightly better than other animal meats, but they are still significantly acidifying.
Dairy products and eggs are also acid-forming. Goat milk is the least acidifying, whereas hard cheeses are the highest.
The last and perhaps most acidifying food group is artificial sweeteners. White processed sugar is by far the worst, but honey, molasses and maple syrup are also somewhat acid-forming.
An alkalizing diet is about finding a healthy balance in what you eat. It's not about becoming extreme and cutting out all acid-forming foods. It simply provides a guideline to help make better daily food choices.
Source
Alkalize or Die, by Dr. Theodore Baroody
YOU MIGHT ALSO LIKE 
15 Best Foods for Detoxing Your Body
A Beginner's Guide to Mindful Eating
How Protein at Breakfast Can Help You Lose Weight
Plus, learn if there's one that's best for your health.
Catherine Falls Commercial / Moment / Getty Images
An invasive Amynthas worm, also known as a crazy snake worm, Asian jumping worm and Alabama jumper Tom Potterfield / Flickr
By Jason Bittel
My wife and I built a house two years ago on a few acres of woodland outside of Pittsburgh. The backyard is full of maples, poplars, briars and common spicebush. Two-lined salamanders and grumpy-looking crayfish wade among the rocks in the small stream that runs down the edge of the property. Deer, raccoon and opossum tracks appear regularly in the snow and mud. Sometimes, my trail-cam even catches a pair of gray foxes as they slink through the night.
AleksandarNakic / Getty Images
By Kate Murphy
No matter the time of year, there's always a point in each season when my skin decides to cause me issues. While these skin issues can vary, I find the most common issues to be dryness, acne and redness.

David Woodfall / The Image Bank / Getty Images
By Sam Nickerson
The U.S. Environmental Protection Agency (EPA) in April 2018 proposed relaxing standards related to how it assesses the effects of exposure to low levels of toxic chemicals on public health.
Now, correspondence obtained by the LA Times revealed just how deeply involved industry lobbyists and a controversial, industry-funded toxicologist were in drafting the federal agency's proposal to scrap its current, protective approach to regulating toxin exposure.
Steve Irwin poses with a three foot long alligator at the San Francisco Zoo on June 26, 2002. Justin Sullivan / Getty Images
February 22 is the birthday of conservationist and beloved TV personality "Crocodile Hunter" Steve Irwin, who would have been 57 years old today.
Irwin's life was tragically cut short when the barb from a stingray went through his chest while he was filming in 2006, but his legacy of loving and protecting wildlife lives on, most recently in a Google Doodle today honoring his birthday.