What You Need to Know About Toxic Chemicals in Your Furniture
Once upon a time, flame-retardant furniture seemed like a good idea. It seemed like less kindling in the case of someone tipping over a candle or a wire overheating.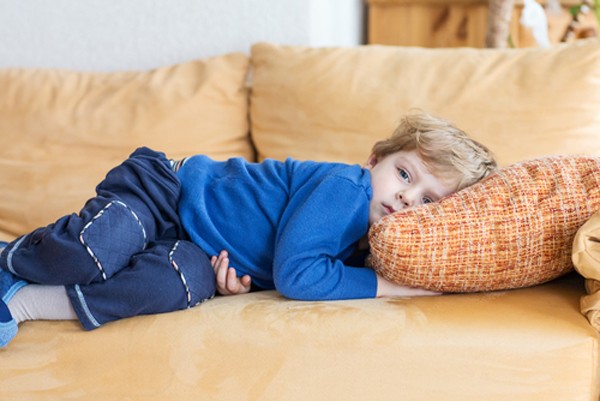 Just as manufacturers are being pressured to remove flame retardant chemicals from children's clothing, bedding and furniture, the pressure has been mounting on makers of upholstered household furniture. Photo credit: Shutterstock
Instead, the chemicals used to make upholstery foam less flammable brought their own problems—problems more immediate and more common than those rare instances of fire. Those toxic chemicals, shed into the air by sofas and other furniture containing the foam, were linked to a host of health problems including fertility issues, neurological deficits, developmental delays and cancer. American infants were found to have extremely high concentrations of fire retardants in their blood compared to those in other countries, according to a study sponsored by the Environmental Working Group. And when they did burn, the fumes were highly toxic and dangerous.
So just as manufacturers are being pressured to remove flame retardant chemicals from children's clothing, bedding and furniture, the pressure has been mounting on makers of upholstered household furniture. Organizations like Safer Chemicals, Healthy Families have been leaning on manufacturers through its Mind the Store campaign.
That campaign is paying off. The group is reporting that some of the U.S.'s largest furniture retailers have agreed to phase out the chemicals, although the companies aren't necessarily saying what and when. The country's largest furniture retailer/manufacturer Ashley Furniture has agreed to eliminate them but hasn't announced a timetable to do so. Ashley's announcement came in response to a letter from the Safer Chemicals, Health Families Mind the Store campaign.
"For years, consumers were saddled with few safe choices when they wanted to buy a couch or other foam-padded furniture," said Mind the Store campaign director Mike Schade. "Thankfully big retailers are beginning to remove toxic flame retardants. The nation's top furniture retailer Ashley has recognized that these toxic flame retardant chemicals are not necessary and will be manufacturing and selling furniture products that are safer as they meet the new California flammability standards. But customers want and have a right to know what they are buying. It's vital Ashley take the next step by announcing a clear public timeframe for phasing out these chemicals in furniture foam and fabrics."
Last week, the Chicago Tribune reported that Crate and Barrel, Williams-Sonoma's Pottery Barn and West Elm, and Room and Board have mostly eliminated the toxic chemicals already, and that Futon Shop, IKEA, La-Z-Boy, Scandinavian Designs and Walmart have told their manufacturers to stop using the chemicals. Other companies such as Pier 1 did not respond to inquiries.
"The inconsistent messages mean consumers must ask retailers pointed questions if they want to ensure a particular couch or chair doesn't contain flame retardants linked to cancer, developmental problems, reduced IQ and impaired fertility," reported the Tribune.
California was the impetus for the addition of the chemicals to upholstered furniture and now it's the impetus for their removal. Furniture companies began loading sofas with flame retardant upholstery foam after the state passed TB-117 in 1975. That law required the foam to meet a certain level of resistance to an open flame, providing home residents with a window of escape in case of fire. Since California is such a big market, companies just added it to all their furniture.
But evidence emerged over the years that not only were the chemicals escaping into the air and causing potential health problems but they weren't even that effective in fending off fires. Public sentiment turned against them. In late 2013, California passed new flammability standards which kicked in at the beginning of this month. While not banning flame retardants, they no longer require that furniture be resistant to open flame but only to smoldering cigarettes. Most upholstery fabrics meet that standard without chemicals, eliminating  the need for fire-resistant foam underneath. For greater consumer protection, the state later added a requirement that  products containing the chemicals be labeled.
The California law was challenged by Chemtura Corp., one of the world's largest makers of chemical flame retardants, but its challenge was dismissed by a judge in California in August who said its reasoning would lead to "absurd results." Chemtura, which devoted $23 million to lobbying against the new standards over a five-year period and defeated five previous failed efforts to reform the California standards, is most likely concerned with another result: the hit to its profits.
"Eliminating toxic flame retardant chemicals makes our homes safer while improving our health. The industry is responding, but with varying degrees of success to consumers. We urge other leading furniture retailers to adopt policies with clear timeframes to phase out these unnecessary and dangerous chemicals," said Schade.
YOU MIGHT ALSO LIKE
New Guide to Flame Retardants in Baby Products
10 Environmental Health Questions to Ask When Choosing Childcare
A coalition of conservation groups and others announced Thursday that a historic number of comments and petitions of support have been submitted to the U.S. Department of the Interior in support of Bears Ears National Monument. Despite the entirely inadequate 15-day comment period ending on May 26, more than 685,000 comments in support of Bears Ears National Monument have been collected.
Keep reading...
Show less
Rink Glacier in western Greenland, with a meltwater lake visible center. NASA/OIB
Scientists have had their eyes on Greenland as its iconic glaciers have begun disappearing due to a warming climate. But, what they didn't expect to see was a whole new type of melting.
Keep reading...
Show less
Mountain View Fire
By Lena Moffitt
An oil tanker in Mead, Colorado exploded, killing one and injuring three on Thursday. Authorities are continuing to investigate the cause of the explosion.
Keep reading...
Show less
Banner created by Alliance for Climate Education
Keep reading...
Show less
Twenty-two GOP senators sent a letter Thursday urging Donald Trump to pull out of the Paris agreement. They argued remaining in the deal could "upend" the administration's ability "to fulfill its goal of rescinding the Clean Power Plan."
Keep reading...
Show less
By Cheryl Johncox
The Federal Energy Regulatory Commission (FERC) rejected on Thursday Energy Transfer Partners' request to resume horizontal directional drilling at two sites for its Rover fracked gas pipeline. This rejection comes after numerous leaks into Ohio's wetlands, and Clean Air and Clean Water act violations. FERC has halted the process at only eight locations of the 32 where drilling is taking place under Ohio's wetlands and streams.
Keep reading...
Show less
By Nadia Prupis
A majority of people in eight countries say they are ready to change their lifestyles if it would prevent climate catastrophe, a survey on global threats released Wednesday found.
Keep reading...
Show less
May. 25, 2017 01:55PM EST
Bill Maher is sick of billionaires' obsession with Mars, more like "Mars-a-Lago," he said.
In a new animation produced by ATTN:, the popular talk show host of Real Time, discusses the perils of our planet, including how "climate change is killing us."
Keep reading...
Show less