This website uses cookies to ensure you get the best experience while browsing it. By clicking 'Got It' you're accepting these terms.
What You Need to Know About Toxic Chemicals in Your Furniture
Jan. 27, 2015 09:22AM EST
Health + Wellness
Once upon a time, flame-retardant furniture seemed like a good idea. It seemed like less kindling in the case of someone tipping over a candle or a wire overheating.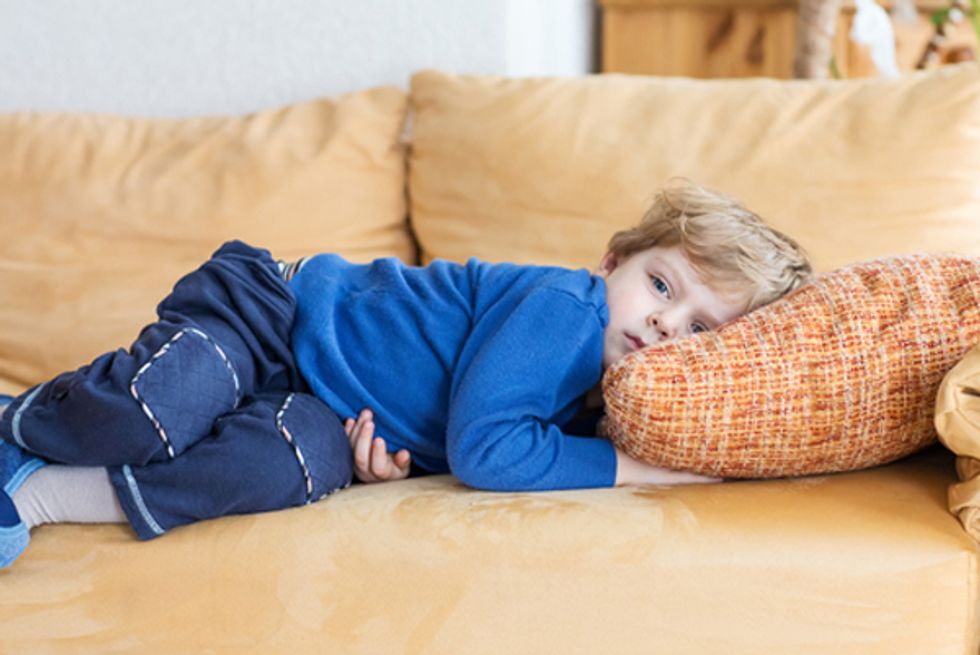 Just as manufacturers are being pressured to remove flame retardant chemicals from children's clothing, bedding and furniture, the pressure has been mounting on makers of upholstered household furniture. Photo credit: Shutterstock
Instead, the chemicals used to make upholstery foam less flammable brought their own problems—problems more immediate and more common than those rare instances of fire. Those toxic chemicals, shed into the air by sofas and other furniture containing the foam, were linked to a host of health problems including fertility issues, neurological deficits, developmental delays and cancer. American infants were found to have extremely high concentrations of fire retardants in their blood compared to those in other countries, according to a study sponsored by the Environmental Working Group. And when they did burn, the fumes were highly toxic and dangerous.
So just as manufacturers are being pressured to remove flame retardant chemicals from children's clothing, bedding and furniture, the pressure has been mounting on makers of upholstered household furniture. Organizations like Safer Chemicals, Healthy Families have been leaning on manufacturers through its Mind the Store campaign.
That campaign is paying off. The group is reporting that some of the U.S.'s largest furniture retailers have agreed to phase out the chemicals, although the companies aren't necessarily saying what and when. The country's largest furniture retailer/manufacturer Ashley Furniture has agreed to eliminate them but hasn't announced a timetable to do so. Ashley's announcement came in response to a letter from the Safer Chemicals, Health Families Mind the Store campaign.
"For years, consumers were saddled with few safe choices when they wanted to buy a couch or other foam-padded furniture," said Mind the Store campaign director Mike Schade. "Thankfully big retailers are beginning to remove toxic flame retardants. The nation's top furniture retailer Ashley has recognized that these toxic flame retardant chemicals are not necessary and will be manufacturing and selling furniture products that are safer as they meet the new California flammability standards. But customers want and have a right to know what they are buying. It's vital Ashley take the next step by announcing a clear public timeframe for phasing out these chemicals in furniture foam and fabrics."
Last week, the Chicago Tribune reported that Crate and Barrel, Williams-Sonoma's Pottery Barn and West Elm, and Room and Board have mostly eliminated the toxic chemicals already, and that Futon Shop, IKEA, La-Z-Boy, Scandinavian Designs and Walmart have told their manufacturers to stop using the chemicals. Other companies such as Pier 1 did not respond to inquiries.
"The inconsistent messages mean consumers must ask retailers pointed questions if they want to ensure a particular couch or chair doesn't contain flame retardants linked to cancer, developmental problems, reduced IQ and impaired fertility," reported the Tribune.
California was the impetus for the addition of the chemicals to upholstered furniture and now it's the impetus for their removal. Furniture companies began loading sofas with flame retardant upholstery foam after the state passed TB-117 in 1975. That law required the foam to meet a certain level of resistance to an open flame, providing home residents with a window of escape in case of fire. Since California is such a big market, companies just added it to all their furniture.
But evidence emerged over the years that not only were the chemicals escaping into the air and causing potential health problems but they weren't even that effective in fending off fires. Public sentiment turned against them. In late 2013, California passed new flammability standards which kicked in at the beginning of this month. While not banning flame retardants, they no longer require that furniture be resistant to open flame but only to smoldering cigarettes. Most upholstery fabrics meet that standard without chemicals, eliminating  the need for fire-resistant foam underneath. For greater consumer protection, the state later added a requirement that  products containing the chemicals be labeled.
The California law was challenged by Chemtura Corp., one of the world's largest makers of chemical flame retardants, but its challenge was dismissed by a judge in California in August who said its reasoning would lead to "absurd results." Chemtura, which devoted $23 million to lobbying against the new standards over a five-year period and defeated five previous failed efforts to reform the California standards, is most likely concerned with another result: the hit to its profits.
"Eliminating toxic flame retardant chemicals makes our homes safer while improving our health. The industry is responding, but with varying degrees of success to consumers. We urge other leading furniture retailers to adopt policies with clear timeframes to phase out these unnecessary and dangerous chemicals," said Schade.
YOU MIGHT ALSO LIKE
New Guide to Flame Retardants in Baby Products
10 Environmental Health Questions to Ask When Choosing Childcare
EcoWatch Daily Newsletter
Pro-environment demonstrators on the streets of Washington, DC during the Jan. 20, 2017 Trump inauguration.
Mobilus In Mobili
/ Flickr /
CC BY-SA 2.0
By Dr. Brian R. Shmaefsky
One year after the Flint Water Crisis I was invited to participate in a water rights session at a conference hosted by the US Human Rights Network in Austin, Texas in 2015. The reason I was at the conference was to promote efforts by the American Association for the Advancement of Science (AAAS) to encourage scientists to shine a light on how science intersects with human rights, in the U.S. as well as in the context of international development. My plan was to sit at an information booth and share my stories about water quality projects I spearheaded in communities in Bangladesh, Colombia, and the Philippines. I did not expect to be thrown into conversations that made me reexamine how scientists use their knowledge as a public good.
Mt. Rainier and Reflection Lake on Sept. 10, 2015. Crystal Geyser planned to open a bottling plant near Mt. Rainier, emails show.
louelke - on and off / Flickr
Bottled water manufacturers looking to capture cool, mountain water from Washington's Cascade Mountains may have to look elsewhere after the state senate passed a bill banning new water permits, as The Guardian reported.
Large storage tank of Ammonia at a fertilizer plant in Cubatão, Sao Paulo State, Brazil. Luis Veiga / The Image Bank / Getty Images
The shipping industry is coming to grips with its egregious carbon footprint, as it has an outsized contribution to greenhouse gas emissions and to the dumping of chemicals into open seas. Already, the global shipping industry contributes about 2 percent of global carbon emissions, about the same as Germany, as the BBC reported.
At high tide, people are forced off parts of the pathway surrounding DC's Tidal Basin. Andrew Bossi /
Wikimedia
The Jefferson Memorial in Washington, DC overlooks the Tidal Basin, a man-made body of water surrounded by cherry trees. Visitors can stroll along the water's edge, gazing up at the stately monument.
But at high tide, people are forced off parts of the path. Twice a day, the Tidal Basin floods and water spills onto the walkway.
Lioness displays teeth during light rainstorm in Kruger National Park, South Africa. johan63 / iStock / Getty Images
Ahead of government negotiations scheduled for next week on a global plan to address the biodiversity crisis, 23 former foreign ministers from various countries released a statement on Tuesday urging world leaders to act "boldly" to protect nature.