This website uses cookies to ensure you get the best experience while browsing it. By clicking 'Got It' you're accepting these terms.
Our epidemics of dietary disease have prompted a great deal of research into what humans are meant to eat for optimal health. In 1985, an influential article was published proposing that our chronic diseases stem from a disconnect between what our bodies ate while evolving during the Stone Age (about 2 million years ago) and what we're stuffing our face with today. The proposal advocated for a return towards a hunter-gatherer type diet of lean meat, fruits, vegetables and nuts.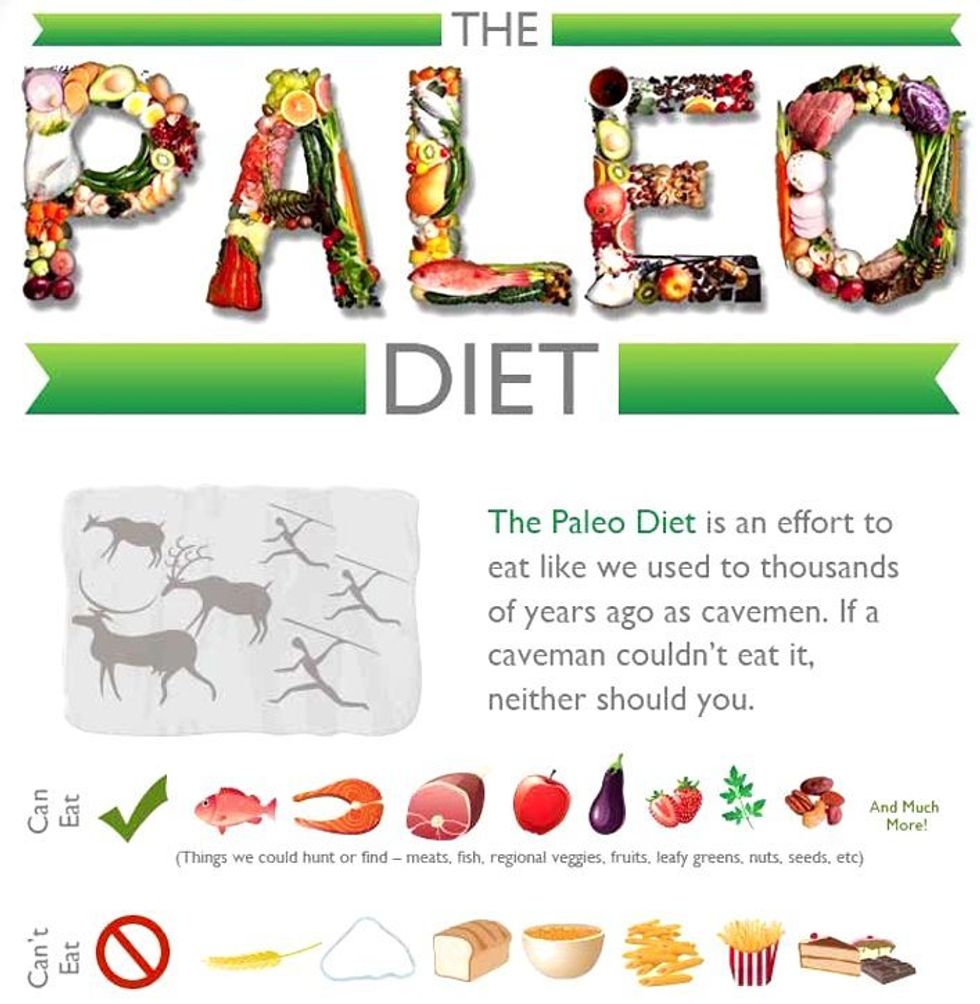 It's reasonable to assume our nutritional requirements were established in the prehistoric past. However, the question of which prehistoric past we should emulate remains. Why just the last 2 million? We've been evolving for about 20 million years since our common great ape ancestor, during which our nutrient requirements and digestive physiology were set down. Therefore our hunter-gatherer days at the tail end probably had little effect. What were we eating for the first 90 percent of our evolution? What the rest of the great apes ended up eating—95 percent or more plants.
This may explain why we're so susceptible to heart disease. For most of human evolution, cholesterol may have been virtually absent from the diet. No bacon, butter or trans fats; and massive amounts of fiber, which pulls cholesterol from the body. This could have been a problem since our body needs a certain amount of cholesterol, but our bodies evolve not only to make cholesterol, but also to preserve it and recycle it.
If we think of the human body as a cholesterol-conserving machine, then plop it into the modern world of bacon, eggs, cheese, chicken, pork and pastry; it's no wonder artery-clogging heart disease is our #1 cause of death. What used to be adaptive for 90 percent of our evolution—holding on to cholesterol at all costs since we weren't getting much in our diet—is today maladaptive, a liability leading to the clogging of our arteries. Our bodies just can't handle it.
As the editor-in-chief of the American Journal of Cardiology noted 25 years ago, no matter how much fat and cholesterol carnivores eat, they do not develop atherosclerosis. We can feed a dog 500 eggs worth of cholesterol and they just wag their tail; a dog's body is used to eating and getting rid of excess cholesterol. Conversely, within months a fraction of that cholesterol can start clogging the arteries of animals adapted to eating a more plant-based diet.
Even if our bodies were designed by natural selection to eat mostly fruit, greens and seeds for 90 percent of our evolution, why didn't we better adapt to meat-eating in the last 10 percent, during the Paleolithic? We've had nearly 2 million years to get used to all that extra saturated fat and cholesterol. If a lifetime of eating like that clogs up nearly everyone's arteries, why didn't the genes of those who got heart attacks die off and get replaced by those that could live to a ripe old age with clean arteries regardless of what they ate?
Because most didn't survive into old age. Most prehistoric peoples didn't live long enough to get heart attacks. When the average life expectancy is 25 years old, then the genes that get passed along are those that can live to reproductive age by any means necessary and that means not dying of starvation. The more calories in food, the better. Eating lots of bone marrow and brains, human or otherwise, would have a selective advantage (as would discovering a time machine stash of Twinkies for that matter!). If we only have to live long enough to get our kids to puberty to pass along our genes, then we don't have to evolve any protections against the ravages of chronic disease.
To find a population nearly free of chronic disease in old age, we don't have to go back a million years. In the 20th century, networks of missionary hospitals in rural Africa found coronary artery disease virtually absent and not just heart disease, but high blood pressure, stroke, diabetes, common cancers and more. In a sense, these populations in rural China and Africa were eating the type of diet we've been eating for 90 percent of the last 20 million years, a diet almost exclusively of plant foods.
How do we know it was their diet and not something else? In the 25 year update to their original paleo paper, the authors tried to clarify that they did not then and do not now propose that people adopt a particular diet just based on what our ancient ancestors ate. Dietary recommendations must be put to the test. That's why the pioneering research from Pritikin, Ornish and Esselstyn is so important, showing that plant-based diets can not only stop heart disease but have been proven to reverse it in the majority of patients. Indeed, it's the only diet that ever has.
YOU MIGHT ALSO LIKE 
Is the Chemical Acrylamide in Coffee Harmful to Your Health?
5 Non-Stick Pans That Won't Give You Cancer
The Truth About Gluten: Is it Healthy for Me?
EcoWatch Daily Newsletter
Micromobility is the future of transportation in cities, but cities and investors need to plan ahead to avoid challenges. Jonny Kennaugh /
Unsplash
By Carlo Ratti, Ida Auken
On the window of a bike shop in Copenhagen, a sign reads: Your next car is a bike.
An American flag waves in the wind at the Phillip Burton Federal Building in San Francisco, California on May 17 where a trial against Monsanto took place. Alva and Alberta Pilliod, were awarded
more than $2 billion in damages
in their lawsuit against Monsanto, though the judge in the case lowered the damage award to $87 million. JOSH EDELSON / AFP / Getty Images
By Carey Gillam
For the last five years, Chris Stevick has helped his wife Elaine in her battle against a vicious type of cancer that the couple believes was caused by Elaine's repeated use of Monsanto's Roundup herbicide around a California property the couple owned. Now the roles are reversed as Elaine must help Chris face his own cancer.
The last 50 years have been brutal for wildlife. Animals have lost their habitats and seen their numbers plummet. Now a new report from a British conservation group warns that habitat destruction and increased pesticide use has on a trajectory for an "insect apocalypse," which will have dire consequences for humans and all life on Earth, as The Guardian reported.
Six of the nineteen wind turbines which were installed on Frodsham Marsh, near the coal-powered Fiddler's Ferry power station, in Helsby, England on Feb. 7, 2017.
Sales of electric cars are surging and the world is generating more and more power from renewable sources, but it is not enough to cut greenhouse gas emissions and to stop the global climate crisis, according to a new report from the International Energy Agency (IEA).
"Globally, we're starting to see examples of retailers moving away from plastics and throwaway packaging, but not at the urgency and scale needed to address this crisis."
Greenpeace
By Jake Johnson
A Greenpeace report released Tuesday uses a hypothetical "Smart Supermarket" that has done away with environmentally damaging single-use plastics to outline a possible future in which the world's oceans and communities are free of bags, bottles, packaging and other harmful plastic pollutants.
Children are forced to wear masks due to the toxic smoke from peat land fires in Indonesia.
Aulia Erlangga /
CIFOR
Private homes surround a 20 inch gas liquids pipeline which is part of the Mariner East II project on Oct. 5, 2017 in Marchwood, Penn. Robert Nickelsberg / Getty Images
The FBI is looking into how the state of Pennsylvania granted permits for a controversial natural gas pipeline as part of a corruption investigation, the AP reports.
Three cows who were washed off their North Carolina island by Hurricane Dorian have been found alive after swimming at least two miles.
Carolina Wild Ones / Facebook