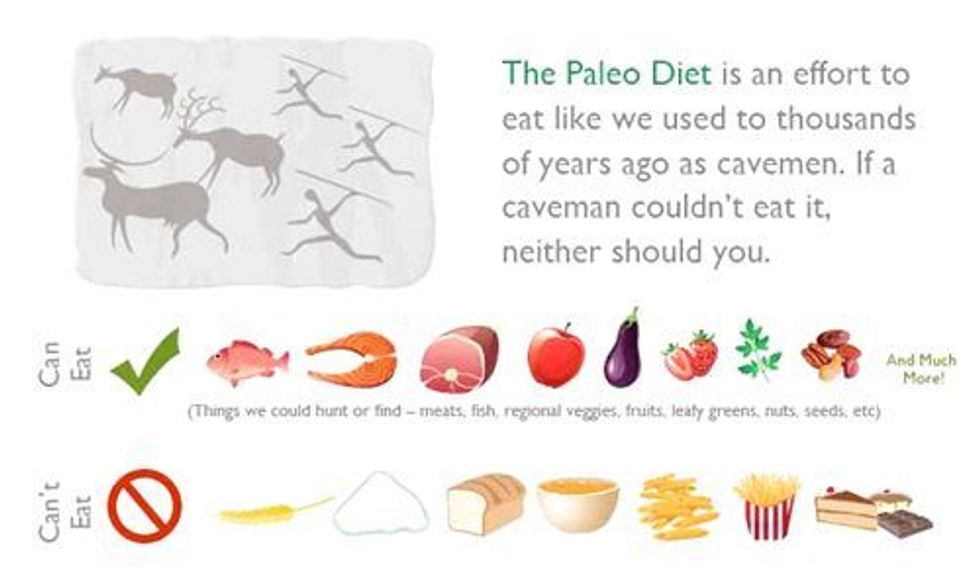 Our epidemics of dietary disease have prompted a great deal of research into what humans are meant to eat for optimal health. In 1985, an influential article was published proposing that our chronic diseases stem from a disconnect between what our bodies ate while evolving during the Stone Age (about 2 million years ago) and what we're stuffing our face with today. The proposal advocated for a return towards a hunter-gatherer type diet of lean meat, fruits, vegetables and nuts.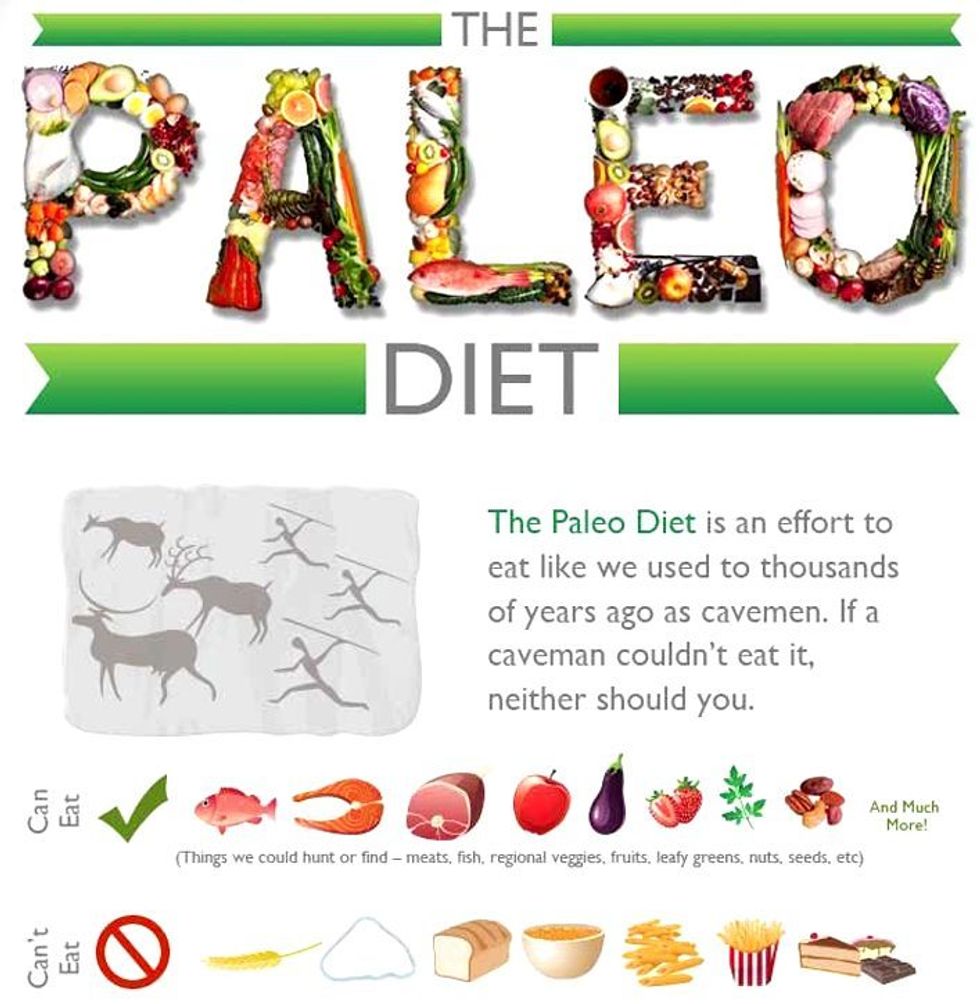 It's reasonable to assume our nutritional requirements were established in the prehistoric past. However, the question of which prehistoric past we should emulate remains. Why just the last 2 million? We've been evolving for about 20 million years since our common great ape ancestor, during which our nutrient requirements and digestive physiology were set down. Therefore our hunter-gatherer days at the tail end probably had little effect. What were we eating for the first 90 percent of our evolution? What the rest of the great apes ended up eating—95 percent or more plants.
This may explain why we're so susceptible to heart disease. For most of human evolution, cholesterol may have been virtually absent from the diet. No bacon, butter or trans fats; and massive amounts of fiber, which pulls cholesterol from the body. This could have been a problem since our body needs a certain amount of cholesterol, but our bodies evolve not only to make cholesterol, but also to preserve it and recycle it.
If we think of the human body as a cholesterol-conserving machine, then plop it into the modern world of bacon, eggs, cheese, chicken, pork and pastry; it's no wonder artery-clogging heart disease is our #1 cause of death. What used to be adaptive for 90 percent of our evolution—holding on to cholesterol at all costs since we weren't getting much in our diet—is today maladaptive, a liability leading to the clogging of our arteries. Our bodies just can't handle it.
As the editor-in-chief of the American Journal of Cardiology noted 25 years ago, no matter how much fat and cholesterol carnivores eat, they do not develop atherosclerosis. We can feed a dog 500 eggs worth of cholesterol and they just wag their tail; a dog's body is used to eating and getting rid of excess cholesterol. Conversely, within months a fraction of that cholesterol can start clogging the arteries of animals adapted to eating a more plant-based diet.
Even if our bodies were designed by natural selection to eat mostly fruit, greens and seeds for 90 percent of our evolution, why didn't we better adapt to meat-eating in the last 10 percent, during the Paleolithic? We've had nearly 2 million years to get used to all that extra saturated fat and cholesterol. If a lifetime of eating like that clogs up nearly everyone's arteries, why didn't the genes of those who got heart attacks die off and get replaced by those that could live to a ripe old age with clean arteries regardless of what they ate?
Because most didn't survive into old age. Most prehistoric peoples didn't live long enough to get heart attacks. When the average life expectancy is 25 years old, then the genes that get passed along are those that can live to reproductive age by any means necessary and that means not dying of starvation. The more calories in food, the better. Eating lots of bone marrow and brains, human or otherwise, would have a selective advantage (as would discovering a time machine stash of Twinkies for that matter!). If we only have to live long enough to get our kids to puberty to pass along our genes, then we don't have to evolve any protections against the ravages of chronic disease.
To find a population nearly free of chronic disease in old age, we don't have to go back a million years. In the 20th century, networks of missionary hospitals in rural Africa found coronary artery disease virtually absent and not just heart disease, but high blood pressure, stroke, diabetes, common cancers and more. In a sense, these populations in rural China and Africa were eating the type of diet we've been eating for 90 percent of the last 20 million years, a diet almost exclusively of plant foods.
How do we know it was their diet and not something else? In the 25 year update to their original paleo paper, the authors tried to clarify that they did not then and do not now propose that people adopt a particular diet just based on what our ancient ancestors ate. Dietary recommendations must be put to the test. That's why the pioneering research from Pritikin, Ornish and Esselstyn is so important, showing that plant-based diets can not only stop heart disease but have been proven to reverse it in the majority of patients. Indeed, it's the only diet that ever has.
YOU MIGHT ALSO LIKE 
Is the Chemical Acrylamide in Coffee Harmful to Your Health?
5 Non-Stick Pans That Won't Give You Cancer
The Truth About Gluten: Is it Healthy for Me?
A grizzly bear killed an outdoor guide in a rare attack near Yellowstone Park. William Campbell / Corbis / Getty Images
EcoWatch Daily Newsletter
Representative Alexandria Ocasio-Cortez (D-NY) re-introduces the Green New Deal in Washington, D.C. on April 20, 2021. Mandel Ngan / AFP / Getty Images
By Brett Wilkins
In the latest of a flurry of proposed Green New Deal legislation, Reps. Cori Bush and Alexandria Ocasio-Cortez on Monday introduced the Green New Deal for Cities Act of 2021, a $1 trillion plan to "tackle the environmental injustices that are making us and our children sick, costing us our homes, and destroying our planet."
Offshore oil and gas drillers have left more than 18,000 miles of pipelines at the bottom of the Gulf of Mexico. Drew Angerer / Getty Images
Offshore oil and gas drillers have discarded and abandoned more than 18,000 miles of pipelines on the floor of the Gulf of Mexico since the 1960s, a report from the Government Accountability Office says.
The industry has essentially recovered none of the pipelines laid in the Gulf in the last six decades; the abandoned infrastructure accounts for more than 97% of all of the decommissioned pipelines in the Gulf.
The pipelines pose a threat to the habitat around them, as maritime commerce and hurricanes and erosion can move sections of pipeline.
The Bureau of Safety and Environmental Enforcement does not conduct undersea inspections even though surface monitoring is "not always reliable for detecting ruptures," according to the GAO.
For a deeper dive:
For more climate change and clean energy news, you can follow Climate Nexus on Twitter and Facebook, sign up for daily Hot News, and visit their news site, Nexus Media News.
Concerns over drinking polluted water top a recent Gallup poll on environmental threats. sonsam / Getty Images
The black cherries of
Coffea stenophylla
.
E. Couturon / IRD, Author provided
By Aaron P Davis
The world loves coffee. More precisely, it loves arabica coffee. From the smell of its freshly ground beans through to the very last sip, arabica is a sensory delight.
Robusta, the other mainstream coffee crop species, is almost as widely traded as arabica, but it falls short on flavor. Robusta is mainly used for instant coffee and blends, while arabica is the preserve of discerning baristas and expensive espressos.
Consumers may be happy, but climate change is making coffee farmers bitter. Diseases and pests are becoming more common and severe as temperatures rise. The fungal infection known as coffee leaf rust has devastated plantations in Central and South America. And while robusta crops tend to be more resistant, they need plenty of rain – a tall order as droughts proliferate.
The future for coffee farming looks difficult, if not bleak. But one of the more promising solutions involves developing new, more resilient coffee crops. Not only will these new coffees have to tolerate higher temperatures and less predictable rainfall, they'll also have to continue satisfying consumer expectations for taste and smell.
Finding this perfect combination of traits in a new species seemed remote. But in newly published research, my colleagues and I have revealed a little-known wild coffee species that could be the best candidate yet.
Coffee Farming in a Warming World
Coffea stenophylla was first described as a new species from Sierra Leone in 1834. It was farmed across the wetter parts of upper west Africa until the early 20th century, when it was replaced by the newly discovered and more productive robusta, and largely forgotten by the coffee industry. It continued to grow wild in the humid forests of Guinea, Sierra Leone and Ivory Coast, where it became threatened by deforestation.
At the end of 2018, we found stenophylla in Sierra Leone after searching for several years, but failed to find any trees in fruit until mid-2020, when a 10g sample was recovered for tasting.
Field botanists of the 19th century had long proclaimed the superior taste of stenophylla coffee, and also recorded its resistance to coffee leaf rust and drought. Those early tasters were often inexperienced though, and our expectations were low before the first tasting in the summer of 2020. That all changed once I'd sampled the first cup on a panel with five other coffee experts. Those first sips were revelatory: it was like expecting vinegar and getting champagne.
This initial tasting in London was followed by a thorough evaluation of the coffee's flavour in southern France, led by my research colleague Delpine Mieulet. Mieulet assembled 18 coffee connoisseurs for a blind taste test and they reported a complex profile for stenophylla coffee, with natural sweetness, medium-high acidity, fruitiness, and good body, as one would expect from high-quality arabica.
C. stenophylla growing in the wild, Ivory Coast. E. Couturon / IRD, Author provided
In fact, the coffee seemed very similar to arabica. At the London tasting, the Sierra Leone sample was compared to arabica from Rwanda. In the blind French tasting, most of the judges (81%) said stenophylla tasted like arabica, compared to 98% and 44% for the two arabica control samples, and 7% for a robusta sample.
The coffee tasting experts picked up on notes of peach, blackcurrant, mandarin, honey, light black tea, jasmine, chocolate, caramel and elderflower syrup. In essence, stenophylla coffee is delicious. And despite scoring highly for its similarity to arabica, the stenophylla coffee sample was identified as something entirely unique by 47% of the judges. That means there may be a new market niche for this rediscovered coffee to fill.
The taste testers approved of stenophylla's sweet and fruity flavour. CIRAD, Author provided
Breaking New Grounds
Until now, no other wild coffee species has come close to arabica for its superior taste. Scientifically, the results are compelling because we would simply not expect stenophylla to taste like arabica. These two species are not closely related, they originated on opposite sides of the African continent and the climates in which they grow are very different. They also look nothing alike: stenophylla has black fruit and more complex flowers while arabica cherries are red.
It was always assumed that high-quality coffee was the preserve of arabica – originally from the forests of Ethiopia and South Sudan – and particularly when grown at elevations above 1,500 metres, where the climate is cooler and the light is better.
Stenophylla coffee breaks these rules. Endemic to Guinea, Sierra Leone and Ivory Coast, stenophylla grows in hot conditions at low elevations. Specifically it grows at a mean annual temperature of 24.9°C – 1.9°C higher than robusta, and up to 6.8°C higher than arabica. Stenophylla also appears more tolerant of droughts, potentially capable of growing with less rainfall than arabica.
Robusta coffee can grow in similar conditions to stenophylla, but the price paid to farmers is roughly half that of arabica. Stenophylla coffee makes it possible to grow a superior tasting coffee in much warmer climates. And while stenophylla trees tend to produce less fruit than arabica, they still yield enough to be commercially viable.
The stenophylla harvest on Reunion Island. IRD / CIRAD, Author provided
To breed the coffee crop plants of the future, we need species with great flavour and high heat tolerance. Crossbreeding stenophylla with arabica or robusta could make both more resilient to climate change, and even improve their taste, particularly in the latter.
With stenophylla's rediscovery, the future of coffee just got a little brighter.
Aaron P Davis: Senior Research Leader, Plant Resources, Royal Botanic Gardens, Kew
Disclosure statement: Aaron P Davis receives funding from Darwin Initiative (UK).
Reposted with permission from The Conversation.
From Your Site Articles
Related Articles Around the Web