What You Need to Know About Day 4 at COP21
Dec. 04, 2015 11:50AM EST
Climate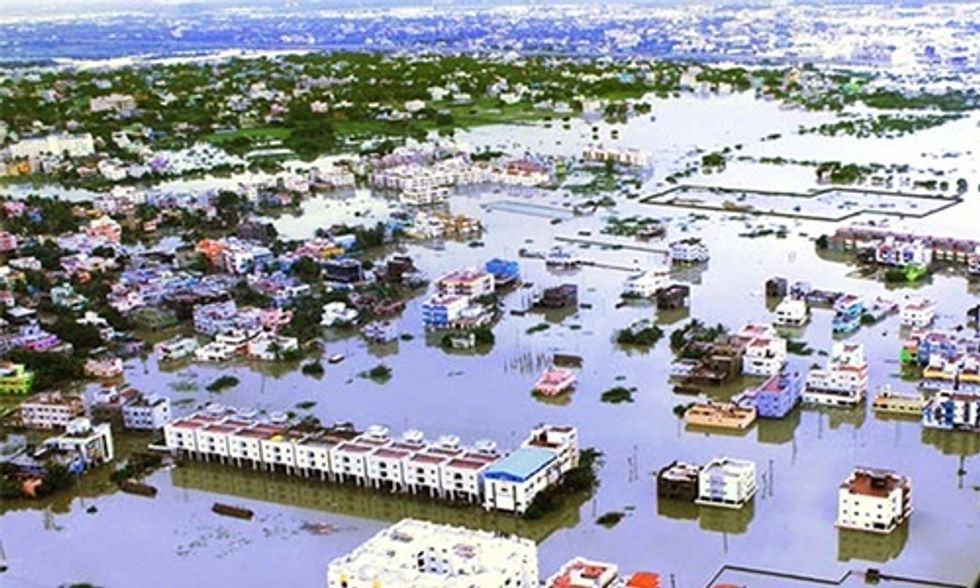 Day four of COP21 found negotiators embroiled in the nitty gritty details of a new draft of the agreement text, while extreme weather events around the world highlighted the importance of the talks.
Chennai, India's 4th largest city, saw its heaviest rainfall in more than 100 years, causing massive flooding that has driven thousands of people from their homes and killed nearly 200. The event marked the wettest day in December's history, but India's national weather office is predicting several more days of similar rain for Tamil Nadu, one of India's most important manufacturing regions. Indian Prime Minister Narendra Modi blamed climate change for the flooding, pointing to it as yet another example of the urgent need for a global agreement to fight global warming.
Why are the #COP21 climate talks so important? This picture of Chennai, India right now explains..... https://t.co/aFrkJvhOvJ

— Jenny Ricks (@Jenny Ricks) 1449072998.0
It's the kind of weather climate scientists say will become more common. Globally, extreme precipitation has been increasing and the fingerprint of global warming in driving that trend has been identified. Increasingly intense precipitation events fueled by climate change are likely to put more people at risk, particularly in already vulnerable regions.
The Global Risk Index, a new report from Germanwatch, analyzes how countries have been affected by weather-related impacts, such as floods and droughts and ranks them based on risk to their economy and human populations. In the past two decades, the most devastated countries have been in Asia and Central America. Wealthy nations aren't immune to extreme weather. In France, nearly 20,000 people have lost their lives due to climate impacts.
The economic and social costs of not addressing climate change would be astronomical. The Paris climate summit is one of the biggest and most important steps in combatting these issues.
YOU MIGHT ALSO LIKE
10 Cities Win C40 Award for Leading the Fight Against Climate Change
Bill McKibben: 'Paris Summit is Missing One of the Great World Leaders on Climate' Because He's in Prison
Least to Blame, Hardest Hit: Vulnerable Nations Show Leadership at COP21
EcoWatch Daily Newsletter
Related Articles from EcoWatch
Recent Stories from EcoWatch