This website uses cookies to ensure you get the best experience while browsing it. By clicking 'Got It' you're accepting these terms.
What Will Happen When Genetically Engineered Salmon Escape Into the Wild?
Apr. 10, 2016 09:54AM EST
Food
By Brettny Hardy
In late 2015, the Food and Drug Administration (FDA) gave the greenlight to AquaBounty, Inc., a company poised to create, produce and market an entirely new type of salmon. By combining the genes from three different types of fish, AquaBounty has made a salmon that grows unnaturally fast, reaching adult size twice as fast as its wild relative.
Never before has a country allowed any type of genetically engineered animal to be sold as food. The U.S. is stepping into new terrain, opening Pandora's box. But are we ready for the consequences?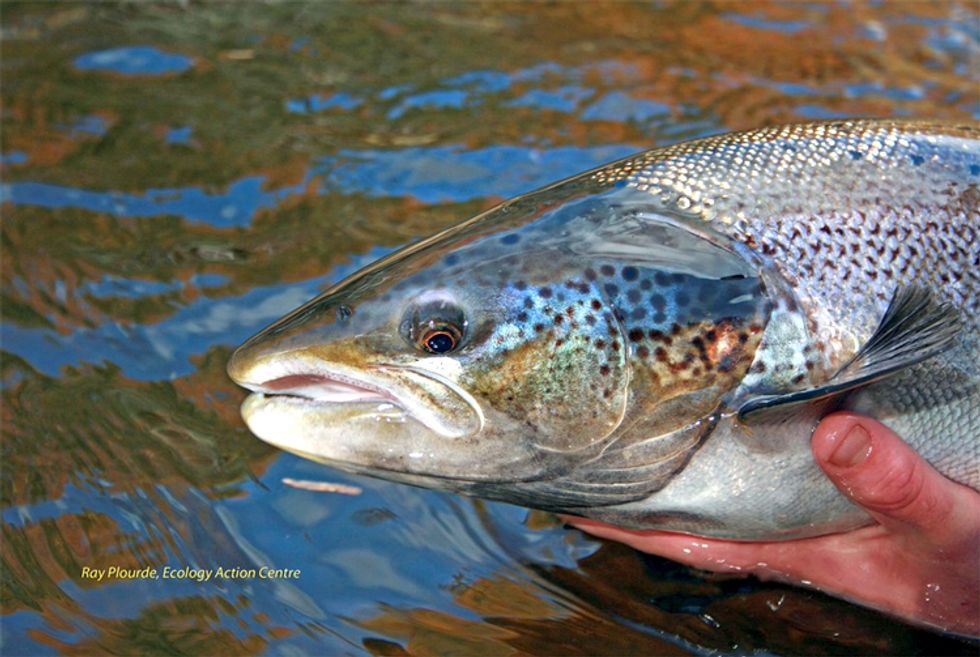 In order to answer that question, we must first look back on how we as a nation arrived at this point. Historically, the U.S. has enjoyed a rich bounty of seafood from the ocean. When I lived in Alaska, I always loved the late summer months when wild salmon would fill the rivers, making their way to spawning grounds. Fresh, wild salmon filets were delicious and abundant. And they still are.
Unfortunately, outside of Alaska, our poor management of an enormous fishing industry and important habitat has depleted fish stocks all along our coasts. Salmon species, in particular, are sensitive to environmental changes. The development and industrialization of our coast has polluted and dammed the rivers they depend on to breed. Although salmon used to be abundant on both the east and west coasts, large, healthy populations of salmon now exist mostly in Alaska.
Instead of fixing the environmental problems we have created or investing in the protection and recovery of our existing wild salmon resources, some have decided to create a new, genetically engineered fish that brings a host of its own problems and further undermines the sustainability of our food supply.
The genetically engineered salmon that the FDA approved will undertake a journey that stretches halfway around the globe in order to arrive at your dinner table. AquaBounty plans to produce the salmon eggs in a lab on Prince Edward Island in Canada, fly them to Panama to be raised, slaughtered and filleted and then bring them back to the U.S. so they can be sold to your family. How many tons of greenhouse gases are emitted during that 5,000-mile trip?
That's a far cry from the farm-to-table experience of eating seafood caught and sold by your local fisherman. Even worse, the FDA has so far refused to require food labels, so you won't even know if the fish you're eating is genetically engineered.
The waste and secrecy inherent in this process is bad enough, but the environmental consequences of this decision are potentially enormous. The FDA has failed to fully examine the risks this new species of salmon may present to wild salmon—and the environment—should it escape into the wild, which even some supporters of the FDA decision acknowledge is inevitable.
Once free, these fish will enter a world where wild salmon are already in a precarious state. In this fragile environment, genetically engineered fish would compete with their wild counterparts for food and space and could even potentially interbreed with them. They will also bring new diseases and cause changes to basic food webs and ecosystem processes that are difficult to anticipate.
Even more concerning is that the FDA does not have the expertise to properly understand the environmental devastation a release of genetically engineered fish could cause. The FDA exists to ensure that the food and drugs we consume are safe for humans, but does not typically evaluate the environmental impacts of putting new types of engineered foods into the ecosystem. The two agencies with actual biological expertise in fisheries and ocean ecosystems, the National Marine Fisheries Service and the Fish and Wildlife Service, were not given the chance to formally review FDA's approval.
Congress has not created a comprehensive statutory scheme to address the management of genetically engineered products. As a result, agencies are left trying to regulate genetically engineered products under a patchwork of ill-fitting statutes that do not comprehensively address associated environmental and other risks of these new creatures.
This new breed of fish does not herald progress. Instead, it highlights the ways we have devastated many of our wild fish populations and our continuing failure to recover this once-abundant natural food source.
We are opening Pandora's box and we are completely unprepared for the consequences.
YOU MIGHT ALSO LIKE
Unlocking the Potential of Sustainable Fishing
France to Ban Glyphosate Weedkillers Due to Health Risks
Removal of 4 Dams to Reopen 420 Miles of Historic Salmon Habitat on Klamath River
EcoWatch Daily Newsletter
Pexels
By Charli Shield
At unsettling times like the coronavirus outbreak, it might feel like things are very much out of your control. Most routines have been thrown into disarray and the future, as far as the experts tell us, is far from certain.
Pie Ranch in San Mateo, California, is a highly diverse farm that has both organic and food justice certification. Katie Greaney
By Elizabeth Henderson
Farmworkers, farmers and their organizations around the country have been singing the same tune for years on the urgent need for immigration reform. That harmony turns to discord as soon as you get down to details on how to get it done, what to include and what compromises you are willing to make. Case in point: the Farm Workforce Modernization Act (H.R. 5038), which passed in the House of Representatives on Dec. 11, 2019, by a vote of 260-165. The Senate received the bill the next day and referred it to the Committee on the Judiciary, where it remains. Two hundred and fifty agriculture and labor groups signed on to the United Farm Workers' (UFW) call for support for H.R. 5038. UFW President Arturo Rodriguez rejoiced:
A woman walks to her train in Grand Central Terminal as New York City attempts to slow down the spread of coronavirus through social distancing on March 27. John Lamparski / Getty Images
By Julia Conley
A council representing more than 800,000 doctors across the U.S. signed a letter Friday imploring President Donald Trump to reverse his call for businesses to reopen by April 12, warning that the president's flouting of the guidance of public health experts could jeopardize the health of millions of Americans and throw hospitals into even more chaos as they fight the coronavirus pandemic.
polaristest / Flickr / CC BY-NC-ND 2.0
By Melissa Kravitz Hoeffner
Over six gallons of water are required to produce one gallon of wine. "Irrigation, sprays, and frost protection all [used in winemaking] require a lot of water," explained winemaker and sommelier Keith Wallace, who's also a professor and the founder of the Wine School of Philadelphia, the largest independent wine school in the U.S. And water waste is just the start of the climate-ruining inefficiencies commonplace in the wine industry. Sustainably speaking, climate change could be problematic for your favorite glass of wine.
Pixabay
Spinach is a true nutritional powerhouse, as it's rich in vitamins, minerals, and antioxidants.