This website uses cookies to ensure you get the best experience while browsing it. By clicking 'Got It' you're accepting these terms.
What Will Happen When Genetically Engineered Salmon Escape Into the Wild?
Apr. 10, 2016 08:54AM EST
Food
By Brettny Hardy
In late 2015, the Food and Drug Administration (FDA) gave the greenlight to AquaBounty, Inc., a company poised to create, produce and market an entirely new type of salmon. By combining the genes from three different types of fish, AquaBounty has made a salmon that grows unnaturally fast, reaching adult size twice as fast as its wild relative.
Never before has a country allowed any type of genetically engineered animal to be sold as food. The U.S. is stepping into new terrain, opening Pandora's box. But are we ready for the consequences?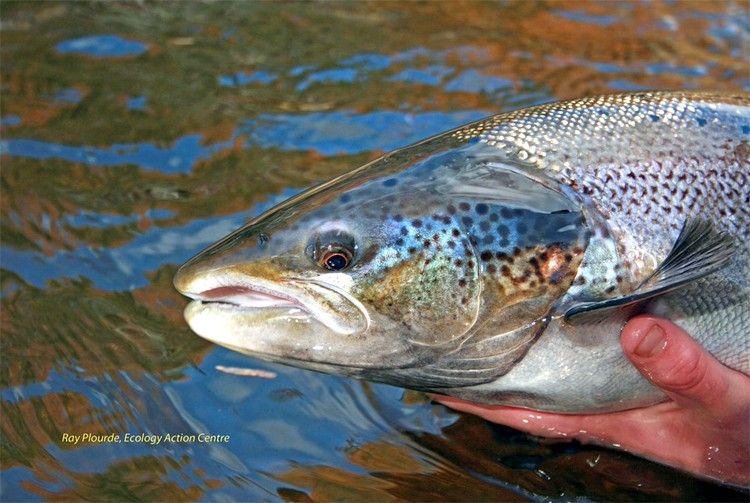 In order to answer that question, we must first look back on how we as a nation arrived at this point. Historically, the U.S. has enjoyed a rich bounty of seafood from the ocean. When I lived in Alaska, I always loved the late summer months when wild salmon would fill the rivers, making their way to spawning grounds. Fresh, wild salmon filets were delicious and abundant. And they still are.
Unfortunately, outside of Alaska, our poor management of an enormous fishing industry and important habitat has depleted fish stocks all along our coasts. Salmon species, in particular, are sensitive to environmental changes. The development and industrialization of our coast has polluted and dammed the rivers they depend on to breed. Although salmon used to be abundant on both the east and west coasts, large, healthy populations of salmon now exist mostly in Alaska.
Instead of fixing the environmental problems we have created or investing in the protection and recovery of our existing wild salmon resources, some have decided to create a new, genetically engineered fish that brings a host of its own problems and further undermines the sustainability of our food supply.
The genetically engineered salmon that the FDA approved will undertake a journey that stretches halfway around the globe in order to arrive at your dinner table. AquaBounty plans to produce the salmon eggs in a lab on Prince Edward Island in Canada, fly them to Panama to be raised, slaughtered and filleted and then bring them back to the U.S. so they can be sold to your family. How many tons of greenhouse gases are emitted during that 5,000-mile trip?
That's a far cry from the farm-to-table experience of eating seafood caught and sold by your local fisherman. Even worse, the FDA has so far refused to require food labels, so you won't even know if the fish you're eating is genetically engineered.
The waste and secrecy inherent in this process is bad enough, but the environmental consequences of this decision are potentially enormous. The FDA has failed to fully examine the risks this new species of salmon may present to wild salmon—and the environment—should it escape into the wild, which even some supporters of the FDA decision acknowledge is inevitable.
Once free, these fish will enter a world where wild salmon are already in a precarious state. In this fragile environment, genetically engineered fish would compete with their wild counterparts for food and space and could even potentially interbreed with them. They will also bring new diseases and cause changes to basic food webs and ecosystem processes that are difficult to anticipate.
Even more concerning is that the FDA does not have the expertise to properly understand the environmental devastation a release of genetically engineered fish could cause. The FDA exists to ensure that the food and drugs we consume are safe for humans, but does not typically evaluate the environmental impacts of putting new types of engineered foods into the ecosystem. The two agencies with actual biological expertise in fisheries and ocean ecosystems, the National Marine Fisheries Service and the Fish and Wildlife Service, were not given the chance to formally review FDA's approval.
Congress has not created a comprehensive statutory scheme to address the management of genetically engineered products. As a result, agencies are left trying to regulate genetically engineered products under a patchwork of ill-fitting statutes that do not comprehensively address associated environmental and other risks of these new creatures.
This new breed of fish does not herald progress. Instead, it highlights the ways we have devastated many of our wild fish populations and our continuing failure to recover this once-abundant natural food source.
We are opening Pandora's box and we are completely unprepared for the consequences.
YOU MIGHT ALSO LIKE
Unlocking the Potential of Sustainable Fishing
France to Ban Glyphosate Weedkillers Due to Health Risks
Removal of 4 Dams to Reopen 420 Miles of Historic Salmon Habitat on Klamath River
EcoWatch Daily Newsletter
An African elephant is pictured on November 19, 2012, in Hwange National Park in Zimbabwe. MARTIN BUREAU / AFP / Getty Images
The unprecedented drought that has caused a water crisis in Zimbabwe has now claimed the life of at least 55 elephants since September, according to a wildlife spokesman, as CNN reported.
Maria Dornelas.
By John C. Cannon
Life is reshuffling itself at an unsettling clip across Earth's surface and in its oceans, a new study has found.
An Exxon station in Florida remains open despite losing its roof during Hurricane Katrina on Aug. 29, 2005. Florida Air National Guard photo by Master Sgt. Shaun Withers
The country's largest fossil fuel company goes on trial today to face charges that it lied to investors about the safety of its assets in the face of the climate crisis and potential legislation to fight it, as the AP reported.
El Niño's effect on Antarctica is seen in a tabular iceberg off of Thwaites ice shelf. Jeremy Harbeck / NASA
El Niños are getting stronger due to climate change, according to a new study in Monday's Proceedings of the National Academy of Sciences.
By Julia Ries
Antibiotic resistance has doubled in the last 20 years.
Additionally a new study found one patient developed resistance to a last resort antibiotic in a matter of weeks.
Health experts say antibiotic prescriptions should only be given when absolutely necessary in order to avoid growing resistance.
Over the past decade, antibiotic resistance has emerged as one of the greatest public health threats.
Pexels
There are hundreds of millions of acres of public land in the U.S., but not everyone has had the chance to hike in a national forest or picnic in a state park.
Workers attend to a rooftop solar panel project on May 14, 2017 in Wuhan, China. Kevin Frayer / Getty Images
By Simon Evans
Renewable sources of electricity are set for rapid growth over the next five years, which could see them match the output of the world's coal-fired power stations for the first time ever.