Food
Apr. 10, 2016 08:54AM EST
What Will Happen When Genetically Engineered Salmon Escape Into the Wild?
By Brettny Hardy
In late 2015, the Food and Drug Administration (FDA) gave the greenlight to AquaBounty, Inc., a company poised to create, produce and market an entirely new type of salmon. By combining the genes from three different types of fish, AquaBounty has made a salmon that grows unnaturally fast, reaching adult size twice as fast as its wild relative.
Never before has a country allowed any type of genetically engineered animal to be sold as food. The U.S. is stepping into new terrain, opening Pandora's box. But are we ready for the consequences?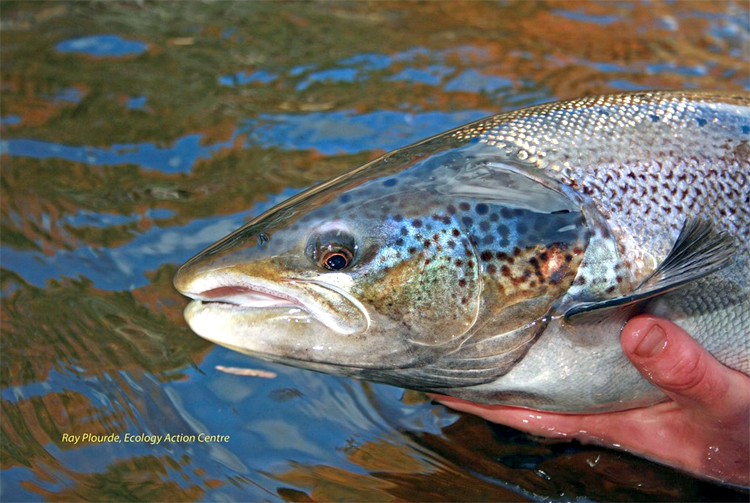 In order to answer that question, we must first look back on how we as a nation arrived at this point. Historically, the U.S. has enjoyed a rich bounty of seafood from the ocean. When I lived in Alaska, I always loved the late summer months when wild salmon would fill the rivers, making their way to spawning grounds. Fresh, wild salmon filets were delicious and abundant. And they still are.
Unfortunately, outside of Alaska, our poor management of an enormous fishing industry and important habitat has depleted fish stocks all along our coasts. Salmon species, in particular, are sensitive to environmental changes. The development and industrialization of our coast has polluted and dammed the rivers they depend on to breed. Although salmon used to be abundant on both the east and west coasts, large, healthy populations of salmon now exist mostly in Alaska.
Instead of fixing the environmental problems we have created or investing in the protection and recovery of our existing wild salmon resources, some have decided to create a new, genetically engineered fish that brings a host of its own problems and further undermines the sustainability of our food supply.
The genetically engineered salmon that the FDA approved will undertake a journey that stretches halfway around the globe in order to arrive at your dinner table. AquaBounty plans to produce the salmon eggs in a lab on Prince Edward Island in Canada, fly them to Panama to be raised, slaughtered and filleted and then bring them back to the U.S. so they can be sold to your family. How many tons of greenhouse gases are emitted during that 5,000-mile trip?
That's a far cry from the farm-to-table experience of eating seafood caught and sold by your local fisherman. Even worse, the FDA has so far refused to require food labels, so you won't even know if the fish you're eating is genetically engineered.
The waste and secrecy inherent in this process is bad enough, but the environmental consequences of this decision are potentially enormous. The FDA has failed to fully examine the risks this new species of salmon may present to wild salmon—and the environment—should it escape into the wild, which even some supporters of the FDA decision acknowledge is inevitable.
Once free, these fish will enter a world where wild salmon are already in a precarious state. In this fragile environment, genetically engineered fish would compete with their wild counterparts for food and space and could even potentially interbreed with them. They will also bring new diseases and cause changes to basic food webs and ecosystem processes that are difficult to anticipate.
Even more concerning is that the FDA does not have the expertise to properly understand the environmental devastation a release of genetically engineered fish could cause. The FDA exists to ensure that the food and drugs we consume are safe for humans, but does not typically evaluate the environmental impacts of putting new types of engineered foods into the ecosystem. The two agencies with actual biological expertise in fisheries and ocean ecosystems, the National Marine Fisheries Service and the Fish and Wildlife Service, were not given the chance to formally review FDA's approval.
Congress has not created a comprehensive statutory scheme to address the management of genetically engineered products. As a result, agencies are left trying to regulate genetically engineered products under a patchwork of ill-fitting statutes that do not comprehensively address associated environmental and other risks of these new creatures.
This new breed of fish does not herald progress. Instead, it highlights the ways we have devastated many of our wild fish populations and our continuing failure to recover this once-abundant natural food source.
We are opening Pandora's box and we are completely unprepared for the consequences.
YOU MIGHT ALSO LIKE
Unlocking the Potential of Sustainable Fishing
France to Ban Glyphosate Weedkillers Due to Health Risks
Removal of 4 Dams to Reopen 420 Miles of Historic Salmon Habitat on Klamath River
Ryan Zinke with Rick Perry at the Boy Scouts Jamboree. Twitter
In less than one week, Interior Sec. Ryan Zinke will submit his final recommendations to President Trump on whether 27 national monuments around the country should be downsized, eliminated, transferred to state control or left alone.
But as Aaron Weiss, the media director of the conservation group Center for Western Priorities, pointed out: "Rather than spending his final week hearing from local communities who have worked tirelessly to protect their natural and cultural heritage as national monuments, Secretary Zinke is on vacation in the Mediterranean. His wife, Lola Zinke, tweeted a picture early this morning of herself and Secretary Zinke enjoying a sunrise on the Bosphorus Strait."
Keep reading...
Show less
Energy
Aug. 18, 2017 07:19AM EST
Richland County Wetland destroyed by spilled drilling fluids during construction of Rover Pipeline, April 14. Sierra Club

Energy Transfer Partners' controversial $4.3 billion Rover pipeline has more negative inspection reports than any other major interstate natural gas pipeline built in the last two years, according to a new Bloomberg analysis.
The 713-mile pipeline, which will carry fracked gas across Pennsylvania, West Virginia, Ohio and Michigan and Canada, has been stalled from numerous environmental violations, including a 2 million gallon drilling fluid spill into an Ohio wetland in April.
Keep reading...
Show less
Energy
Aug. 18, 2017 01:16PM EST
Pipes for the Constitution Pipeline are stacked at a pipe yard in Altamont, New York.
The U.S. Court of Appeals for the Second Circuit upheld New York State's denial of a water quality certification for the Constitution Pipeline Friday, a critical win for the Attorney General's office and the state's authority to take necessary action to protect its waters and natural resources. The appeals court noted that the state is entitled to "conduct its own review of the Constitution Project's likely effects on New York waterbodies and whether those effects would comply with the state's water quality standards."
New York must be able to do what's necessary to protect our environment—and we're glad that the court agreed.

Keep reading...
Show less
iStock
By Anne Bolen
On Aug. 21, for the first time since 1918, a total solar eclipse will cross the U.S. from coast to coast. Along the path of totality, the moon will completely block out the sun, turning day to twilight for nearly three minutes. While a partial eclipse will be visible throughout the U.S., millions will be flocking to spots along the path of totality, which begins in Salem on Oregon's coast about 10:15 a.m. Pacific Daylight Time and exits the nation at Charleston, South Carolina, where maximum coverage will occur about 2:47 p.m. Eastern Daylight Time. Perhaps no other natural event will inspire so many people to go outdoors.
Keep reading...
Show less
Energy
Aug. 18, 2017 07:34AM EST
The Trump administration released an environmental review Thursday of Hilcorp Alaska's Arctic offshore drilling development. Hilcorp plans to build a 9-acre artificial island and 5.6-mile pipeline in the Beaufort Sea for its offshore drilling project. The Trump administration's draft environmental impact statement proposes to greenlight the dangerous drilling plan, which would be a first for federal waters in the Arctic.
Keep reading...
Show less
Equinac
Not again! A baby dolphin died last Friday in southern Spain after beachgoers took the mammal out of the water and passed it around for photos, according to media reports.
The incident was detailed in several Facebook posts from Equinac, a Spanish marine wildlife conservation group.
Keep reading...
Show less
President Trump has made sweeping efforts to scrap Obama-era environmental protections, but the current administration's latest moves are oddly specific.
The National Park Service (NPS) announced Wednesday that it has rescinded the 2011 "Water Bottle Ban" that allowed parks to prohibit the sale of disposable plastic water bottles. That same day, news emerged that the Trump administration removed a nine-slot Capital Bikeshare station at the White House that was requested and installed during the Obama years and used by staffers.
Keep reading...
Show less
Energy
Aug. 17, 2017 11:46AM EST
In March 2013, ExxonMobil's Pegasus Pipeline sprung a leak,
spilling
210,000 gallons of tar sands crude into a neighborhood of Mayflower, Arkansas.
By Catherine Collentine
In March of 2013, ExxonMobil's Pegasus Pipeline sprung a leak, spilling an estimated 210,000 gallons of toxic tar sands crude into a residential neighborhood of Mayflower, Arkansas.
This week, a federal court ruled that the Obama administration over-penalized Exxon for dumping hundreds of thousands of gallons of a pollutant onto the streets of Mayflower and threw out a number of safety violations levied against Exxon on the basis that the company met its legal obligations to consider the risks associated with the pipeline.
Keep reading...
Show less