What Will Be the Outcome of the Mercury Treaty Negotiations?
Jan. 18, 2013 12:05PM EST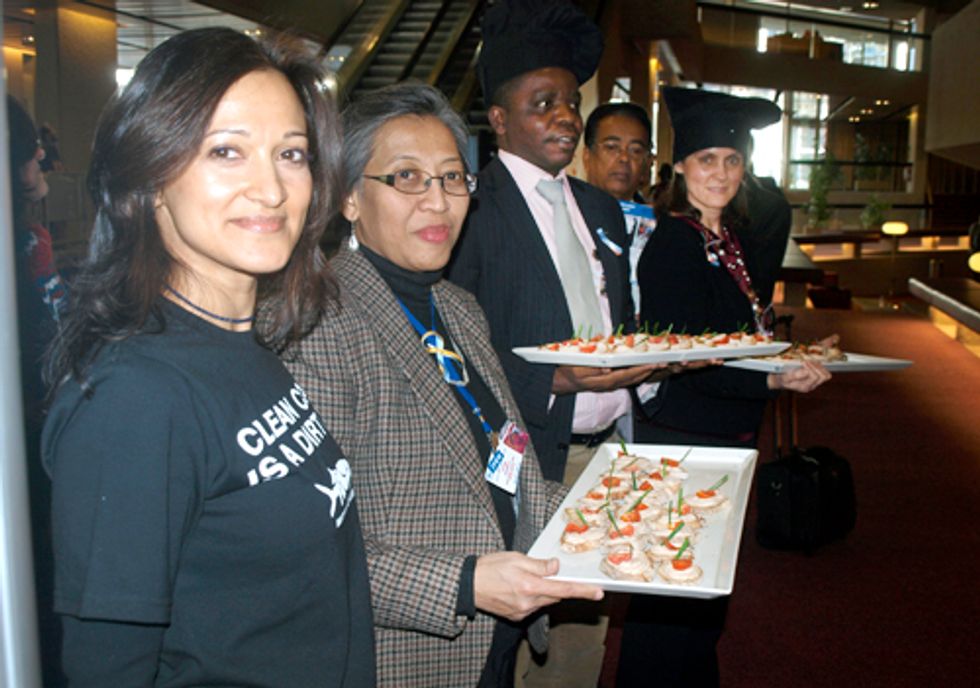 By Sharon Khan
[Editor's note: Waterkeeper Alliance's International Director Sharon Khan is attending the mercury treaty negotiations in Geneva, Switzerland, and is providing live updates from the conference. For information regarding the mercury treaty negotiations, read Mercury Rising, Political Will Falling by Robert F. Kennedy, Jr. and Marc Yaggi, and the report Global Mercury Hotspots.]
BLOG POST IV
(Read Blog Post I, Blog Post II, Blog Post III)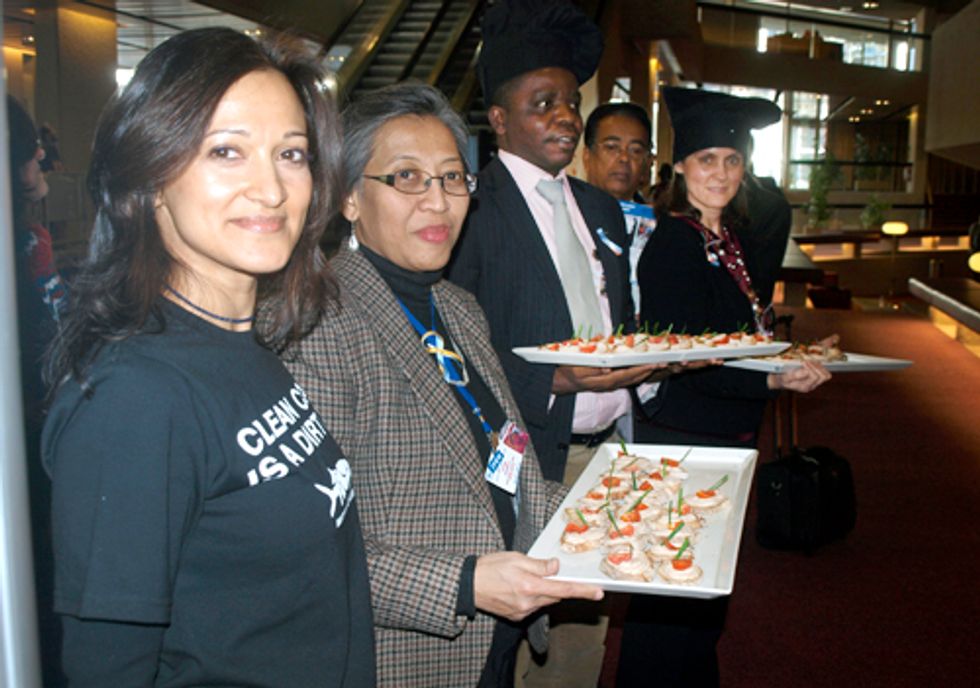 When delegates broke for lunch, pubic interest groups greeted them with tuna appetizers and information about the unsafe levels of mercury in fish sampled from hotspots around the world.
A breakthrough occurred on Wednesday at the mercury treaty negotiations taking place this week in Geneva, Switzerland when the Kenyan Ambassador took to the floor to question the naming of the treaty as the 'Minamata Convention.'  This proposed name is meant to honor the victims of the world's most horrendous mercury poisoning disasters that has occurred in Minamata, Japan. But the current treaty text does not does not resolve Minamata victims claims nor does it look like it will prevent more mercury poisoning disasters from occurring around in the world. As a setback on Wednesday, Brazil prevailed in striking language that offered any idea of phasing out the trade in mercury used for artisanal and small-scale gold mining.
Public interest groups are highly concerned that the treaty is still heading towards one that will not decrease global mercury emissions. The current treaty provisions offer only vague options for controlling mercury emissions from existing coal-fired power plants. Plus, provisions are not likely to reduce mercury emissions from individual plants on a scale sufficient to offset the new mercury emissions that are likely to result from the rapid growth of this sector. Moreover, some delegates including the U.S. are pushing hard to make mercury releases to water and land completely voluntary.
"We hope that many of the provisions in this treaty can still be improved, but as it stands now the treaty offers only vague or no options for controlling emissions from the world's worst sources of mercury pollution. Without a more deliberate effort to curb these sources, we can anticipate that global mercury pollution will likely continue to increase," said Dr. Joe DiGangi, International POPs Elimination Network (IPEN) senior science and technical advisor.
When delegates broke for lunch on Wednesday, pubic interest groups greeted them with tuna appetizers and information about the unsafe levels of mercury in fish sampled from hotspots around the world. These hotspots include areas where mercury comes from chlor-alkali plants, artisanal and small-scale gold mining, and coal-fired power plants. Waterkeeper Alliance was there with the message that "Clean Coal is a Dirty Lie." United Nations Environment Programme's Coal Partnership that is led by the International Energy Agency Clean Coal Center is promoting "clean coal" technologies at the mercury treaty negotiations.
At a lunch-time event attended by delegates, David Evers, executive director of Biodiversity Research Institute presented the new IPEN and Biodiversity Research Institute Global Mercury Hotspots report. This report found that mercury levels in fish and hair samples taken from around the world exceed U.S. Environmental Protection Agency guidelines for health and safety. NGOs and community members from countries around the world including Russia, the Czech Republic and Mexico, participated in the study offering their hair for testing and helping to get the local fish to the lab in Maine. "All thanks go to these community members," said IPEN co-chair Emmanuel Calonzo from an NGO in the Philippines. "We owe it to the grassroots to have a robust mercury treaty."
Delegates are now heading into closed-door meetings that public interest groups have to wait out. But it is already clear that after this week, grassroots activists will return home to continue their battles to protect their communities from mercury poisoning. I'm already back in New York with newfound opportunities to strengthen and support Waterkeepers around the world. Stay tuned to learn more about the outcome of the negotiations.
Visit EcoWatch's BIODIVERSITY page for more related news on this topic.
EcoWatch Daily Newsletter