What the Paris Climate Agreement Means for Indigenous Rights and Hydroelectric Dams
Dec. 14, 2015 04:39PM EST
Climate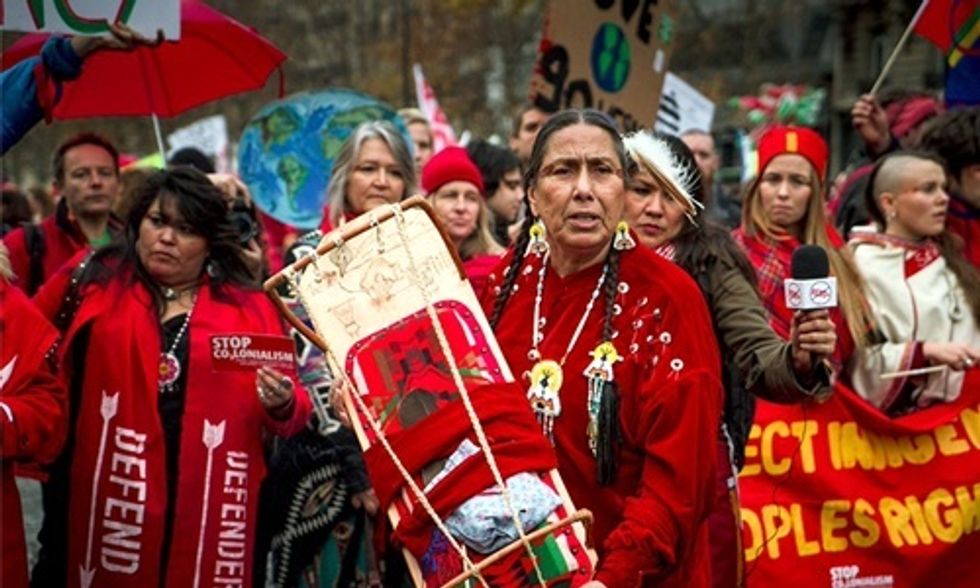 The final agreement from the Paris climate talks has been the subject of much controversy regarding the language in the document pertaining to indigenous rights. Any semblance of a legally binding measure pertaining to these rights was omitted from the final agreement that was signed by the governments of 190 countries. The agreement concluded a two-week long process that brought together some of the world's largest corporations, and environmental and human rights organizations, to agree on international energy standards, goals and applications.
Activists Call 4 Inclusion of Rights of Indigenous in Climate Agrmt https://t.co/YyO1i0vN9x #COP21 @earthislandjrnl https://t.co/HJHsr0vwXx

— AMAZON WATCH (@AMAZON WATCH)1449972306.0
As the final agreement appears, language pertaining to indigenous groups resides in the preamble—a completely non-binding portion of the text. The only other mention includes a recognition of indigenous ecological knowledge, although the wording provides no protection for such peoples. The decision was made in part by pressure from the UK, Norway, the EU and the U.S., who fear the legal liability that would follow a mandated recognition of indigenous groups.
All other mentions of indigenous people remain in requisitions that are not legally binding, due to some of the more vague aspects of the text. For example, any request following the auxiliary (helping) verb "shall" is legally binding; those following "should" are not. The need to "respect, promote … obligations on human rights … the rights of indigenous peoples" falls under the category of "should" and is therefore not legally binding.
The implications of this have resounding effects for Brazil, whose various indigenous groups residing in the Amazon have been fighting aggressive energy projects for more than three decades, especially regarding the infamous Belo Monte dam.
Although various studies have been produced that prove Belo Monte will actually generate large amounts of methane from the decomposition of plants forming the dam's giant reservoir, the real setbacks were in a large part due to the special quality of indigenous rights, which in turn encompass a unique conservation of indigenous land. The neglect to obtain consent of affected indigenous people (as legally mandated in Brazil's Constitutional Article 231) prior to the construction, set in motion a series of license suspensions and delays resulting from mass protests.
Despite these resistances, two weeks ago the Brazilian government granted Norte Energia Consortium (consisting of 50 percent ownership by the Brazilian federal power utility Electrobras, as well as mining corporation Vale) the authorization to put the Belo Monte mega-dam into use, filling its large artificial reservoirs that will hold 80 percent of the Amazonian Xingu River 's flow. The measure will be directly effecting 1,000 indigenous people as well as displacing up to 40,000 people.
For the Brazilian Amazon, the COP21 results are alarming given the plans for future projects within indigenous areas. The fear is a domino effect that will inevitably come with the commencement of the dam's operation: more dams must be built to ensure the proficiency of Belo Monte in Brazil's dry seasons. This causal sequence will be far more daunting to combat without international recognition of the biggest protectors of the region.
BREAKING Official Response #COP21 'Indigenous Peoples Take Lead #D12 Day of Action in Paris' https://t.co/IMLvY70ldo https://t.co/1l37hJOXHS

— IndigenousEnviroNet (@IndigenousEnviroNet)1449938180.0
Without a legally binding measure emerging from the climate talks and without the adequate pressure from an international coalition, the affected tribes are not receiving the support they were hoping for against Brazil's future intrusive energy projects.
The intertwining of human and environmental rights is an issue that Brazil is forced to tackle on a monumental scale. The nation of some 203 million people has experienced a doubling of energy demand since 1990. The trend is anticipated to continue—by 2021 the economy is predicted to bloat by 63 percent, requiring 6,350 megawatts of new energy added each year to the already 121,000 megawatt consuming nation.
The answer, for a country facing an overwhelming pace of growth, has fallen to hydroelectricity. Between now and the 2021 mark, Brazil intends to spend more than $150 billion on 30-50 dams—67 percent of the new power generated will come from Amazonia.
With 21.4 percent of Brazil's population below the poverty line, an expansion of its energy projects is vital. The untapped energy potential of the Amazon, a resounding 80,000 megawatts is a tempting path to take.
And yet as "energy security" provides the basis of these aggressive projects, Brazil may be facing a blow to its plans.
This past January, the area of Sao Paolo was victim to one of the worst droughts in recent history, sparking a full-fledged water crisis. Of its Paraiba reservoir systems in Rio, accounting for the city's main tap water source, levels remained at a devastating 1 percent of its entire capacity. Similarly, the Cantareira reservoir system reached an alarming 5.4 percent despite being measured at a time of Brazil's annual heaviest rainfalls.
In case of drought, Brazil's main "sustainable" solutions will suffer—a smaller water supply means a reduction of the speed and volume of water needed to move the turbines of Brazil's many hydroelectric plants. It also means a reduction in the survival rate of sugar cane crops needed to produce the bio-fuel ethanol, of which Brazil relies on as 15.7 percent of its overall energy matrix. If these two large portions of the matrix become less accessible and without proper implementation of wind or solar, Brazil will be forced to rely on oil, which as shown in 2014 levels, accounts for 39.4 percent of Brazil's total energy consumption.
With diminished usage, companies like Norte Energia, a partially government-owned conglomerate, would have a daily expense of up to R$1 million per turbine not triggered, adding to the monthly expenses of R$2.3 million of the dam's energy bill.
Indigenous Brings "Canoe of Life" 6000 Miles from Amazon to Paris to Call for Climate Action https://t.co/AJk13ZWY1b https://t.co/bvsq6ngLGo

— Democracy Now! (@Democracy Now!)1449850473.0
Should a low water supply lower the chances of an economic payback, the results could be crippling to the Brazilian government, whose national development bank has already loaned $22.5 billion reais to Norte Energia for the construction.
Although Brazil's INDC (Intended Nationally Determined Contributions) cites among its goals (of achieving 45 percent renewables by 2030) to expand "the use of renewable energy sources other than hydropower … to at least 23 percent," the chance of the billion dollar Belo Monte project failing will put pressure on supportive hydroelectric expansion. This pressure stems from details that went unaddressed in the dam's planning.
Even without factors such as drought, Belo Monte is anticipated to generate only 39 percent of its total capacity, leading to the formulation of supportive dams upstream, such as the planning of the São Luiz dam on the Tapajós river, with an estimated generation of 8,040 megawatts. There has already been an outcry over the project, forcing Brazil's Ministry of Mines and Energy to cancel the auction of the construction over "serious irregularities with the 'indigenous component'" of the environmental impact assessment. The Sao Luiz dam is predicted to flood indigenous territory and lead to the deforestation of almost 1 million hectares of land.
But without an international legal recognition of indigenous rights, it will become increasingly difficult for tribes to protect their land from these projects.
There has been resistance to include hydroelectricity under the umbrella of "sustainable solutions," which qualifies projects to receive financial incentives under programs like the Clean Development Mechanism, World Bank's Climate Investment Funds, Green Climate Fund, export credit bureau's and green bonds. A Brazilian scientist recently released a study showing that estimates of methane production from hydropower account for nearly 23 percent of all human-based methane emissions across the globe.
A coalition of more than 300 civil society organizations from 53 countries recently released a global manifesto to pressure governments and financiers at the Paris climate talks to exclude hydropower projects from the list of sustainable initiatives.
But neither the protest to legally reinstate the indigenous component, nor the demands to exclude hydroelectricity from the "green" solutions have been successful. The final agreement, though monumental in its very existence, leaves much work to be done.
YOU MIGHT ALSO LIKE
President Obama: Paris Climate Agreement a 'Turning Point for the World'
12 Key Takeaways From the Paris Climate Talks
World Leaders Agree to Historic Global Climate Agreement
10,000+ Took to the Streets in Paris Pledging Escalated Actions in the Fight for Climate Justice
EcoWatch Daily Newsletter
Related Articles from EcoWatch
Recent Stories from EcoWatch