This website uses cookies to ensure you get the best experience while browsing it. By clicking 'Got It' you're accepting these terms.
What the Fork Are You Eating?
Feb. 02, 2015 09:20AM EST
Food
Picture yourself in the grocery store. Pressed up against the side of an aisle, you're trying to decide between five options of the "same" thing. Let's say it's yogurt. One is the cheapest, another has the most fat, one's nutrition facts make no sense and you're kind of wondering if there's a "better" option somewhere else. You're blocking aisle traffic and people are glaring. You don't know which to get and you feel lost. You want to scream "What the Fhuu...ooooork!" We've all been there, right? I know I have.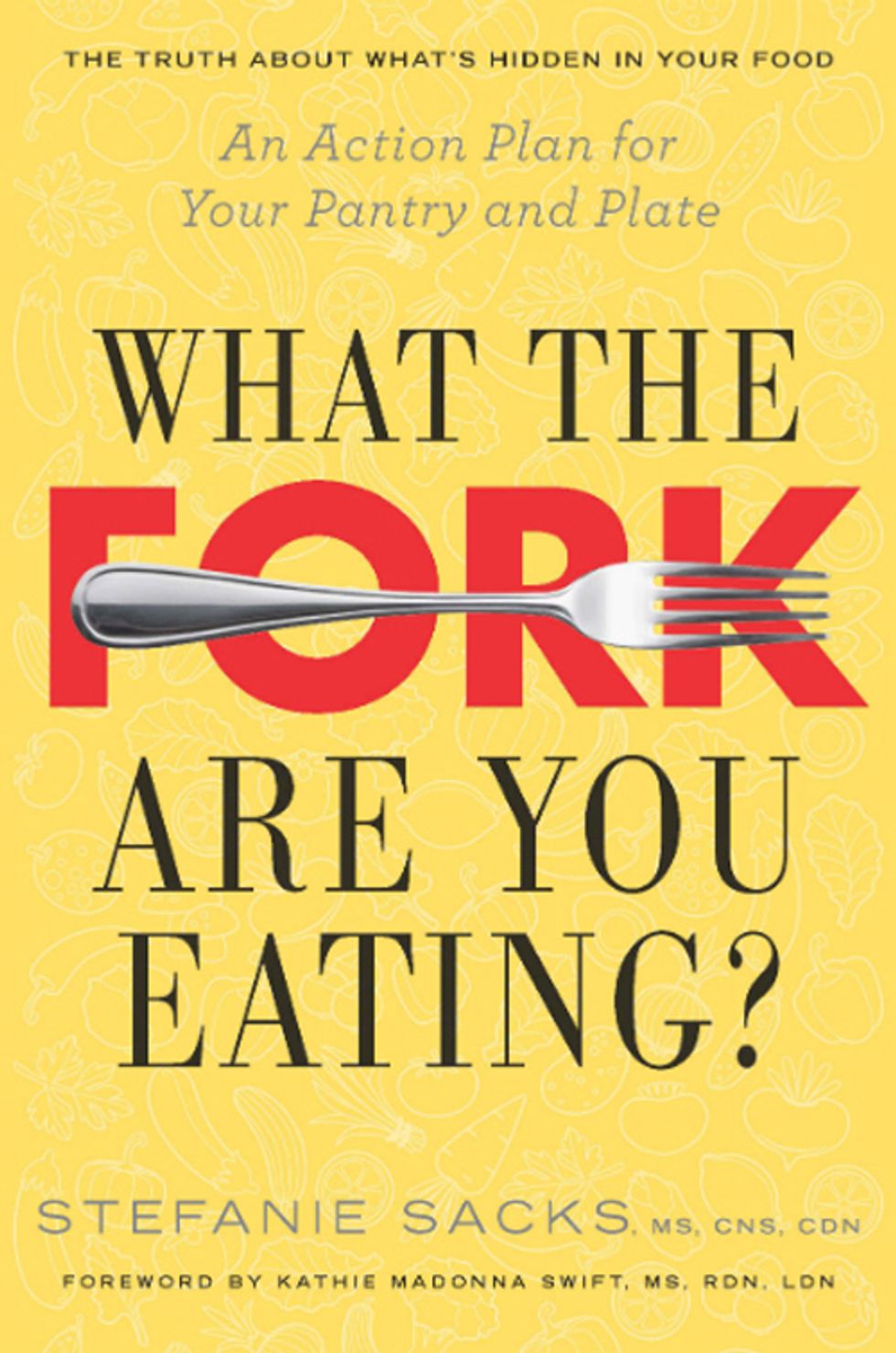 Enter Stefanie Sacks, MS, CNS, CDN, and her astoundingly helpful book, What the Fork Are You Eating? An Action Plan for Your Pantry and Plate (WTF). Regardless of how much you know about the healthiness of food, this book has something for you. That being said, it really shines for those of us who have an inkling of what makes a food "bad" or "good," but are hard-pressed to describe "why." First Sacks explains exactly what's bad (her "Top-Rated Terminators") and why. Then she teaches us how to successfully transform our diets, complete with a roadmap to better eating.
To really understand the true value of WTF, you've got to understand what makes Sacks the perfect person to write this book. She's certainly done her homework: she has a Masters of Science in nutrition from Columbia University, is a Certified Nutrition Specialist and Certified Dietitian Nutritionist. Sacks also graduated from the Natural Gourmet Institute for Health and Culinary Arts (NGI), where she learned to perfectly pair healthy, sustainable food with delicious taste.
Academic credentials aside, what really sets Sacks apart is that she's spent 15 years in private practice as a culinary nutritionist, working one-on-one with clients to transform their eating habits for general health or to rebound and respond to illnesses. So basically, reading WTF is like hiring a personal chef with an MS in nutrition to help you transform your pantry and your shopping, eating and cooking habits, all for less than $20. Oh, and she's also personable and funny. Take some time checking out her "Stirring the Pot" blog and podcast, and you'll see what I mean.
Focus on Sustainable, Whole Food
By the way, if you haven't checked out the Natural Gourmet Institute, take a few minutes to do. It's where Sacks developed her love of whole foods sourced sustainably. NGI is a culinary school with a focus on "food that is: seasonal, local, whole, traditional, balanced, fresh and delicious" and supports "a sustainable food system that respects the earth's natural resources and the people who make each meal possible" (as quoted from NGI's website). The founder of NGI, Dr. Annemarie Colbin, who is—as Sacks puts it—"the leader in health-supportive culinary arts and theory," is kind of the pioneer of whole-foods nutrition.
It is Dr. Colbin's definition of "whole foods" that Sacks uses in her book to describe the foods she's urging us to eat, which is important to hear when you're learning what you should not be eating. In Dr. Colbin's view, Sacks writes, "any food that has been processed to break down or remove pieces is not whole" and is fragmented. Which means if you're eating foodstuff with a bunch more fragmented food ingredients shoved in (here's looking at you sugar derivatives, added vitamins and "natural" flavors) then you're not eating a whole, truly nutritious food.
Getting Away from "Bad"…
WTF sums up all the issues with the standard Western diet and directs us towards foods that not only will sustain us, but will also protect us from inundating ourselves with potentially dangerous ingredients. What I'm really talking about here is cutting out the things that have been linked with cancer, heart disease, obesity and diabetes. It's not just about eating better. It's honestly about keeping us alive longer.
So what exactly is Sacks telling us to move away from? And if it's so "bad" that it might wind up killing us, how is it legal? That's her first concern. Sacks approaches the studies on the preservatives, colorants, artificial sweeteners, processed oils and the other items that she's deemed Top-Rated Terminators with the skepticism of any impartial scientist with her credentials. She references the studies that link these ingredients to cancer, disease and severe allergic reactions. She explains how the environmental impacts of factory farming and conventional agricultural practices can affect public health. She has also reviewed the studies saying these chemicals are "ok" and is distrustful of their corporate biases. (Learn more about the dangers of processed foods and the problems associated with industrial agriculture and its environmental impacts at SustainableTable.org.)
In sum, Sacks questions the Food and Drug Administration's (FDA) safety standards for food additives and the giant list of ingredients they've labeled "Generally Recognized As Safe" (GRAS). The FDA takes an if-it-ain't-broke-don't-fix-it approach, and Sacks believes that the stakes are too high. We are talking about human life here. Why, she argues, should we keep eating and drinking these chemicals until they prove to be harmful, when we can just eat whole foods and avoid a lot of risk.
… to the "Good"
To transition from Top-Rated-Terminator-laden food to the better, wholesome alternatives, Sacks' process resembles a kind of foodie basic training. First, she tears down our old habits and assumptions then reforms us into whole food-craving eaters armed with sustainably raised edibles and a healthy skepticism of any product's ingredient list. The important difference here is that Sacks is far from a drill sergeant.
In fact, she's kind of the exact opposite, which is one reason WTF is a game-changer. Throughout the book, Sacks reminds us that changing our eating habits is hard and that it should be a gradual transition. Sacks understands that we build memories and rituals around certain foods and can't just walk away from them. She wants us to be successful. "What the Fork," Sacks writes, "is neither a crash diet nor a cleanse; rather, it is a guide to spotlight what we are eating and to give us tools to transition" from junk to quality. She tells us to allow ourselves "Can't Live Without" foods and—with the firm but gentle hand of a parent of two boys—asks us to try the better options. For instance, do you love cheesy puffs with a fervor verging on the religious? Sacks asks you to slowly move from the weird semi-food found in that giant plastic tub to a more nutritious version and supports you by providing better brands to try.
After establishing within the reader a substantial concern over ingredients lists, Sacks teaches us how to parse food labels to separate the marketing fibs from the helpful truths. The process culminates in a hardcore pantry and refrigerator rehab. We're talking slash-and-burn removal of products containing the Top-Rated Terminators (donate to food pantries and compost, please!).
Once we're clean, then it's on to restocking. This is where Supermarket Strategies come to the rescue. Sacks takes us aisle-by-aisle, giving guidance on where to go for organic and how to focus on sustainability. No more conflicts between cans. No more anxiety attacks in the baking aisle. Her section on getting buy-in from the family is so smart that it obviously comes from experience from clients and her own home. Finally it's on to the "Balancing Your Plate" and the "Recipe Rehab" sections where we learn about improving our own cooking to make it truly wholesome.
To cap it all off, she brings in 50 of her favorite recipes and ends with appendices, which - as a welcome break from the norm - are actually helpful. For instance, there's a section on which brands are owned by which companies and another on cutting back on food waste. Speaking of helpful, the sidebars that pop up throughout the book are great sources of information on everything from kitchen equipment, to juice cleanses, to detailing Big Food's reach.
So there you have it. Sacks has written the healthy food, self-help bible for those of us who care about health and sourcing. WTF substantiates our fears about how food is raised and produced. It answers our worries  about sustainability with a desire for wholesome food that our families will love. It gives us not only hope that we can do better, but also provides an action plan for getting there and the resources to make sure our healthy eating habits stick.
So when WTF comes out in early 2015, go pick it up. After you have read it, you'll be able to walk into any grocery store, flip those five yogurts around, and say proudly: "I will purchase this yogurt because it is the best of the yogurts" and feel surefooted in your decision. It's a lot better than not knowing what the fork you're eating.
YOU MIGHT ALSO LIKE
Jamie Oliver's Food Revolution Explodes
Is Kombucha Tea Really Good for You?
EcoWatch Daily Newsletter
A Starbucks barista prepares a drink at a Starbucks Coffee Shop location in New York. Ramin Talaie / Corbis via Getty Images
By Cathy Cassata
Are you getting your fill of Starbucks' new Almondmilk Honey Flat White, Oatmilk Honey Latte, and Coconutmilk Latte, but wondering just how healthy they are?
By Sharon Kelly
Back in April last year, the Trump administration's Environmental Protection Agency decided it was "not necessary" to update the rules for toxic waste from oil and gas wells. Torrents of wastewater flow daily from the nation's 1.5 million active oil and gas wells and the agency's own research has warned it may pose risks to the country's drinking water supplies.
Swedish climate activist Greta Thunberg takes part in a "Friday for Future" youth demonstration in a street of Davos on Jan. 24, 2020 on the sideline of the World Economic Forum annual meeting. FABRICE COFFRINI / AFP via Getty Images
Treasury Secretary Steven Mnuchin pretended not to know who Greta Thunberg is, and then he told her to get a degree in economics before giving world leaders advice, as The Guardian reported.
The Visible Infrared Imaging Radiometer Suite on the Suomi NPP satellite acquired this image of forest fire smoke hovering over North America on Aug. 15, 2018. NASA Earth Observatory
New York City isn't known for having the cleanest air, but researchers traced recent air pollution spikes there to two surprising sources — fires hundreds of miles away in Canada and the southeastern U.S.
If temperatures continue to rise, the world is at risk from global
sea-level rise
, which will flood many coastal cities as seen above in Bangladesh. NurPhoto / Contributor / Getty Images
The mounting climate emergency may spur the next global financial crisis and the world's central banks are woefully ill equipped to handle the consequences, according to a new book-length report by the Bank for International Settlements (BIS), as S&P Global reported. Located in Basel, Switzerland, the BIS is an umbrella organization for the world's central banks.