This website uses cookies to ensure you get the best experience while browsing it. By clicking 'Got It' you're accepting these terms.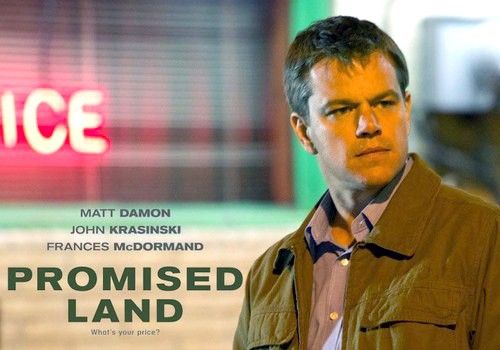 , the new movie starring Matt Damon, is a movie in part about fracking, the new and extremely problematic way of getting natural gas out of shale rock far below the earth's surface. It's a very good movie, with good acting, particularly by Damon in a very different role than, for example, his Jason Bourne trilogy. Instead of  being a kick-ass former CIA assassin on a mission to reclaim his memory and the truth about what was done to him, in Promised Land Damon is a conflicted, conscience-stricken, corporate hot shot "land man" using bribes and threats, when necessary, to get people in a small, rural town to agree to let their town be fracked.
 
But the movie in no way presents all, or even most, of the many problems that come with fracking, much less do so in a clear and convincing way. The primary problem it does present is the very real one of contamination of land and water. This happens as a result of the toxic chemicals, mixed with water and sand, that are forced down into the shale under heavy pressure to break the rock and release the gas within it. Some of that toxic mix comes back up, along with methane, the primary ingredient of natural gas, and there are huge numbers of specific instances of plant and animal deaths, human sickness and water poisoning afterwards that are clear proof of this serious problem.
 
But there are many more problems from fracking that Promised Land doesn't mention, much less explain.
Most importantly, fracking's huge and growing contribution to our global heating crisis. Methane is 72-105 times as powerful a greenhouse gas as CO2 over the first 20 years after it's released into the atmosphere. Studies over the past two years, including the U.S. Environmental Protection Agency (EPA), show that there is much more methane leakage over the lifecycle of fracked, as well as conventionally-produced, natural gas, than the oil and gas industry admits.
Constant heavy truck traffic transporting water, sand and fracking fluids that pollutes surrounding air, causes damage to roads, creates traffic congestion and noise and other negative impacts.
The contamination of rivers close to fracking sites through either deliberate dumping of "flowback" toxic wastewater after a well is drilled or through migration of those fluids underground.
The drawdown of massive amounts of sometimes-scarce—as in historically dry or dought-impacted areas—nearby river and lake water, many millions of gallons per well.
Documented radiation levels in wastewater 100 or more times the U.S. EPA's drinking water standard.
Disruption of other economically- and socially-valued industries or practices, such as  agriculture, tourism, hunting and fishing.
Fragmentation of woods and forests via construction of well sites, pipelines, roads and other infrastructure.
A decline in property values of homes and land adjacent to or near wells.
Earthquakes—the U.S. Geological Survey has reported that deep underground injection of drilling wastewater is the probable cause of a six-fold increase in earthquakes in middle America in 2011 compared to 20th century levels.
So if you are looking for a movie about all of these negative realities of fracking, Promised Land is not the movie to watch.
 
Promised Land is in many ways more a movie about corporate power and the ideology that undergirds it versus the power of an informed people and the old-but-still-good values of love for family, land, home and the truth. The energy company that Damon works for is thoroughly despicable, while individual people who work for it like Damon and the character played by Frances McDormand are shown as more complex, still human, less corporatist in their ideology.
 
One small but telling example is when a youngish man overly excited about the potential riches he thinks he will gain from signing a lease drives up to Damon in a fancy new car. Because of a prior scene, the movie audience knows that the money he will get from the gas under his land, if there is any, will probably not pay for this car. At the time Damon is struggling with his conscience, and as he looks at the expensive car and the young man you can almost feel his angst, his guilt over what he may have done.
 
Hal Holbrook is effective as a smart and articulate older teacher who is the only townsperson, at first, aware of some of fracking's dangers and willing to stand up and say so publicly. Unfortunately, when he does so for the first time, he also describes gas as "clean," which it absolutely isn't. He does, however, play a key role in the movie's successful effort to counterpose a life of place, community and eternal values against the scheming and greed-driven corporate culture that has no difficulty destroying anything in its way.
 
There's a lot of food for thought in Promised Land, and I hope large numbers of people see it.
Visit EcoWatch's FRACKING page for more related news on this topic. 
——–
Click here to sign a petition to tell the Bureau of Land Management to issue strong rules for federal fracking leases on public lands.

EcoWatch Daily Newsletter
Pixabay
By Lisa Wartenberg, MFA, RD, LD
Pears are sweet, bell-shaped fruits that have been enjoyed since ancient times. They can be eaten crisp or soft.
Photon-Photos / iStock / Getty Images Plus
The desert of Australia's Northern Territory has the iconic Ayers Rock, but not much else. Soon, it may be known as home to the world's largest solar farm, according to the Guardian.
Golde Wallingford submitted this photo of "Pure Joy" to EcoWatch's first photo contest. Golde Wallingford
EcoWatch is pleased to announce our third photo contest!

A Boeing 737-800 BCF (Boeing Converted Freighter) is marked "Prime Air" as part of Amazon Prime's freight aircraft during the 53rd International Paris Air Show at Le Bourget Airport near Paris, France on June 22. Mustafa Yalcin / Anadolu Agency / Getty Images
It's Prime Day! The day when thousands of increasingly absurd items are discounted so deeply that you suddenly need items you never knew existed. Yes, I do need a hotdog shaped toaster next to me while I watch this Fast & Furious seven movie box set! And I need it in my house today!
By Peter Sinclair
The weather in many areas across the U.S. has been – and certainly throughout America's heartland was for much of the past winter and spring – frightful.
There's a short window between when a tick bites and when it passes on bacteria or virus.
MSU Ag Communications, Courtesy Dr. Tina Nations, CC BY-ND
By Jerome Goddard
When it comes to problems caused by ticks, Lyme disease hogs a lot of the limelight. But various tick species carry and transmit a collection of other pathogens, some of which cause serious, even fatal, conditions.

tomosang / Moment / Getty Images
By Jessica A. Knoblauch
Say goodbye to one of the dreamiest things about childhood. In the Midwest, fireflies are dying off.
A new Climate Emergency Fund contains more than $625,000 which will go to grassroots climate action groups like Extinction Rebellion and students who have organized weekly climate strikes all over the world. @ExtinctionR / Twitter
By Julia Conley
Heeding the call of grassroots campaigners, several wealthy philanthropists announced Friday a new fund that will raise money for climate action groups around the world.