This website uses cookies to ensure you get the best experience while browsing it. By clicking 'Got It' you're accepting these terms.
What Obama's Re-Election Means for Coal, Climate Change and America's Energy Future
Nov. 07, 2012 11:23AM EST
Renewable Energy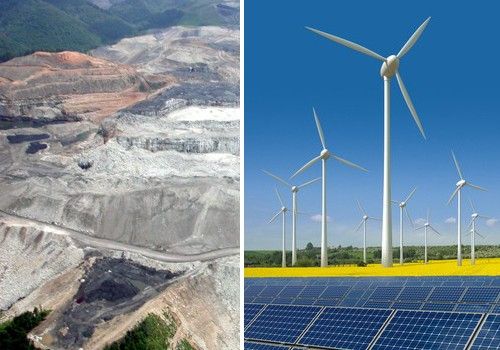 President Obama's victory yesterday was a victory for clean energy, one that gives us a fighting chance to slash coal pollution and turn the corner on climate change, in the wake of a devastating hurricane that brought global warming into sharp, painful focus for millions of Americans. 

As the Sierra Club's Michael Brune said on election night, "We did it." Fossil fuel billionaires had spent at record levels to defeat Obama in this election, and Romney had returned the favor, promising to open the floodgates on more mining and drilling if elected. But then Hurricane Sandy hit the Eastern Seaboard, New York Mayor Michael Bloomberg endorsed President Obama as the candidate most likely to lead on climate change, and Romney's dismissal of rising oceans as a laugh line in his GOP Convention speech became an especially chilling out-of-touch episode, in a Republican Presidential campaign that had no shortage of such moments. 

Ironically, the coal industry had pinned its hopes on Romney—the consummate businessman—to protect the industry from the harsh realities of the free market. Now, the coal industry will have to stop hiding behind inflammatory slogans like "the war on coal," and will have to grapple with a marketplace and an American public that are turning away from coal in favor of cleaner, cheaper sources of energy. Coal will only produce 37 percent of America's electricity this year, down from 50 percent just five years ago, and those trends show no signs of reversing.


In reality, the decline of coal and the rise of clean energy have more to do with Main Street and Wall Street than with Pennsylvania Avenue. Over the past four years, in almost every state in the nation, hundreds of thousands of people have worked together to retire polluting local coal plants, get more wind and solar power on the grid, and use energy more efficiently. Today, 125 coal plants—out of more than 500 nationwide—are now slated for retirement. As a result, U.S. carbon emissions are at their lowest level in two decades, clean energy is coming on line at record levels, and tens of thousands of Americans now have clean energy jobs. 

The marketplace and the American people have spoken, and there is no amount of grandstanding by coal barons that will turn this tide. By the end of Obama's second term, the Beyond Coal Campaign plans to:
Secure the retirement of one-third of the nation's coal plants.
Power the nation with record amounts of clean energy and energy efficiency.
End mountaintop removal once and for all.
Close additional coal pollution loopholes, including long-overdue protections for carbon, soot, smog, coal ash and water pollution.
Prevent increased coal exports overseas to places where it will be burned with fewer pollution controls and no climate safeguards.
Making this happen will require the continued energy and dedication of our Beyond Coal grassroots movement. While the coal industry did its best to paint President Obama as their sworn enemy during the election, in fact, in Obama's first term, he was a centrist when it came to energy. On one hand, his Administration took historic measures to clean up some of the most dangerous pollution from coal—mercury, arsenic, lead and other toxins—while also putting a carbon standard in place for new power plants. The Obama White House also helped jump start clean energy, creating tens of thousands of new wind and solar jobs and helping to ensure that America will be a lead innovator in the clean energy revolution that will power the nations and economies of the twenty-first century.


On the other hand, some of the worst abuses of the coal industry continued. Mountaintop removal mining operations are still blowing up mountains, burying streams, and causing serious health problems across Appalachia. We don't yet have carbon standards for existing power plants, which are our single biggest source of greenhouse gases. There are still no national protections for the dumping of toxic coal ash. And when it comes to clean energy and energy efficiency, this country is still far behind much of the rest of the developed world. 

No, coal's decline has less to do with President Obama and more to do with the fact that, after 100 years of heedlessly dumping air and water pollution onto the American people, the day of reckoning has come. Investors know that our fleet of coal plants is outdated, and they are putting their money into cleaner twenty-first century energy technologies like wind and solar—not into propping up coal plants that are reaching the end of their lifespan. Meanwhile, town by town, city by city and state by state, local leaders are making the decision to retire aging coal plants, get rid of the pollution and health problems, and ensure their communities aren't left behind in the clean energy revolution. 

I live in West Virginia, so I'm not surprised that coal mining areas of the U.S. voted overwhelmingly for Romney in this election. As coal is eclipsed by other forms of energy, people in coal country are justifiably concerned about their livelihoods and their future. Perhaps the results of this election will finally push some of our leaders to start talking honestly about the challenges we face and the need to diversify coal state economies—in short, to provide some leadership. Our region's decision-makers would be doing a far greater service to their constituents by using their political clout to bring federal resources that will help Appalachia and other mining regions make a transition, rather than digging in their heels and refusing to acknowledge that the world is changing.


In Appalachia and beyond, one thing is certain—President Obama's re-election means that for four more years, the marketplace and the American people will continue to move away from coal, and the coal barons won't have a crony in the White House to try and stop that inevitable shift. 

From the streets of New York ravaged by Hurricane Sandy to the mountains of Appalachia ravaged by mountaintop removal, and from the mother watching her son struggle to breathe to the grandfather watching his granddaughter sleep and worrying he is leaving her a dangerous, unstable planet, Americans are ready to move beyond coal. 

President Obama can only help lead the nation there. We are going to have to do the hard work ourselves. But his re-election means we have a fighting chance.
Visit EcoWatch's COAL page for more related news on this topic.
--------
Mary Anne Hitt is the director of the Beyond Coal Campaign.
EcoWatch Daily Newsletter
A glacier is seen in the Kenai Mountains on Sept. 6, near Primrose, Alaska. Scientists from the U.S. Geological Survey have been studying the glaciers in the area since 1966 and their studies show that the warming climate has resulted in sustained glacial mass loss as melting outpaced the accumulation of new snow and ice. Joe Raedle / Getty Images
By Mark Mancini
On Aug. 18, Iceland held a funeral for the first glacier lost to climate change. The deceased party was Okjökull, a historic body of ice that covered 14.6 square miles (38 square kilometers) in the Icelandic Highlands at the turn of the 20th century. But its glory days are long gone. In 2014, having dwindled to less than 1/15 its former size, Okjökull lost its status as an official glacier.
Members of Chicago Democratic Socialists of America table at the Logan Square Farmers Market on Aug. 18. Alex Schwartz
By Alex Schwartz
Among the many vendors at the Logan Square Farmers Market on Aug. 18 sat three young people peddling neither organic vegetables, gourmet cheese nor handmade crafts. Instead, they offered liberation from capitalism.
Hackney primary school students went to the Town Hall on May 24 in London after school to protest about the climate emergency. Jenny Matthews / In Pictures / Getty Images
Bird watching in the U.S. may be a lot harder than it once was, since bird populations are dropping off in droves, according to a new study.
Amazon CEO Jeff Bezos announces the co-founding of The Climate Pledge at the National Press Club on Sept. 19 in Washington, DC. Paul Morigi / Getty Images for Amazon
The day before over 1,500 Amazon.com employees planned a walkout to participate in today's global climate strike, CEO Jeff Bezos unveiled a sweeping plan for the retail and media giant to be carbon neutral by 2040, 10 years ahead of the Paris agreement schedule.
For the past seven years, the Anishinaabe people have been facing the largest tar sands pipeline project in North America. We still are. In these dying moments of the fossil fuel industry, Water Protectors stand, prepared for yet another battle for the water, wild rice and future of all. We face Enbridge, the largest pipeline company in North America, and the third largest corporation in Canada. We face it unafraid and eyes wide open, for indeed we see the future.
The climate crisis often intensifies systems of oppression. Rieko Honma / Stone / Getty Images Plus
By Mara Dolan
We see the effects of the climate crisis all around us in hurricanes, droughts, wildfires, and rising sea levels, but our proximity to these things, and how deeply our lives are changed by them, are not the same for everyone. Frontline groups have been leading the fight for environmental and climate justice for centuries and understand the critical connections between the climate crisis and racial justice, economic justice, migrant justice, and gender justice. Our personal experiences with climate change are shaped by our experiences with race, gender, and class, as the climate crisis often intensifies these systems of oppression.