This website uses cookies to ensure you get the best experience while browsing it. By clicking 'Got It' you're accepting these terms.
What Is Teff and How Do You Use This Ancient Grain?
Nov. 11, 2015 01:44PM EST
Food
Whether you're living the gluten free life or just want to experiment with cool new ingredients, teff should be high on your list.
Sometimes written as tef or t'ef, this grain (actually a pseudo-grain, since it's technically a seed) is the smallest whole grain in the world. Teff has a beautiful dark brown color, a great earthy flavor similar to amaranth or quinoa and can be used in many of the same ways in the kitchen.
Teff is known as an ancient grain, one that has survived through the centuries without much hybridization or processing. Most ancient grains maintain a high nutritional profile, especially if you compare it to common bleached wheat flour that makes up the basis of our standard American diet. Even if you don't want to give up wheat, experimenting with ancient grains is delicious and healthful, giving the body a chance to experience a whole grain and get the benefits from a new range of vitamins and minerals. Most ancient grains are gluten-free too, which is why they are gaining in popularity across the foodie world.
Teff is traditionally cultivated in Ethiopia and Eritrea, where it is consumed as a staple grain. It is becoming more popular around the world, as the high productivity and resiliency of the plant become more known.
Like most other ancient grains, teff is super nutritious. Most famous for the high fiber and calcium content, it's also a good source of iron. Just one quarter cup of dry (uncooked) teff has 4 grams of fiber—about 16 percent of your daily value; the calcium content comes in at about 10 percent and iron at about 20 percent. Teff is also high in what's known as "resistant starch." As the Whole Grain Council explains, resistant starch is, "a newly-discovered type of dietary fiber that can benefit blood-sugar management, weight control and colon health. It's estimated that 20-40 percent of the carbohydrates in teff are resistant starches."
Teff can range in color from ivory to brown, though the brown is much more common. Teff flour can also be made from either ivory or brown teff, though brown seems to be more common. Teff flour has a beautiful light brown color and mild, grassy flavor that lends itself well to rich spices and quickbreads like banana and pumpkin. Find teff in the bulk section if you're lucky or find it online. Bob's Red Mill makes bags of teff and teff flour as part of their "Grains of Discovery" series. Unlike most other grains, it's very hard to find organic teff.
Even if you're never heard of teff before, you have probably eaten it if you have ever tried Ethiopian food. Teff flour is fermented and used to make injera, the spongy flatbread upon which lentils, cabbage and other foods are served.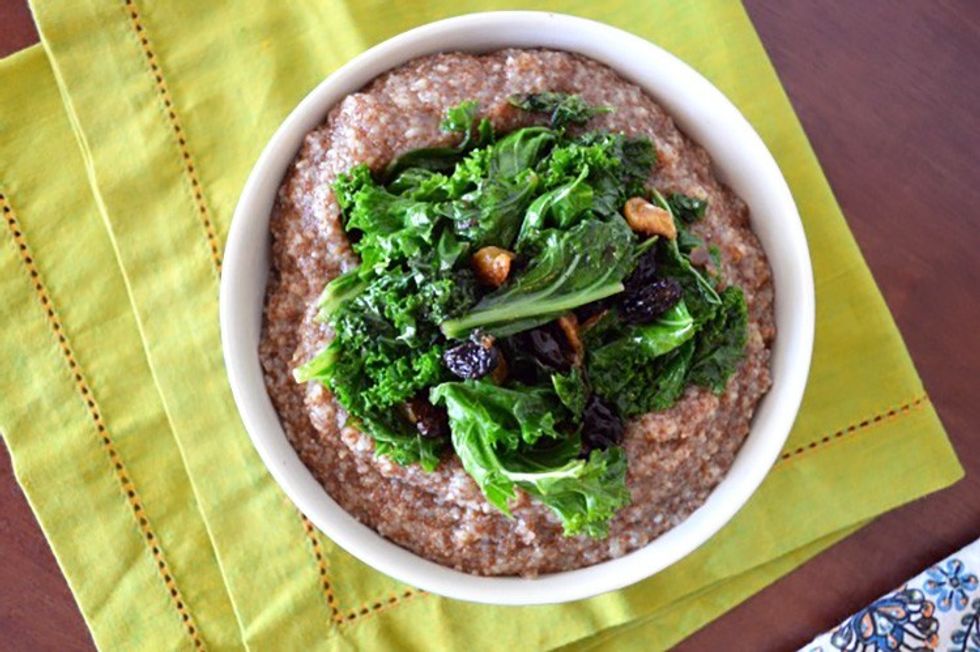 Teff Porridge Bowl with Polenta and Bitter Greens. Photo credit: Care2
This new recipe for a teff and polenta porridge is a great way to add this new grain into your life alongside a familiar staple like polenta. Choose your favorite bitter greens like dandelion, mustards or just some kale to balance out the sweetness of the raisins.
Teff Bowl With Bitter Greens
2 1/2 cups water or vegetable broth
1/2 cup polenta (coarse-ground cornmeal)
1/2 cup teff (whole)
1/2 teaspoon of sea salt
3 Tablespoons olive oil, divided
2 cloves garlic, minced finely
5 cups chopped bitter greens
1/4 cup raisins or finely chopped dried apricots
1 teaspoon soy sauce or tamari
1. Bring water/broth to a boil. Add polenta, teff, salt and one Tablespoon of oil. Stir to combine, then reduce heat to low. Cover and simmer for 10-15 minutes, stirring often. Add more liquid if mixture seems clumpy or thick; it should be smooth and creamy and a bit soupy—it will firm up as it cools.
2. In a large skillet, heat remaining olive oil until warm. Add garlic and cook until browned, about three minutes. Add in greens and toss just until wilted, about one to two minutes. Remove from heat and toss in raisins, then drizzle with soy sauce. Toss to coat evenly.
3. When grains have finished cooking, divide into two or four serving bowls. Top with greens and serve while warm.
Here are a few other recipes to try out with this fun and funky grain: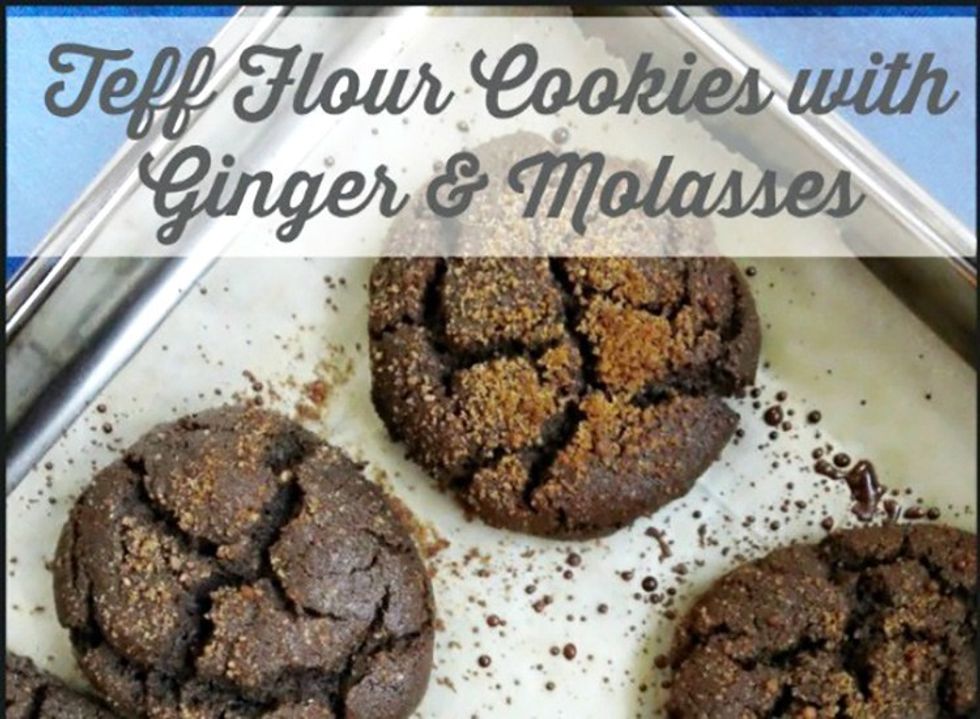 Ginger Molasses Cookies, recipe below. Photo credit: Care2
3. Teff and Bean Burgers from Healthy Tipping Point
4. Tomato and Mushroom Teff Polenta
5. Injera, the Ethiopian flatbread
EcoWatch Daily Newsletter
Pro-environment demonstrators on the streets of Washington, DC during the Jan. 20, 2017 Trump inauguration.
Mobilus In Mobili
/ Flickr /
CC BY-SA 2.0
By Dr. Brian R. Shmaefsky
One year after the Flint Water Crisis I was invited to participate in a water rights session at a conference hosted by the US Human Rights Network in Austin, Texas in 2015. The reason I was at the conference was to promote efforts by the American Association for the Advancement of Science (AAAS) to encourage scientists to shine a light on how science intersects with human rights, in the U.S. as well as in the context of international development. My plan was to sit at an information booth and share my stories about water quality projects I spearheaded in communities in Bangladesh, Colombia, and the Philippines. I did not expect to be thrown into conversations that made me reexamine how scientists use their knowledge as a public good.
Mt. Rainier and Reflection Lake on Sept. 10, 2015. Crystal Geyser planned to open a bottling plant near Mt. Rainier, emails show.
louelke - on and off / Flickr
Bottled water manufacturers looking to capture cool, mountain water from Washington's Cascade Mountains may have to look elsewhere after the state senate passed a bill banning new water permits, as The Guardian reported.
Large storage tank of Ammonia at a fertilizer plant in Cubatão, Sao Paulo State, Brazil. Luis Veiga / The Image Bank / Getty Images
The shipping industry is coming to grips with its egregious carbon footprint, as it has an outsized contribution to greenhouse gas emissions and to the dumping of chemicals into open seas. Already, the global shipping industry contributes about 2 percent of global carbon emissions, about the same as Germany, as the BBC reported.
At high tide, people are forced off parts of the pathway surrounding DC's Tidal Basin. Andrew Bossi /
Wikimedia
The Jefferson Memorial in Washington, DC overlooks the Tidal Basin, a man-made body of water surrounded by cherry trees. Visitors can stroll along the water's edge, gazing up at the stately monument.
But at high tide, people are forced off parts of the path. Twice a day, the Tidal Basin floods and water spills onto the walkway.
Lioness displays teeth during light rainstorm in Kruger National Park, South Africa. johan63 / iStock / Getty Images
Ahead of government negotiations scheduled for next week on a global plan to address the biodiversity crisis, 23 former foreign ministers from various countries released a statement on Tuesday urging world leaders to act "boldly" to protect nature.