This website uses cookies to ensure you get the best experience while browsing it. By clicking 'Got It' you're accepting these terms.
Starbucks is introducing nitro coffee to around 500 locations this summer. What is nitro coffee, though? Is it really better than plain ol' coffee?
Infusing a drink with nitrogen is actually something that began in the beer industry. Nitro beers are rich and frothy with tiny bubbles that almost taste sharp. Nitro coffee is nothing new. It's coffee that's been infused with nitrogen gas. Coffee lovers say that nitro coffee is creamier and richer than straight up iced coffee. Some say it also tastes sweeter than your average cold brew.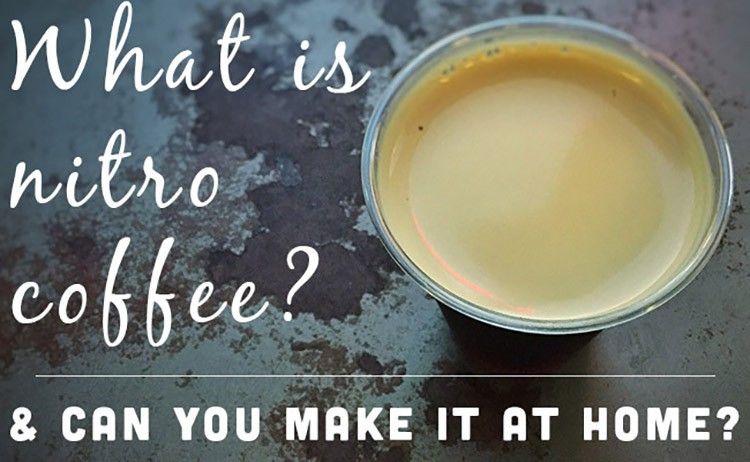 Independent coffee shops have been serving cold brew infused with nitrous oxide since around 2012 and it looks like Starbucks is taking the idea into the mainstream. Here in Atlanta, you can get nitro coffee from a keg at a lot of the small, indie coffee shops. My first taste of nitro coffee was from the Wanderlust Coffee Co. Bar at a craft market. It's definitely thicker and richer than standard cold brew. With a little bit of almond milk, it was a nice treat on a hot day.
The coffee places here in town that serve nitro coffee use stellar beans to make their cold brew base. I can't say whether cold brew made with lower-quality beans would be worth the trouble. I love coffee, but I'm no expert. Luckily, one of my oldest friends—Jason Card who owns Journeyman Coffee in Tallahassee—definitely is. He was kind enough to chat with me about nitro coffee.
Jason agrees that the beans you start with matter. I'm not crazy about Starbucks iced coffee. I'm more of a medium to light roast person and Starbucks tends to be pretty dark. I asked him whether he thought the nitro would make a difference for someone with my preferences. He said, "It smooths over the flavor a bit. People who like Starbucks roasting style will probably like it."
Nitro coffee keeps longer in the fridge than regular cold brew does, according to Jason. He also says that it's best with your cream of choice and a little sugar. "I feel like it smooths over the brighter tastes of coffee, which are the ones that clash with cream and sugar."
DIY Nitro Coffee
While researching nitro coffee, I came across a really cool video for making DIY nitro coffee at home in a whipped cream canister. In coffee shops, they infuse their cold brew in kegs, conditioning them for days. The method below, though, is small-scale enough to do at home.
I ran this video by Jason and he was kind enough to test this method out for me, since he owns a whipped cream canister. He says that he used two NO2 cartridges in a .5 liter canister, which he admits isn't the safest thing to do. He said it was pretty close to keg nitro, but he also mentioned that the bubbles didn't initially last long.
Since keg nitro is conditioned for days, he tried refrigerating the canister overnight under pressure. After a day in the canister, Jason says this method produced coffee "at least as nitrogenated as most kegged coffee on nitro I've seen."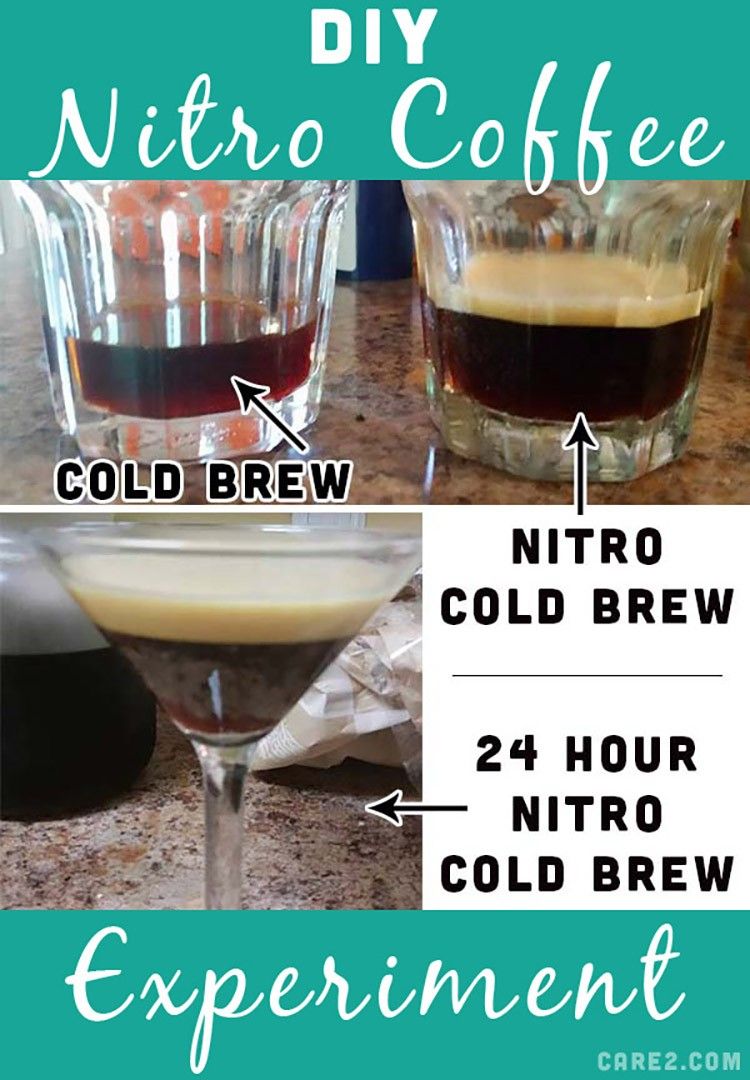 Whether you make your own or grab some at a coffee shop, nitro coffee is definitely worth a shot. It seems to be the opera of coffee. The people who love it really love it. Are you one of those people?
YOU MIGHT ALSO LIKE
Dr. Mark Hyman: 7 Ways to Achieve Optimal Brain Health
8 High-Protein Vegan Snacks You Can Take With You Anywhere
19 Prebiotic Foods That Should Be a Part of a Healthy Diet
EcoWatch Daily Newsletter
DESIREE MARTIN / AFP / Getty Images
Wildfires raging on Gran Canaria, the second most populous of Spain's Canary Islands, have forced around 9,000 people to evacuate.
Wolves in Mount Rainier, Washington. Ron Reznick / VW Pics / Universal Images Group via Getty Images
The last four members of an embattled wolf pack were killed in Washington State Friday, hours before the court order that could have saved them.
Plateau Creek near De Beque, Colorado, where land has been leased for oil and gas production. Helen H. Richardson / The Denver Post / Getty Images
By Randi Spivak
Slashing two national monuments in Utah may have received the most attention, but Trump's Interior Department and U.S. Forest Service have been quietly, systematically ceding control of America's public lands to fossil fuel, mining, timber and livestock interests since the day he took office.
Aerial view of lava flows from the eruption of volcano Kilauea on Hawaii, May 2018. Frizi / iStock / Getty Images
Hawaii's Kilauea volcano could be gearing up for an eruption after a pond of water was discovered inside its summit crater for the first time in recorded history, according to the AP.
Global SO2 Emission Hotspot Database / Greenpeace
A new report by Greenpeace International pinpointed the world's worst sources of sulfur dioxide pollution, an irritant gas that harms human health. India has seized the top spot from Russia and China, contributing nearly 15 percent of global sulfur dioxide emissions.
The huge surge this year in Amazon deforestation is leading some European countries to think twice about donations to the Amazon Fund. LeoFFreitas / Moment / Getty Images
By Sue Branford and Thais Borges
Ola Elvestrun, Norway's environment minister, announced Thursday that it is freezing its contributions to the Amazon Fund, and will no longer be transferring €300 million ($33.2 million) to Brazil. In a press release, the Norwegian embassy in Brazil stated:
Gina Lopez, the Philippine secretary of the environment, at a meeting with residents affected by a mine tailing disaster. Keith Schneider
Gina Lopez, a former Philippine environment secretary, philanthropist and eco-warrior, died on Aug. 19 from brain cancer. She was 65.
Trump speaks to contractors at the Shell Chemicals Petrochemical Complex on Aug. 13 in Monaca, Pennsylvania. Jeff Swensen / Getty Images
Thousands of union members at a multibillion dollar petrochemical plant outside of Pittsburgh were given a choice last week: Stand and wait for a speech by Donald Trump or take the day off without pay.