What is Kefir and Why Is It So Good for You?
Mar. 27, 2015 08:54AM EST
Health + Wellness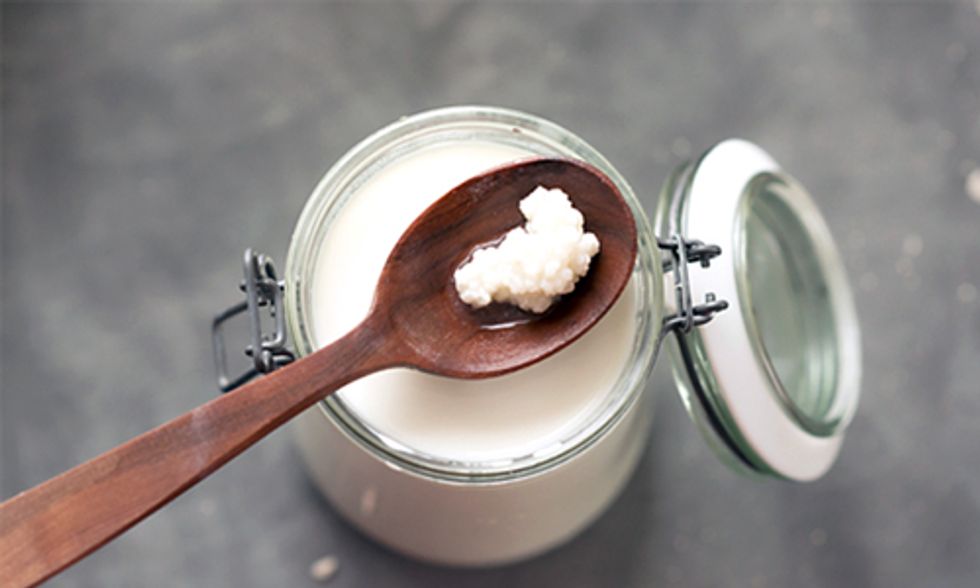 By Joe Leech
Kefir is all the rage in the natural health community.
It is high in nutrients and probiotics, and is incredibly beneficial for digestion and gut health.
Many people consider it to be a healthier and more powerful version of yogurt.
Here are nine health benefits of kefir that are supported by research: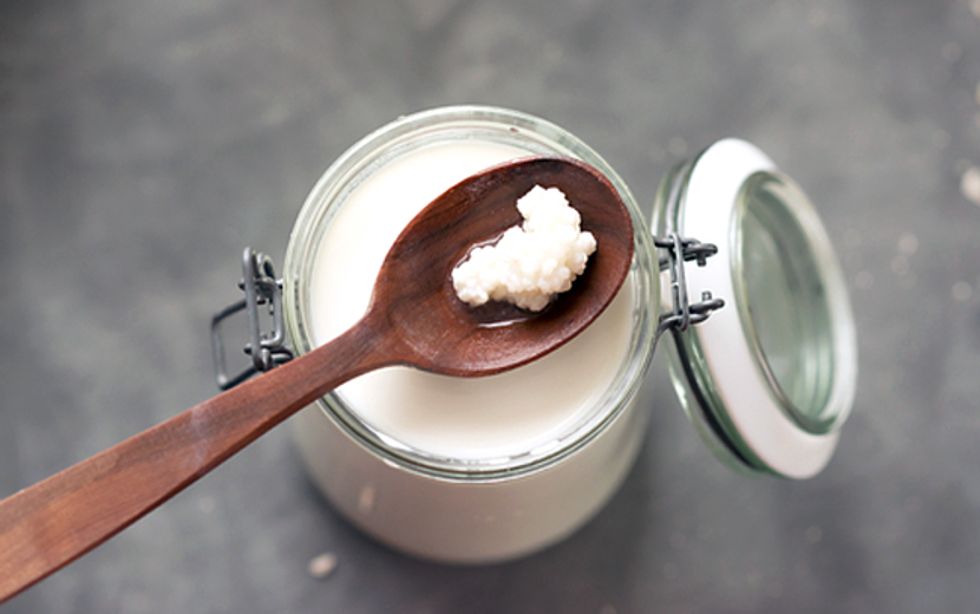 Photo credit: Shutterstock
1. Kefir is a Fantastic Source of Many Nutrients
Kefir is a fermented drink, traditionally made using cow's or goat's milk.
It is made by adding kefir "grains" to milk.
These are not grains in the conventional sense, but cultures of yeast and lactic acid bacteria that resemble cauliflower in appearance.
Over a period of 24 hours or so, the microorganisms in the kefir grains multiply and ferment the sugars in the milk, turning it into kefir.
Then the grains are removed from the liquid, and can be used again.
So basically, kefir is the drink, but kefir grains are the "starter kit" that you use to produce the drink.
Kefir originated from parts of Eastern Europe and Southwest Asia. The name is derived from the Turkish word keyif, which means "feeling good" after eating (1).
The lactic acid bacteria turn the lactose in the milk into lactic acid, so kefir tastes sour like yogurt, but has a thinner consistency.
A 175 ml (6 oz) serving of milk kefir contains (2, 3):
Protein: six grams
Calcium: 20 percent of the RDA
Phosphorus: 20 percent of the RDA
Vitamin B12: 14 percent of the RDA
Riboflavin (B2): 19 percent of the RDA
Magnesium: 5 percent of the RDA
A decent amount of vitamin D
This is coming with about 100 calories, seven to eight grams of carbs and three to six grams of fat, depending on the type of milk that is used.
Kefir also contains a wide variety of bioactive compounds, including organic acids and peptides that contribute to its health benefits (1).
Dairy-free versions of kefir can be made with coconut water, coconut milk or other sweet liquids. These will not have the same nutrient profile as dairy-based kefir.
Bottom Line: Kefir is a fermented milk drink, cultured from kefir grains. It is a rich source of calcium, protein and B-vitamins.
2. Kefir is a More Powerful Probiotic Than Yogurt
Some microorganisms can have beneficial effects on health when ingested (4).
Known as probiotics, these microorganisms can influence health in numerous ways, including digestion, weight management and mental health (5, 6, 7).
Yogurt is the best known probiotic food in the Western diet, but kefir is actually a much more potent source.
Kefir grains contain about 30 strains of bacteria and yeasts, making it a very rich and diverse probiotic source.
Other fermented dairy products are made from far fewer strains, and don't contain any yeasts.
Bottom Line: Kefir contains about 30 different microorganisms, making it a much more potent source of probiotics than other fermented dairy products.
3. Kefir Has Potent Antibacterial Properties
Certain probiotics in kefir are believed to protect against infections.
This includes the probiotic Lactobacillus kefiri, which is unique to kefir.
Studies show that this probiotic can inhibit the growth of various harmful bacteria, including Salmonella, Helicobacter Pylori and E. coli (8, 9).
Kefiran, a type of carbohydrate present in kefir, also has antibacterial properties (10).
Bottom Line: Kefir contains the probiotic Lactobacillus kefiri, and the carbohydrate Kefiran, both of which can protect against harmful bacteria.
4. Kefir Can Improve Bone Health and Lower The Risk of Osteoporosis
Osteoporosis ("porous" bones) is characterized by deterioration of bone tissue, and is a massive problem in Western countries.
It is especially common among elderly women, and dramatically raises the risk of fractures.
Ensuring an adequate calcium intake is one of the most effective ways to improve bone health, and slow the progression of osteoporosis (11).
Kefir made from full-fat dairy is not only a great source of calcium, but also vitamin K2. This nutrient plays a central role in calcium metabolism, and supplementing with it has been shown to reduce the risk of fractures by as much as 81 percent (12, 13).
Recent animal studies have shown that kefir can increase calcium absorption by bone cells. This leads to improved bone density, which should help prevent fractures (14).
Bottom Line: Kefir made from dairy is an excellent source of calcium. In the case of full-fat dairy, it also contains vitamin K2. These nutrients have major benefits for bone health.
5. Kefir May be Protective Against Cancer
Cancer is one of the world's leading causes of death.
It occurs when there is an uncontrolled growth of abnormal cells in the body, such as a tumor.
The probiotics in fermented dairy products are believed to inhibit tumor growth by reducing formation of carcinogenic compounds, as well as by stimulating the immune system (15).
This protective role has been demonstrated in several test tube studies (16, 17).
One study found that kefir extract reduced the number of human breast cancer cells by 56 percent, compared with only 14 percent for yogurt extract (18).
However, take all of this with a grain of salt, as this is far from being proven in living, breathing humans.
Bottom Line: Some test tube and animal studies have shown that kefir can inhibit the growth of cancer cells. This has not been studied in people.
6. The Probiotics in it May Help With Various Digestive Problems
Probiotics such as kefir can help restore the balance of friendly bacteria in the gut.
This is why they are highly effective for many forms of diarrhea (19, 20).
There is also a lot of evidence that probiotics and probiotic foods can help with all sorts of digestive problems (5).
This includes irritable bowel syndrome (IBS), ulcers caused by H. pylori infection, and various others (21, 22, 23, 24).
For this reason, kefir may be useful if you have problems with digestion.
Bottom Line: Probiotics like kefir can treat several forms of diarrhea. They can also lead to major improvements in various digestive diseases.
7. Kefir is Generally Well Tolerated by People Who Are Lactose Intolerant
Regular dairy foods contain a natural sugar called lactose.
Many people, especially adults, are unable to break down and digest lactose properly. This condition is called lactose intolerance (25).
The lactic acid bacteria in fermented dairy foods (like kefir and yogurt) turn the lactose into lactic acid, so these foods are much lower in lactose than milk.
They also contain enzymes that can help break down the lactose even further.
Because of this, kefir is generally well tolerated by people with lactose intolerance, at least when compared to regular milk (26).
Also keep in mind that it is possible to make kefir that is 100 percent lactose free, by using coconut water, fruit juice or some other non-dairy fluid.
Bottom Line: The lactic acid bacteria have already pre-digested the lactose in kefir. People with lactose intolerance can often eat kefir without problems.
8. Kefir May Improve Symptoms of Allergy and Asthma
Allergic reactions are caused by inflammatory responses against harmless environmental substances.
People with an over-sensitive immune system are more prone to allergies, which can provoke conditions like asthma.
In animal studies, kefir has been shown to suppress inflammatory responses related to allergy and asthma (27, 28).
Human studies are need to better explore these effects.
9. Kefir is Easy to Make at Home
The last one is not a health benefit, but important nonetheless.
If you are unsure about the quality of store-bought kefir, then you can easily make it at home yourself.
Combined with some fresh fruit, it makes one of the healthiest and tastiest desserts I have ever come across.
You can buy kefir grains in some health food stores and supermarkets.
It is also available on Amazon (see here), with hundreds of reviews, testimonials and tips from real customers.
There are some good blog posts and videos on how to make kefir, but the process is very simple:
Put one to two tablespoons of kefir grains into a small jar. The more you use, the faster it will culture.
Add around two cups of milk, preferably organic or even raw. Milk from grass-fed cows is healthiest. Leave one inch of room at the top of the jar.
You can add some full-fat cream if you want the kefir to be thicker.
Put the lid on and leave it for 12-36 hours, at room temperature. That's it.
Once it starts to look clumpy, it is ready. Then you gently strain out the liquid, which leaves behind the original kefir grains.
Now put the grains in a new jar with some milk, and the process starts all over again.
Delicious, nutritious and highly sustainable.
This article was reposted from our media associate Authority Nutrition.
YOU MIGHT ALSO LIKE
10 Natural (And Vegan) Ways to Clean Your Home
Never Buy Toothpaste Again! 4 Easy Steps to Make Your Own
Scientists are studying barley, the key ingredient in beer. Ridofranz / Getty Images
Researchers at UC-Riverside are investigating how barley, a key ingredient in beer, survives in such a wide variety of climates with hopes of learning what exactly makes it so resilient across climates.
Barley was first grown domestically in Southwest Asia about 10,000 year ago and is grown around the world, from Egypt to Minnesota.
Barley's prime growing regions have shifted northward in recent decades as global temperatures have risen due to climate change caused by human extraction and combustion of fossil fuels.
Chuck Skypeck, technical brewing projects manager for the Brewers Association located in Boulder, Colorado, told E&E climate change's effects are impacting the brewing industry.
"Certainly dynamic growing conditions, water scarcity, extreme weather events, growers' planting decisions can all affect both pricing and availability of brewers' supply of malted barley," he told E&E News.
For a deeper dive:
For more climate change and clean energy news, you can follow Climate Nexus on Twitter and Facebook, sign up for daily Hot News, and visit their news site, Nexus Media News.
EcoWatch Daily Newsletter
Air France airplanes parked at the Charles de Gaulle/Roissy airport on March 24, 2020. SAMSON / AFP via Getty Images
France moved one step closer this weekend to banning short-haul flights in an attempt to fight the climate crisis.
A bill prohibiting regional flights that could be replaced with an existing train journey of less than two and a half hours passed the country's National Assembly late on Saturday, as Reuters reported.
"We know that aviation is a contributor of carbon dioxide and that because of climate change we must reduce emissions," Industry Minister Agnes Pannier-Runacher told Europe 1 radio, according to Reuters.
The measure now has to pass the French Senate, then return to the lower house for a final vote. It would end regional flights between Paris's Orly airport and cities like Nantes and Bordeaux, The Guardian explained. It would not, however, impact connecting flights through Paris's Charles de Gaulle/Roissy airport.
The bill is part of a legislative package which aims to reduce France's emissions by 40 percent of 1990 levels by 2030, Reuters reported. It is a watered-down version of a proposal suggested by France's Citizens' Convention on Climate, BBC News explained. This group, which was formed by President Emmanuel Macron in 2019 and included 150 ordinary citizens, had put forward a ban on flights that could be replaced with an existing train journey of under four hours.
However, the journey length was lowered after protests from KLM-Air France, which had suffered heavy losses due to the coronavirus pandemic, and regions who were concerned about being left out of national transit networks, as The Guardian explained.
"We have chosen two and a half hours because four hours risks isolating landlocked territories including the greater Massif Central, which would be iniquitous," transport minister Jean-Baptiste Djebbari said, as The Guardian reported.
However, some environmental and consumer groups objected to the changes. The organization UFC-Que Choisir compared plane routes with equivalent train journeys of under four hours and found that the plane trips emitted an average of 77 times more carbon dioxide per passenger than the train journeys. At the same time, the train alternatives were cheaper and only as much as 40 minutes longer.
"[T]he government's choice actually aims to empty the measure of its substance," the group said, according to The Guardian.
The new measure also opens the French government to charges of hypocrisy. It bailed out Air France-KLM to the tune of a seven-billion euro loan last year, though it did require the airline to drop some domestic routes as a condition. Then, days before the measure passed, it more than doubled its stake in the airline, BBC News reported. However, Pannier-Runacher insisted to Europe 1 radio that it was possible to balance fighting climate change and supporting struggling businesses.
"Equally, we must support our companies and not let them fall by the wayside," she said, as Reuters reported.
This is not the first time that climate measures and aviation bailouts have coincided in the wake of the coronavirus pandemic. Austrian Airlines replaced its Vienna-Salzburg flight with additional train service after it received government money dependent on cutting greenhouse gas emissions, BBC News reported.
The number of flights worldwide declined almost 42 percent in 2020 when compared with 2019. It is expected that global aviation may not fully recover until 2024, according to Reuters.
A woman looks at a dead gray whale on the beach in the SF Bay area on May 23, 2019; a new spate of gray whales have been turning up dead near San Francisco. Justin Sullivan / Getty Images
Four gray whales have washed up dead near San Francisco within nine days, and at least one cause of death has been attributed to a ship strike.
A small tourist town has borne the brunt of a cyclone which swept across the West Australian coast.
ABC News (Australia) / YouTube
A general view shows the remains of a dam along a river in Tapovan, India, on February 10, 2021, following a flash flood caused by a glacier break on February 7. Sajjad Hussain / AFP / Getty Images
By Rishika Pardikar
Search operations are still underway to find those declared missing following the Uttarakhand disaster on 7 February 2021.
This story originally appeared in Eos and is republished here as part of Covering Climate Now, a global journalism collaboration strengthening coverage of the climate story.