This website uses cookies to ensure you get the best experience while browsing it. By clicking 'Got It' you're accepting these terms.


The best of EcoWatch, right in your inbox. Sign up for our email newsletter!
What Is a CSA and Why You Should Join One
Jan. 27, 2015 11:01AM EST
Food
A CSA, or Community Supported Agriculture, is a way to support farmers in your area by buying into a share of food for the growing season. Similar models existed in Europe, Japan and elsewhere before its arrival in the U.S. in the 1980s.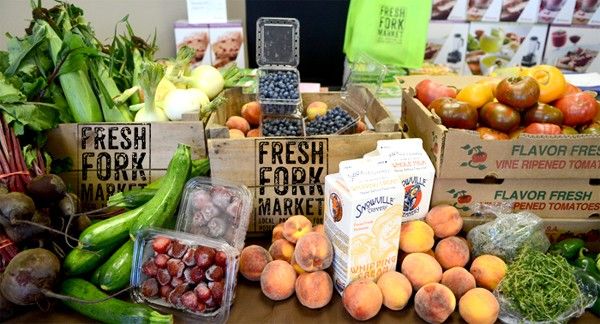 Fresh Fork Market CSA in Cleveland, Ohio aggregates products from about 100 farms within a 75-mile radius. Photo credit: Fresh Fork Market
Inspired by Rudolf Steiner, the philosopher and social reformer who is credited with developing Waldorf education and biodynamic agriculture, a German and a Swiss biodynamic farmer brought the concept to the U.S. and simultaneously but independently established Indian Line Farm in Massachusetts and Temple-Wilton Community Farm in New Hampshire in 1986.
Flash forward to 2015 and there are now several thousand farms participating in CSA programs across the U.S. The popularity of these programs stems from a desire for consumers to connect with and support local growers who are farming in an ecologically sound way.
It's a win-win for consumers and growers because consumers get delicious, fresh and mostly, if not all, organic produce throughout the growing season, and growers have the financial support from their customers at the beginning of the season. Other benefits for farmers include being able to market the food early in the year before the height of the growing season and being able to know the people they are feeding with their food.
Farming has always been risky business. Pests, disease, natural disasters and now climate change can devastate a farm. The benefit of a CSA is that members pay upfront and agree to be flexible with what comes in their share. For example, late-season frost may destroy stone fruits like peaches one season, and customers have to deal with that. Most CSA programs can compensate for a shortage of one crop with other produce.
CSA programs vary. Some are as small as a dozen customers while others have 3,500 customers. There are CSAs made up of one farm and others aggregate products from 100 or more farms in the area.
Fresh Fork Market CSA in Cleveland, Ohio aggregates products from about 100 farms within a 75-mile radius. It operates year-round, providing its 3,500 customers with a weekly share in the summer and a bi-weekly share in the winter. Fresh Fork offers meat, dairy, vegetables, fruits, grains and even value-added products such as pies, salsa and Bloody Mary mix that are made using the area's products. Some of the producers include Newswanger Meats, Eschelman Fruit Farm and Snowville Creamery.
First Light Farm in Petaluma, California, on the other hand, runs a CSA program from their 20-acre farm alone. The farm offers a fairly diverse array of vegetables, herbs and fruits to consumers in Sonoma and Marin Counties. Bay Area residents could, for example, pair that CSA subscription with one to Marin Sun Farms, which offers grass-fed and pastured raised meats, to get more of their food from local sources.
Local Harvest, which is a website that connects consumers with local growers, has a database of more than 6,000 farms to help you find a CSA near you.
YOU MIGHT ALSO LIKE
Farmers Rewarded for Practicing 'Carbon Farming'
EcoWatch Daily Newsletter
Ice-rich permafrost has been exposed due to coastal erosion, National Petroleum Reserve, Alaska. Brandt Meixell / USGS
By Jake Johnson
An alarming study released Tuesday found that melting Arctic permafrost could add nearly $70 trillion to the global cost of climate change unless immediate action is taken to slash carbon emissions.
According to the new research, published in the journal Nature Communications, melting permafrost caused by accelerating Arctic warming would add close to $70 trillion to the overall economic impact of climate change if the planet warms by 3°C by 2100.
Jeff Reed / NYC Council
The New York City Council on Thursday overwhelmingly passed one of the most ambitious and innovative legislative packages ever considered by any major city to combat the existential threat of climate change.

Ghazipur is a neighborhood in East Delhi. It has been one of the largest dumping site for Delhi. India is one of many countries where global warming has dragged down economic growth. Frédéric Soltan / Corbis / Getty Images
Global inequality is worse today because of climate change, finds a new study published Monday by Stanford University professors Noah Diffenbaugh and Marshall Burke in the Proceedings of the National Academy of Sciences.
A child playing with a ball from planet earth during Extinction Rebellion rally on April 18 in London, England. Brais G. Rouco / Barcroft Media / Getty Images
Earth Day 2019 just passed, but planning has already begun for Earth Day 2020, and it's going to be a big deal.
Geneva Vanderzeil, A Pair & A Spare / Flickr / CC BY 2.0
Is your closet filled with clothes you don't wear (and probably don't like anymore)? Are you buying cheap and trendy clothing you only wear once or twice? What's up with all the excess? Shifting to a more Earth-conscious wardrobe can help simplify your life, as well as curb fast fashion's toll on people and the planet.
Christine Zenino / Wikimedia Commons / CC BY 2.0

The 18th century St. Catherine of Alexandria church is seen after its bell tower was destroyed following a 6.3 magnitude earthquake that struck the town of Porac, pampanga province on April 23. TED ALJIBE / AFP / Getty Images
At least 16 people have died, 81 are injured and 14 are still missing after an earthquake struck Luzon island in the Philippines Monday, according to the latest figures from the National Disaster Risk Reduction and Management Council, as the Philippine Star tweeted Tuesday.
Climate change activists gather in front of the stage at the Extinction Rebellion group's environmental protest camp at Marble Arch in London on April 22, on the eighth day of the group's protest calling for political change to combat climate change. TOLGA AKMEN / AFP / Getty Images