This website uses cookies to ensure you get the best experience while browsing it. By clicking 'Got It' you're accepting these terms.
What Do You Think about a Tax on Fat?
Jan. 24, 2012 08:58AM EST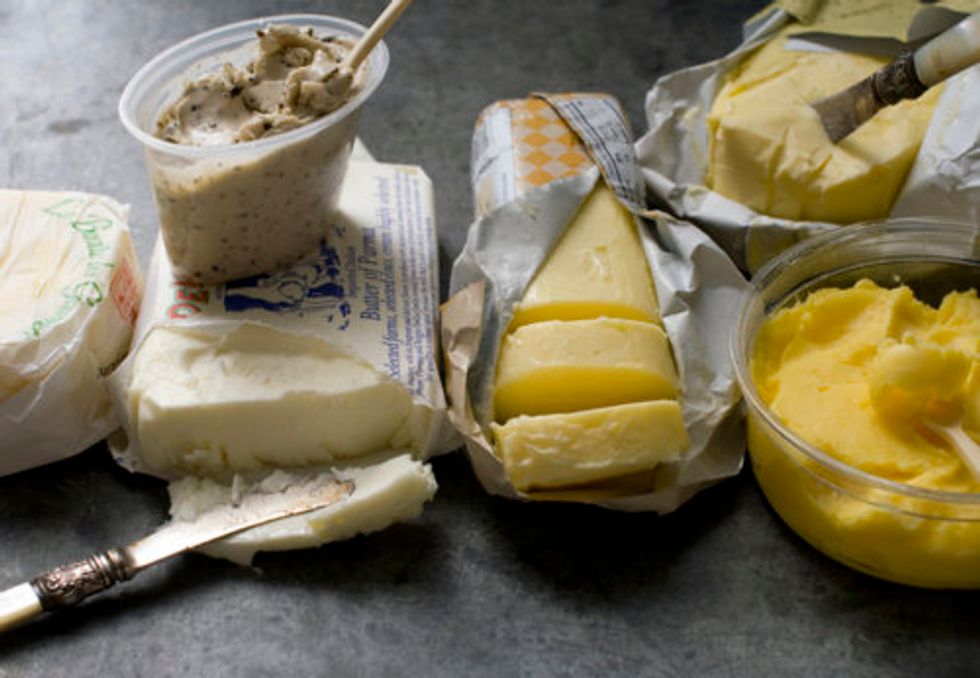 By Marissa Dwyer
In October, Denmark implemented the world's first tax that directly targets saturated fat in foods. Saturated fat, according to the World Health Organization, raises low-density lipoprotein (LDL) cholesterol levels which can increase the risk of cardio vascular disease. Saturated fat is found in foods from animal sources, such as butter and bacon. Any products which contain more than 2.3 percent saturated fat are subject to the tax. The consumer must pay an additional 16 Danish kroner (US$2.85) per kilogram (or 2.2 pounds) of any food product which has more than 2.3 percent saturated fat. For example, consumers now have to pay 37 Danish kroner (US$6.50) instead of 34 Danish kroner (US$6) for a pound of cheese.
This tax was passed overwhelmingly by the Danish Parliament this past March. But there are serious concerns by the food industry, particularly organic dairy farmers, who worry about the potential loss in revenue from the tax and believe that the government is unfairly deeming their products unhealthy. According to an article in The Washington Post, the tax could prove to be regressive, putting a heavier burden on lower-income consumers.
Furthermore, the likelihood of the tax to change dietary behavior is debatable. A study conducted by Lisa Powell and Frank Chaloupka of the University of Illinois at Chicago determined that, "Small taxes or subsidies [of unhealthy, energy-dense foods] are not likely to produce significant changes in BMI or obesity prevalence but that nontrivial pricing interventions may have some measurable effects." Based on these findings, the tax could have little or no effect on food consumption habits in Denmark if it remains at the current rate. An alternative of directly taxing the producers of these food products would not likely lead to a different outcome, since the cost would be passed on to consumers anyway via price increases.
Despite these concerns, this tax has the potential to increase awareness about personal health and ways to improve nutrition. As a recent study by Jason M. Fletcher, David E. Frisvold, and Nathan Tefft in the Journal of Policy Analysis and Management shows, taxes which aim to influence consumers' behaviors regarding what they consume will be more effective when coupled with steps taken to "inform the public about potentially negative health consequences." By coupling the tax with educational initiatives and methods, it is more likely to generate positive results.
Fletcher, Frisvold, and Tefft also explain that taxes on specific products, like soda, can have little results if the product can be easily substituted, such as with another type of sugary beverage. Therefore, this tax has the potential to improve health in Denmark because it targets an aspect of unhealthy products—levels of saturated fat—as opposed to focusing on one specific product, such as soda.
Other countries in the European Union have recently passed or are considering similar taxes on food in attempts to improve public health. Hungary also recently passed a comprehensive tax aimed at products with high sugar, fat, and salt contents, in addition to soda and alcohol. Revenue from this tax goes directly toward health care costs. France, Britain, and Sweden are also discussing the possibility of implementing similar taxes in the future.
Jesús Serafín Pérez, president of the Brussels-based industry lobby group FoodDrinkEurope, is strongly against these initiatives. Pérez argues that such taxes "only serve to dissuade investment and stifle innovation." Despite the group's disdain for these taxes, its director of communications, Lisa McCooey, makes an important point in stating that, "Consumer information and education, not tax, is the way to advance consumer understanding of healthy eating." Regardless of the efficacy of the taxes, increased understanding and education are integral steps to improving public health.
While it is still too early to tell whether or not such taxes will generate positive results, they are significant because they are generating discussion on ways to curb obesity and improve health in various countries. If this tax is complemented with educational initiatives, Denmark has the potential to influence personal decisions on consumption and the overall health of its population. Its success could influence the current debates in other countries, including the U.S., Australia and Britain.
What do you think the outcomes of this tax will be? Should it be adopted by other countries?
For more information, click here.

EcoWatch Daily Newsletter
Doctors report that only 1 in 4 children are getting the recommended 60 minutes of physical activity per day. Ronnie Kaufman / DigitalVision / Getty Images
By Dan Gray
Pediatricians are being urged to start writing "exercise prescriptions" for the children they see in their office.
A First Nations protester walks in front of a train blockade in Tyendinaga, near Belleville, Ontario, Canada on Feb. 21, 2020. LARS HAGBERG / AFP via Getty Images
An indigenous rail blockade that snarled train travel in Canada for more than two weeks came to an end Monday when police moved in to clear protesters acting in solidarity with another indigenous community in British Columbia (B.C.), which is fighting to keep a natural gas pipeline off its land.
A rainbow snake, a rare reptile spotted in a Florida county for the first time in more than 50 years, seen here on July 5, 2013.
Kevin Enge / FWC Fish and Wildlife Research Institute / Flickr
A Florida hiker recently stumbled across a slithering surprise — a rare snake that hadn't been spotted in the area for more than 50 years.
We need our government to do everything it can to stop PFAS contamination and exposure from wreaking havoc in communities across the country. LuAnn Hun /
Unsplash
By Genna Reed
The EPA announced last week that it is issuing a preliminary regulatory determination for public comment to set an enforceable drinking water standard to two of the most common and well-studied PFAS, PFOA and PFOS.
This decision is based on three criteria:
PFOA and PFOS have an adverse effect on public health
PFOA and PFOS occur in drinking water often enough and at levels of public health concern;
regulation of PFOA and PFOS is a meaningful opportunity for reducing the health risk to those served by public water systems.
Charging EVs in Stockholm: But where does a dead battery go? Ranjithsiji / Wikimedia Commons
By Kieran Cooke
Driving an electric-powered vehicle (EV) rather than one reliant on fossil fuels is a key way to tackle climate change and improve air quality — but it does leave the old batteries behind as a nasty residue.