This website uses cookies to ensure you get the best experience while browsing it. By clicking 'Got It' you're accepting these terms.
What Do You Think about a Tax on Fat?
Jan. 24, 2012 08:58AM EST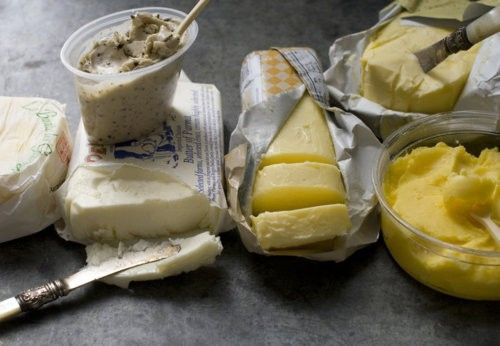 By Marissa Dwyer
In October, Denmark implemented the world's first tax that directly targets saturated fat in foods. Saturated fat, according to the World Health Organization, raises low-density lipoprotein (LDL) cholesterol levels which can increase the risk of cardio vascular disease. Saturated fat is found in foods from animal sources, such as butter and bacon. Any products which contain more than 2.3 percent saturated fat are subject to the tax. The consumer must pay an additional 16 Danish kroner (US$2.85) per kilogram (or 2.2 pounds) of any food product which has more than 2.3 percent saturated fat. For example, consumers now have to pay 37 Danish kroner (US$6.50) instead of 34 Danish kroner (US$6) for a pound of cheese.
This tax was passed overwhelmingly by the Danish Parliament this past March. But there are serious concerns by the food industry, particularly organic dairy farmers, who worry about the potential loss in revenue from the tax and believe that the government is unfairly deeming their products unhealthy. According to an article in The Washington Post, the tax could prove to be regressive, putting a heavier burden on lower-income consumers.
Furthermore, the likelihood of the tax to change dietary behavior is debatable. A study conducted by Lisa Powell and Frank Chaloupka of the University of Illinois at Chicago determined that, "Small taxes or subsidies [of unhealthy, energy-dense foods] are not likely to produce significant changes in BMI or obesity prevalence but that nontrivial pricing interventions may have some measurable effects." Based on these findings, the tax could have little or no effect on food consumption habits in Denmark if it remains at the current rate. An alternative of directly taxing the producers of these food products would not likely lead to a different outcome, since the cost would be passed on to consumers anyway via price increases.
Despite these concerns, this tax has the potential to increase awareness about personal health and ways to improve nutrition. As a recent study by Jason M. Fletcher, David E. Frisvold, and Nathan Tefft in the Journal of Policy Analysis and Management shows, taxes which aim to influence consumers' behaviors regarding what they consume will be more effective when coupled with steps taken to "inform the public about potentially negative health consequences." By coupling the tax with educational initiatives and methods, it is more likely to generate positive results.
Fletcher, Frisvold, and Tefft also explain that taxes on specific products, like soda, can have little results if the product can be easily substituted, such as with another type of sugary beverage. Therefore, this tax has the potential to improve health in Denmark because it targets an aspect of unhealthy products—levels of saturated fat—as opposed to focusing on one specific product, such as soda.
Other countries in the European Union have recently passed or are considering similar taxes on food in attempts to improve public health. Hungary also recently passed a comprehensive tax aimed at products with high sugar, fat, and salt contents, in addition to soda and alcohol. Revenue from this tax goes directly toward health care costs. France, Britain, and Sweden are also discussing the possibility of implementing similar taxes in the future.
Jesús Serafín Pérez, president of the Brussels-based industry lobby group FoodDrinkEurope, is strongly against these initiatives. Pérez argues that such taxes "only serve to dissuade investment and stifle innovation." Despite the group's disdain for these taxes, its director of communications, Lisa McCooey, makes an important point in stating that, "Consumer information and education, not tax, is the way to advance consumer understanding of healthy eating." Regardless of the efficacy of the taxes, increased understanding and education are integral steps to improving public health.
While it is still too early to tell whether or not such taxes will generate positive results, they are significant because they are generating discussion on ways to curb obesity and improve health in various countries. If this tax is complemented with educational initiatives, Denmark has the potential to influence personal decisions on consumption and the overall health of its population. Its success could influence the current debates in other countries, including the U.S., Australia and Britain.
What do you think the outcomes of this tax will be? Should it be adopted by other countries?
For more information, click here.

EcoWatch Daily Newsletter
Extreme weather events supercharged by climate change in 2012 led to nearly 1,000 more deaths, more than 20,000 additional hospitalizations, and cost the U.S. healthcare system $10 billion, a new report finds.
Giant sequoia trees at Sequoia National Park, California. lucky-photographer / iStock / Getty Images Plus
A Bay Area conservation group struck a deal to buy and to protect the world's largest remaining privately owned sequoia forest for $15.6 million. Now it needs to raise the money, according to CNN.
This aerial view shows the Ogasayama Sports Park Ecopa Stadium, one of the venues for 2019 Rugby World Cup. MARTIN BUREAU / AFP / Getty Images
The Rugby World Cup starts Friday in Japan where Pacific Island teams from Samoa, Fiji and Tonga will face off against teams from industrialized nations. However, a new report from a UK-based NGO says that when the teams gather for the opening ceremony on Friday night and listen to the theme song "World In Union," the hypocrisy of climate injustice will take center stage.
Vera_Petrunina / iStock / Getty Images Plus
By Wudan Yan
In June, New York Times journalist Andy Newman wrote an article titled, "If seeing the world helps ruin it, should we stay home?" In it, he raised the question of whether or not travel by plane, boat, or car—all of which contribute to climate change, rising sea levels, and melting glaciers—might pose a moral challenge to the responsibility that each of us has to not exacerbate the already catastrophic consequences of climate change. The premise of Newman's piece rests on his assertion that traveling "somewhere far away… is the biggest single action a private citizen can take to worsen climate change."

Volunteer caucasian woman giving grain to starving African children.
Bartosz Hadyniak / E+ / Getty Images
Food will be scarce, expensive and less nutritious," CNN warns us in its coverage of the UN's new "Climate Change and Land" report. The New York Times announces that "Climate Change Threatens the World's Food Supply."
By Adam Vaughan
Two-thirds of people in the UK think the amount people fly should be reined in to tackle climate change, polling has found.
Climate Week NYC
On Monday, Sept. 23, the Climate Group will kick off its 11th annual Climate Week NYC, a chance for governments, non-profits, businesses, communities and individuals to share possible solutions to the climate crisis while world leaders gather in the city for the UN Climate Action Summit.
By Pam Radtke Russell in New Orleans
Local TV weather forecasters have become foot soldiers in the war against climate misinformation. Over the past decade, a growing number of meteorologists and weathercasters have begun addressing the climate crisis either as part of their weather forecasts, or in separate, independent news reports to help their viewers understand what is happening and why it is important.