What City Will Run Out of Water First?
As drought threatens more areas of the world, we're hearing a steady stream of stories about cities, towns and regions whose water supply is interrupted temporarily.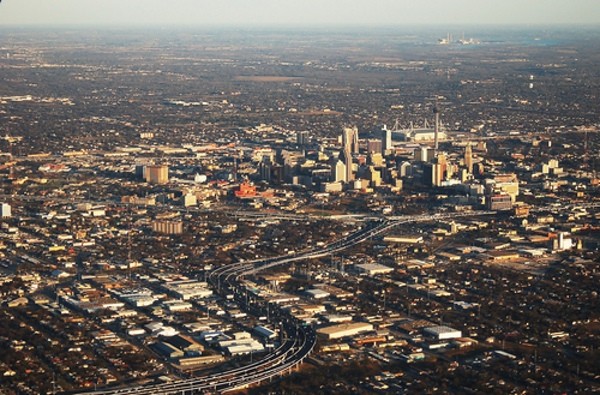 Photo credit: Shutterstock
That's led experts to investigate what major world city could be the first to run out of water entirely. And it could be a city right here in the U.S.
A study done at the Environmental Hydrology Laboratory at the University of Florida ranks the 225 American cities with populations greater than 100,000 on fresh water availability and vulnerability. And while many of the most vulnerable cities are in the southwest, as one might expect with drought conditions sweeping California and Texas, there are some surprises.
The study rates ten cities as having a high level of vulnerability. San Antonio, with a metro area population of just under 2.3 million, comes in at 225. But it's followed by Miami, Florida, at 224 the second most vulnerable city. The largest metropolitan area threatened is Los Angeles, ranked 220 in terms of water security.
The other U.S. cities bringing up the rear are Lincoln, NE (223), San Jose, CA (222), San Diego, CA (221), Salt Lake City, UT (219), Riverside/San Bernadino, CA (218), Mission Viejo, CA (217) and El Paso, TX/NM (216). Other areas with a population of more than a million that face lesser but still high threats of water depletion are New York, Chicago, Cleveland, and Tampa/St. Petersburg.
"High-ranking cities tend to be adjacent to very large lakes, such as the Great Lakes, and large rivers, such as the Mississippi or Columbia," says the study.
"For example, the highest-availability city (Duluth, MN) is the only U.S. city on Lake Superior, the third-largest freshwater body in the world (by volume). The other Great Lakes have smaller volumes and are shared by more (and larger) cities. Low-ranking cities are often found in arid regions (for example Los Angeles and Las Vegas), have low storage per capita (for example Miami and Atlanta) or share sources with multiple other cities (for example Chicago and Tallahassee)."
Worldwide, Environmental Defense Fund Business reports that experts predict Sana'a, Yemen, with a population of nearly two million, could be the first capital city to run out of water in slightly more than a decade. Other large metro areas such as Istanbul (population more than 14 million) also face threats of running out of water in that time period, just as the populations of developing countries are increasingly urbanized.
YOU MIGHT ALSO LIKE
The Executive Order That Could Save U.S. Water Supplies
World's Largest Coal Company Agrees to Stop Depleting Chinese Community's Water Supply
Bill Maher is sick of billionaires' obsession with Mars, more like "Mars-a-Lago," he said.
In a new animation produced by ATTN:, the popular talk show host of Real Time, discusses the perils of our planet, including how "climate change is killing us."
Keep reading...
Show less
Dr. Benjamin D. Santer, research scientist
A group of prominent climate scientists have written a study explicitly refuting statements made by the U.S. Environmental Protection Agency Administrator Scott Pruitt on climate data. During his Senate confirmation hearing, Pruitt claimed in a written response that satellite data shows a "leveling off" of warming over the past two decades.
Keep reading...
Show less
By David Pomerantz
The Nevada Assembly passed a bill Wednesday that would dramatically increase the growth of renewable energy in the state, but Sheldon Adelson, the casino magnate and major donor to Donald Trump, is attempting to prevent the bill from becoming law.
Keep reading...
Show less
Matt Crossick
By Yosola Olorunshola
Whether it's through fashion or protest, Vivienne Westwood is not a woman afraid of making a statement.
On May 23, she rocked up to the residence of the Archbishop of Canterbury in London with a special guest—the Grim Reaper—to issue a strong statement on the Church of England's position on fracking.
Keep reading...
Show less
By Paul Brown
The food industry and big agricultural concerns are driving climate change and at the same time threatening to undermine efforts to feed the world's growing population, according to GRAIN, an organization that supports small farmers.
Particularly singled out for criticism are the large chemical fertilizer producers that have gained access to the United Nations talks on climate change. GRAIN accuses them of behaving like the fossil fuel companies did in the 1990s, pushing false information in the hope of delaying real action on climate change.
Keep reading...
Show less
May. 24, 2017 06:55PM EST
By Sydney Robinson
President Trump has no doubt been given a long list of extravagant, elaborate gifts in his lifetime, but the gift given to him today by Pope Francis may not make it on his most favorite list.
Keep reading...
Show less
May. 24, 2017 07:17PM EST
By John Rogers
Maybe it's because I first started working on clean energy while serving in the Peace Corps he founded, or maybe it's my years of working on these issues from his home state. But I can't help thinking about the 100th anniversary of John F. Kennedy's birth, and connecting his stirring rhetoric to the energy challenges of our times.
Here's what our 35th president might have said about the challenges of energy transition and the opportunities in clean energy:
"Change is the law of life. And those who look only to the past or present are certain to miss the future."
Keep reading...
Show less
May. 24, 2017 01:47PM EST
Keep reading...
Show less


Get EcoWatch in your inbox