Whale Found Dead With Small Pieces of Plastic Garbage in Its Stomach
Feb. 25, 2016 04:56PM EST
Animals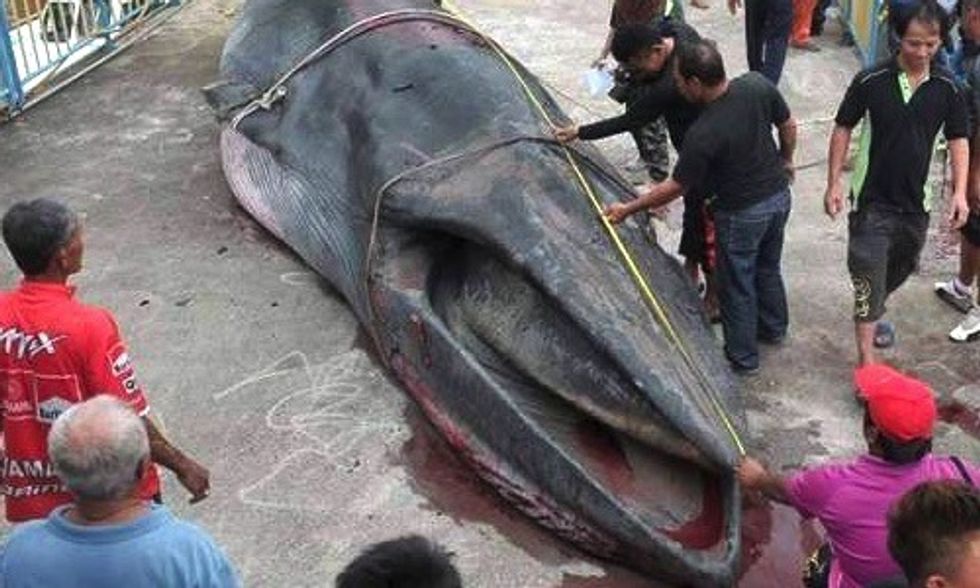 Another whale dead from plastic? A male sei whale was found beached at the mouth of the Sarang Buaya River in Johor, Malaysia earlier this month with marine debris in its stomach. According to one report, local fishermen witnessed the stranded whale shedding tears and groaning as it took its last breaths.
Endangered Sei #whale found dead with plastic, parasites and mud in internal organs. https://t.co/J2utoN0eXN https://t.co/B06KSmgcNU

— AustraliaforDolphins (@AustraliaforDolphins)1455585418.0
After a necropsy was performed on the 12 meter-long whale, Johor Fisheries Department Director Munir Mohd Nawi told The Star that small pieces of plastic garbage and parasites were found in the carcass. A large quantity of mud was also found the whale's respiratory tract and obstructed his breathing.
"There is also a high number of orange-colored nematode parasites within its intestines," Munir said. "During the post mortem, we also found its internal organs to be badly damaged."
#AWANInews Paus terdampar di Pantai Rambah berkemungkinan akibat cedera - pakar https://t.co/Dshe2iBam2 https://t.co/oVM29rWADY

— Astro AWANI (@Astro AWANI)1455492212.0
Further tests including a tissue examination will be conducted to see if the whale had any other diseases.
"We want to know its exact cause of death as the sei whale is an endangered species under the International Union for Conservation of Nature," Munir said.
The baleen whale was first spotted two days earlier at the waters of the coastal district of Pontian. Local rescuers were able to tow the 15-tonne mammal into deeper waters but he later surfaced 90 nautical miles away in the shallow waters of the Sungai Sarang River.
A Sei whale that stranded in Malaysia and was rescued and returned to deep water did not survive.....its body was... https://t.co/w2U01CiqsJ

— Daniella Rooslund (@Daniella Rooslund)1455181401.0
The sight of the dying whale startled local residents. "Before its death, I was stunned by its loud groans and tears, as if it knew it would die soon," eye-witness Mohd Johari Hamdan told The Malaysia Insider.
The World Wildlife Fund said there are approximately 12,000 sei whales left on the planet. The sei whale is a major target for commercial whaling and 50 of these creatures are killed annually by Japanese whalers in the North Pacific in Japan's "scientific whaling" program.
Sei whales are also threatened by global warming, pollution, ship strikes and entanglement in fishing gear, the WWF said.
#Malaysia fisherman stunned by "groans & tears" of dying sei whale https://t.co/8Yr14VcCPz @insider_latest #whales https://t.co/lXzf97N2Z9

— Blue Planet Society (@Blue Planet Society)1455207132.0
Like any other baleen whale, the sei whale skims surface waters for plankton, tiny marine crustaceans and krill.
Last August, EcoWatch reported on a Southern right baleen whale that was found struggling with a plastic bag and fishing line caught in its mouth. Luckily, local fishermen were able to remove the trash from the whale and it swam away.
Not much is known about the impact of plastic trash on filter-feeding or baleen whales, but the microplastics as well as the toxins released from plastic debris could potentially cause great danger, according to the Inquirer.
"The impacts of plastic pollution on these animals isn't well understood but we do know, from examples like this, that these animals are interacting with our plastic trash," marine biologist Tegan A. L. Mortimer told EcoWatch.
Yogurt Cups, Food Wrappers and a Shoe Found in Stomach of Dead Orca https://t.co/utv12HdNhH @ShaunFrankson @HealTheBay

— EcoWatch (@EcoWatch)1451082311.0
With 8 million tons of plastics leaking into our oceans every year, a report published in January said there will be more plastic than fish in the ocean by 2050.
YOU MIGHT ALSO LIKE
Massive Starfish Die-Off Linked to Warming Oceans
Humpback Whale Entangled in Illegal Gillnet Saved by Sea Shepherd Crew
Horrible! This Guy Drags Shark From Sea Just to Pose for Photos
This City Just Banned Single Use Coffee Pods: Will Others Follow?
EcoWatch Daily Newsletter