Whale Choking on Plastic Seeks Help From Fishermen
Aug. 14, 2015 10:09AM EST
Animals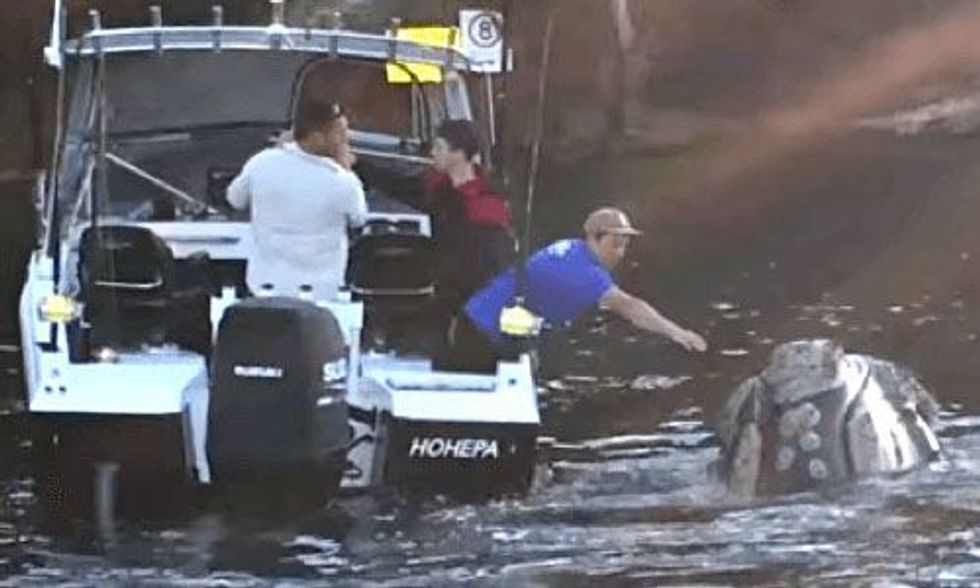 Did you know that whales can have tongues as heavy as an elephant and a heart the size of a car, but their throats are incredibly tiny? For instance, blue whales—the largest animals on Earth—have throats about the size of a beach ball so they can dine on krill and zooplankton.
So it's no wonder that this big, beautiful creature, found by a group of fishermen in Middle Harbour, Sydney, was struggling with a plastic bag and fishing line caught in its mouth. One of the men, Ivan Iskenderian, was able to lean over his boat and remove the waste from the whale, the Daily Telegraph reported.
"It was right on his lip ... he seemed like he wanted it off," Iskenderian told the publication. He added that the whale ­appeared to show its appreciation by slapping its fin on the water.
Ron Kovacs captured video of the encounter and also attempted to relieve the whale. "He had a big scar on his back, and some fishing line and two plastic bags on his head," he said, according to the Independent.
"He [kept] popping his head up so you could reach out and remove the garbage. He tried on my boat bit [it was] a bit harder as we are a bit higher—I made one grab for the bag but missed," he said. "He later came up to a trailer boat and presented his head as they removed the bag and [then] the fishing line. It was as if he wanted them to take it off."
This particular whale appears to be the endangered Southern right whale, according to marine biologist Tegan A. L. Mortimer. She told EcoWatch that these whales are found all around the temperate and sub-tropical Southern Hemisphere and related to more endangered species, the North Pacific right whale and the North Atlantic right whale.
Mortimer, who is researching the impact of plastic pollution on mysticete whales including humpback within Massachusetts Bay, said that this story reminds us all that these creatures live in our backyards and are impacted by human activities.
"Globally, the leading threats to whales, dolphins and porpoises are entanglement in fishing gear and strikes from vessels," she said. "The impacts of plastic pollution on these animals isn't well understood but we do know, from examples like this, that these animals are interacting with our plastic trash. Plastic in the ocean is something that everyone can have a positive impact on."
A recent study found that 8 million metric tons of plastic waste is dumped into the world's oceans every year, or as Mortimer puts it: "That's five shopping bags filled with plastic trash for every foot of coastline in the world!"
This is why I hate the overuse of carrier bags! Fishermen removes plasticbag from whale who approached them for help http://t.co/tSd3jyESad

— Sarah Robertson (@sarahcaseupton) August 13, 2015
It's abundantly clear that we all must act on plastic waste. "Just by reducing your personal plastic footprint through using reusable products makes a big impact in the flow of plastic into the ocean," Mortimer said.
Mortimer also advised that if you ever find yourself in a situation like this, in many cases, assisting distressed marine animals can be very dangerous. Most areas have trained responders that people should call if they come across a marine animal in trouble, she said.
YOU MIGHT ALSO LIKE
Massive Mine Waste Spill Reaches New Mexico
Starbucks, Destroyer of the Seas
David Suzuki: Cecil the Lion's Killing Shines Spotlight on Barbaric Trophy Hunting
EcoWatch Daily Newsletter