This website uses cookies to ensure you get the best experience while browsing it. By clicking 'Got It' you're accepting these terms.
Weed Eating Goats Used to Reduce Risk of California Wildfires
Sep. 06, 2013 03:38PM EST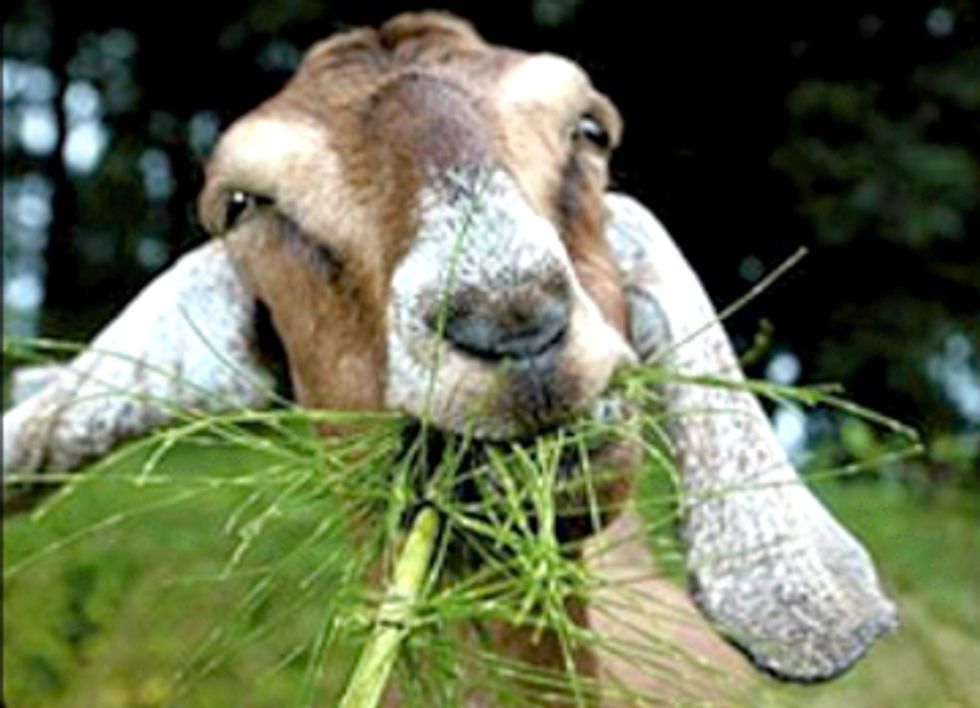 Photo credit: rent-a-ruminant LLC
The utility for northern California, Pacific Gas and Electric (PG&E), has enlisted the help of more than 900 goats to clear dried brush on 100 acres of its property. The goats will be used to clear poison oak and brush that is considered a fire hazard. Goats are being used across the country as an effective least-toxic solution for weed management.
The pilot project started this past August and will run through mid to late September. The project is overseen by Flying Mule Farm owner Dan Macon, who has been contracting goats for land clearance for close to 10 years. The goats for the project are coming from Macon's farm as well as Star Creek Ranch, a goat and sheep operation in the Central Valley.
Goats graze the area in fenced in five to 10-acre sections and have already proven to be incredibly effective by reducing one area with two foot high grass to less than an inch high in just 24 hours. The goats were brought in specifically to reduce dry, flammable vegetation.
"We don't want fires being sparked and goats are the perfect opportunity," said Lynne Tomachoff of the California Department of Forestry and Fire Protection in a report by Fox40.
Four years ago a fire in Auburn, CA, burned 340 acres, destroying 66 homes and three commercial buildings. Residents were worried that another fire was possible on the hillside being grazed by goats, as a similar hillside fed the earlier fire.
Goats help reduce the risk of fire by grazing on dead and dry vegetation that easily burns. Goats also help reduce the risk of fire by replacing mechanical methods of brush removal like mowing. Though mowing is an effective form of brush control in most climates, mowers and other mechanical methods can create sparks that can ignite grass fires in extremely dry areas.
Residents have responded positively to the use of goats as a fire control. Katy Smotherman, a local resident, was quoted by Fox40 saying, "I looked up and saw the goats. I was ecstatic. Like the old saying goes, an ounce of prevention is worth a pound of cure."
Beyond Pesticides has long been an advocate for the use of goats and grazing animals as a least-toxic solution for weed management. Goats are often more efficient at eradicating weeds, and are more environmentally sustainable than using harmful pesticides and chemicals. Goats consume everything from shrubs and weeds to thistles and poisonous plants. They can graze up hills and down gullies that are too steep for mowers or machines. As they eat, the goats ensure that weeds do not go to seed. By snapping off flower heads and eating off all the leaves, weeds cannot photosynthesize sunlight to build a root system.
Goats also boost soil health in two important ways: 1. fertilizing soils with their nutrient-rich feces and urine, and 2. tilling hard drought-stricken soils with their hooves.
The use of goats as a least-toxic solution for weed management has caught on all across the country. Recently, goats were used to control poison ivy, ground cover, vines and other invasive weeds at the congressional Cemetery in Washington, DC. Goats were used in Durango, CO, to manage weeds, restore soil, and improve land quality on a 65-acre plot that was used for oil exploration. Goats have even been used at airports in Chicago, Atlanta and San Francisco where overgrown property is difficult for machinery and pesticide applicators to reach because of hills and standing water.
Visit EcoWatch's BIODIVERSITY page for more related news on this topic.
——–
EcoWatch Daily Newsletter
A new study shows that half of all Arctic warming and corresponding sea-loss during the late 20th century was caused by ozone-depleting substances. Here, icebergs discharged from Greenland's Jakobshavn Glacier. Kevin Krajick / Earth Institute /
EurekAlert!
The world awakened to the hole in the ozone layer in 1985, which scientists attributed it to ozone depleting substances. Two years later, in Montreal, the world agreed to ban the halogen compounds causing the massive hole over Antarctica. Research now shows that those chemicals didn't just cut a hole in the ozone layer, they also warmed up the Arctic.
Diane Wilson holds up a bag full of nurdles she collected from one of Formosa's outfall areas on Jan. 15. Julie Dermansky / DeSmogBlog
On the afternoon of Jan. 15, activist Diane Wilson kicked off a San Antonio Estuary Waterkeeper meeting on the side of the road across from a Formosa plastics manufacturing plant in Point Comfort, Texas.
After Wilson and the waterkeeper successfully sued Formosa, the company agreed to no longer release even one of the tiny plastic pellets known as nurdles into the region's waterways. The group of volunteers had assembled that day to check whether the plant was still discharging these raw materials of plastics manufacturing.
Malaysian Environment Minister Yeo Bee Yin (front 2nd L) and officials inspect a container containing plastic waste shipment on Jan. 20, 2020 before sending back to the countries of origin. AFP via Getty Images
The Southeast Asian country Malaysia has sent 150 shipping containers packed with plastic waste back to 13 wealthy countries, putting the world on notice that it will not be the world's garbage dump, as CNN reported. The countries receiving their trash back include the United States, the United Kingdom, France and Canada.
Trump leaves after delivering a speech at the Congress Centre during the World Economic Forum annual meeting in Davos on Jan. 21, 2020. JIM WATSON / AFP via Getty Images