Websites Black Out across Canada Today in Defense of Nature and Democracy
Jun. 04, 2012 09:39AM EST
Energy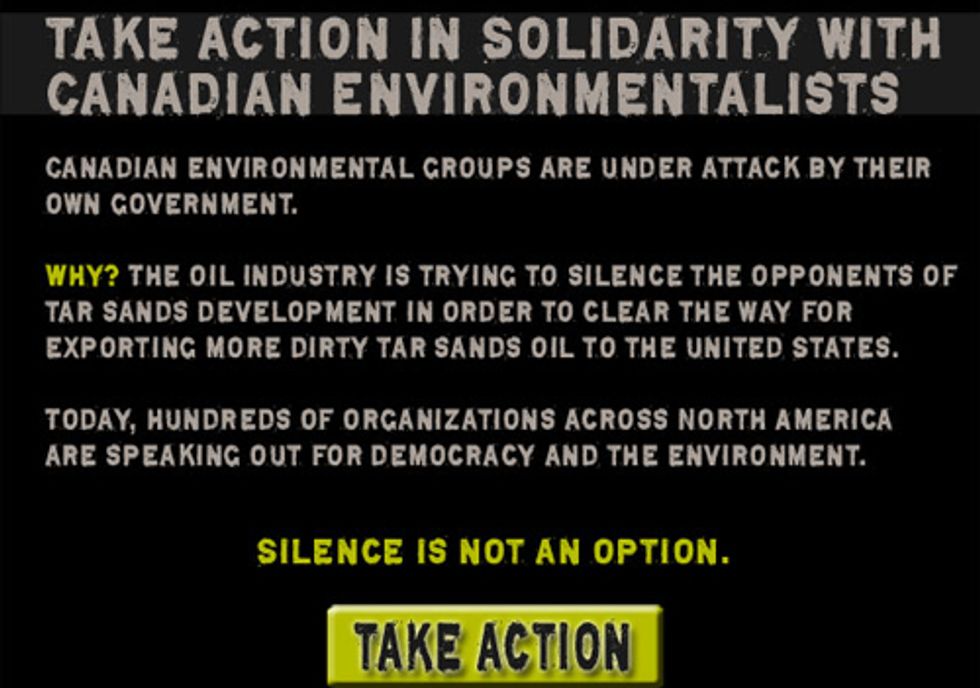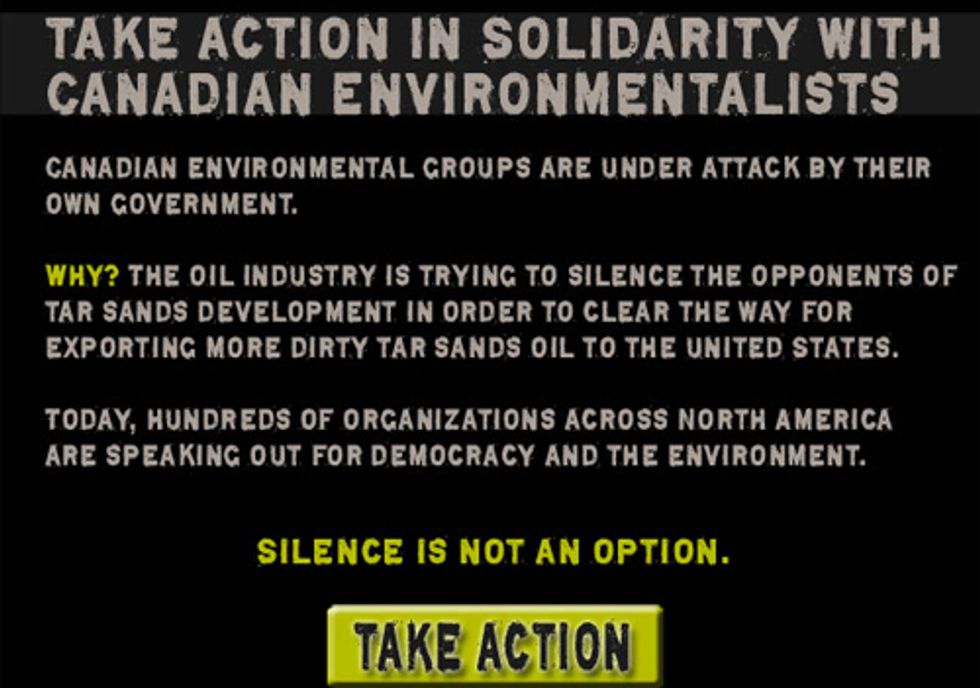 Today diverse groups from around the world will black out their websites in a symbolic protest of Canadian Prime Minister Stephen Harper's Conservative government's attack on nature and democracy.
The attacks come in a sweeping budget legislation that, to prevent debate, touches on everything from environmental rules to immigration; pensions to student groups. Its unprecedented scope has been roundly condemned by voices from the left and right as fundamentally undemocratic. Parliamentary debate has also been shortened by Harper.
A big reason why there's such a rush is oil interests at play. Working in close coordination with oil company lobbyists and industry front groups, the Harper government is attempting to silence public interest groups—all the while working to rollback longstanding Canadian environmental protections, slash environmental enforcement and eliminate independent oversight of the environmental decision-making process.
The Canadian government is also targeting civil society groups by allocating millions for onerous new tax audits. The target is clearly environmental organizations opposed the government's plans to expand tar sands oil extraction operations. Sitting members of Harper's Cabinet have called them "radicals," accused them of "money laundering" and—ironically, given most tar sands oil companies are not Canadian-owned—being puppets of rich foreigners, especially Americans.
Sierra Club, Natural Resources Defense Council (NRDC) and 350.org today will feature Black Out Speak Out actions on their websites, joining groups from across Canada, the First Nations and the European Union.
"Canada—once an example for other countries on this planet—is in danger of letting tar sands greed undermine its democratic traditions," said Bill McKibben, 350.org. "We're blacking out our website for a day, because we want very badly for the Harper government to see the light: by deciding to keep  carbon safe in the ground, it can set a shining example for the rest of the Earth."
"This attack on democracy and nature starts in Canada, but the multi-national oil industry is pushing tar sands to markets in the United States and abroad, attacking any clean energy policies in their way," said Susan Casey-Lefkowitz, NRDC international program director. "And now an emboldened oil industry is pushing for Congressional approval of the Keystone XL tar sands pipeline without further public input in the unrelated transportation bill. This is a critical time to join our Canadian friends in protesting this attempt to silence debate about our energy future and the need to fight climate change."
"Let's hope Harper gets the message that suppressing civil society's voice in the interest of the oil industry is dangerously radical," said Michael Marx, Sierra Club Beyond Oil campaign director. "It's one thing to disagree with environmental groups, we're used to that. But it's quite another to try and silence your opposition by attacking civil society's essential freedoms. Harper has crossed a very dangerous line."
Visit EcoWatch's KEYSTONE XL page for more related news on this topic.
EcoWatch Daily Newsletter