This website uses cookies to ensure you get the best experience while browsing it. By clicking 'Got It' you're accepting these terms.
Web Tool Allows Public Tracking of Oil Spills
Nov. 17, 2011 09:59AM EST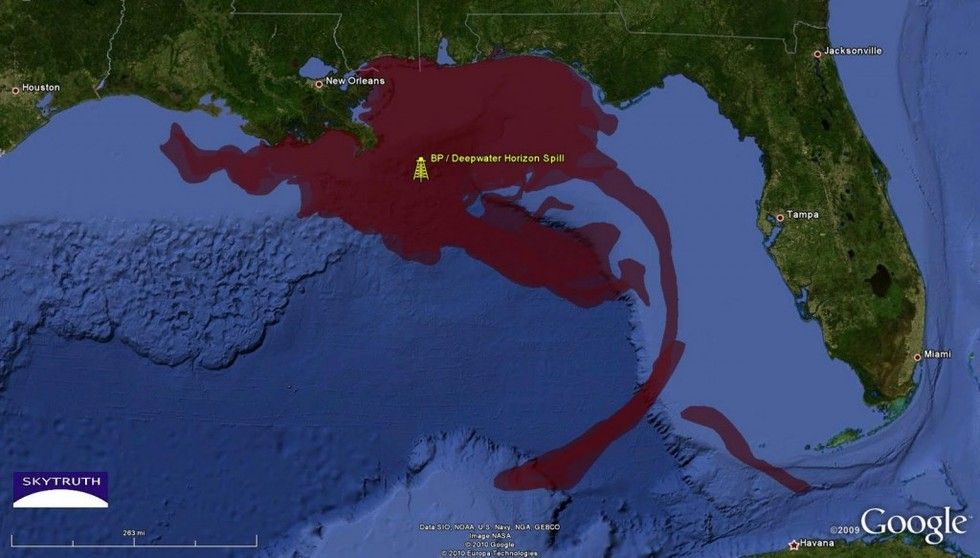 An oil spill that began Nov. 8—estimated to have released as much as 157,000 gallons per day into Brazil's Campos Basin—is the latest evidence of the dangers of offshore drilling.
This accident is just one of many oil spills that occur each day, and often go unnoticed. Yet, they do extraordinary damage to marine ecosystems. Oceana, in partnership with SkyTruth, has posted a Web-based mapping tool to help inform policymakers and the public about oil spills in U.S. waters. To access this new tool, click here.
SkyTruth automatically compiles and publishes oil spill reports from the National Response Center (NRC), which is data self-reported by the oil industry, the public and the National Oceanic and Atmospheric Administration's incident news reports. Because most of the NRC spill reports are filed by the polluters themselves, the number and size of oil spills occurring each day may far exceed even those depicted on the map.
The map highlights spill locations, using satellite imagery to provide as many details as possible. For example, on today's spill map, we can view the location of a well control line leak approximately 4,000 feet below the Gulf of Mexico surface, on a Chevron well. Like most, this spill has received little attention. From this map, viewers may link to a SkyTruth analysis to learn more about each individual spill.
"This new Web tool will help people visualize the magnitude of the oil industry's damage to our natural environment and our economy," said Oceana senior campaign director Jacqueline Savitz. "These spills are often swept under the rug, but the public and policymakers have a right to know how much damage is being done to our oceans. Our work with SkyTruth will help to make that possible," added Savitz.
"We built SkyTruth Alerts in the wake of the BP disaster, so we could keep track of spills that happen in the Gulf every day. Now we have made it available on the Web so anyone can know about these incidents as soon as we do," said John Amos, founder and president of SkyTruth. "We're thrilled to be working with Oceana, one of the world's leading conservation organizations, to share this tool with everyone who cares about our oceans."
For more information, click here.
—————
Oceana is the largest international advocacy group working solely to protect the world's oceans. Oceana wins policy victories for the oceans using science-based campaigns. Since 2001, we have protected over 1.2 million square miles of ocean and innumerable sea turtles, sharks, dolphins and other sea creatures. More than 500,000 supporters have already joined Oceana. Global in scope, Oceana has offices in North, South and Central America and Europe. To learn more, visit www.oceana.org
EcoWatch Daily Newsletter
Last week, the Peruvian Palm Oil Producers' Association (JUNPALMA) promised to enter into an agreement for sustainable and deforestation-free palm oil production. The promise was secured by the U.S. based National Wildlife Federation (NWF) in collaboration with the local government, growers and the independent conservation organization Sociedad Peruana de Ecodesarrollo.
Pixabay
Leaked documents show that Jair Bolsonaro's government intends to use the Brazilian president's hate speech to isolate minorities living in the Amazon region. The PowerPoint slides, which democraciaAbierta has seen, also reveal plans to implement predatory projects that could have a devastating environmental impact.
XL CATLIN SEAVIEW SURVEY / THE OCEAN AGENCY
Hope may be on the horizon for the world's depleted coral reefs thanks to scientists who successfully reproduced endangered corals in a laboratory setting for the first time, according to Reuters.
Last week we received positive news on the border wall's imminent construction in an Arizona wildlife refuge. The Trump administration delayed construction of the wall through about 60 miles of federal wildlife preserves.
PhotoAlto / Frederic Cirou / Getty Images
Drinking water treated with fluoride during pregnancy may lead to lower IQs in children, a controversial new study has found.
National Institude of Allergy and Infectious Disease
A Greenpeace rally calls for a presidential campaign climate debate on June 12 in Washington, DC. Sarah Silbiger / Getty Images