This website uses cookies to ensure you get the best experience while browsing it. By clicking 'Got It' you're accepting these terms.
Weather Disasters Caused Nearly 2 Million Deaths, Cost $2.4 Trillion Since 1970
Jul. 17, 2014 09:56AM EST
Climate
A new report from the World Meteorological Organization (WMO) details some of the worst historical results of climate change—death and trillions in economic losses.
According to the WMO's report, 8,835 climate- and weather-related events took place from 1970 to 2012, ranging from droughts and floods to cyclones and heatwaves. Collectively, they caused 1.94 million deaths, with their aftermaths costing about $2.4 trillion.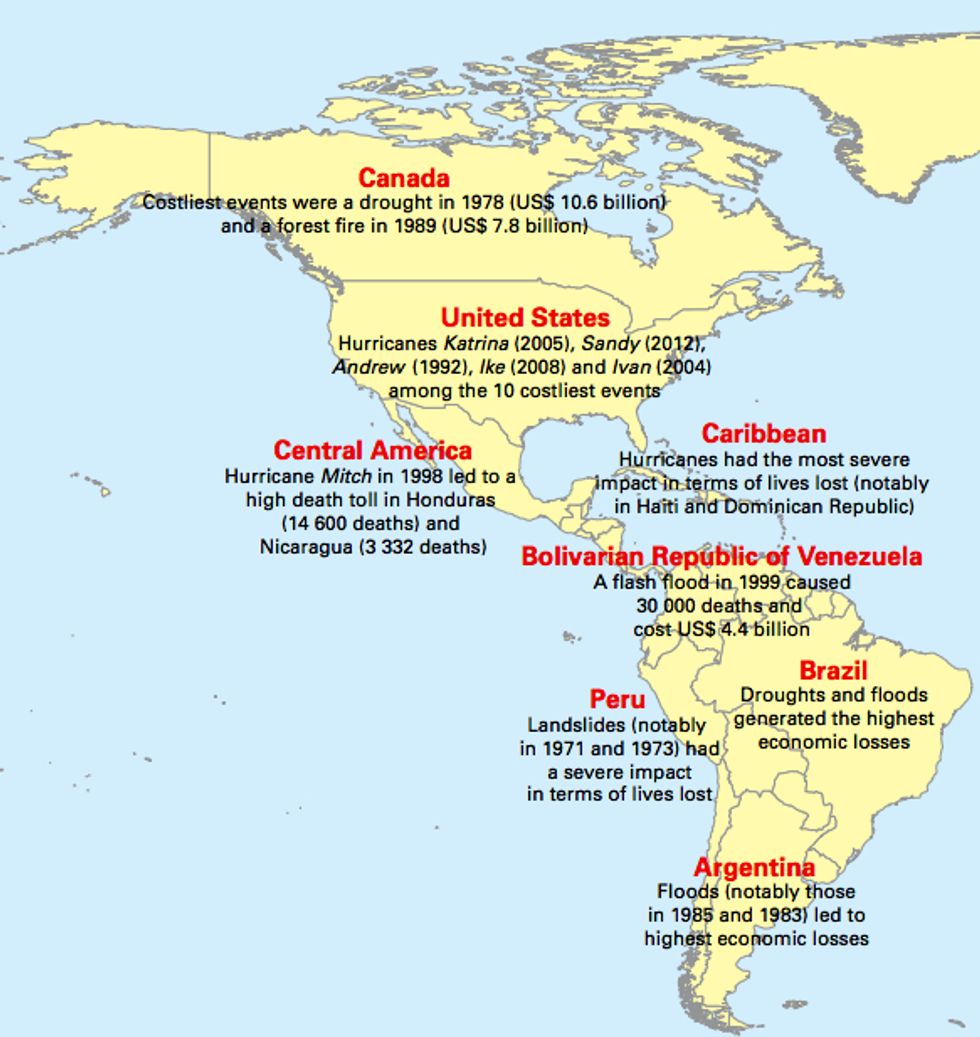 The report contains a series of maps that break down deaths and dollars spent on recovery by continent.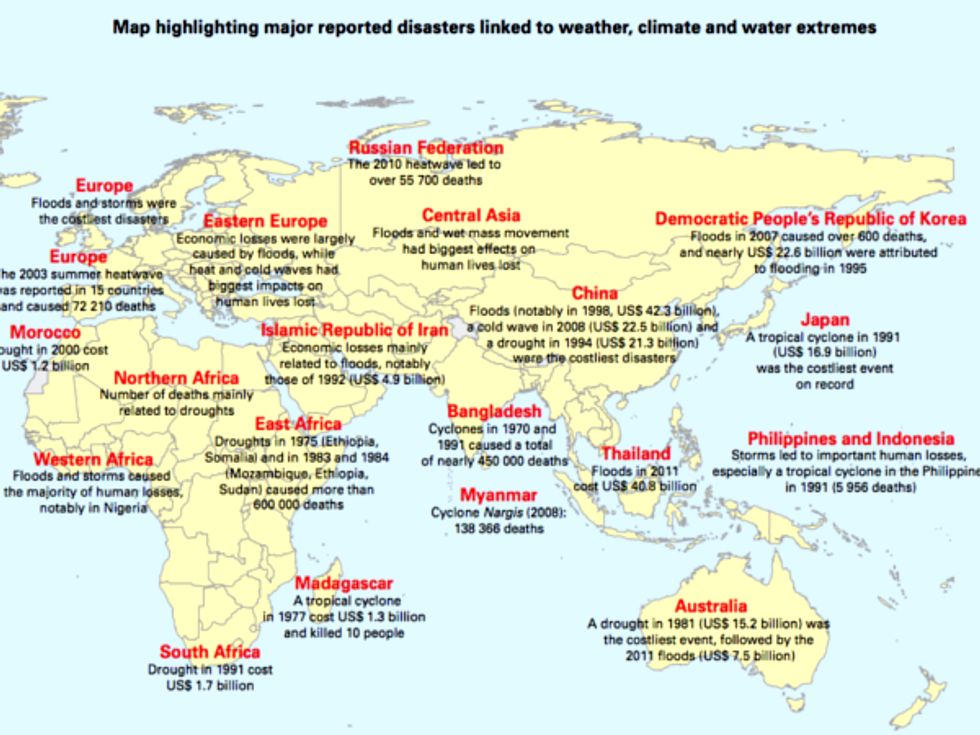 "Both industrialized and non-industrialized countries are bearing the burden of repeated floods, droughts, temperature extremes and storms," reads the report's foreword, co-written by WMO Secretary-General Michel Jarraud and Debarati Guha Sapir, director of the Center for Research on the Epidemiology of Disasters (CRED) and a professor at the University of Louvain School of Public Health.
"The escalating impact of disasters is due not only to their increasing frequency and severity, but also to the growing vulnerability of human societies, especially those surviving on the margins of development."
In addition to encouraging policies that address climate change, Sapir and Jarraud also hope the report encourages stronger efforts to collect and report extreme weather-related data. The current lack of systematic reporting is why they caution that data could be even worse than their findings.
"Many countries do not systematically record disaster losses and damage, or if they do, there's not a standardized way of doing it," Jochen Luther, an analyst with WMO's disaster risk reduction program, told Climate Central.
Floods, droughts, extreme temperatures, storms, wildfires and landslides are the report's primary focus, and each has increased across the globe since 1970. Luther said plenty of factors have figured into the increases. No one prevailing factor explains extreme weather on all continents, but floods seem to be most common, according to the report.
"Everywhere, there is a lot of development going on and population growth going on in hazard-prone areas, especially coastal areas that are very much affected by sea level rise and in addition to that, storm surges, tropical cyclones, extratropical storms," Luther said.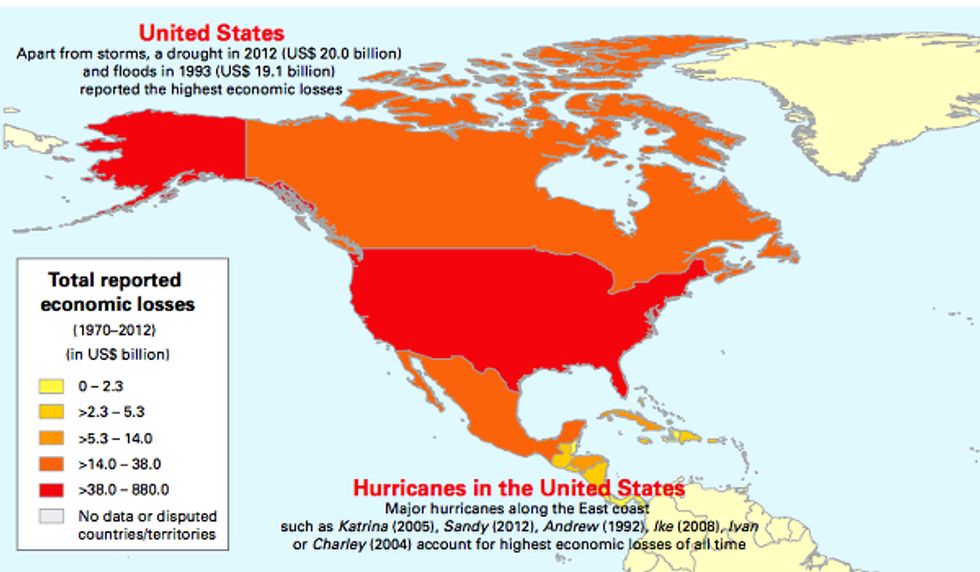 While Luther lauded meteorological services introduced in the 11 years since heat waves in Europe led to the highest proportion of deaths, he said the WMO hopes to collaborate with national meteorological services around the world to create seamless climate and weather forecasts.
The WMO and its 191 members have developed several projects to collect the data found in the report. They include the WMO Integrated Global Observing and Information systems. The World Meteorological Centers and Regional Specialized Meteorological Centers are among the entities that provide weather and climate analyses, warnings, forecasts and other information services through WMO systems every day.
"The Atlas of Mortality and Economic Losses from Weather, Climate and Water Extremes (1970–2012) is a first step by the new partnership of WMO and CRED to engage their respective national and global networks in improving national disaster loss and damage databases by linking them to the hazard information collected by WMO and its members," according to the report.
EcoWatch Daily Newsletter
California Gov. Gavin Newsom speaking with attendees at the 2019 California Democratic Party State Convention at the George R. Moscone Convention Center in San Francisco.
Gage Skidmore
/ Flickr /
CC BY-SA 2.0
California Gov. Gavin Newsom imposed new restrictions on oil exploration in his state yesterday by putting a moratorium on hundreds hydraulic fracturing permits until the projects are reviewed by independent scientists, as the AP reported.
The endangered Houston toad. Courtesy of U.S. Fish and Wildlife Service
While the planet continues to heat up, almost every single one of the 459 species listed as endangered in the U.S. will struggle as the climate crisis intensifies, according to new research published in the journal Nature Climate Change.
"This singular scientific achievement was accomplished at Heliogen's commercial facility in Lancaster, California."
Heliogen
A startup backed by Bill Gates unveiled a breakthrough solar technology Tuesday that could free heavy industry from fossil fuels.
Rhodiola rosea is an adaptogenic herb that can help with chronic fatigue and stress-related burnout. Tero Laakso / Flickr
By Gavin Van De Walle, MS, RD
While everyone has specific life stressors, factors related to job pressure, money, health, and relationships tend to be the most common.
Stress can be acute or chronic and lead to fatigue, headaches, upset stomach, nervousness, and irritability or anger.
A video shows a woman rescuing a koala from Australia's wildfires.
VOA News / YouTube screenshot
More than 350 koalas may have died in the wildfires raging near the Australian town of Port Macquarie in New South Wales, but one got a chance at survival after a woman risked her life to carry him to safety.