This website uses cookies to ensure you get the best experience while browsing it. By clicking 'Got It' you're accepting these terms.
We Will Not Be Silent: Beyond Extreme Energy Continues Actions Against FERC
Apr. 10, 2015 08:20AM EST
Climate
Dr. Martin Luther King Jr. once said: "Our lives begin to end the day we become silent about things that matter."
With climate change, we are at a moment when as humanity we cannot remain silent. We must hold those accountable who are causing and furthering our climate crisis.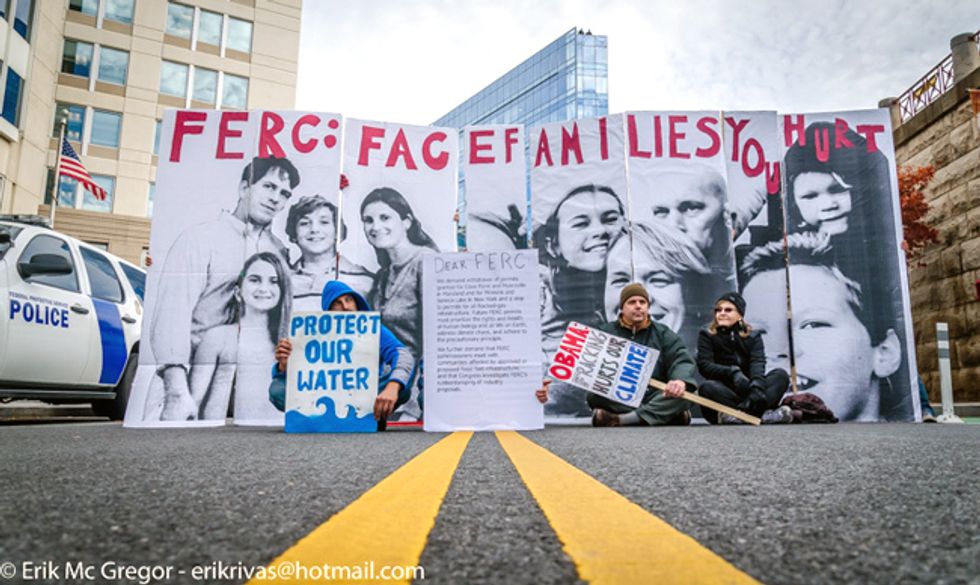 This is why we urge support of and participation in the nonviolent demonstrations and other events May 21-29 in Washington, DC, organized by Beyond Extreme Energy, focused on the Federal Energy Regulatory Commission (FERC).
Why FERC? Robert F. Kennedy, Jr. has called them "a rogue agency, a captive agency." FERC is the federal agency which, among other duties, has to approve proposed interstate natural gas pipelines, compressor stations, export terminals and other gas infrastructure. And approve is what they do; they are a rubber stamp for the fracking industry.
At this time of crisis, we need a Federal Energy Regulatory Commission that does what is right, not a weak body whose funding comes from fees paid by the gas industry and other fossil fuel companies they "regulate." As a result, they function as if they were being paid by the fossil fuel industry.
We need people like you and me to take action to stop disastrous fossil fuel expansion--more fracking, more gas pipelines, export terminals and other extreme energy projects. That is why we support Beyond Extreme Energy's (BXE) mass action at FERC, where BXE will promote a pathway for FERC to transform into a leading institution that can support the shift from fossil fuels—oil, coal and gas—to wind, solar and other renewables.
Last November Beyond Extreme Energy organized nonviolent blockades of the entrances to FERC and disrupted its functioning for five straight days. And on the fifth day, for several hours, BXE was able to keep hundreds of FERC employees out of the building and on the street outside. Pennsylvanians harmed by fracking told their stories over a bullhorn to the hushed and listening crowd. The actions then, and the actions since, are having an impact on FERC and are increasing public awareness.
FERC must be stopped from being a part of the problem, which is what nonviolent action is about, and we must transform FERC and other government agencies into drivers of the solutions we need to stop climate change. Stopping FERC is an important front in the struggle to end corporate control of our government.
We urge you to go to Beyond Extreme Energy, to learn more. And please join us or support the actions in Washington, DC for some of all of the time from May 21-29.
Power to the people!
Signers:
Rev. Lennox Yearwood, Jr.
Tim DeChristopher
Josh Fox
Wenonah Hauter
Naomi Klein
Ed Begley, Jr.
George Lakey
Debra Winger
Jennifer Krill
Mark Ruffalo
Cherri Foytlin
Annie Leonard
Matt Leonard
Jill Stein
Ed Asner
YOU MIGHT ALSO LIKE
19 Students Arrested by Yale Police at Fossil Fuel Divestment Sit-In
First Florida, Now Wisconsin, Bans the Words 'Climate Change'
One Simple Thing You Can Do Today to Stop Global Climate Change
EcoWatch Daily Newsletter
Pexels
By Tim Lydon
Climate-related disasters are on the rise, and carbon emissions are soaring. Parents today face the unprecedented challenge of raising children somehow prepared for a planetary emergency that may last their lifetimes. Few guidebooks are on the shelves for this one, yet, but experts do have advice. And in a bit of happy news, it includes strategies already widely recognized as good for kids.
Pexels
Be it Nina Simone and James Brown for civil rights, Joni Mitchell and Marvin Gaye for the environment, or Jackson Browne and Buffalo Springfield for nuclear disarmament, musicians have long helped push social movements into the limelight.
Yulia Lisitsa / iStock / Getty Images Plus
Collagen is the most abundant protein in your body.
It is the major component of connective tissues that make up several body parts, including tendons, ligaments, skin, and muscles.
Greenpeace activists unfurl banners after building a wood and card 'oil pipeline' outside the Canadian High Commission, Canada House, to protest against the Trudeau government's plans to build an oil pipeline in British Colombia on April 18, 2018 in London. Chris J Ratcliffe / Getty Images
By Jessica Corbett
In an open letter to Canadian Prime Minister Justin Trudeau and Deputy Prime Minister Chrystia Freeland, 42 Nobel laureates implored the federal government to "act with the moral clarity required" to tackle the global climate crisis and stop Teck Resources' proposed Frontier tar sands mine.
Mapping Urban Heat through Portland State University /
video
Concrete and asphalt absorb the sun's energy. So when a heat wave strikes, city neighborhoods with few trees and lots of black pavement can get hotter than other areas — a lot hotter.