This website uses cookies to ensure you get the best experience while browsing it. By clicking 'Got It' you're accepting these terms.
We Know Apple Cider Vinegar Has Many Health Benefits, But Can It Help You Lose Weight?
Jun. 08, 2016 01:12PM EST
Food
Apple cider vinegar has been used as a health tonic for thousands of years. Research shows it has many health benefits, such as lowering blood sugar levels.
But can adding apple cider vinegar to your diet also help you lose weight?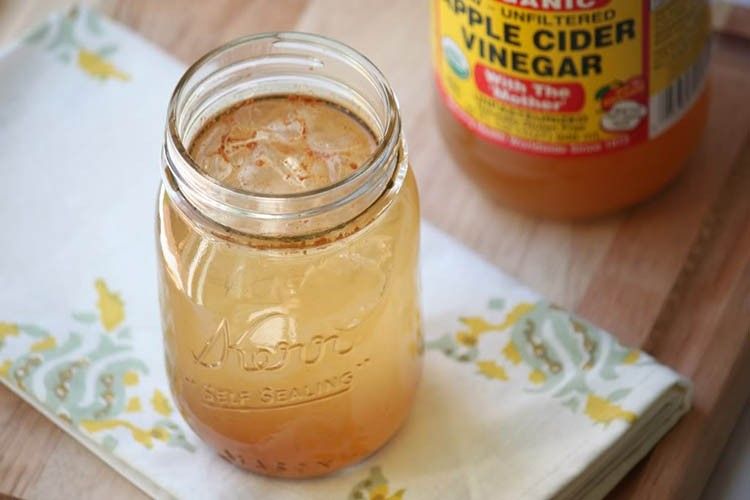 This article explores the research about apple cider vinegar and weight loss. It also provides tips on how to incorporate apple cider vinegar into your diet.
What is Apple Cider Vinegar?
Apple cider vinegar is made in a two-step fermentation process (1).
First, apples are cut or crushed and combined with yeast to convert their sugar into alcohol. Second, bacteria are added to ferment the alcohol into acetic acid.
Traditional apple cider vinegar production typically takes about one month, but some manufacturers dramatically speed up the process so that it takes only a day.
Acetic acid is the main active component of apple cider vinegar.
Also known as ethanoic acid, it is an organic compound with a sour taste and strong odor. The term acetic comes from acetum, the Latin word for vinegar.
About 5-6 percent of apple cider vinegar consists of acetic acid. It also contains water and trace amounts of other acids, such as malic acid (2).
One tablespoon (15 ml) contains about three calories and virtually no carbs.
Bottom Line: Apple cider vinegar is made in a two-step fermentation process. Acetic acid is the main active component.
Acetic Acid Has Various Benefits for Fat Loss
Acetic acid is a short-chain fatty acid that dissolves into acetate and hydrogen in the body.
Some animal research suggests that the acetic acid in apple cider vinegar may lead to weight loss in several ways:
Lowers blood sugar levels: In one rat study, acetic acid improved the ability of the liver and muscles to take up sugar from the blood (3).
Improves metabolism: Another study in rats exposed to acetic acid showed an increase in the enzyme AMPK, which increases fat burning and decreases fat and sugar production in the liver (4).
Reduces fat storage: Treating obese diabetic rats with acetic acid or acetate protected them from obesity and increased the expression of genes that reduced belly fat storage and liver fat (5, 6).
Burns fat: A study in mice fed a high-fat diet found a significant increase in the genes responsible for fat burning, which led to less body fat buildup (7).
Bottom Line: Animal studies have found that acetic acid may promote fat loss in several ways. It can reduce fat storage, increase fat burning, improve blood sugar and insulin response, as well as reduce appetite.
Apple Cider Vinegar Increases Fullness and Reduces Calorie Intake
Apple cider vinegar may promote fullness, which can decrease calorie intake (9, 10).
In one small study of 11 people, those who took vinegar with a high-carb meal had a 55 percent lower blood sugar response one hour after eating.
They also ended up consuming 200–275 fewer calories for the rest of the day (10).
In addition to the appetite-suppressing effects of acetic acid, vinegar has also been shown to slow down the rate at which food leaves your stomach.
In another small study, taking apple cider vinegar with a starchy meal significantly slowed stomach emptying. This led to increased feelings of fullness and lowered blood sugar and insulin levels (11).
On the other hand, some people may have a condition that makes this effect a bad thing.
Gastroparesis or delayed stomach emptying, is a common complication of type 1 diabetes. Timing insulin with food becomes problematic, since it is difficult to predict how long it will take for blood sugar to rise after a meal.
Since vinegar has been shown to further extend the time food stays in the stomach, taking it with meals could worsen gastroparesis (12).
Bottom Line: Apple cider vinegar helps promote fullness, in part due to delayed stomach emptying. This may naturally lead to lower calorie intake.
One Study Shows That Apple Cider Vinegar Helps You Lose Weight and Body Fat
Results from one human study indicate that apple cider vinegar has some pretty impressive effects on weight and body fat (13).
In this 12-week study, 144 obese Japanese adults consumed either 1 tablespoons (15 ml) of vinegar, 2 tablespoons (30 ml) of vinegar or a placebo drink every day.
They were told to restrict their alcohol intake, but otherwise continue their usual diet and activity throughout the study.
Those who consumed 1 tablespoon (15 ml) of vinegar per day had the following averages:
Weight loss: 2.6 lbs (1.2 kg).
Decrease in body fat percentage: 0.7 percent.
Decrease in waist circumference: 0.5 in (1.4 cm).
Decrease in triglycerides: 26 percent.
This is what changed in those consuming 2 tablespoon (30 ml) of vinegar per day:
Weight loss: 3.7 lbs (1.7 kg).
Decrease in body fat percentage: 0.9 percent.
Decrease in waist circumference: 0.75 in (1.9 cm).
Decrease in triglycerides: 26 percent.
The placebo group actually gained 0.9 lbs (0.4 kgs) and their waist circumference slightly increased.
According to this study, adding 1 or 2 tablespoons of apple cider vinegar to your diet can help you lose weight. It can also reduce your body fat percentage, make you lose belly fat and decrease your blood triglycerides.
To date, this is the only human study that has investigated vinegar's effects on weight loss. Although the study was fairly large and the results are very encouraging, additional studies are needed in different populations.
One study in mice that were fed a high-fat, high-calorie diet found that the high-dose vinegar group gained 10 percent less fat than the control group and 2 percent less fat than the low-dose vinegar group (7).
Bottom Line: In one study, obese people who took 1-2 tablespoons (15–30 ml) of apple cider vinegar daily for 12 weeks lost weight and body fat.
It Also Has Other Health Benefits
In addition to promoting weight and fat loss, apple cider has several other benefits:
Improves insulin sensitivity: One study in people with insulin resistance or type 2 diabetes found that adding vinegar at a high-carb meal improved insulin sensitivity by 34 percent (19).
Lowers fasting blood sugar: In another study of people with type 2 diabetes, the group that took apple cider vinegar with a high-protein evening snack had twice the decrease in fasting blood sugar as those in the placebo group (20).
Improves PCOS symptoms: In a small study of women with polycystic ovary syndrome (PCOS) who took vinegar for 90–110 days, four out of seven women resumed ovulation, likely due to improved insulin sensitivity (21).
Bottom Line: Adding vinegar to your diet may benefit blood sugar, insulin, reproductive health and cholesterol. It also fights bacteria and viruses.
How to Add Apple Cider Vinegar to Your Diet
There are a few ways to include apple cider vinegar in your diet.
An easy method is to use it with olive oil as a salad dressing. This is particularly tasty with leafy greens, cucumbers and tomatoes.
It can also be used for pickling vegetables or you can simply mix it into water and drink it.
The amount of apple cider vinegar used for weight loss is 1-2 tablespoons (15-30 ml) per day, mixed with water.
It is best to spread this out into 2-3 doses throughout the day and it may be best to drink it before meals.
Taking more than this isn't recommended because of potentially harmful effects at higher dosages. It's also best to start off with 1 teaspoon (5 ml) and see how you tolerate it.
Do not take more than 1 tablespoon (15 ml) at a time, because taking too much at one sitting may cause nausea.
Although taking apple cider vinegar in tablet form may seem like a good idea, this doesn't seem to be the case. In one instance, a woman suffered throat burns after an apple cider vinegar tablet became lodged in her esophagus (29).
Bottom Line: About 1-2 tablespoons (15–30 ml) of apple cider vinegar per day is recommended to get the full weight loss benefits. It is best to mix it with water and drink it.
Take Home Message
At the end of the day, taking a moderate amount of apple cider vinegar appears to promote weight loss and provide a number of other health benefits.
Other types of vinegar may provide similar benefits, although those with lower acetic acid content might have less potent effects.
This article was reposted from our media associate Authority Nutrition.
YOU MIGHT ALSO LIKE
Can Low-Carb Diets Mess With Women's Hormones?
8 Ways to Optimize Nutrient Levels and Lose Weight
What Are Carb Blockers and Do They Work?
12 Ways This Incredibly Healthy Medicinal Herb Benefits Your Body and Brain
EcoWatch Daily Newsletter

tommaso79 / iStock / Getty Images Plus
By Rachel Licker
As a new mom, I've had to think about heat safety in many new ways since pregnant women and young children are among the most vulnerable to extreme heat.
Pexels
It's easy to get confused about which foods are healthy and which aren't.
Golde Wallingford submitted this photo of "Pure Joy" to EcoWatch's first photo contest. Golde Wallingford
EcoWatch is pleased to announce our third photo contest!

Maximum heat indices expected in the continental U.S. on Saturday July 20. NOAA WPC
Retired Supreme Court Justice John Paul Stevens, who was appointed by President Gerald Ford in 1975, was presented with the Presidential Medal of Freedom by President Barack Obama on May 29, 2012. MANDEL NGAN / AFP / GettyImages
John Paul Stevens, the retired Supreme Court Justice who wrote the opinion granting environmental agencies the power to regulate greenhouse gases, died Tuesday at the age of 99. His decision gave the U.S. government important legal tools for fighting the climate crisis.
EPA Administrator Andrew Wheeler signs the so-called Affordable Clean Energy rule on June 19, replacing the Obama-era Clean Power Plan that would have reduced coal-fired plant carbon emissions. U.S. Environmental Protection Agency / Twitter
By Elliott Negin
On July 8, President Trump hosted a White House event to unabashedly tout his truly abysmal environmental record. The following day, coincidentally, marked the one-year anniversary of Andrew Wheeler at the helm of the U.S. Environmental Protection Agency (EPA), first as acting administrator and then as administrator after the Senate confirmed him in late February.
A timber sale in the Kaibab National Forest. Dyan Bone / Forest Service / Southwestern Region / Kaibab National Forest
By Tara Lohan
If you're a lover of wilderness, wildlife, the American West and the public lands on which they all depend, then journalist Christopher Ketcham's new book is required — if depressing — reading.
Somalians fight against hunger and lack of water due to drought as Turkish Ambassador to Somalia, Olgan Bekar (not seen) visits the a camp near the Mogadishu's rural side in Somalia on March 25, 2017. Sadak Mohamed / Anadolu Agency / Getty Images
World hunger is on the rise for the third consecutive year after decades of decline, a new United Nations (UN) report says. The climate crisis ranks alongside conflict as the top cause of food shortages that force more than 821 million people worldwide to experience chronic hunger. That number includes more than 150 million children whose growth is stunted due to a lack of food.