We Can Transition to 100% Renewable Energy Starting Today

Across the nation, American businesses, families and communities are embracing clean, renewable energy that is homegrown, healthy, and can never run out. By finding alternatives to fossil fuels that pollute our air and disrupt our climate, they are showcasing the single most practical way to tackle climate change, starting now.
Companies including General Motors, Walmart, Apple, Johnson & Johnson, Crayola and Google are putting in solar and wind farms to run operations, and finding that clean energy is good for business.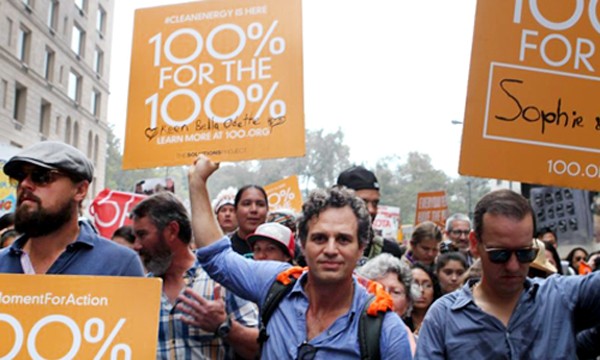 Schools from Virginia to Nebraska to Alaska are generating their own clean renewable energy, saving money while helping young people in their communities breathe more easily.
Ninety-one communities in Illinois have made the switch to 100 percent renewable electricity. Iowa and South Dakota are producing more than a quarter of their electricity from wind power. And while Houston, Texas might be the oil capital of the country, it's powering half of its municipal operations with renewable energy.
Keep these real-world success stories in mind next week, as heads of state from around the world gather at the United Nations for the Climate Summit. Embracing clean, efficient energy is a practical, flexible, adaptable solution for 100 percent of America, from rural families to multinational corporations and all of us in between.
At the Solutions Project, we see tremendous economic opportunity in a clean-energy future. We rely on the work of dozens of researchers at Stanford University, U.C. Davis and Cornell, who have found that embracing energy efficiency and moving to 100 percent renewable energy could double the number of energy-related jobs in the U.S., while saving every American thousands of dollars a year in health and utility costs.
The researchers found converting our country to 100 percent renewables would eliminate about 60,000 premature air-pollution-related deaths in the U.S. every year, saving people who suffer from cardiovascular diseases and respiratory illnesses. It would also save enormous amounts of money—about 3.3 percent of U.S. GDP—due to lower insurance rates, lower taxes, lower workman's compensation rates, fewer lost work and school days and fewer emergency room visits and hospitalizations.
Going renewable would also stabilize energy prices in the long run, researchers found, because the fuel cost of wind, water, and solar electricity is fixed at zero. Forever. It's not volatile like the price of oil, coal, or natural gas. Real-world experience supports this analysis: the cost of electric power in the 11 states with the highest fraction of their electricity generated from wind power decreased 0.4 percent from 2008-2013, while the cost in the remaining states increased by 8 percent.
That's why Apple, WalMart, Illinois, Iowa and all those other states, companies, communities and families are eagerly moving to a clean energy future. And it's why heads of state talk about climate change at the U.N. Climate Summit yesterday and 400,000 people from all walks of life marched in New York City, calling for action.
A stronger economy. Healthier families. A more secure future. These are 100 percent American goals, and clean energy will help us get there.
YOU MIGHT ALSO LIKE
We Can Run the Planet on 100% Renewable Energy
You Must See This Movie: Pump the Movie
www.facebook.com
Keep reading...
Show less
Scott Pruitt testifies during his Senate confirmation hearing for EPA administrator, January 2017.
The U.S. Environmental Protection Agency's (EPA) chief of staff pressured the leader of its Board of Scientific Counselors to change her congressional testimony to downplay the impact of the agency's mass dismissal of scientists from the board, the New York Times reports.
Keep reading...
Show less
By Jason Mark
Sequoiadendron giganteum. That's the scientific name for the giant sequoia: the mammoth trees found in California's Sierra Nevada that are the largest organisms on Earth, and among the longest-lived. Biologists estimate that about half of all sequoias live in Giant Sequoia National Monument, a 328,000-acre preserve in the Southern Sierra Nevada established by President Clinton in 2000.
Now that national monument is in jeopardy.
Keep reading...
Show less
By Andy Rowell
Donald Trump this week is launching an "energy week," pushing the argument that the U.S. will become a net exporter of oil and gas.
The president and his cronies are talking about a new era of "U.S. energy dominance," which could stretch for decades to come. However, no one believes the president anymore.
Keep reading...
Show less
UN
By Colleen Curry
The United Nations has designated 23 new sites around the world to its World Network of Biosphere reserves—stunning natural landscapes that balance environmental and human concerns and strive for sustainability.
The forests, beaches and waterways were added to the list this year at the International Coordinating Council of the Man and the Biosphere Programme meeting in Paris earlier this month.
Keep reading...
Show less
Jun. 26, 2017 01:48PM EST
www.elysee.fr
By Andy Rowell
There is a growing feeling within European capitals that a quiet, but deeply positive, revolution is happening under Emmanuel Macron in France.
Macron's opinion poll rating is high, especially boosted in how the young French president has reacted to Donald Trump on the international stage.
Keep reading...
Show less
Jun. 26, 2017 12:32PM EST
www.facebook.com
Keep reading...
Show less
Jun. 26, 2017 02:46PM EST
Keep reading...
Show less
Jun. 26, 2017 03:34PM EST
www.youtube.com
According to Bloomberg, "SeaWorld Entertainment Inc. received a subpoena earlier this month from regulators investigating disclosures and public statements by executives, including comments about the Blackfish documentary that caused a public backlash against the confinement of orcas.
Keep reading...
Show less


Get EcoWatch in your inbox