This website uses cookies to ensure you get the best experience while browsing it. By clicking 'Got It' you're accepting these terms.
We Can Transition to 100% Renewable Energy Starting Today
Sep. 24, 2014 08:12AM EST
Insights + Opinion

Across the nation, American businesses, families and communities are embracing clean, renewable energy that is homegrown, healthy, and can never run out. By finding alternatives to fossil fuels that pollute our air and disrupt our climate, they are showcasing the single most practical way to tackle climate change, starting now.
Companies including General Motors, Walmart, Apple, Johnson & Johnson, Crayola and Google are putting in solar and wind farms to run operations, and finding that clean energy is good for business.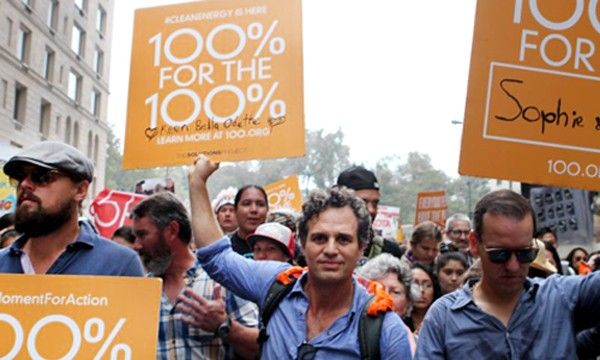 Schools from Virginia to Nebraska to Alaska are generating their own clean renewable energy, saving money while helping young people in their communities breathe more easily.
Ninety-one communities in Illinois have made the switch to 100 percent renewable electricity. Iowa and South Dakota are producing more than a quarter of their electricity from wind power. And while Houston, Texas might be the oil capital of the country, it's powering half of its municipal operations with renewable energy.
Keep these real-world success stories in mind next week, as heads of state from around the world gather at the United Nations for the Climate Summit. Embracing clean, efficient energy is a practical, flexible, adaptable solution for 100 percent of America, from rural families to multinational corporations and all of us in between.
At the Solutions Project, we see tremendous economic opportunity in a clean-energy future. We rely on the work of dozens of researchers at Stanford University, U.C. Davis and Cornell, who have found that embracing energy efficiency and moving to 100 percent renewable energy could double the number of energy-related jobs in the U.S., while saving every American thousands of dollars a year in health and utility costs.
The researchers found converting our country to 100 percent renewables would eliminate about 60,000 premature air-pollution-related deaths in the U.S. every year, saving people who suffer from cardiovascular diseases and respiratory illnesses. It would also save enormous amounts of money—about 3.3 percent of U.S. GDP—due to lower insurance rates, lower taxes, lower workman's compensation rates, fewer lost work and school days and fewer emergency room visits and hospitalizations.
Going renewable would also stabilize energy prices in the long run, researchers found, because the fuel cost of wind, water, and solar electricity is fixed at zero. Forever. It's not volatile like the price of oil, coal, or natural gas. Real-world experience supports this analysis: the cost of electric power in the 11 states with the highest fraction of their electricity generated from wind power decreased 0.4 percent from 2008-2013, while the cost in the remaining states increased by 8 percent.
That's why Apple, WalMart, Illinois, Iowa and all those other states, companies, communities and families are eagerly moving to a clean energy future. And it's why heads of state talk about climate change at the U.N. Climate Summit yesterday and 400,000 people from all walks of life marched in New York City, calling for action.
A stronger economy. Healthier families. A more secure future. These are 100 percent American goals, and clean energy will help us get there.
YOU MIGHT ALSO LIKE
We Can Run the Planet on 100% Renewable Energy
You Must See This Movie: Pump the Movie
EcoWatch Daily Newsletter
BruceBlock / iStock / Getty Images
Thanks to their high concentration of powerful plant compounds, foods with a natural purple hue offer a wide array of health benefits.
Environmental Investigation Agency
Last week, the Peruvian Palm Oil Producers' Association (JUNPALMA) promised to enter into an agreement for sustainable and deforestation-free palm oil production. The promise was secured by the U.S. based National Wildlife Federation (NWF) in collaboration with the local government, growers and the independent conservation organization Sociedad Peruana de Ecodesarrollo.
Pixabay
Leaked documents show that Jair Bolsonaro's government intends to use the Brazilian president's hate speech to isolate minorities living in the Amazon region. The PowerPoint slides, which democraciaAbierta has seen, also reveal plans to implement predatory projects that could have a devastating environmental impact.
XL CATLIN SEAVIEW SURVEY / THE OCEAN AGENCY
Hope may be on the horizon for the world's depleted coral reefs thanks to scientists who successfully reproduced endangered corals in a laboratory setting for the first time, according to Reuters.
Last week we received positive news on the border wall's imminent construction in an Arizona wildlife refuge. The Trump administration delayed construction of the wall through about 60 miles of federal wildlife preserves.
PhotoAlto / Frederic Cirou / Getty Images
Drinking water treated with fluoride during pregnancy may lead to lower IQs in children, a controversial new study has found.
National Institude of Allergy and Infectious Disease