This website uses cookies to ensure you get the best experience while browsing it. By clicking 'Got It' you're accepting these terms.
We Can Run the Planet on 100% Renewable Energy
Sep. 10, 2014 02:30PM EST
I have to write you a very deeply personal letter right now and I hope it is met with an open mind.
I have a secret to confess.
Well, it's actually not a secret at all, it's a very easy thing to find out if you just Google me, but I am not sure that many of you who are fans of my two documentaries GASLAND and GASLAND Part II know it.
It is this: I was not always a documentary filmmaker and I was not always an environmentalist. In fact, before the gas industry made a maelstrom out of all of our lives, I had a job that I deeply deeply loved: I was a theatre director and playwright.
I made more than 25 new works for the stage with my theatre troupe the International WOW Company. These plays would premiere in amazing places all over the world, hence our name. We performed in Thailand and Japan and the Philippines, we performed in Germany and France, we performed in New York City and in upstate New York. We made huge, fantastical, epic plays with large casts, striking imagery and powerful politics.
The theater is a kind of collective action. The theater is a motivator. A great theater production is something that you never forget about all your days.
So here is the news: I am making a new play, for the first time in five years, and I want you to come see it. I want you to be a part of this very special new kind of action. I am calling it The Solutions Grassroots Tour and it is a very different and unique kind of play that prompts a very different and unique kind of action.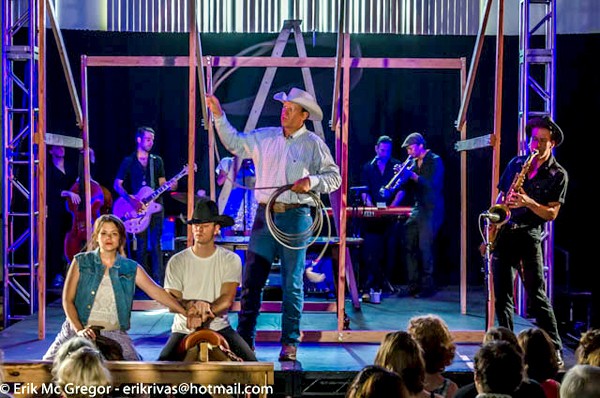 But before I go into that I want to tell you one more secret.
Actually, it's not a secret either, if you Google this fact you will get it almost immediately.
It feels like a secret because it seems like nobody knows it.
It is this: we can run the planet on 100 percent renewable energy.
The science and technology says we can do it—100 percent wind, water and sun. No fossil fuels necessary. No more fracking, no more mountaintop removal, no more tar sands. We have the technology now.
What we don't have right now is enough people and politicians acting to create our new world.
So what The Solutions Grassroots tour does is combine culture and grassroots organizing, creating a powerful tool to change our nation's beliefs when it comes to renewable energy.
The Solutions Grassroots Tour is a theater, film and concert event that gives communities the tools and recourses to build their own renewable energy.
We have created these events to show you exactly how easy it is to immediately switch your power provider.
We have created these shows to show you exactly how difficult it will be to continue living in a hotter, more fracked up world.
Our renewable energy partners will be on hand to show you how easy it is to begin your transition out of the fossil fuel cycle by switching to a renewable energy provider or installing rooftop solar.
We'll also connect you with your neighbors who want to work on this with you.
But don't let me give you the impression this event is all work, organizing and building renewable energy. It's so much more.
The Solutions Grassroots Tour will be the stage debut of rancher and spokesman John Fenton, subject of GASLAND I & II and his son Johnny Fenton, of Pavillion, Wyoming. It will also feature music by Vanessa Bley and Stuart Matthewman and the band Twin Danger and with a cast of more than 20 actors, live video installation and a world-class seven-piece band. It's like no other event on the planet.
It is some of the most important work I've ever done and I want nothing more than for you to come share this incredible experience of retuning to the theater with me.
We've even made a trailer from our first two performances in Oneonta and Callicoon this summer:
THE SOLUTIONS GRASSROOTS TOUR
Tickets here http://bit.ly/1qh6pn8
Sept. 21 - 26 at 7:30 p.m. at the Irondale Theater
Directed by Josh Fox
With guest hosts Mark Ruffalo, Debra Winger, Peter Yarrow, Sandra Steingraber and Nahko Bear
Co-sponsored by Citizens Campaign for the Environment, Food & Water Watch, Frack Action, The Mother's Project, New Yorkers Against Fracking, Sane Energy Project and United For Actions.
Created by and featuring the International WOW Company: Carrie Getman, Herbe Go, Doug Chapman, Beth Griffith, Brandon Smith, Broderick Clavery, Sheree Campbell, John Fenton, Johnny Fenton, Jessica Hadju-Nemeth, Olivia Ross, Sarah Keyes, Cody Jordan, Noelia Antweiler, Malin Barr, Margot Bennet, Rebecca Goldstein, Ali Andre Ali, Jade Ziane, Zach Signore, Guy Eckstine, Nick Anderson, Robert Granata, Julian Smith, Omar A Little, Vanessa Bley, Stuart Matthewman and Josh Fox.
Thanks and see you at the show!
YOU MIGHT ALSO LIKE
Battle for Democracy in Fracking Fight Continues in Colorado
Unity Concert: Return Black Hills to the Great Sioux Nation
Plus, learn if there's one that's best for your health.
Catherine Falls Commercial / Moment / Getty Images
An invasive Amynthas worm, also known as a crazy snake worm, Asian jumping worm and Alabama jumper Tom Potterfield / Flickr
By Jason Bittel
My wife and I built a house two years ago on a few acres of woodland outside of Pittsburgh. The backyard is full of maples, poplars, briars and common spicebush. Two-lined salamanders and grumpy-looking crayfish wade among the rocks in the small stream that runs down the edge of the property. Deer, raccoon and opossum tracks appear regularly in the snow and mud. Sometimes, my trail-cam even catches a pair of gray foxes as they slink through the night.
AleksandarNakic / Getty Images
By Kate Murphy
No matter the time of year, there's always a point in each season when my skin decides to cause me issues. While these skin issues can vary, I find the most common issues to be dryness, acne and redness.

David Woodfall / The Image Bank / Getty Images
By Sam Nickerson
The U.S. Environmental Protection Agency (EPA) in April 2018 proposed relaxing standards related to how it assesses the effects of exposure to low levels of toxic chemicals on public health.
Now, correspondence obtained by the LA Times revealed just how deeply involved industry lobbyists and a controversial, industry-funded toxicologist were in drafting the federal agency's proposal to scrap its current, protective approach to regulating toxin exposure.
Steve Irwin poses with a three foot long alligator at the San Francisco Zoo on June 26, 2002. Justin Sullivan / Getty Images
February 22 is the birthday of conservationist and beloved TV personality "Crocodile Hunter" Steve Irwin, who would have been 57 years old today.
Irwin's life was tragically cut short when the barb from a stingray went through his chest while he was filming in 2006, but his legacy of loving and protecting wildlife lives on, most recently in a Google Doodle today honoring his birthday.