This website uses cookies to ensure you get the best experience while browsing it. By clicking 'Got It' you're accepting these terms.
Wave of Victories: Shark Fin Trade Bans Reach East Coast
May. 07, 2013 03:19PM EST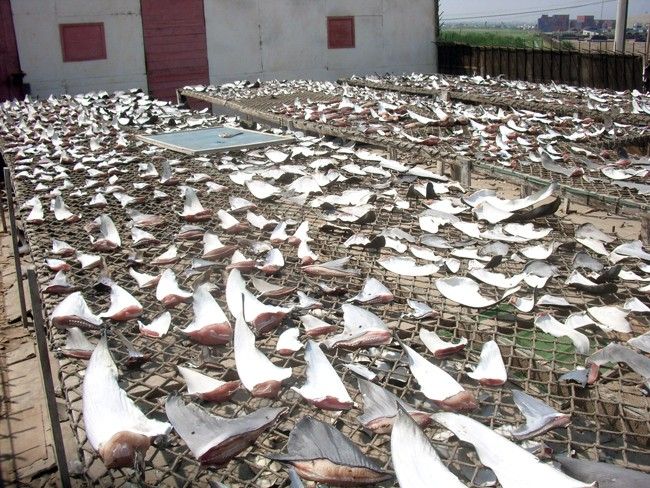 Yesterday, the New York state Assembly took a huge step forward for shark conservation worldwide by passing a bill to ban the sale, trade, distribution and possession of shark fins throughout the state. The bill has already been approved by the state Senate and now has 10 days to be signed into law by Gov. Andrew Cuomo.
Oceana, the largest international advocacy group working solely to protect the world's oceans, commends New York policymakers for giving sharks a second chance after last year's failure to pass similar legislation and applauds Sen. Mark Grisanti (R-Buffalo) and Rep. Alan Maisel (D-Brooklyn) for leading the charge to protect sharks in New York.
"The global exploitation of sharks for their fins is driving many species to the edge of extinction and could wreak havoc on our oceans," said Beth Lowell, campaign director at Oceana. "As the largest market for shark fins on the East Coast, New York demonstrated its leadership in protecting our oceans by passing this bill."
The gruesome practice of shark finning—slicing off a shark's fins and throwing the body overboard, often while still alive—is illegal in the U.S. It is driven by the demand for fins to be used in shark fin soup, which remains a pricey Asian delicacy, often selling for up to $100 a bowl. However, there are no federal laws to address the trade of these fins, which are often imported from countries where where the practice is legal.
Sharks have survived in our oceans for hundreds of millions of years, however they have not evolved yet to survive human exploitation. A study released in Marine Policy earlier this spring estimates that 100 million sharks are killed each year for their fins, a number representing nearly seven percent of the worldwide shark population. Sharks simply cannot reproduce fast enough to withstand this enormous pressure, with some shark populations having declined by as much as 99 percent, mostly as a result of these unsustainable fishing practices. As a result, a growing number of states are standing up and passing their own restrictions.
If the bill is signed into law, New York would become the seventh state to prohibit the trade of shark fins, joining California, Oregon, Washington, Illinois, Hawaii and most recently, Maryland, as the first East Coast state to ban the shark fin trade. A similar bill in Delaware is awaiting the governor's signature. With both Delaware and New York laws in place, these eight state bans will drastically reduce the market for shark fin soup in the U.S., as they represent the largest markets for this Asian delicacy.
"As apex predators, sharks keep the entire marine food web in balance. They belong in our oceans, not chopped up in a bowl of soup," Lowell said.
Visit EcoWatch's BIODIVERSITY page for more related news on this topic.
EcoWatch Daily Newsletter
Brown bear fishing for salmon in creek at Pavlof Harbor in Tongass National Forest, Alaska. Wolfgang Kaehler / LightRocket / Getty Images
The Trump administration has moved one step closer to opening Earth's largest intact temperate rainforest to logging.
The Democratic primary candidates take the stage during Tuesday's debate. SAUL LOEB / AFP via Getty Images
On Tuesday night, the Democratic presidential candidates gathered for what The Guardian said was the largest primary debate in U.S. history, and they weren't asked a single question about the climate crisis.
A. Battenburg / Technical University of Munich
By Sarah Kennedy
Algae in a pond may look flimsy. But scientists are using algae to develop industrial-strength material that's as hard as steel but only a fraction of the weight.
Variety of fermented food korean traditional kimchi cabbage and radish salad. white and red sauerkraut in ceramic plates over grey spotted background. Natasha Breen / REDA&CO / Universal Images Group / Getty Image
Even if you've never taken probiotics, you've probably heard of them.
These supplements provide numerous benefits because they contain live microorganisms, such as bacteria or yeast, which support the healthy bacteria in your gut (1, 2, 3, 4).
Pexels
Singapore will become the first country in the world to place a ban on advertisements for carbonated drinks and juices with high sugar contents, its health ministry announced last week. The law is intended to curb sugar consumption since the country has some of the world's highest diabetes rates per capita, as Reuters reported.
A typical adult takes around 20,000 breaths per day. If you live in a megacity like Beijing, with many of those lungfuls you're likely to inhale a noxious mixture of chemicals and pollutants.
Fred Stone holds his brown swiss cow Lida Rose at his Arundel dairy farm on March 18 after a press conference where he spoke about PFAS chemical contamination in his fields. Gregory Rec / Portland Portland Press Herald via Getty Images
By Susan Cosier
First there was Fred Stone, the third-generation dairy farmer in Maine who discovered that the milk from his cows contained harmful chemicals. Then came Art Schaap, a second-generation dairy farmer in New Mexico, who had to dump 15,000 gallons of contaminated milk a day.
Protesters attend the 32nd annual Fur-Free Friday demonstration on Nov. 23, 2018 in Beverly Hills, California. Ella DeGea / Getty Images
California Governor Gavin Newsom signed into law a bill that that bans the sale and manufacture of fur products in the state. The fur ban, which he signed into law on Saturday, prohibits Californians from selling or making clothing, shoes or handbags with fur starting in 2023, according to the AP.