This website uses cookies to ensure you get the best experience while browsing it. By clicking 'Got It' you're accepting these terms.
Water Scarcity Impacts at Least 2.7 Billion People Each Year
Mar. 01, 2012 08:00AM EST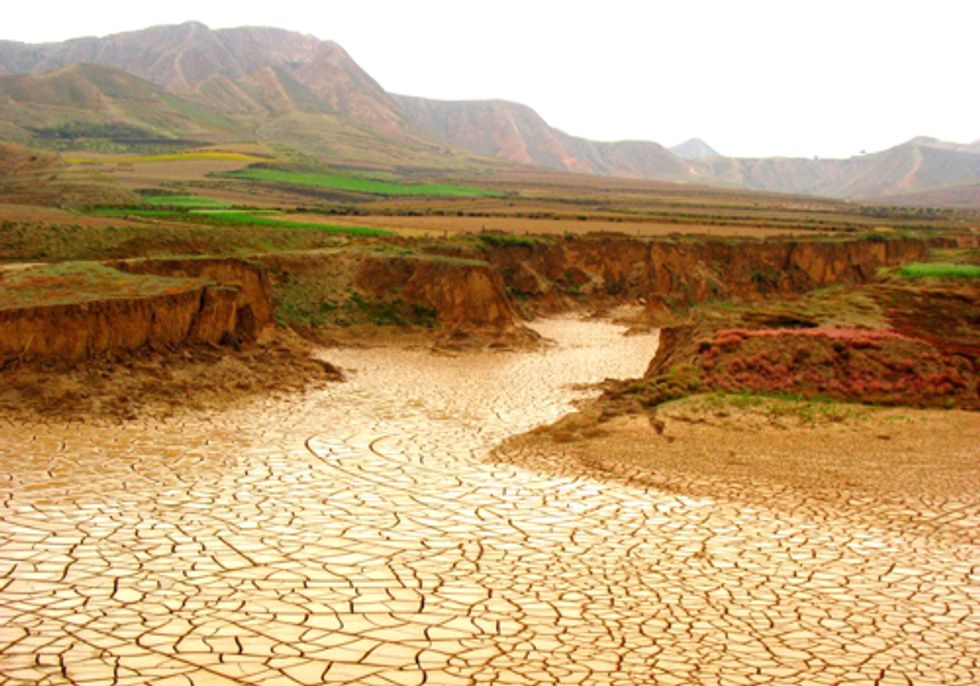 A new report published in the online journal PLoS ONE, analyzing water consumption in 405 river basins around the world, found that water scarcity impacts at least 2.7 billion people for at least one month each year.
"Freshwater is a scarce resource; its annual availability is limited and demand is growing," said Arjen Hoekstra, professor in water management at the University of Twente and lead author of the report, Global Monthly Water Scarcity: Blue Water Footprints versus Blue Water Availability. "There are many places in the world where serious water depletion takes place—rivers running dry and dropping lake and groundwater levels." 
The new assessment of global water scarcity tracked month-to-month variability in water flows and accounted for the flows needed to sustain critical ecological functions. Through detailed analysis of the total water consumption, or depletion, rather than water withdrawals, the study highlights how the water used to grow crops, sustain industry and provide drinking water has in many places exceeded sustainable levels of water use.  
Ninety-two percent of humanity's total water footprint is for agriculture, and irrigated agriculture depletes more water than cities and industries. Study co-author Brian Richter, director of The Nature Conservancy's Global Freshwater Program, explained, "Cities use more water than crops on a per-area basis, but it's important to note that irrigated agriculture occupies four times as much land as cities do. We need to help farmers implement state-of-the-science irrigation methods and improve the productivity of rain-fed farms as soon as possible. We are going to have to produce more food with less water." 
Researchers from the University of Twente, Water Footprint Network, The Nature Conservancy and World Wildlife Fund (WWF) studied river flows in 405 river basins between 1996-2005. Their analysis showed that 201 river basins supporting 2.67 billion people experienced severe water scarcity during at least one month of the year.   
"In places with multiple months of scarcity, they are likely experiencing serious competition for water," said Richter, "and during droughts they'll have economic impacts in agriculture, power production or other industries."  
"This assessment gives a more detailed and complete view of the relationship between the water footprint—the amount of water consumed in the production of goods and services—and the growing problems of water scarcity and the resulting environmental, social and economic losses," said Ruth Mathews, executive director of the Water Footprint Network. "Through cooperation between governments, investors, companies, farmers and environmental organizations, we can take direct action to improve the sustainability, efficiency and equitability of water use ensuring that we can feed people and sustain healthy ecosystems in the future." 
Study co-author Ashok Chapagain, senior water advisor at WWF-UK, highlighted the importance of this work to the global conservation targets of WWF. "Annual averages can mask what is really happening in a basin. Visualizing water scarcity month-by-month will help guide water allocations so as to meet social and economic demands, and the needs of rivers themselves."
The levels of water scarcity estimated in the report correspond strongly with documented ecological declines and socio-economic disruption in some of the world's most heavily used river basins.
For more information, click here.
—————
The University of Twente is a young, entrepreneurial university in the Netherlands. Its research focuses on the interface between technology and its implications for mankind and society and covers areas such as health, water, sustainability, security and education.
The Water Footprint Network is a dynamic, international learning community and a platform for connecting diverse communities interested in sustainability, equitability and efficiency of water use. The Water Footprint Network has over 160 partners in 34 countries from a wide variety of stakeholder groups.

WWF is one of the world's largest and most respected independent conservation organizations, with over 5 million supporters and a global network active in over 100 countries. WWF's mission is to stop the degradation of the Earth's natural environment and to build a future in which humans live in harmony with nature by conserving the world's biological diversity, ensuring that the use of renewable natural resources is sustainable, and promoting the reduction of pollution and wasteful consumption.
The Nature Conservancy is a leading conservation organization working around the world to protect ecologically important lands and waters for nature and people. The Conservancy and its more than 1 million members have protected nearly 120 million acres worldwide.
EcoWatch Daily Newsletter
The Ernest N. Morial Convention Center in New Orleans, Louisiana has been converted to a 1,000-bed field hospital for coronavirus patients to alleviate stress on local hospitals. Chris Graythen / Getty Images
An area in Louisiana whose predominantly black and brown residents are hard-hit by health problems from industry overdevelopment is experiencing one of the highest death rates from coronavirus of any county in the United States.
A woman lies in bed with the flu. marka/Universal Images Group via Getty Images
A central player in the fight against the novel coronavirus is our immune system. It protects us against the invader and can even be helpful for its therapy. But sometimes it can turn against us.
Several flower species, including the orchid, can recover quickly from severe injury, scientists have found. cunfek / iStock / Getty Images Plus
Calling someone a delicate flower may not sting like it used to, according to new research. Scientists have found that many delicate flowers are actually remarkably hearty and able to bounce back from severe injury.
A Boeing 727 flies over approach lights with a trail of black-smoke from the engines on April 9, 2018. aviation-images.com / Universal Images Group via Getty Images
With global air travel at a near standstill, the airline industry is looking to rewrite the rules it agreed to tackle global emissions. The Guardian reports that the airline is billing it as a matter of survival, while environmental activists are accusing the industry of trying to dodge their obligations.
A National Guard member works on election day at a polling location on April 7, 2020 in Madison, Wisconsin. Andy Manis / Getty Images.
ByJulia Baumel
The outbreak of COVID-19 across the U.S. has touched every facet of our society, and our democracy has been no exception.