Watch Viral Video: Nebraska Man Asks Oil and Gas Commission One Simple Question: 'Would You Drink It?'
Mar. 31, 2015 08:28AM EST
Energy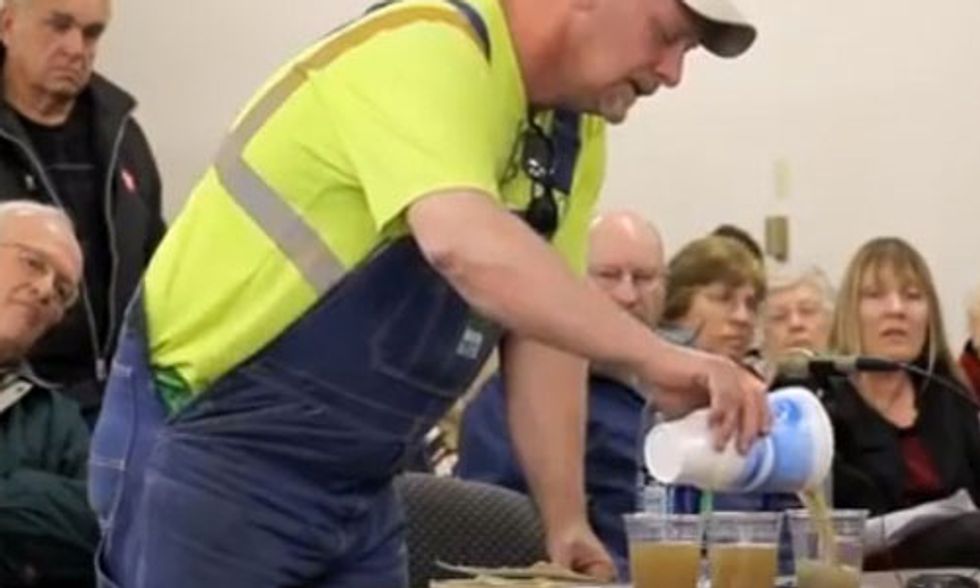 The Nebraska Oil and Gas Conservation Commission had a public hearing last week in Sidney, Nebraska about a fracking wastewater storage well proposed by Terex Energy Corp., which wants to store its fracking wastewater from other states in Nebraska. According to Bold Nebraska, the project would move "80 truckloads carrying 10,000 barrels per day of pollution destined to be dumped into a disposal well in Sioux County." The advocacy group uploaded videos of the public hearing to their site.
The issue is unsurprisingly very contentious for Nebraskans and obviously a deeply personal issue for the first speaker at the hearing, James Osborn. He says he has experience in the oil and gas field, having built pipelines all over the country, and his brother and two nephews have worked in the fracking industry.
But Osborn is very concerned about Nebraska's precious water supply: "Everything in Nebraska runs on water. Period." To make his point, he pulls out three plastic cups and fills them with water. Then he tops them off with a healthy dose of a mysterious brown sludge—allegedly fracking fluid—and says, "You told me this morning when I was in here ... that you would drink this water, so would you drink it?"
See how the Commission responds:
YOU MIGHT ALSO LIKE
Watch Jon Stewart's Hilarious Critique of Florida's Ban on the Words Climate Change
Hilarious Video: Florida Administrator Refuses to Say the Words Climate Change
Watch Lobbyist Eat His Words After Saying Drinking Roundup Is 'Not Dangerous to Humans'
EcoWatch Daily Newsletter
Related Articles from EcoWatch